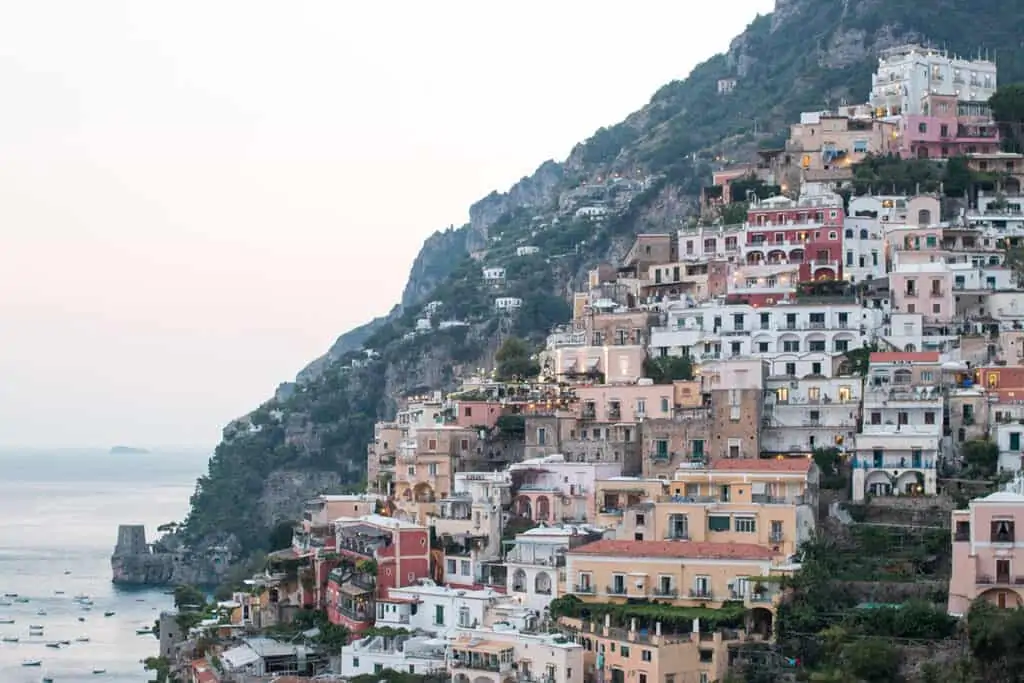 Before I ever fell in love with Paris, I was head over heels for Italy. I studied abroad in Florence and traveled throughout the country. There will always be a deep love for Italy as that is where I decided I wanted to be a travel photographer at the age of 21. I have been to Positano and Capri several times and seen it with a fresh set of eyes with different experiences.
The summer months are a popular time to visit the Amalfi Coast and it can be extremely crowded. This is my fifth time visiting, and it will be a completely different trip as I am traveling on my honeymoon with my husband. We have done this trip before but stayed at other hotels and tried various beach clubs.
When planning our honeymoon, I knew that the first half of the year would be busy, and it was much easier to plan something I knew versus a new destination. We will have many years to travel to new locations in Italy and different countries. Below is my Amalfi Coast packing list for a week in Capri and Positano.
What I am Packing for The Amalfi Coast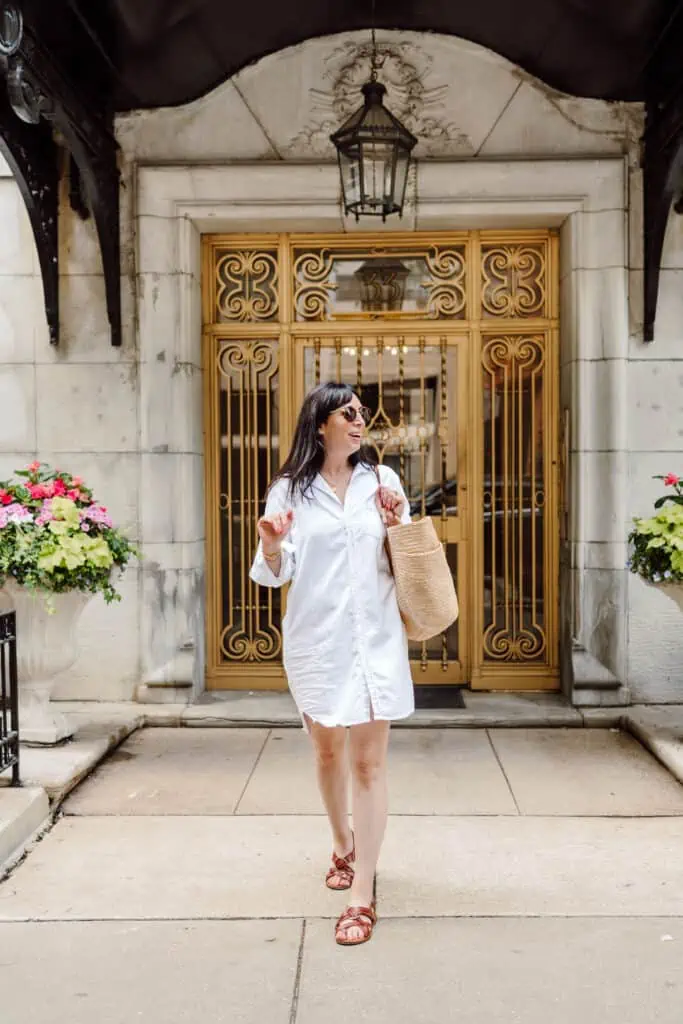 Getting Around The Amalfi Coast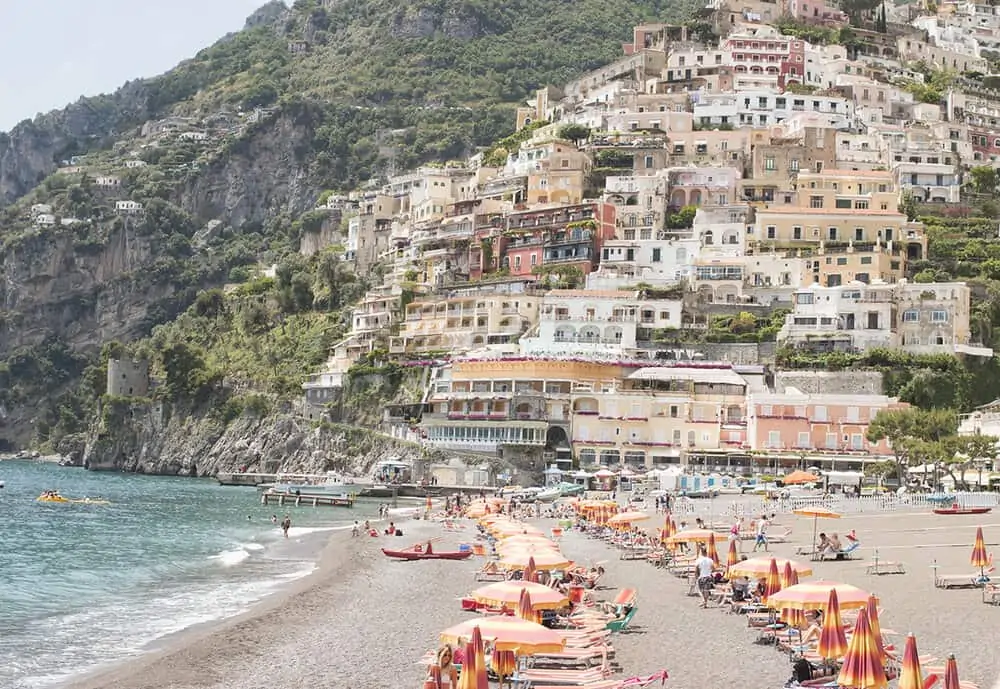 The best way to see the Italian coast is by boat ride. We did Blue Star Positano a few years ago from Positano, and I look forward to seeing more of Capri on our boat this year, including the Blue Grotto. I highly recommend a boat tour of either Positano or Capri. To get from island to island, it's the best option done by public ferry. They typically run every hour and, depending on which island you are headed to, can take from 20 minutes to an hour. It will save you a lot of time if you purchase your tickets in advance online.
Take a day trip to the towns of the Amalfi Coast, including Positano, Capri, Ravello, or Sorrento. I recommend choosing one or two locations as your home base and exploring from there. There are beautiful beaches all over the Amalfi coast, and you can spend a day at one of the many beach clubs if you book in advance.
We will spend a night in Sorrento, three nights in Capri, three nights in Positano, and one night in Naples as we make our way home.
Dresses I am Packing for The Amalfi Coast
I have had my eye on these shirt dresses from Frank & Eileen in the long and short versions for a few months now. The long dresses make the perfect beach cover-up over a bathing suit to go from beach to restaurant. In Italy, the beach clubs have restaurants you book for lunch when you reserve your beach chairs. The beach clubs have the most incredible food and I cannot wait to return to Arienzo in Positano for lemon pasta.
The Frank & Eileen dresses come in different fabrics. I like the linen dress in the longer version and the white denim for the short white dress. There are so many choices, and you cannot go wrong. *
There has been a collection of dresses in my closet waiting for Italy. The weather in Chicago has not been warm yet, so I have patiently waited for many of these pieces to pack for Italy and enjoy.
I bought this Jenni Kayne Rhode Dress in navy and wore it to an event. It is so comfortable, and I love that it has pockets.

This Evereve yellow dress caught my eye, and while the color is a bit out of my comfort zone, I wanted to try it. I wore it for a photoshoot recently and fell in love with the style of the belted skirt. It will make a great Capri dress with comfortable sandals. *
The warm temperatures drop in the evening, and a denim jacket or light sweater is always a good idea to throw over your dress.
Jeans and Pants I am Packing for The Amalfi Coast
White jeans are always something I love to pack for Capri. The color palette of Capri is white, and you will see lots of white linen at local shops around the island. I am packing a Frank & Eileen white button up- linen shirt that can be tied in the front to wear with shorts or white jeans. *
Italian style is different from the Parisian style, especially regarding the Amalfi Coast. Expect to see vibrant prints, breezy dresses, and bright colors.
I am packing these jean shorts and the Rome shorts in black or green. The decision hasn't been made on the color.
Dressing for Capri Italy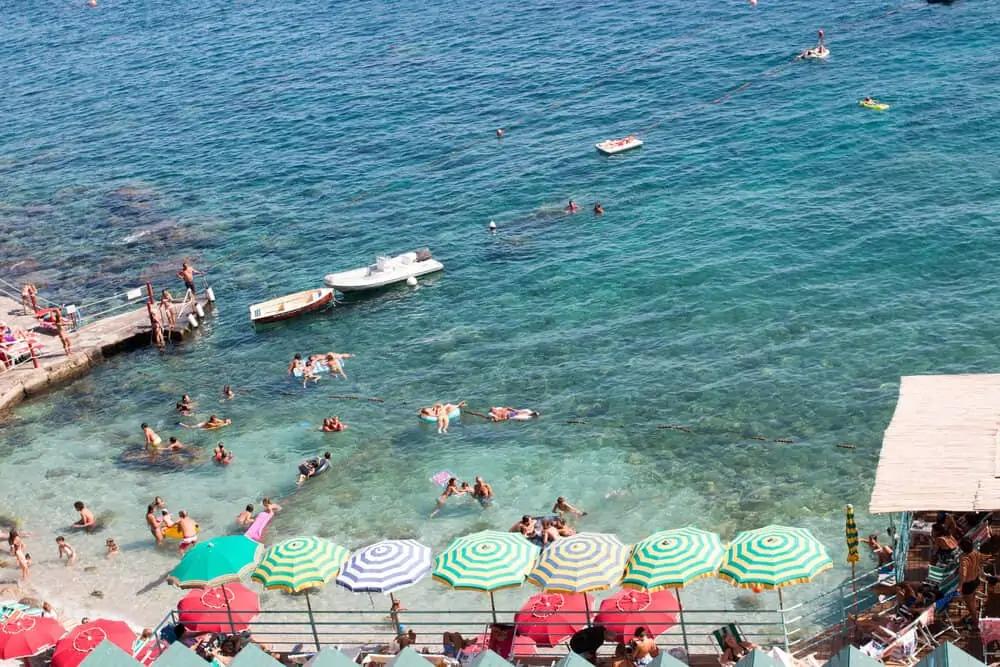 On the island of Capri, the dress code is a bit more elevated than Positano. Everyone dresses up to go out for lunch, dinner, or cocktails. One of the parts I love most about Capri is the lively evenings after the boats are finished for the day. Head to the main square for a cocktail and to people-watch. The outfits and the cultures are fascinating to listen to and watch after a long day in the sun.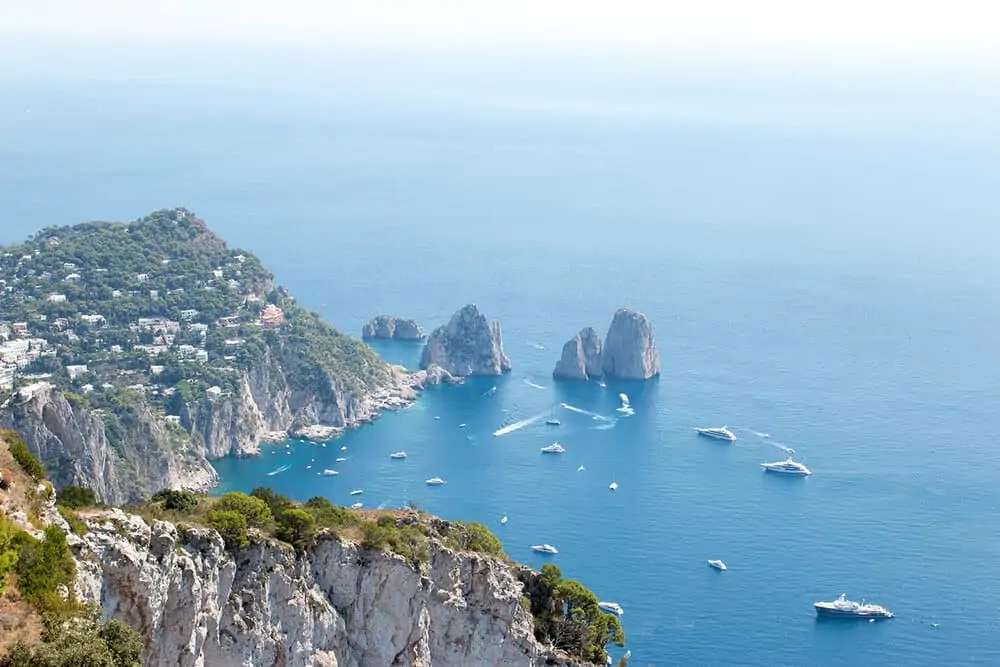 There is a lot of linen in Capri. Due to the warm weather and not having an air conditioner everywhere, it is nice to have breathable fabrics to stay cool.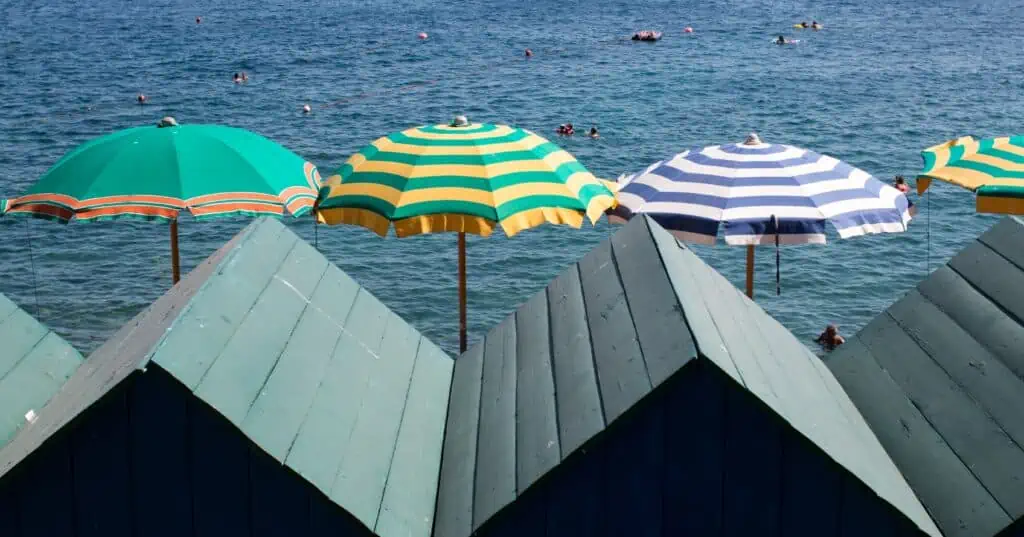 You can purchase shoes made right before you both in Positano and Capri. They are pretty reasonable and a fun souvenir from the Amalfi Coast. I have an idea for a pair that I have in mind, and I think it would be cute to bring back a honeymoon sandal for years to come.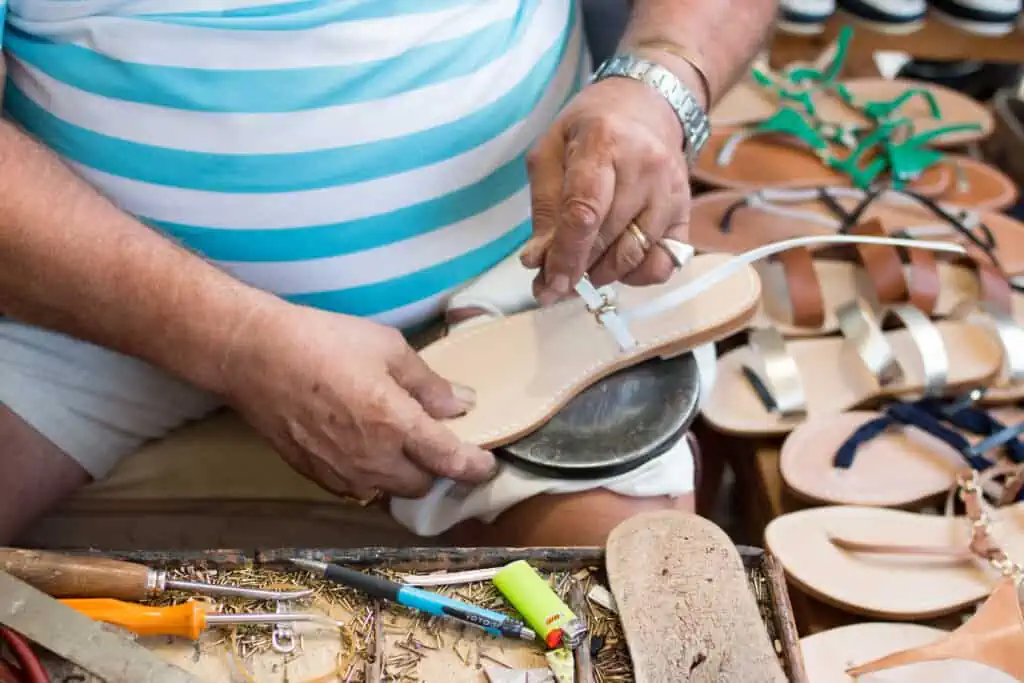 This white dress from Staud was one of my favorites from my trip to Paris, and I had to pack it for the Amalfi Coast. I sized up to a six and can wear it with espadrilles for flat sandals. It comes in multiple colors and fits so well.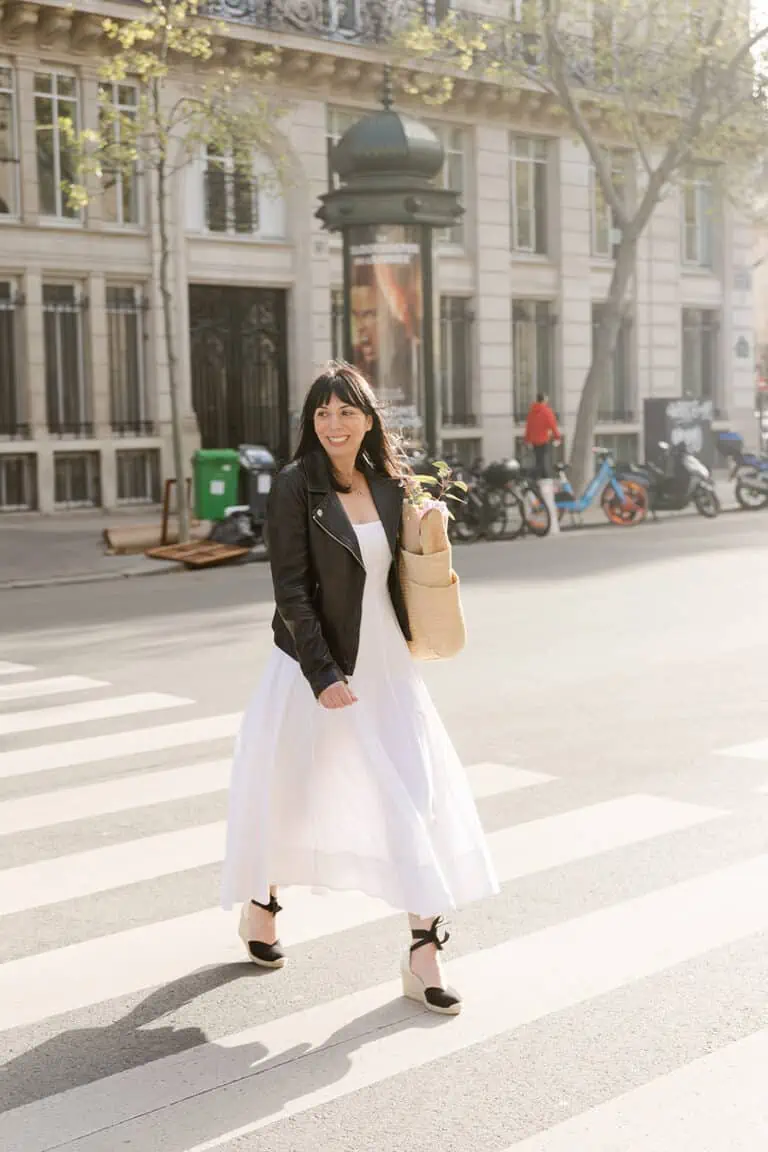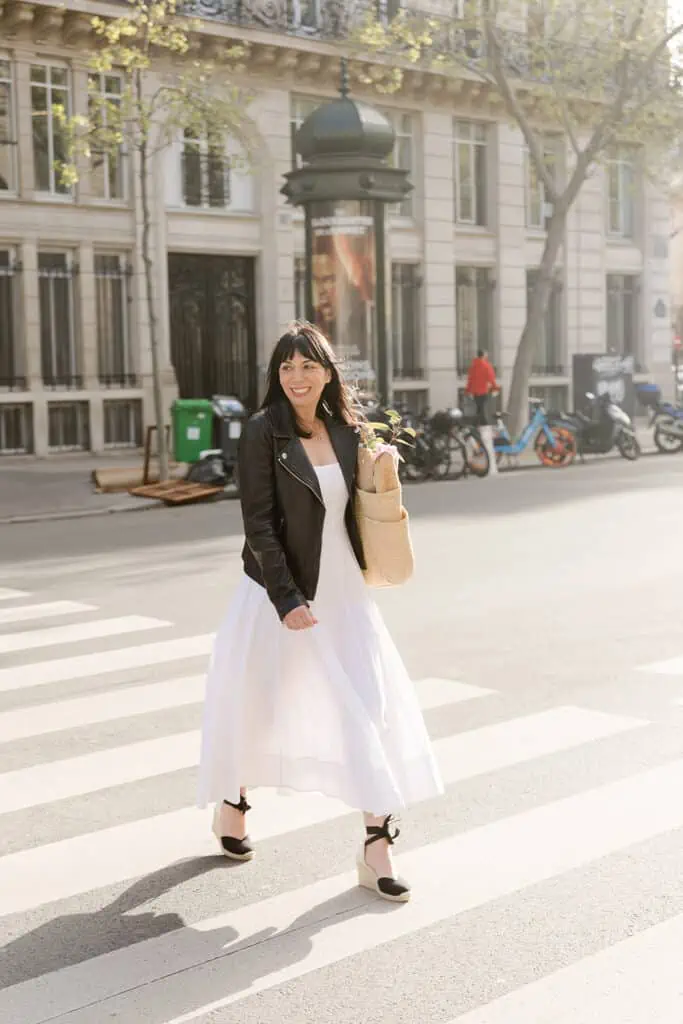 Dresses to Pack for Positano and Capri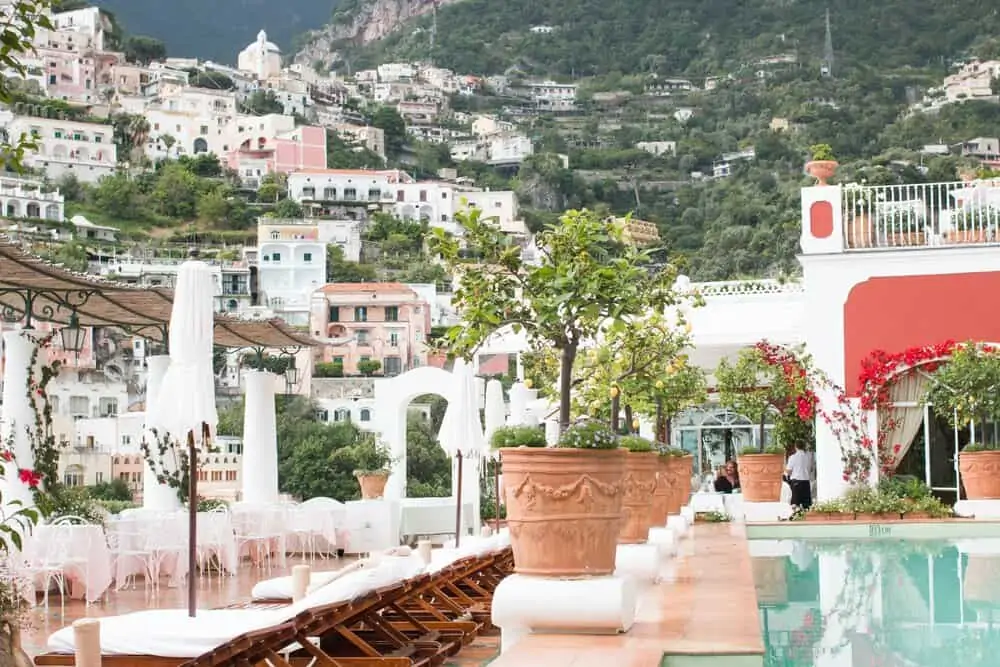 If you are planning for drinks at Franco's bar or Le Sirenuse for dinner, you will want to make sure you are dressed up. The bar and restaurant offer a beautiful setting for sunset and are worth a visit. Le Sireneuse is one of Positano's best hotels and most beautiful places. If you can't afford a room at the luxury hotel, grabbing a drink at the bar or enjoying the restaurant is a good option.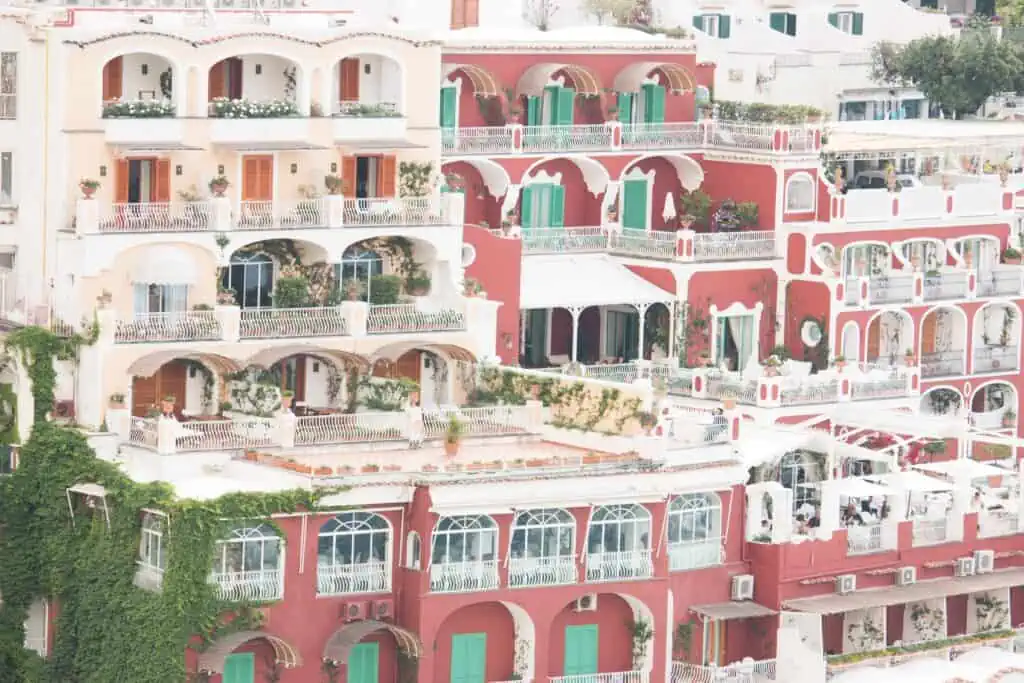 This navy dress from Quince is affordable and lightweight for walking around on sunny days. *

I found this dress from Brochu Walker when doing my dress edit. It comes in multiple colors, but the red is my signature. It works well, belted or unbelted, for a more flowy dress with a forgiving section. No one will know if you indulge in too much pasta or pizza. *
My favorite T-shirts go without question. I am packing them in black and white.
The Best Shoes for Amalfi Coast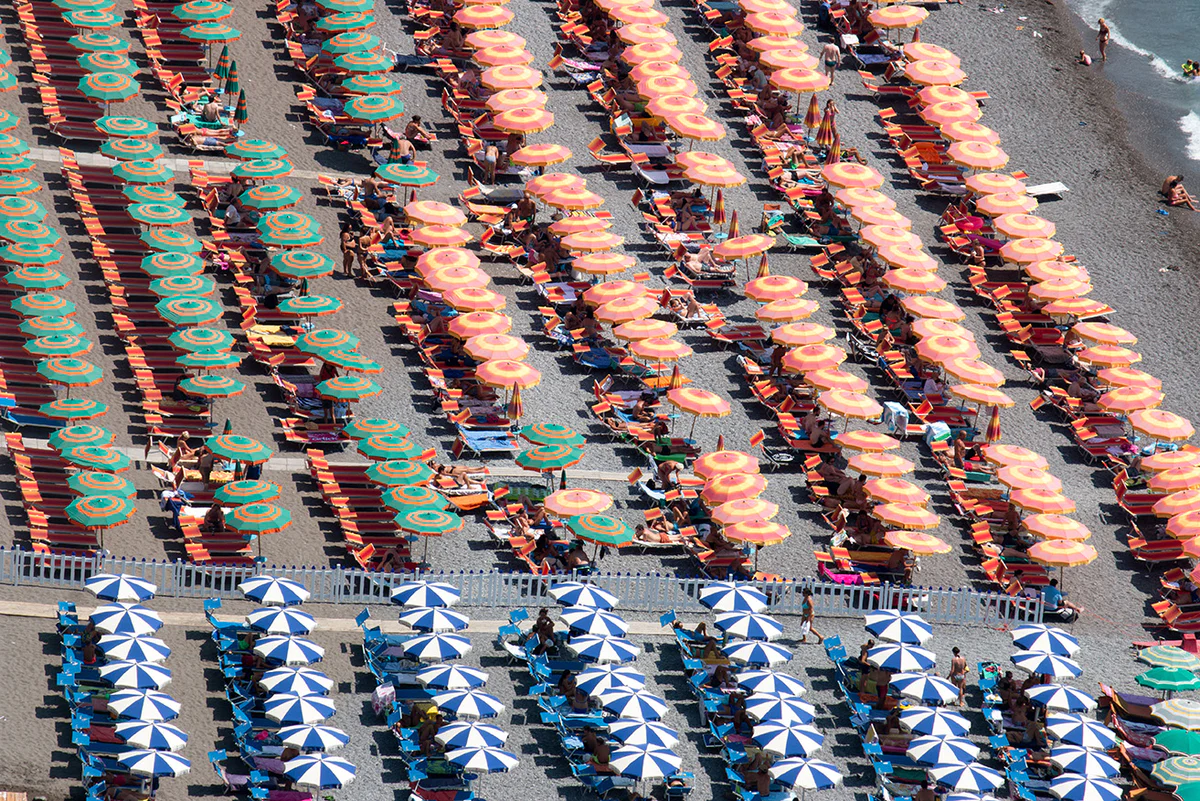 Beaches are different in Positano and Capri, and you will need flip flops for the rocks. The beaches are not sand but rocky, and your feet can easily get too hot if you don't have some shoes to make it down to the water. Our hotel was super sweet last time around and had flip flops available for you to pack in your beach bag. I purchased these Birkenstocks that can be easily rinsed, and I won't mind getting wet or dirty. You will wear your shoes to the water at the beach clubs and leave them right at the edges. Once you get out, put them back on and rinse off before returning to your towel and chair.

These strappy leather sandals will go with almost every dress and are dressy enough for dinner in Capri or Positano. I can also wear them with shorts and jeans. *
For the plane and long walks in Positano and Capri, I am packing my Vejas.
Espadrilles work great for shorts and dresses.
Bathing Suit
For a bathing suit, I packed this red one from Boden.
Pajamas
These seersucker blue pajamas from LAKE, along with these blue pajamas. They are so soft and comfortable. *

Accessories for The Amalfi Coast

Sunscreen and a sun hat are an absolute must. Since we are not checking our bags, I bought these travel-size sunscreens from Supergoop. My husband and I will pack as much sunscreen as possible with the limits. You can find a grocery store, pharmacy, or local shop offering sunscreens, but I haven't seen Supergoop, a clean beauty favorite of mine. Avène and La Roche Possay are available at pharmacies in Italy. I bought this sun hat that is packable and adorable. It comes in a ton of different colors. Sunglasses are essential, and these are new favorites.
Mini bags are great for the evening as you can fit essentials, including your phone, wallet, and lipstick. I am bringing this mini.
This raffia belt is so cute. I ordered it in size 90 and typically at 27/4. It is perfect for throwing on a dress or pair of shorts to dress it up.
Acessories for Positano and Capri
For a beach bag, I will reuse one of the many fabric bags I get inserted in my Sézane orders. They are adorable and easy to wash at the end of the trip. I don't have to worry about sunscreen spilling inside of them. I will pack cold water, a beach towel, sunscreen, a straw hat, and my Kindle for the beach clubs. For some beach clubs, you will arrive by a small boat, such as La Fontelina. You can also walk but need shoes such as sneakers to step down. The heat can get intense, so keep that in mind if you plan to climb back up. 
This sleep mask will help me get some restful sleep for the flight.
You can see the essentials I pack in my carry-on bag for the flight here.

​
What to Pack for The Amalfi Coast for Him
I decided to add a few items on what to pack for him as I am traveling with my husband and thought this would be helpful.
For a jacket for travel on the airplane and an extra layer.
Espadrilles for him. I found these and loved them, so I gave them to him. They run true to size; my husband claims they are more comfortable than he thought.
T-Shirts in both black and white.
What to Pack for Him
Button-down shirts in linen and houndstooth. He owns them in green and blue.
Hat to block out the sun.
Birkenstocks for the beach.
These shorts are a favorite and so comfortable.
Post-shave lotion.
If you are planning an Amalfi vacation and are looking for fewer crowds, try booking in the shoulder season of May and September. The beaches close in late October when the season is over for the year.
Items with a * have been kindly gifted by the brand.
*This post includes affiliate links. I make a small commission off of items purchased from my links. Merci!