I always like to break down a trip by best meals. I love food! So after each Positano and Capri, I made notes on what stood out the best for me. I want to share everything from the trip but without overloading you with information, I am going to share my Italy Top 5. You can use this as a reference for planning your trip.
My Italy Top 5
Best Meal
This was a recommendation from my hotel. I only did outdoor dining this trip. The sunset on this particular night was amazing. I had cocktails on my roof at Hotel Luna and took a short walk here. The restaurant had a nice outdoor space perfect for watching the end of the sunset.
The lemon ravioli was incredible! I need to try to make this at home. It will never come close but I can try!
Best Experience
For a half-day boat ride around Positano. Next time, I would do a full day. This was amazing and well worth the money. The water was rough this day so I didn't get the chance to swim much but I did jump in once which was on my bucket list. It was heaven and my heart was happy.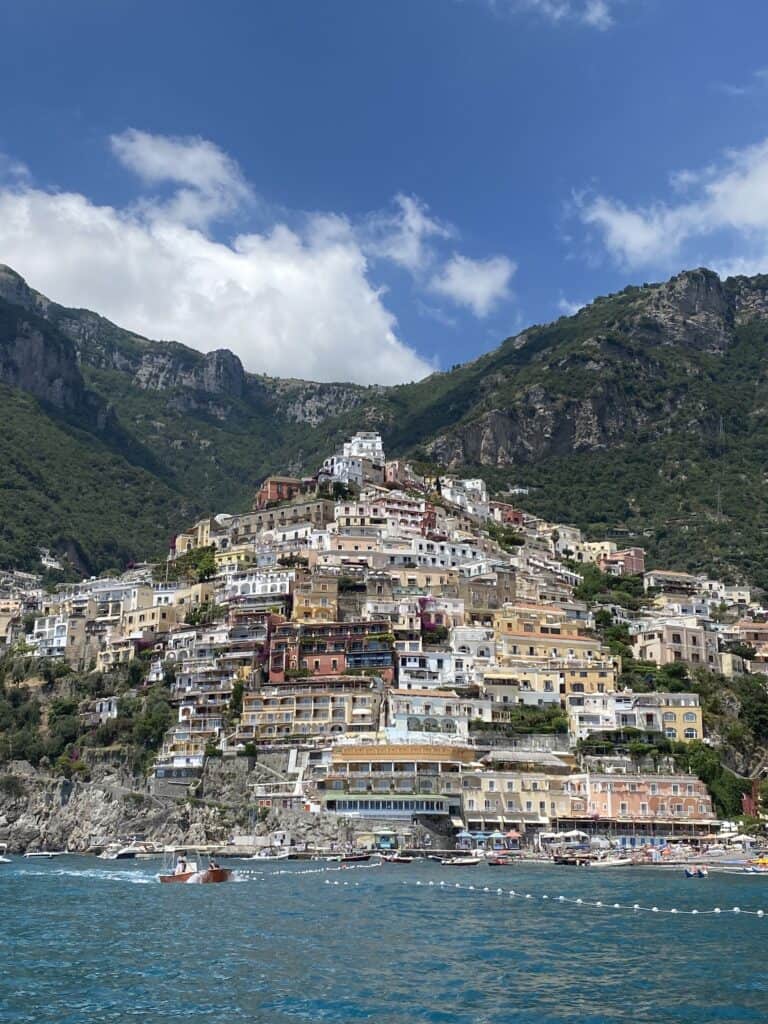 If you have been following me for a while you know I have kept in touch with my friends Holly and Gianluca over the years. I ate at their restaurant in Capri twice and they closed it at the end of 2020. They opened a garden in Anacapri for cooking classes and a private tasting. This meal was INCREDIBLE!! I had no idea what I was in for.
I booked a meat and cheese and wine tasting and it ended up being a 6-course meal that lasted past midnight. This was a highlight of the trip! If you can't make it to Italy for a bit, I highly recommend ordering their olive oils. I use them at home and they are delicious. I also send them as gifts to friends/family.
Best Spot for Cocktails
My dad joined me in Positano a few years ago and he still talks about Franco's. This is a great spot in Positano for a sunset cocktail. The minimum is 20 euros which are about the cost of a cocktail. It is worth the view and it saves you the price of a room at the hotel which will run you around 1500 euros a night.
In Anacapri is a great spot for a cocktail. The cocktails are around 20 euros and you will have to make your way up to Anacapri by taxi or bus. It is worth the views and feels like a whole different world.
Best Beach Club
This beach club is just next to Fontalina which is very famous. You have the same walk down and it is located on the other side of the rocks. I saw the google rating before arriving and I almost canceled. So, I was so hesitant since it didn't get the best reviews. I am happy I kept the reservation as it ended up being a favorite.
There was very limited to no wifi so I sat under this blue umbrella 90% of the time except for a quick dip or lunch. The service wasn't 5 stars but it worked. I still got a Campari soda which is hard to mess up and my lunch was pasta with eggplant and one of my favorite meals of the whole trip.
I found this through research and it was a highlight in many categories. It was a quick boat ride from the main beach in Positano and the boat shuttle was free with the beach club reservation. The club itself isn't huge which made it even better. I booked in advance and you also book a lunchtime. I spent two days here and I could have spent more. The food was amazing!
Best Gelato
Capri, I don't know if there are many spots in Capri for gelato. I only know one and I waited in line for this daily. It closes at 11 and dinners are long. There was one day I didn't know if I was going to make it for my lemon gelato and it was almost a disaster. The man behind the counter knew me even behind the mask and was always friendly. The lemon was the BEST. I would fly back just for this!
They also have coffee, iced coffee, and pastries. They are open late.
All opinions are my own. None of this was sponsored. I love supporting small businesses and family-owned spots. I hope you enjoyed this post!