My email box and DM's have been exploding lately and it is hard to keep track. I thought this was a great opportunity to share reader questions and answers if you have some of the same. There are a lot of wedding questions this round! This is the easiest and best way to share the answers. If you have a question, feel free to comment below and I can reply here.
When are you getting married?
Later this year! I don't know if we are sharing the exact date but it will be in the second half of 2022.
Wedding dress store in Paris?
I don't know of any particular one. My first apartment was above one back in 2013 but I never went inside because I was single. I would do a quick google search and see. I wish I had the opportunity to buy my dress in Paris but with the delays of the pandemic, I didn't want to risk it.
Botox recommendations in Paris?
I haven't done it, so I can't give any recommendations. The French have amazing anti-aging products at the pharmacies and I see more of this than signs for Botox.
How do you like the xt4? My current Fuji camera
I am still getting used to it. I love how light it is and the photos I have printed from it. My Canon was an extension of me and I loved using it.
Best spot for shopping for clothes and accessories? Going to Paris this Thursday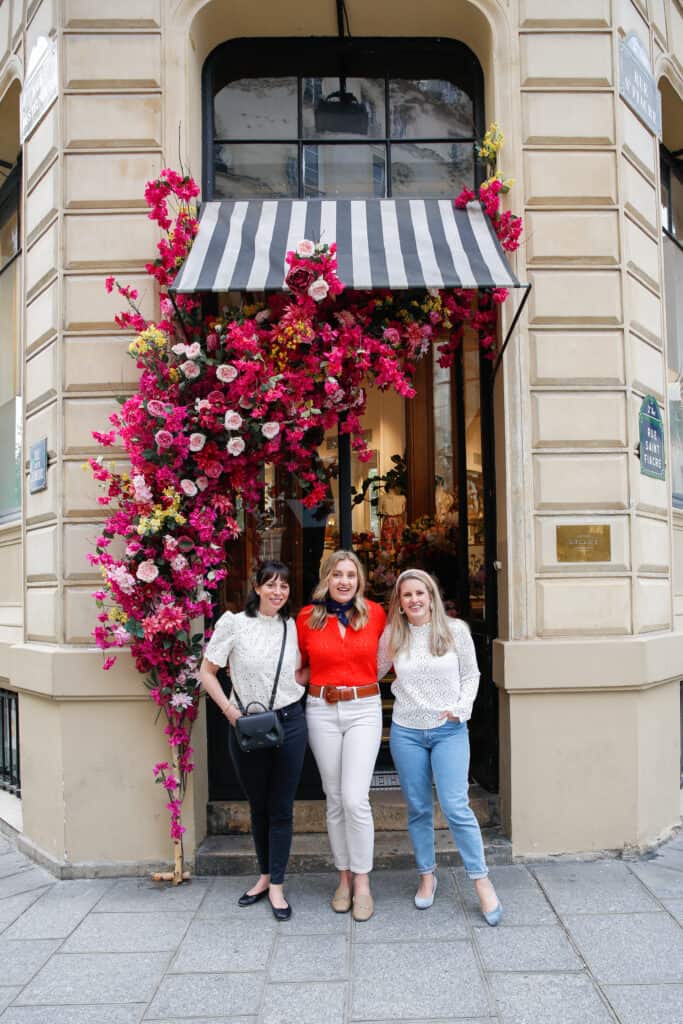 Sézane hands down is one of the most popular places to pick up French accessories and clothing. With the Euro the way it is with the dollar, now is the time to buy. Plus, if you spend over 100 euros you can get the VAT tax which is well worth it. I think half of the wardrobe I currently wear is Sézane. For sizing tips, you can see this post.
Did you think about getting married in Paris? Destination wedding?
We really thought about Italy. I wish we could have made this happen. Since we got engaged in Paris, I didn't think of a Paris wedding except for my friend Danielle had the dreamiest and most perfect Parisian wedding that I will use as inspiration. We are technically having a destination wedding in the US since it isn't where we live. It made the most sense for us and family is a top priority.
Best family-friendly neighborhoods for kids?
I have traveled a few times with my niece and nephew abroad and what has worked best is when we give them some playtime at a park first to tire them out and then we can pop them in the stroller (if they are young enough) for some adult exploring and they can nap or enjoy the ride. There are a ton of parks/playgrounds in Paris. You may have to do some research based on your individual location preferences to find a close playground.
I love the Tuileries and Palais Royal because kids can play and explore inside and keep themselves busy with adult supervision. The Tuileries has a playground and carousel for kids.
Close to the Seine reaching from the Eiffel Tower to the Tuileries are the banks of the Seine offering hopscotch, biking, ping pong tables, and other kid-friendly activities. You can also picnic here and there are a few restaurants as well.
How are your wedding plans going? Wishing you all the best! An exciting time for sure!
Wedding plans are fun and stressful. Locking down a venue was the hardest with the surge in weddings from 2020 which has continued on into 2021/22/23. I had a specific date in mind when it came to our wedding/anniversary and I wasn't budging. I basically chose the date first and everything fell second. We have a photographer which I am excited about and I have narrowed down the dress. We still have a lot of planning to do but the wedding is very small and intimate. I was able to share details with my aunts and sister over the weekend.
What's your background? Where did you grow up, college, and any siblings?
I grew up in Cincinnati, Ohio, and went to Indiana University for college. I have one sister and she has two adorable kids that make me an auntie.
What's your favorite place to visit when in Paris?
I have a few. Palais Royal feels so special to me. I lived around the corner almost 10 years ago and would walk through to and from my apartment daily. It is also where I got engaged. I was able to see Palais Royal with the backdrop of snowflakes in April and it was so magical.
Do you speak fluent French?
I don't! I wish I did. I took French in high school and college but most of what I know now is conversational from being in Paris for so long. Also, I learned a lot of foods in French from reading menus and visiting the markets. I hope my French will continue to improve and I will one day be back in France for a longer period of time to practice. The key for me would be to go to a part of France that makes me work hard to speak French. It is easy to switch to English as a lot of Parisians are learning English and want to practice.
Tips for scoring cheap airfare? Miles, apps, airline loyalty, what's your secret?
I wish I had a better answer for this. I used to have the app Hopper which would send me push notifications for good flight deals. I have since become loyal to United since meeting my fiancé and we build up airline miles and status for better seats and travel perks. I used to have a lot more flexibility before we got Henri. Now we need a little more planning to make sure he has a good place to stay while I am gone.
What arrondissement would you choose to live in?
That's a tough one. I love the Marais and have had apartments here and enjoyed the close proximity of everything I ever needed or wanted in a neighborhood. I do think having an apartment with more space and further away from tourists sounds more appealing. I have friends that had an apartment in the 8th and I really enjoyed Parc Monceau.
What are your outfit/shoe recommendations for summer in Italy? (Rome, Florence)?
Comfortable walking shoes are a must! I wrote this post for Paris which you could apply for Italy as well. I will be in Italy this summer so this is also on my mind. These Madewell sneakers are great for travel. (you will want to break them in first) You can wear them on the plane so they don't take up too much room in your luggage and wear them while walking around Rome and Florence cobblestone.
Linen will keep you cool and there are so many cute options now at J.Crew. Also, light and easily packable dresses. Rome and Florence will be hot so you will want to stay as cool as possible. Light colors, pack a hat, sunscreen, and sunglasses. I bought a few pairs of these linen shorts from J.Crew I will wear them all summer.

I will share what I am packing for Italy this summer soon!
What to wear for a late October couples photo session in Paris. Best colors
I would go with red to offset the colors of fall in Paris. Also, texture is really good because it pops. A great cable knit sweater or jacket with a scarf would be fun. My friend Katie Donnelly has great tips on what to wear for your photo session. She would know better than me!
Do you have a honeymoon planned?
We have some ideas! We have a mini-moon after the wedding and then we will go to Greece next summer hopefully. We haven't planned any of the Greece details if you have tips, send them my way!
Hi! Do you have any tips for visiting Versailles?
We took the 20 girls to Versailles with Fat Tire and loved it! We did a bike tour with them which was so fun. I have been to Versailles a handful of times and this was the most fun I have had. If you don't want to do a bike tour, I would recommend going on a weekday and try for a week that isn't a major school or national holiday to reduce the crowds. We went in the fall and it was not as busy as in the spring/summer.
There is honestly so much to see, take in, and enjoy with the parks and gardens. You can also stay on the grounds of Versailles if your budget and timing allow. I can't speak to this as I haven't done it yet.
*This post includes affiliate links. I make a small commission off of items purchased from my links. Merci!