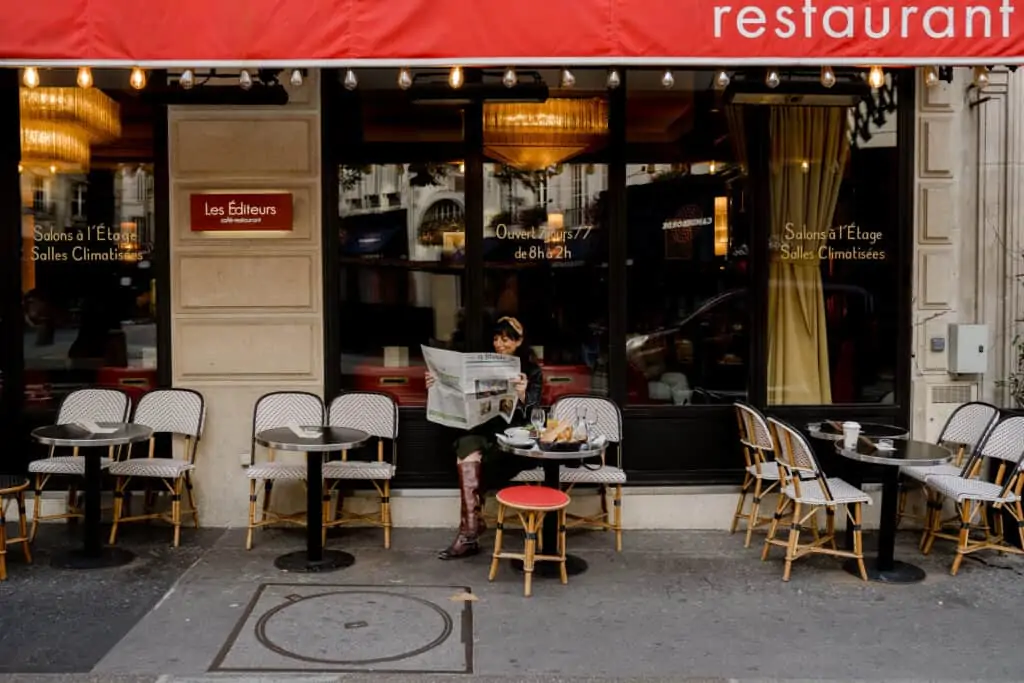 This week was a challenging one. I'm balancing the blog and Print Shop in the busy season. I had my hosting server crash for about an hour the other night making the blog not available and then the next day Shopify was down so sales for The Print Shop were not able to be processed for the entire day. I just had to roll with the punches and shift gears to make things all run smoothly. It's a balancing act being a solo entrepreneur. I love the holiday season and I am so excited to embrace all the traditions that come with it. I have a tea and chocolate advent calendar and can't wait to see my family for Thanksgiving. 🥳 After not seeing them last year, this year will be very special.
Links I Love Week 45
Europe's Christmas markets are back. These tours take you around on the best ones!
The recipe for the Big Mama truffle pasta you dream about when you are not in Paris. Also, you can also buy the Big Mama cookbook here.
An easy guide to picking wines for Thanksgiving
Framebridge introduced the corner gallery wall set. I wish I had a corner and I would totally do this with black and white prints.
What to do when you're living paycheck to paycheck – listen to this 30-minute podcast about how it's possible to break the cycle to find financial freedom.
You can now add your COVID vaccine card to your apple wallet
Brené Browns empire of emotion
I joke that on my Christmas list are new socks but it is so true. Henri is my little sock monster and no matter how many pairs I buy, they seem to disappear before the end of the season. Plus, I get cold all the time so this is a way to keep me extra warm in the colder months.
Christmas in Paris a list of what to do
I love this gold vanity mirror from Anthropologie
The Jardins de Fauburg secret Winter terrace is back. I had drinks here last month in Paris.
I love these pajamas for the buttons. They are shorts which I typically don't do in Winter but I may have to grab them.
Carrie Bradshaw's apartment is for rent on Airbnb This looks like such a fun opportunity if you were a fan of the show.
10 Trader Joe's Thanksgiving Offerings You Need on Your Holiday Table This Year
The Paris Hit List 10 Restaurants to add to your list for this Fall/Holiday.
Save the date for Sézane's winter collection. You can see the preview here. Also, keep in mind it will be released this Sunday. 
Michelle Wu Just Became Boston's First Female, Asian-American Mayor
Peony and Macaron wrapping paper is back in stock!
The new documentary featuring Julia Child
When You Find the Best Friend You've Been Longing For
13 ways to travel more responsibly. These are some great tips!
The Sephora sale is here! My favorites brands on sale include Caudalie, Tata Harper, and Farmacy. Below are my go to items that I will restock.

A French preserves maker turns to tea
Five former palaces that have turned into hotels
Women-owned stores to shop this year. I am working on my own list but it is always fun to see others.
My bras are up to 40% off right now. If you haven't purchased bras in a while, this is a good reminder to refresh your assortment and get fitted. Your weight will typically change your size.
This Cheese Board Deck: 50 Cards For Styling Spreads, Savory, and Sweet is not only fun but helps you build the perfect cheese board for your holiday parties!
So for those of you asking for a code for Boll and Branch sheets, they are currently 20% off. I gifted a pair to my brother in law last year and he is asking for a second back up set this year. Use the code CARE2021 at checkout
France introduces a new Covid health pass for non-EU visitors
The best six French winter dishes made with cheese
Maisonette is up to 25% off. They have adorable kids' items and a bunch of Paris-themed pieces that make great gifts.
I have been using my tea pot on a regular basis. And I have gotten so many questions about it. You can find the same one here.
The best new coffee tables to give and (keep) this year
On the Blog:
Where to Eat and Drink in Paris
P.S. Don't miss a post, get Links I Love delivered to your inbox every Sunday.
*This post includes affiliate links. I make a small commission through items purchased through my links. Merci!