The Best People-Watching Cafés in Paris
One of my favorite things to do in Paris is to grab a glass of wine or a café crème at a café and watch the world go by. In Paris, I am constantly on my feet walking and photographing Paris and it is good to take a pause to let my body rest. Below are some of my favorite Parisian terraces to people-watch. I also included a google map so you can see where they are in the city in comparison to where you are staying. I hope you bookmark this post for your future trip to Paris and share this with friends for their own Parisian adventures. These are some of the best people-watching cafés in Paris.
Perhaps one is close to your apartment or hotel, one may be close to a museum or shop you are visiting. Don't be shy about venturing out of your arrondissement comfort zone. It's good to explore other neighborhoods. Each neighborhood has a different feel and personality.
Paris Cafés for the Best People-Watching: Café Charlot
In Le Marais, Café Charlot is a hot spot for Sunday brunch. The terrace fills up fast for great people watching on Rue de Bretagne. It is the perfect place to spend an afternoon on a sunny day. It's a cute café and cozy spot for a rainy day in Paris.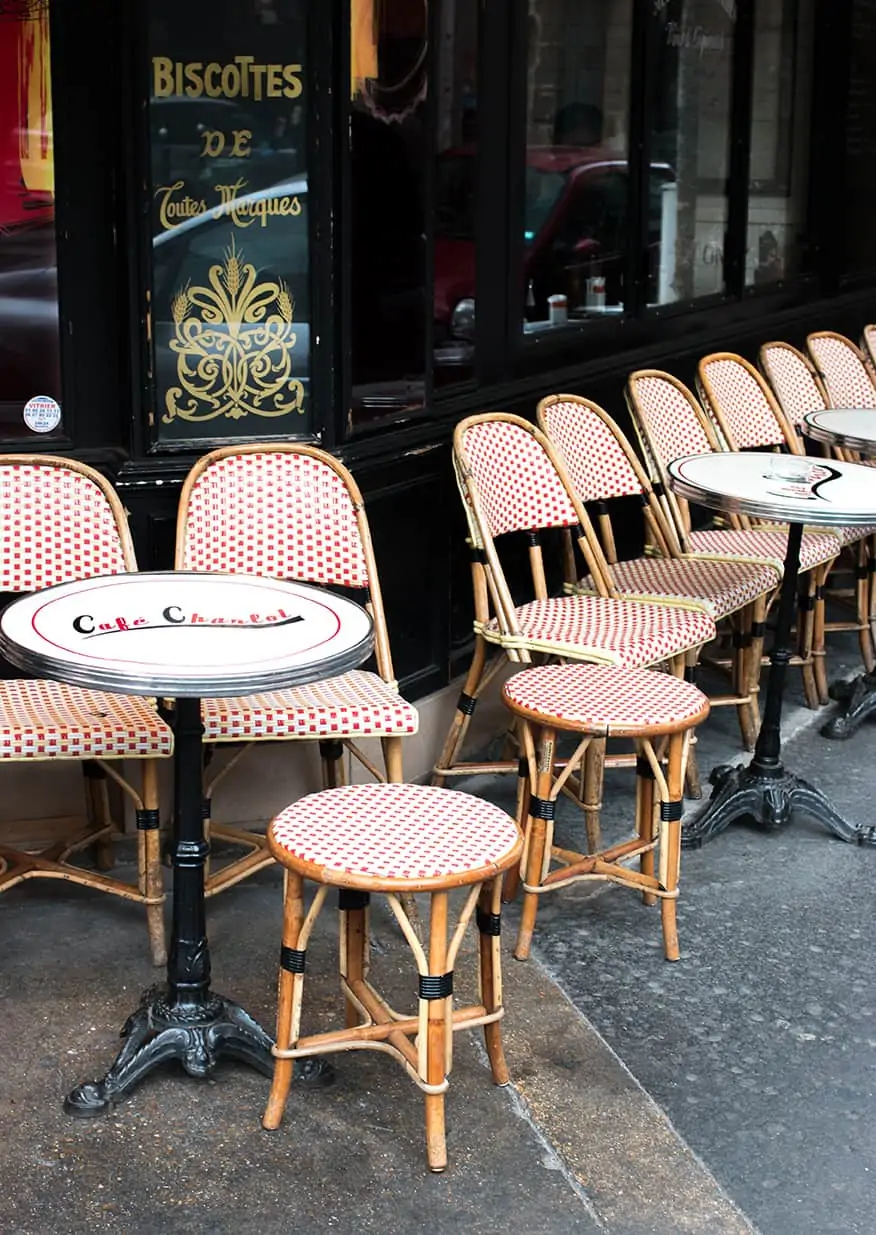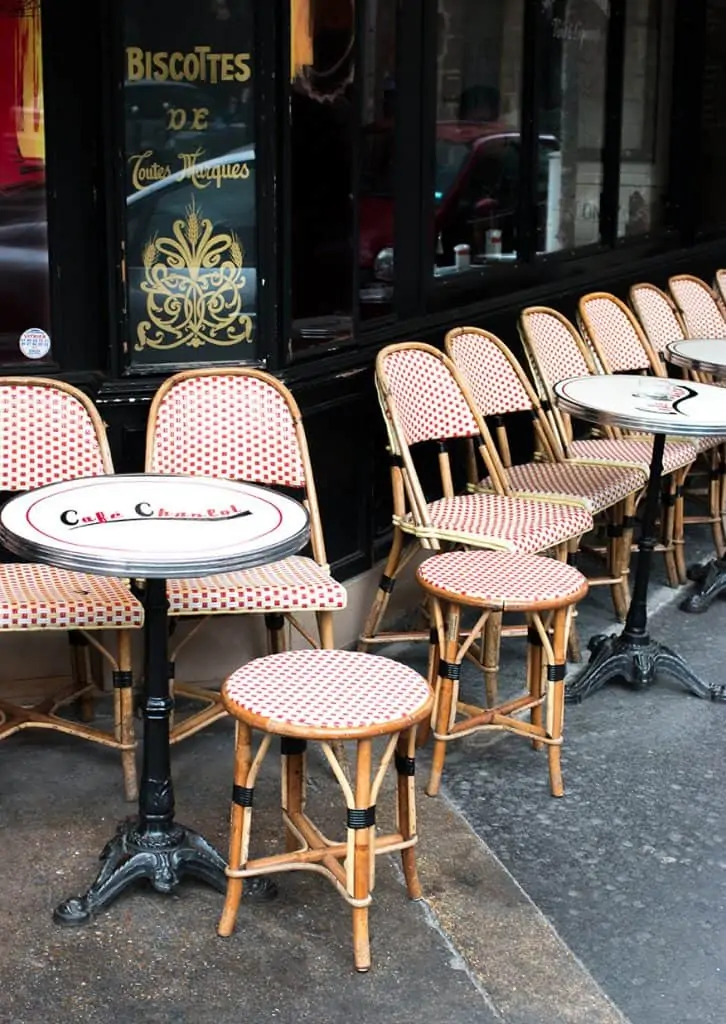 Paris Cafés for People-Watching: Café Nemours
You can find Café Nemours tucked between Palais Royal and The Louvre. It has some of my favorite people-watching and is a great place to rest between museums and site seeing in Paris. Grab a drink here or a coffee and croissant in the morning. It is a prime location in the center of Paris.
Shop Evening at Café Nemours Print Here
Shop Weekend at Café Nemours Print Here
Paris Cafés for People- Watching: Café de Flore
Cafe de Flore is a classic Parisian café that you should try at least once. I prefer to sit outside on the terrace, even on cold or rainy days. The inside has its own vibe that I could never quite bring myself to try, although I hear the upstairs is a hot spot for locals. In the colder months, there is a covered terrace just before heading inside you can also try. This is one of the most famous cafes in St Germain.
The people-watching here is great over the more expensive food and drink offered on the menu. You don't come here for the food. I saw Karl Lagerfeld here a few times. Tables outside can be hard to score, so come at an off time or test your patience. There is a newsstand across the street where you can pick up a newspaper or postcards to write home.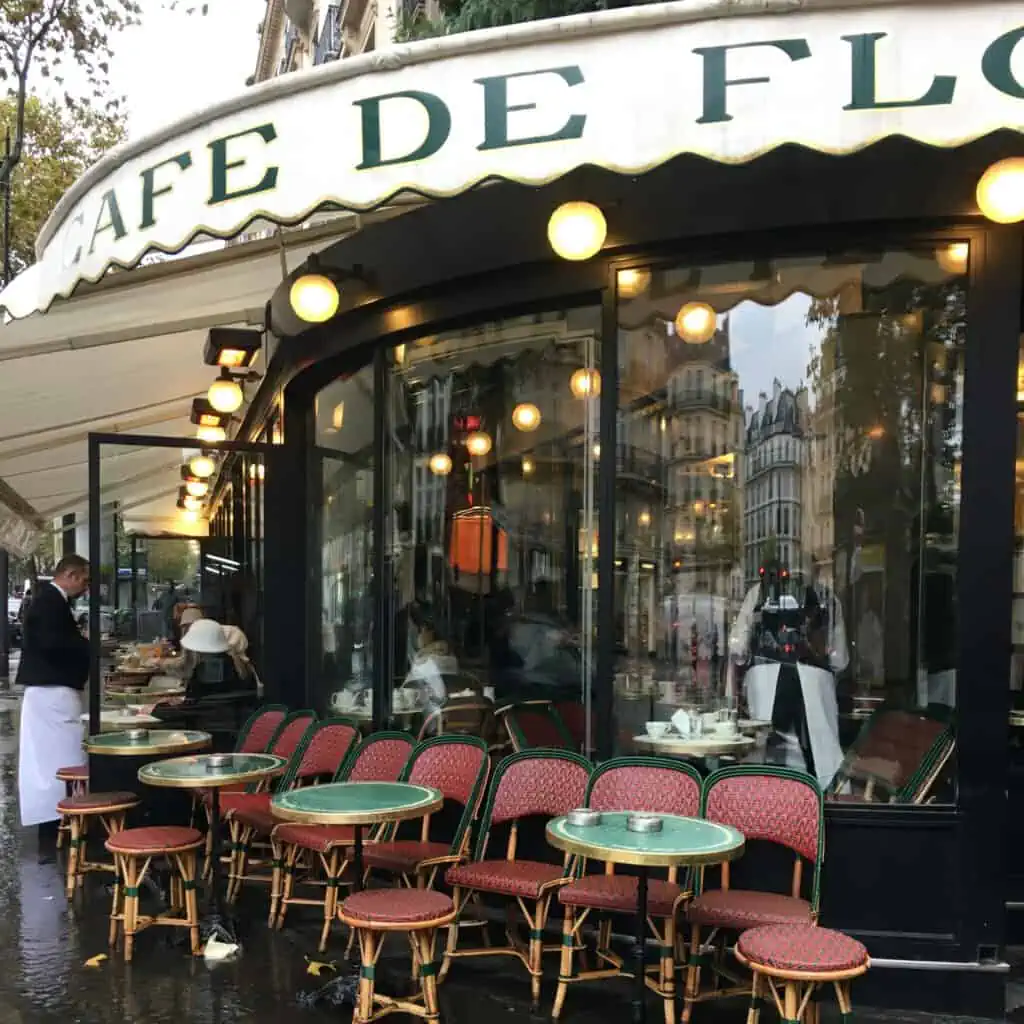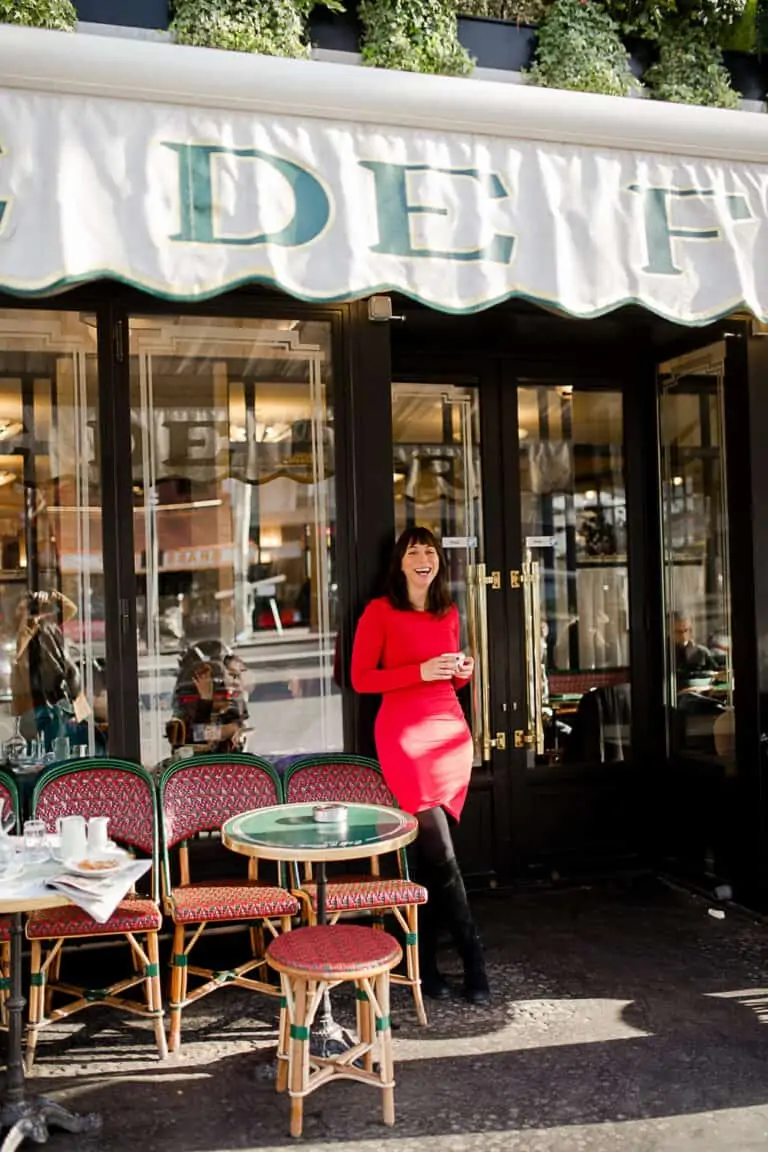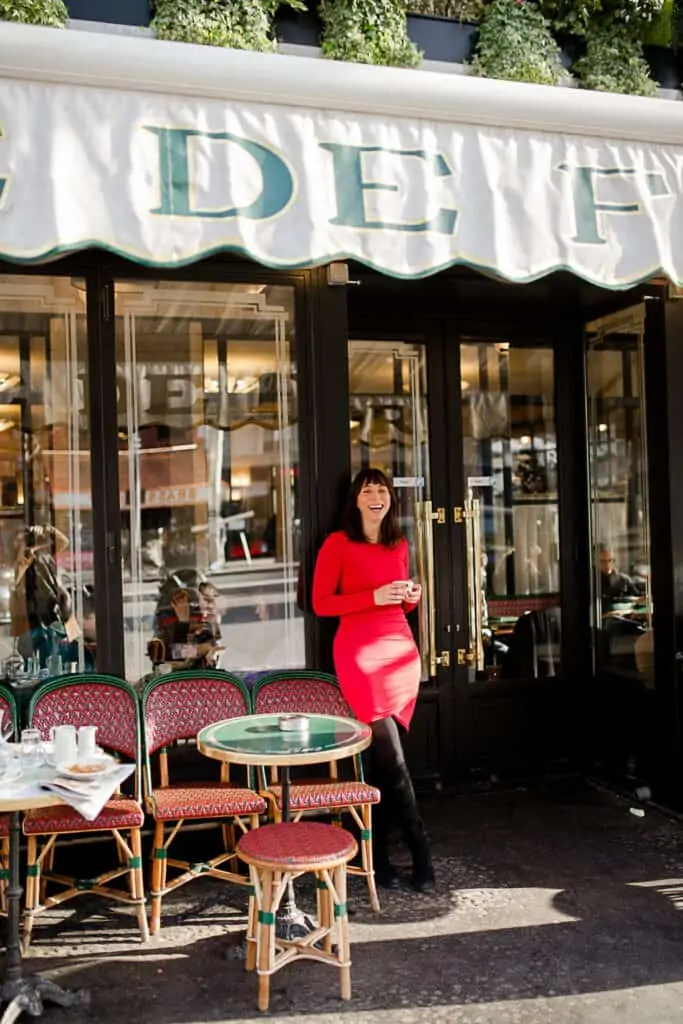 Les Deux Magots Paris
This classic Parisian café is also on the must-visit once list. The menu is pricey, but you get prime seating and an experience. I would skip getting a meal here and stick to wine, coffee, or hot chocolate. This is just one block from Café de Flore and on a busy people-watching corner. Hemingway, Julia Child, and Picasso all have a history of visiting Les Deux Magots. A jazz band plays just in front of the church across from the café on weekends.
Brasserie Lipp
Brasserie Lipp is across the street from Café de Flore and Les Deux Magots. There isn't much of an outside as in other Paris cafes, but the inside is the typical decor you would expect from a French restaurant in a movie, and worth a drink and visit.
Shop Morning at Les Deux Magots Print Here
Bar du Marché
This spot is located on Rue de Bucci and is great for an afternoon cocktail or glass of wine.
I highly recommend bookmarking this post for tips on navigating a Parisian café.
Le Saint Regis
I fell in love with Le Saint Regis years ago while walking on Ile St Louis. This café is located at the end of île St Louis and is a great spot to view the sunset at Notre Dame. Outside tables are limited, but you can grab a seat at an off-hour and stay for a while. This café is a good spot for breakfast, brunch, lunch, drinks, or dinner. I have a lot of fond memories here, solo and with friends. It would be hard to turn down an offer from a friend to meet at Saint Regis for a glass of wine and a catch-up.
Shop Breakfast at Café Saint Regis Print Here
Shop Afternoon at Café Saint Regis Print Here
Le Bonaparte
Located on The Left Bank behind Les Deux Magots is Le Bonaparte. I have only sat outside solo and with friends. The people-watching is fantastic, and you can eat or drink here. The menu is on the pricey side, but you pay for the people-watching. Just remember, you can get one drink and spend an afternoon a the table without having the waiter bring you the bill.
Shop Café Bonaparte Print Here
Au Petit Fer à Cheval
I discovered this café in The Marais back in 2012. I took a photo of it but never went inside until I returned in 2013. It was one of my best-selling photographs in 2012, and I was curious why it was so popular. I made friends with the bartender Didier and have kept in touch ever since. He is always glad to see me every visit I am in for a coffee or glass of wine.
This is a gem of a place and is a popular spot, especially on a Sunday or sunny afternoon. It's small inside and outside. If you can't find a spot here, head to Les Philosophes.
Shop Au Petit Fer à Cheval Print Here
Café Central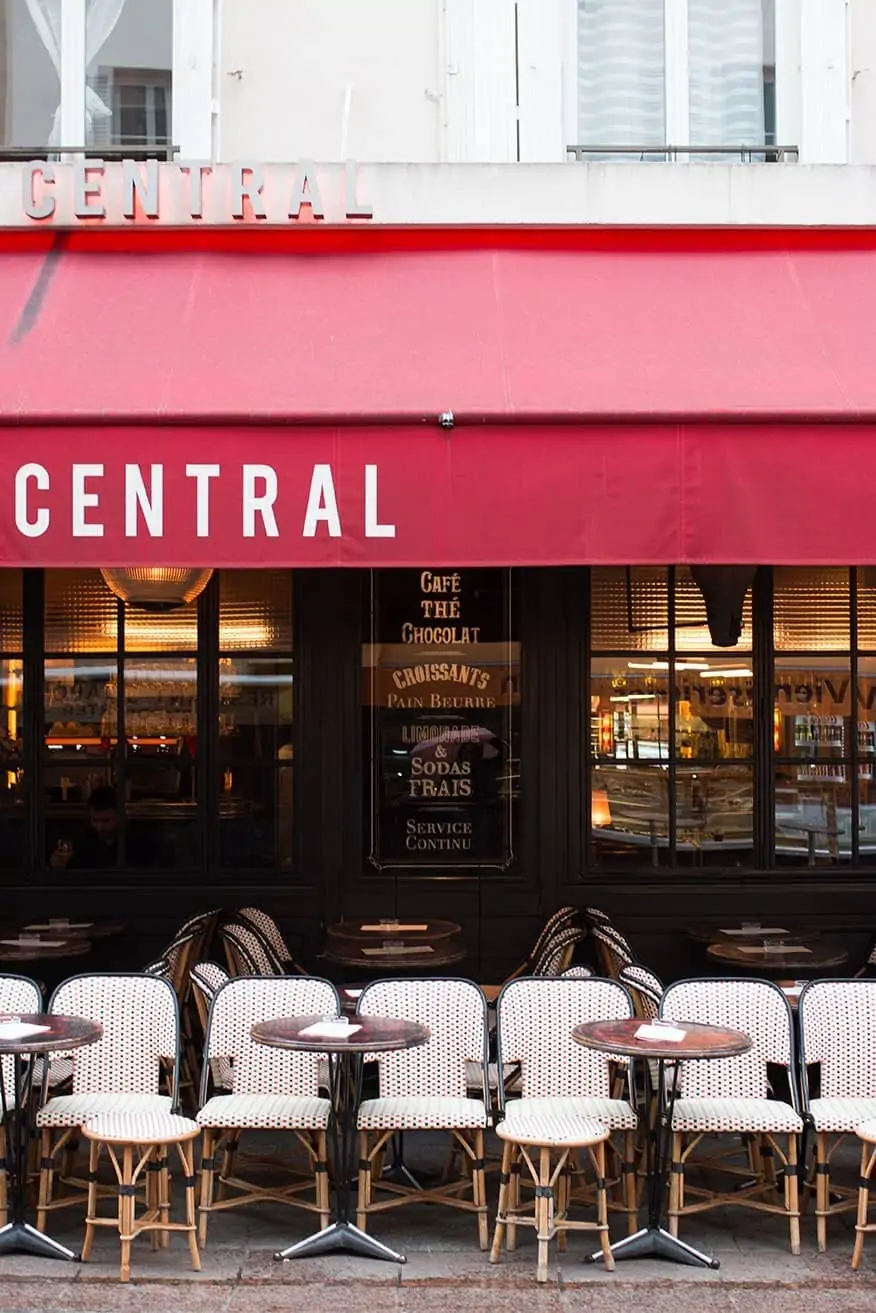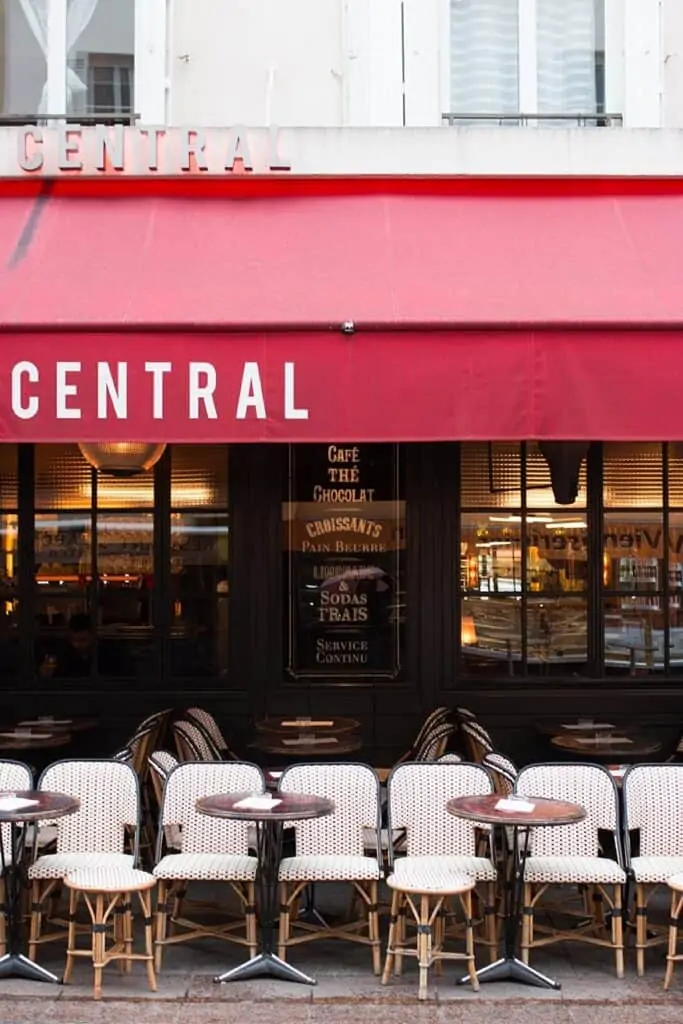 Shop Café Central Paris Print Here
Café Central has been a staple on Rue Cler for as long as I can remember. I found a photograph from my first solo trip to Paris in 2010, and I captured Café Central's rain-soaked café chairs on the terrace. I have heard only good things from readers and friends about Café Central, especially solo female travelers. If you find yourself on Rue Cler, this is a great place to stop for lunch or a glass of wine.
I have had a few meals here over the past few years since Paris reopened. The menu is a mix of classic French and modern items. You will find cheeseburgers, and poke bowls, alongside classic steak frites. The girls on the Atlas Adventures trip enjoyed cocktails, cheeseboards, and dessert here.
La Palette
Shop La Palette Paris Print Here
La Palette is just off of Rue de Seine on The Left Bank. I love passing by this classic Parisian café to see who sits outside. Do you see the men right out front to the left? Their table is reserved just for them. I have only seen them sitting there time after time. If they are not there, the table is reserved and empty. The inside is what you would expect of a Parisian café from the movies.
This is also the café where Taylor Swift filmed the video for the song Begin Again.
Chez Janou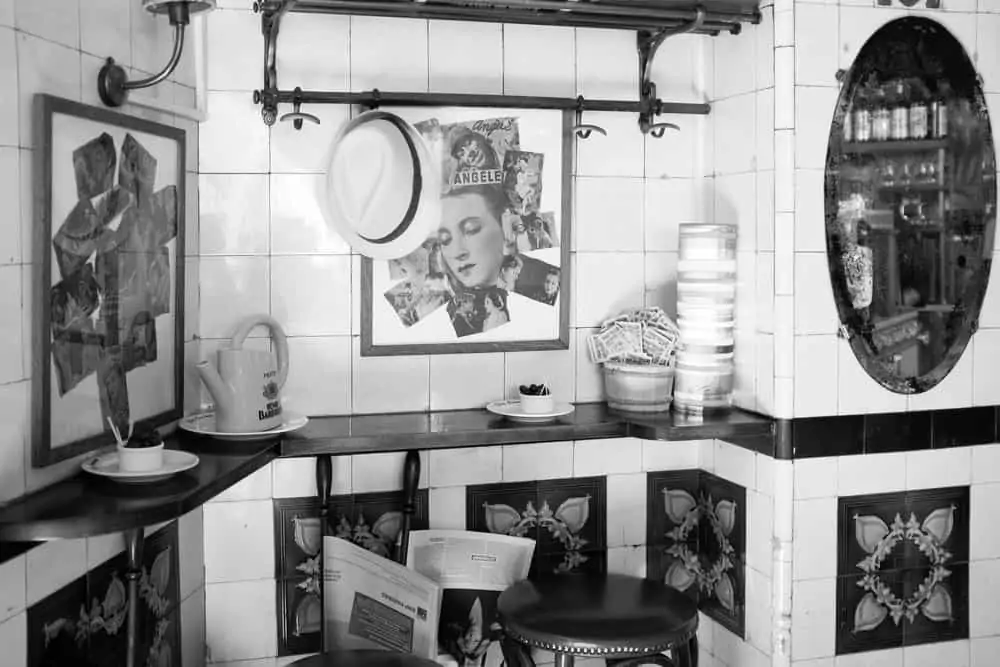 This is a reader favorite located in The Marais. You can eat here for lunch or dinner but also drink at the bar, which is a fun scene. You have to get there early to grab a seat. From my experience, many bar seats fill up for people waiting to be seated for meals. I was alone and found a seat at the bar, and the bartender was happy to chat with me in French and English. The outdoor space is fun and great for people-watching on a Sunday in The Marais.
Café de la Paix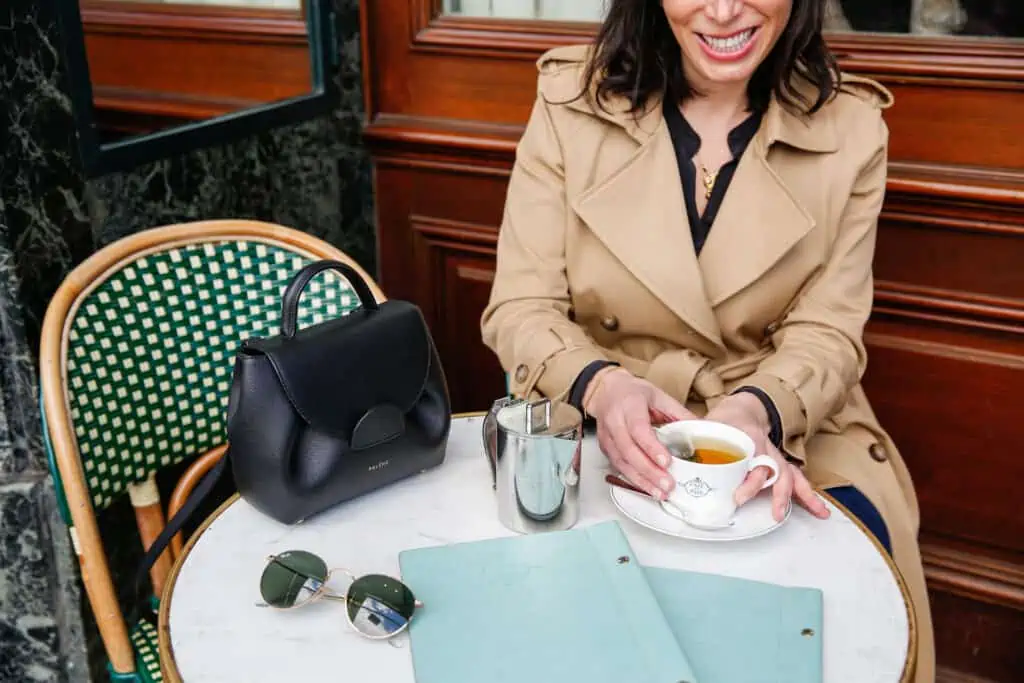 Cafe de la Paix
Café de la Paix is on the list of famous french cafes and has recently been redone inside. It is located outside of Place de l'opéra and has excellent views of the Opéra from the terrace. You can sit outside along the terrace or inside. I recommend booking a table in advance if you plan on going, as they fill up quickly.
La Fontaine de Belleville
La Fontaine de Belleville is a bit off the beaten path regarding central Paris. It is one of many Paris specialty coffee shops offering flat whites, matcha latte, and avocado toast. It's not like the other traditional cafés on my list but worth the visit. The terrace and indoor space are beautiful and prime locations to people watch, and they have excellent food.
Le Fumoir
Le Fumoir is one of my favorites if I am in the first arrondissement. It is located on the side of the Louvre. The inside space is large and available for dining, not just drinks. There are many outdoor tables, and the space fills up on a sunny day with locals. Be patient while waiting for a table in the sun; it's worth it and a great place to rest your feet in between exploring the city of lights.
Did your favorite café make the list? Comment and share below your favorite spot to people-watch in Paris.
*This post includes affiliate links. I make a small commission off of items purchased through my links. Merci!