Christmas Ornaments for the Francophile
I have always loved Christmas time. As soon as Halloween passes, decor fills the stores, and there is a special buzz in the air. While I don't personally celebrate Christmas, I love the joy and magic that the holiday brings. This post on Paris Christmas ornaments is always a fun one to write. There are so many great ornaments every year, from big stores to small businesses to support. I hope this post inspires your holiday season and Christmas decor. If you purchase any of these ornaments for your Christmas tree or have a festive Francophile holiday set up, I would love to see it! Pop on the Christmas songs and get ready to explore these Christmas ornaments for the Francophile.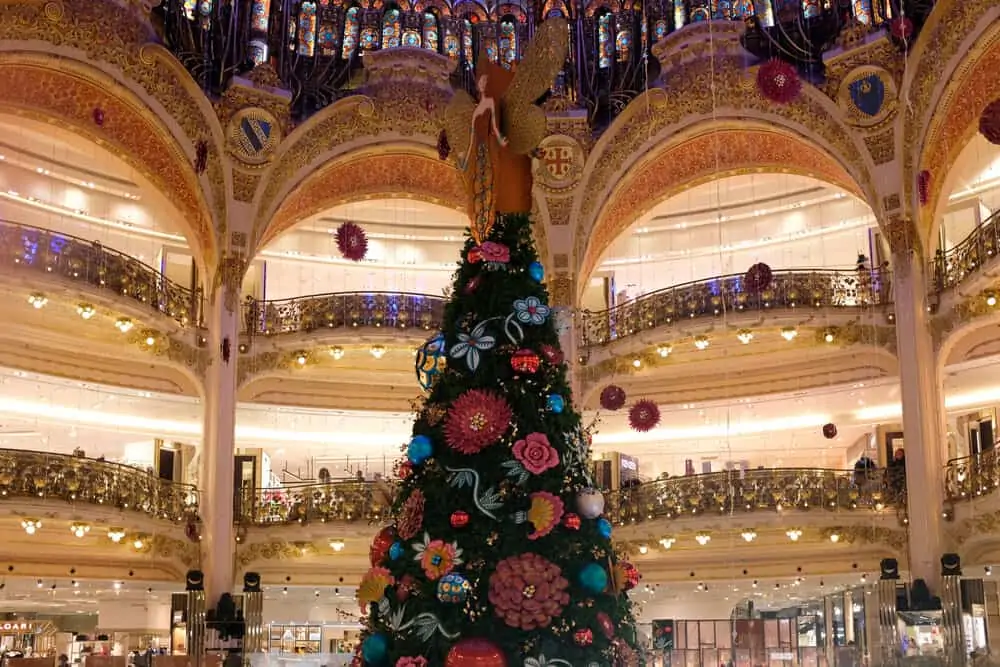 1. Jet Setter Silver Suitcase ornament for the world traveler $48
2. Espresso Machine Ornament for the coffee lover: $16.99
3. Yoga Mat Ornament: $34 for the yogi, plus it's pink.
4. French Baguette Ornament $16. It is such an adorable French themed ornament for the Francophile.
5. Passport ornament from Anthropologie. This one is currently sold out, but there is a waitlist. I also have a second option below.
6. Paris Travel Ornament $20 an adorable poodle with a Parisian theme.
7. Chocolate Croissant ornament $28 This would be on my tree if I had one.
8. Gleaming Primrose Mirror Ornament $24 from Anthropologie. A smaller version of their famous gold Parisian-inspired mirror.
9. French Press Ornament $17 available from Williams Sonoma
10. Book Stack Ornament $18 via Anthropologie in pastel colors and glitter
11. London Days beautiful ornament with red ribbon and black and white sketch. $65

Francophile Ornaments for Your Tree
12. Watercolor Eiffel Tower Ornament $24 A beautiful Eiffel Tower Christmas ornament in pastel colors to add to your tree.
13. Slip ornament $25. This fun ornament can be used after Christmas because it contains four hair ties from slip. A fun gift item as well.
14. Macaron stacked ornament is on sale for $21. For the littles who love macarons, there is a little extra glitter sparkle to this ornament.
15. Press here for Champagne $30 ornament. The perfect pop of pink and an adorable and festive piece for your tree.
16. Joy to the world Paris luggage tag. $50 A nod to CDG airport. This one is so cute!
17. Eclair Holiday Ornament, $14, is currently on sale from Neiman Marcus.

Holiday Themed Francophile Ornaments
18. A spoiled rotten dog lives here, ornament. Perfect for Henri. $40 red beaded dog bone shaped.
19. Red phone booth ornament for the London Lover $20
20. Chicago Ornament $30 For the Chicago locals. This adorable Chicago-themed ornament features the Chicago theater sign and water tower building.
21. Passport Ornament $12 is an excellent ornament for anyone who has travel on their agenda for the next year or loves to explore the world.
22. Croissant Ornament $12 from Urban Outfitters. For those who love their coffee and croissants like me!
23. Neiman Marcus Paris Landscape Ornament $75 I love the detail on this one. Sadly, it sold out before the publication of this post.
24. Eiffel Tower Blue and Gold Ornament $24
25. Maracon Box Ornament $38 an assortment of rainbow macarons for a pop of color on your Christmas tree.
My friend Karl owns the most adorable local store in Chicago called POSH. It feels like walking into a shop in Paris. You are instantly transported once you step inside. The store is beautiful, and there are so many incredible Christmas decorations. You will find an assortment of French-themed Christmas ornaments to add to your ornament collection online or in-store.
​*This post includes affiliate links. I make a small commission off of items purchased from my links. Merci!
P.S. Don't forget to get your advent calendar for December 1. I have a whole list of 20 Francophile advent calendars here.