The holiday season officially kicks off in early November. I started sharing a roundup of advent calendars on the blog years ago, and I can't wait to continue the tradition. This is something so many EDP community members look forward to each year. It is a fun way to celebrate the festive season by opening a new day in December. This post has a Francophile theme, sharing some French skincare brands, tea, and chocolate retailers with the 20 best advent calendars for 2023. I highly recommend ordering these ASAP, as they sell out quickly. Get in the holiday spirit with this advent calendar blog post.
20 Best Advent Calendar for 2023
The advent calendars are a great way to try a favorite new brand and test their products. Typically, brands share their best sellers as part of their advent calendar's daily gifts. I will have two advent calendars and maybe three this year. You can read the post to see which advent calendars I chose to celebrate the holiday season with.
Some of the exterior photos don't match up with the newest final product of the advent. Coordinate each number to the photo to find the advent calendar in the collage.
1. Palais des Thès Advent $38 A classic French tea brand. They are available in the US through multiple retailers, and their tea is always great with many variations. They have a shop in the Marais in Paris, offered at many cafés around Paris when you order tea.
2. Williams Sonoma Holiday Advent Calendar: 24 Days of Baking Cookies $69.95 Each day, uncover something fun to use to bake cookies. Inspire your creativity with this advent calendar from Williams Sonoma.
3. Oliviers & Co Advent Calendar $85.95 This advent calendar is filled with olive oils, truffles, jams, and more. I discovered Oliviers & Co. in Paris many years ago and loved all their oils. Their products make great gifts. This advent calendar is a great way to sample all their different offerings and buy a larger-size product of your favorites at Williams Sonoma.
4. Dog Advent calendar. The original is already sold out! Try this one instead from Neiman Marcus for $70. It is pricier, but I would do anything for Henri! For your furry friend to enjoy a treat each morning.
For the Foodie in Your Life
5. The Maison du Chocolat snowflake advent calendar is on sale for $76. I have had this one in years past, and it is a lot of fun. There is some repetition, and I felt they needed to make some variations in their days, but it is still enjoyable to have a little bit of Paris every morning to unwrap.
6. Spice Advent Calendar $49.95 Made in France, the perfect gift for the Foodie in your life. Each day, unwrap a different spice to use in cooking. It was produced exclusively for Williams Sonoma by the Parisian spice specialist Le Comptoir Colonial.
Beauty Favorite Advent Calendar from Sisley Paris
7. Sisley Paris Advent Calendar: $780 is available at Bergdorf Goodman and Neiman Marcus. What I love about this advent calendar is it is filled with all the best Sisley beauty products. Some of them are even full-size! Lipstick, eye cream, and so much more. This is a splurge and something I is very much looking forward to unwrapping each day in December. I have been a fan of Sisley and have worn their products for years. They did my makeup for my wedding and kindly sent this as a gift to me for the holidays. It's their first advent calendar, and I hope they continue the tradition next year. (photo via Neiman Marcus)
8. Diptyque Advent Calendar $510 available at Neiman Marcus and Nordstrom. Everything in the box is centered around the theme of the flame. There are many incredible scented candles, perfumes, and soaps to unwrap. It makes a great gift for the beauty lovers in your life, especially the Diptyque devoted fans. Image via Nordstrom
9.12 Mornings of Coffee is $85 for coffee lovers. My husband and I like to bring home beans from our travels, and we are always trying new independent coffee shops. This gives you 12 different blends of coffee to try each morning.
Best Advent Calendar Ideas
10. Paper Stationary Advent Calendar $132. It is sold out on the Papier website but also at Selfridges. Papier is the cutest paper retailer I discovered a few years ago. I have a few different stationary sets from them. This advent calendar looks like a dream for someone who loves paper products.
11. Mariage Frères Tea Advent Calendar $82. Christmas in Love. My friends at POSH sent this to me as a gift. It's one of my favorite Francophile boutiques in the heart of Chicago. They ship! It would mean a lot to me if you supported this small business for the holiday season. I love Mariage Frères tea and drink it every morning. This is a classic French tea brand, and you can't go wrong picking this up for you or a Francophile friend.
20 Best Advent Calendars for 2023
12. Dior Advent Calendar $750 The Dior calendar recreates the facade of the historic boutique 30 Avenue Montaigne. Each day, unwrap a mini or travel-sized beauty product from Dior, including makeup, skincare, and candles.
13. The 12 Days of Scent Gifts Votive Set from Pottery Barn sells for $63.99 (on sale). Each votive has a unique scent for the 12 days of Christmas. The candles have 13 hours of burn time to enjoy.
14. Saks Beauty Advent $225 25 days of beauty, a Saks exclusive. Enjoy beauty products from Sak's top beauty brands, including Sisley Paris, Molton Brown, Diptyque, and more.
15. Popcorn Advent Calendar from Williams Sonoma. $70.95 Something for the whole family! Each day, enjoy popcorn, seasoning, or a recipe.
16. 12 days of treats for your pup for $10. This simple and sweet advent calendar will bring joy to your little one's morning.
17. The L'Occitane Beauty Advent Calendar is $80 and is available at Sephora—24 days of peace, love, and beauty from this iconic French beauty brand. Paraben-free and vegan skincare products.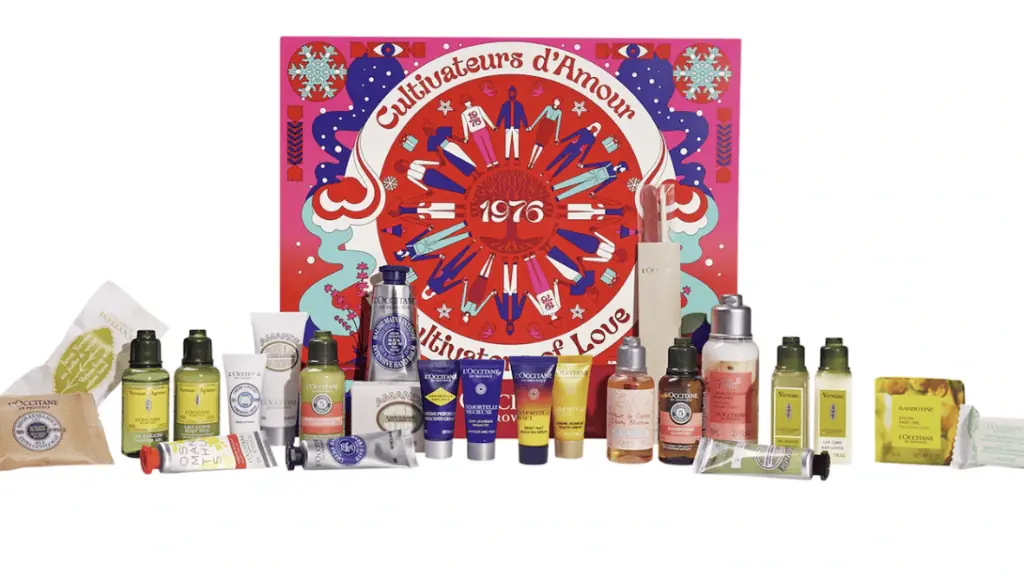 20 Best Advent Calendars
18. Compartes Chocolate Advent Calendar. $109.95 Each day, unwrap a sweet chocolate treat with a different flavor and design.
19. Maison Boissier Advent Calendar $92.40 I love the little candies from Maison Boissier, a French candy shop. They have a Paris shop on the Left Bank, and this is the first time I have seen this adorable advent calendar. My grandma used to have these candies for my sister and me when we were kids. The fruit ones are addicting and so good.
20. Bonne Maman Advent Calendar $44.99 Enjoy a French-flavored jam each morning for your toast (tartine in French). You will be surprised and delighted by the unique flavors you discover each morning. This is a lot of fun for the little kids because of the cute jam jars. Adults may prefer the more adventurous flavors and keep the classics for the kids. This advent calendar is so popular they sell it earlier each year and it still sells out.
21. Clarins 12-day Advent Calendar $79 This limited edition Clarins Advent calendar is made in France with some of the best Clarins products the brand offers. The calendar is filled with some full-size and travel-sized products. You can also purchase a 24-day advent calendar directly from Clarins on their site—a 350-dollar value for $125.
22. Angelina Advent Calendar $65 is now available for preorder. This is an advent calendar that always sells out. Uncover a delicious sweet treat, including the Angelina tea each day.
Manicurist Nail Advent Calendar
Manicurist is a French Green brand that has an assortment of nail polishes, glitter, and nail accessories to make your nails look their best. They have a very fun advent calendar filled with nail polishes and more for $119.
*This post includes affiliate links. I make a small commission at no cost to you for items purchased from my links. Merci!