My Fall Uniform has changed a little from 2019 and previous years. I am hanging out at home more than ever and staying safe. I swapped my larger Cuyana bag for a much smaller one and I wear a mask when leaving the house also this fleece has become a new favorite. My style has gone a little more casual these days.
I do still love to dress up in jeans and a sweater. I live in Chicago and the weather turns colder around the end of October early November and we are in it for a good six months. I invest in new sweaters every year and it is easy to get tired of them after six months so I try to do my best to look for new ones and add colors.
Sweaters
The place I have bought the most sweaters over the last three years is Sézane. Their sweaters run around $100-$120 and have held up well. I recently purchased a black version of my pink Gaspard sweater. This is a classic French girl sweater and comes in a variety of colors. They add new colors often. Other Sézane sweaters include: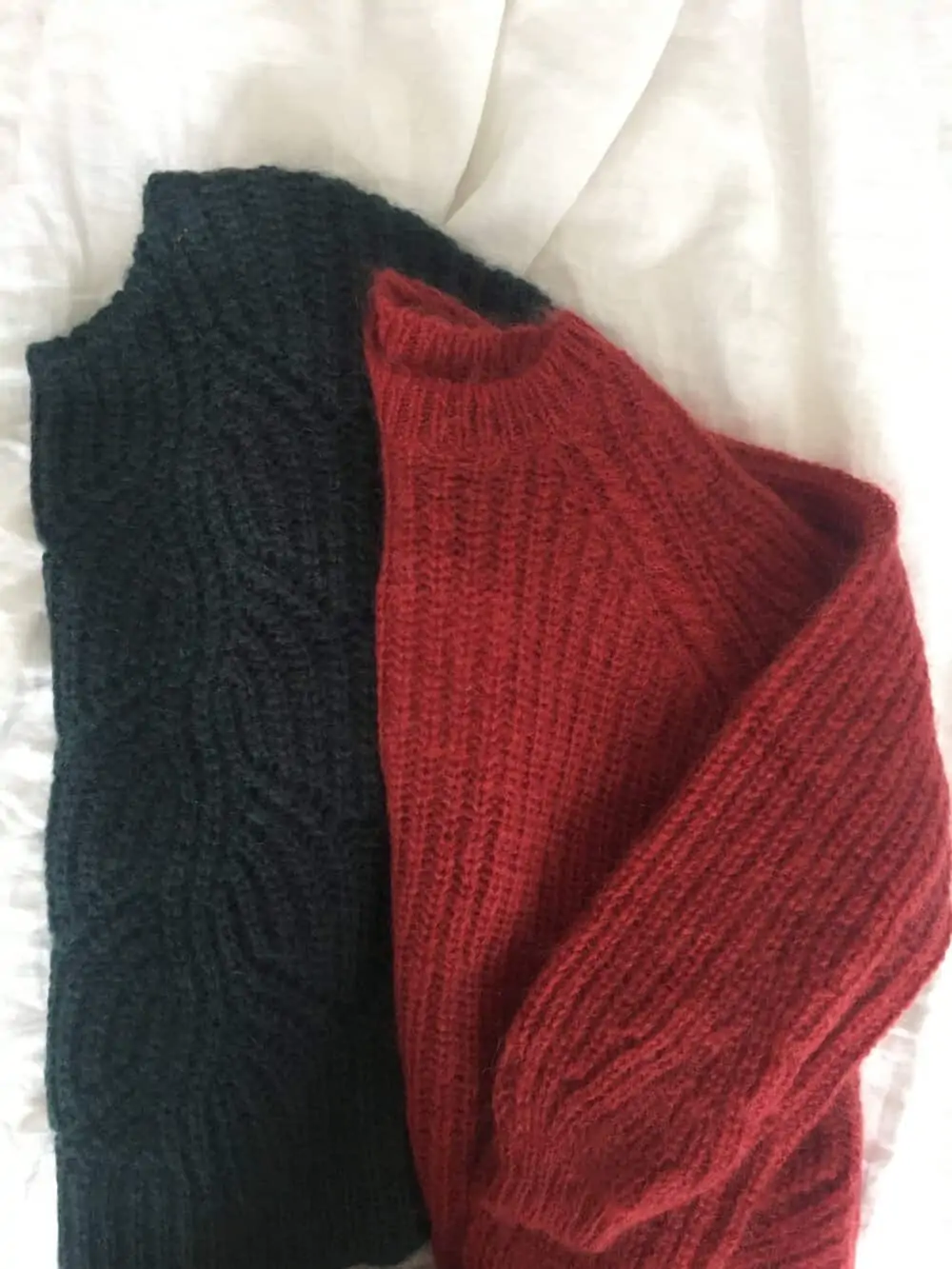 My Sophie sweater from JCrew has been a quarantine staple. I wear it around the house on colder days. The arms are a bit shorter. Something to keep in mind.
I invested in this JCrew blazer. I recently read a WSJ article that said blazers were hot at Paris fashion week so expect them to be around for a while.
Shoes
I have been wearing my Madewell sneakers out as much as possible before I change over to boots. These are comfortable walking shoes for running errands and walks around the neighborhood. I wear them in Paris for walking miles. You need to wear no show socks with them to avoid blisters. Once it gets colder, I will be back in my trusted Blondo boots. If you have the budget, these are a great investment for $100. I have owned mine for years and they are waterproof, stylish and comfortable for walking in Paris. You will be glad you bought them! ( I wear a size 8/8.5 for reference)
Jeans
For jeans, I wear these 9" rise from Madewell (size 27) along with these Hudson jeans. I haven't bought a pair of jeans this year. If you invest in good quality ones, you can keep them for a while. I hang dry never put them in the dryer.
Coats
I invested in the Sézane Johnson coat and I just picked it up from the cleaners for year two. I love it and it kept me warm all Fall and a lot of Winter with layers underneath.
This raincoat from Madewell is a new addition. I ordered it and it should arrive this week. I can't find my Barbour coat after the move. I own this JCrew raincoat but I wanted something warmer for cold fall rainy days.
This $30 amazon fleece has been worn on repeat since arriving a few weeks ago. I ordered a size small and there are pockets inside so you can put your phone and keys if you don't want to carry a bag.
Layering Pieces
I typically wear my Madewell pocket t-shirts with jeans and sweaters or a layering tank underneath.
Bag
I switched from my much larger top zip tote from Cuyana to the Camera bag. I need to be handsfree for hand sanitizer/masks. I use my phone as my wallet with Apple Pay and leave my computer at home so I don't need as much when I am out and about.
This post includes affiliate links. I make a small commission off of items purchased through my links. Merci!