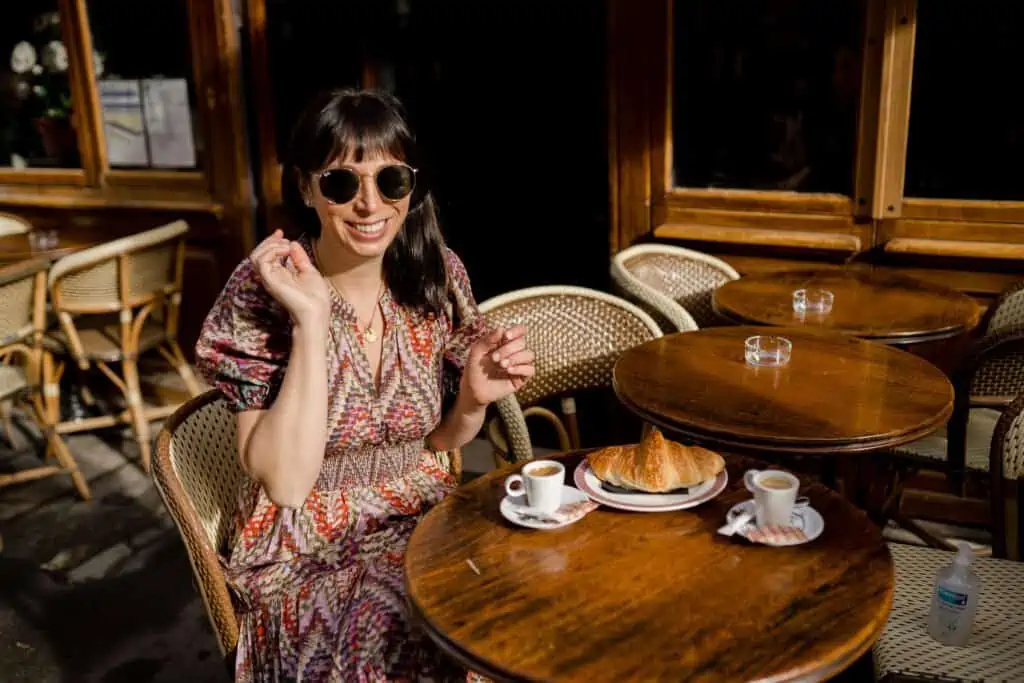 I am in Florida for the weekend visiting my family. I surprised my niece and nephew which made for a very fun school pickup. It is a combination birthday weekend for both kids. I am helping my sister with a birthday party before flying back to Chicago on Sunday.
The Paris and Italy calendars will go on pre-sale on Friday, September 16th. Hint, the Italy calendar this year is beaches and it's dreamy! 😍 You can see last year's Paris calendar here.
My fiancé and I attended the Green City BBQ in Chicago on Thursday and we loved it. We attend the farmer's market regularly and this was a special event they put on every year. I have already decided that we will get tickets again for next year. A lot of readers expressed interest in the event and I will make sure to remind everyone to grab tickets before it sells out.
Grab your coffee and croissants and join me for my favorite links I love.
Thanks to Paris' Urban Farms, the City's Best Restaurants Are Serving Hyper-Local Produce
Your Career Is Just One-Eighth of Your Life
Why CVS and Walgreens still print photos. This is a valid reason and it is a good reminder to print your photos. As a travel photographer, I print my photos after each trip but not as many family photos as I should.
The Olive Oil Capital of the World, Parched
The 17 Best Rooftop Bars in Chicago
The exhibition Van Gogh, the starry night returns to the Atelier des Lumières
Ask a flight attendant, about everything from jet lag to middle-seat etiquette via NYT
The best bistro terraces in Paris
This sweater from Alex Mill looks so cozy for winter. It's reasonably priced from this brand.
16 recipes for hungry busy people inspiration for dinner
Fall Mantle Decor Ideas via My Domaine
The Sex Lives of College Girls is getting a season 2. We loved season one. I was turned off by the title but ended up taking a chance on the show and my fiancé and I laughed so hard.
12 of the biggest trends in food right now according to The Food Network
RH just opened a stunning small boutique hotel in NYC. I hope Chicago is next on the list. It is dreamy just not cheap.
5 Ways to deal with the post-vacation blues
DOT Sec. Pete Buttigieg Says Air Travel Is 'Going to Get Better by the Holidays'
Her Majesty The Queen, A Style Legacy via Elle UK
Sézane Fall Lookbook Second Act is so good. Check back on Sunday for my individual favorites.  I love the Léo coat, I ordered this dress and this bag.
I Took a Girls' Trip to the Best New Hotel on the Amalfi Coast — Here's What It Was Like via Travel + Leisure This was named one of the best hotels for Travel and Leisure 2022. I really would love to stay here.
6 shoes French women are going to wear this fall
The great love story between Queen Elizabeth II and corgis
My fiancé and I started registering last week which was both exhausting and fun. We had a head start but will probably do the rest online.
How to clean a wood cutting board. If you have been around here for a while, you know I love a clean kitchen. This is so helpful and a good reminder. I am leaning towards registering for new cutting boards for the wedding and starting fresh after all these great tips.
I love these new arrivals from Cuyana along with the pop or red called poppy for their leather goods. This coat looks so cute! This v-neck cashmere sweater.
The best food neighborhoods in the US
I spent a lot of the pandemic using Duolingo and now I am ready to try out Babbel. My friend Cécilia says it's better. There is a great discount going on so I signed up for 3 months for under $30.
I love fall but can skip all the Halloween and pumpkin decor and skip straight to Christmas. I am already shopping the Williams Sonoma Christmas Preview
Best Sellers this week! Including the layering tank, I ordered in multiple colors that are 40% off.
What to Do If You Test Positive for COVID-19 While Traveling, According to Experts
The 26 Most Beautiful Castles in Europe
My Biossance order arrived. A lot of you ordered the same items. This set has eye cream and serum for a discounted price. I also ordered this face cream for winter as I have dry skin and needed the extra boost.
J.Crew released Fall new arrivals. I rounded up my favorites in this post here. They brought one of my favorite coats back in beautiful colors. I want this coat in navy. Watching for a sale.
On the Blog:
A Guide to the 9th arrondissement in Paris If you have been to Paris before and you are looking for a more local experience, this guide will help on where to eat, drink and explore a new neighborhood.
All about the Sézane Gaspard sweater I cover sizing, how it runs in comparison to US sizing, and how to take care of it. I have 3 and I will probably purchase a fourth color soon. It was last year's best-selling item on the blog!
What to Pack for Paris in the Autumn
What to do in Paris in September
7 Ways to transition your home for fall
P.S. Don't miss a blog post.
Sign up to get Links I Love delivered to your inbox every Sunday.
Supporting The Print Shop helps bring valuable free content to your weekly inboxes.
*This post includes affiliate links. I make a small commission off items purchased through my links at no cost to you. Merci!