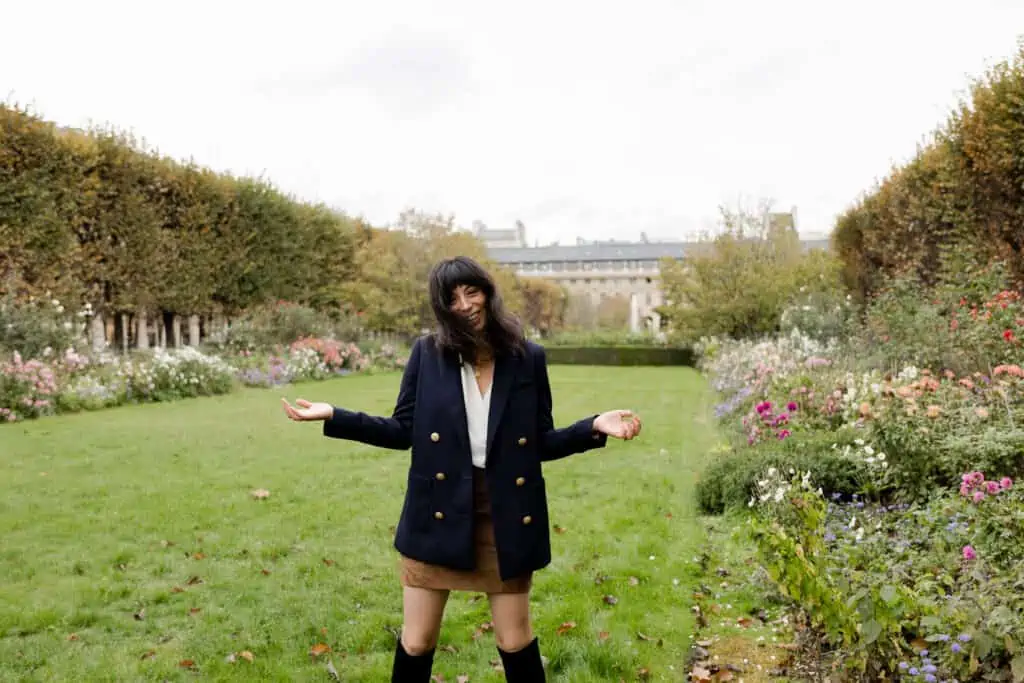 I am officially back from an incredible solo trip to Paris. Part of the trip was spent in Bordeaux for the dreamiest bachelorette party of one. You can see a sneak peek here and here. I can't wait to share the experience with you all and encourage you to book some time away at the dreamiest hotel. It felt like I jumped into one of my favorite movies, "A Good Year."
Henri and I had a love-filled reunion followed by many toilet paper rolls destroyed in anger (by him). But I think we are finding a balance between snuggles, walks, and playtime.
Grab your coffee and croissants and join me for a very full Links I Love.
Links I Love Week 43
The Little Rituals That Keep Us Going via NYT
Envy, the Happiness Killer Eradicating this ugly emotion entirely would be impossible, but we can stop fueling it with our behavior. Via the Atlantic
How Many Friends Do You Really Need? via NYT
The Best Day to Score Cheap Flights — and When to Book to Avoid Cancellations, According to New Data
The most spectacular works to see during Paris + by Art Basel I saw the start of this while in Paris this week
How to Find the Best Wines from Burgandy
Diptyque has a pumpkin-scented candle out for a limited time. I haven't had the chance to smell it but it will be gone in a flash so if you are intrigued like I am, snatch it before it's gone.
I packed for Paris in my Away carry-on and Away tote bag and brought my Cuyana zip tote for walking around Paris. I also packed a Longchamp foldable bag, which I used as a checked bag on the way home. It was clear I wasn't making it back in just a carry-on. I picked up a few gifts for friends and skincare for me that had my bags full!
The End of The Millenial Internet via The Atlantic
One of the most asked questions in Instagram DMs was for the link to this t-shirt that I wore in Bordeaux. I over-ordered t-shirts recently but they came in handy as layering pieces. I am so happy with this purchase and I ordered this one in black and white.
My Staub pan is one of the most used pieces in my kitchen. I bought it as a gift to myself a few years ago and I love it. This is a great price and would make a great gift idea for a cook in your life.
Why Are We So Obsessed With 'The French Girl? This was such a great article via Harpers' Bazaar Australia
Madame Du Barry's apartment in Versailles reopens to the public after 18 months of renovation
This week's best sellers. So many fun fall and holiday items included! 
I had a lovely meeting with the Degrenne team in Paris and chose these bowls and plates for our kitchen at home. My fiancé has his own plates that are sentimental and I wanted to add white bowls and plates for the kitchen. 
The Complexities of Human Love
The weather was so dreamy and warm in Bordeaux, I left my Everlane sweater there. The hotel has been kind enough to ship it back to Chicago for me.
23 Editor-Approved Brands Supporting Breast Cancer Awareness This Month – including Sézane!
I recently discovered these depuffing eye masks. They look like an intense version of the Klorane ones I use which are more budget-friendly. I am tempted to order this for my wedding day because I know I will be puffy from crying and I don't want to mess around. 
A New French Restaurant is Opening Off of Randolph in Chicago
Ina Garten is on 60 minutes this Sunday ahead of the debut of her new book. I will be watching and ordering the next cookbook.
The ballet flat is definitely a trend in France right now if you haven't jumped on it yet, now is the chance. I always say that trends that are happening in Europe will be in the US so it's best to make the investment now. I had dinner with two French friends and we looked down and the three of us all had ballet flats very similar. I swear by these Margaux flats for walking around Paris.
Where To Go Stargazing in France
One of the best parts of my trip to France was my solo bachelorette party in Bordeaux. I had a spa day and stocked up on all my favorite French Caudalie skincare. This vinoperfect serum is a must! I also picked up this day cream and this night cream to add to my routine per their suggestion. I will report back! 
6 Ways to Make Your Home Less Gloomy This Winter
J.Crew Cashmere event is on until October 26th which gives you 20% off cashmere items. I love this pocket cashmere sweater, zip hoodie, and oversized crew neck sweater. 
The Fuel Shortage in France is Testing Commuters Patience I experienced this firsthand as it is a challenge to get an Uber or Taxi. Allow extra travel time.
On the Blog:
What to do in Paris in October
10 Ways to Save on Your Next trip to Paris
What to do in Paris When it Rains
What to Pack for Paris in the Autumn
25 French Brands You Can Buy in the US
P.S. Don't miss a blog post!
Sign up to get Links I Love delivered to your inbox every Sunday.
Supporting The Print Shop helps bring valuable free content to your weekly inboxes.
*This post includes affiliate links. I make a small commission off items purchased through my links at no cost to you. Merci!