What I Packed for Paris in the Winter
I typically write a packing post for Paris before I leave but since my trip was last minute and there wasn't much time, I am pulling this together after. This post will be helpful if you have an upcoming trip to Paris in the winter months and are looking for ideas on what to pack. You can always reference this post on what to pack for Paris in the winter. This is a detailed list of my Paris winter packing list and what I wish I packed. More on that below in the post 😉
It is a good idea to pack in layers. The weather in Paris in the winter is cold and damp. Even when it says it is 50 degrees, it still felt cold. A camisole or layering shirt makes a great extra layer underneath a sweater to keep warm. These t-shirts in black and white I picked up last October have been one of my favorite things I own.
Winter Long Coat Paris Winter Packing List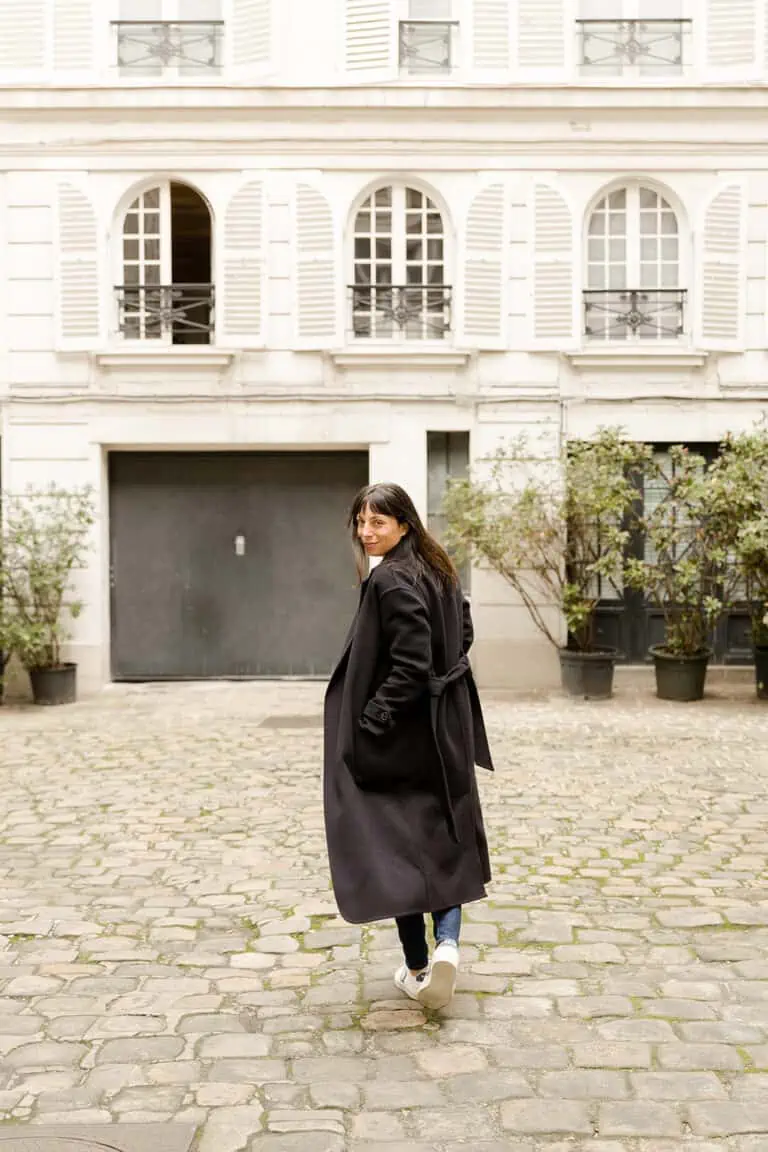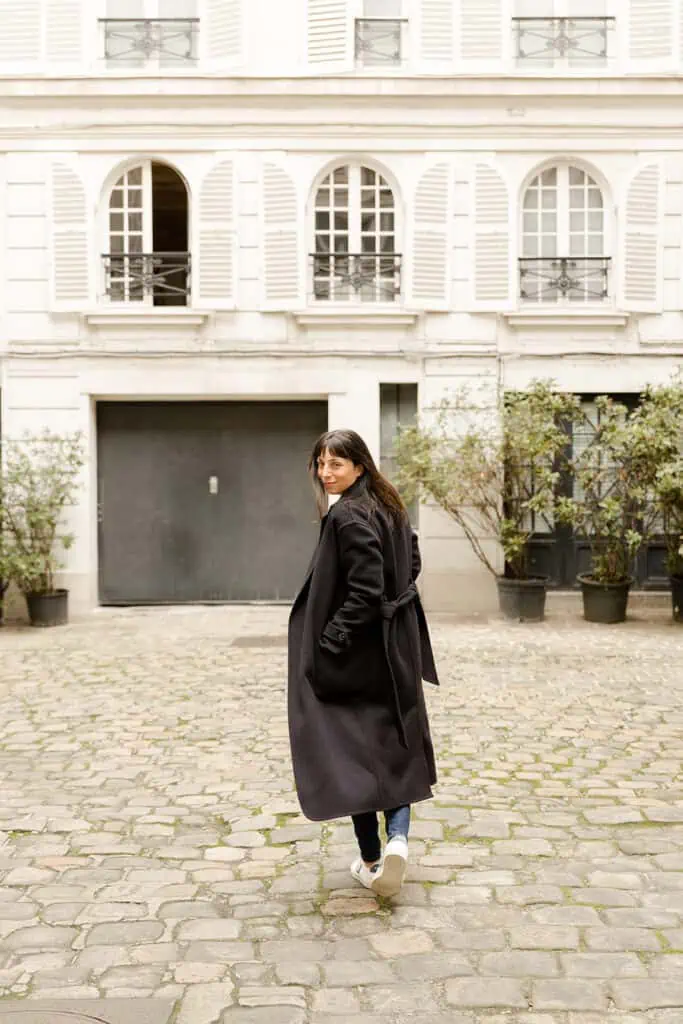 Long coats are very much in right now; everywhere I looked, French women were all wearing long coats. If you are looking to update your winter coat, I recommend a wool long jacket if you are headed to Europe. This is a great way to look stylish in cold weather. I was so happy I packed mine for Paris. My husband and I noticed navy coats were trending a few years back and it was on my list of items to invest in. Black, navy, and camel are the classic colors for your winter coat. You will find it goes with everything even if you have a pop of color with another accessory.
A trench coat may work if you are headed to Paris towards the end of winter for warmer days. It would be best to leave it at home for the colder months. January is quite cold and I couldn't imagine wearing a trench coat in that weather.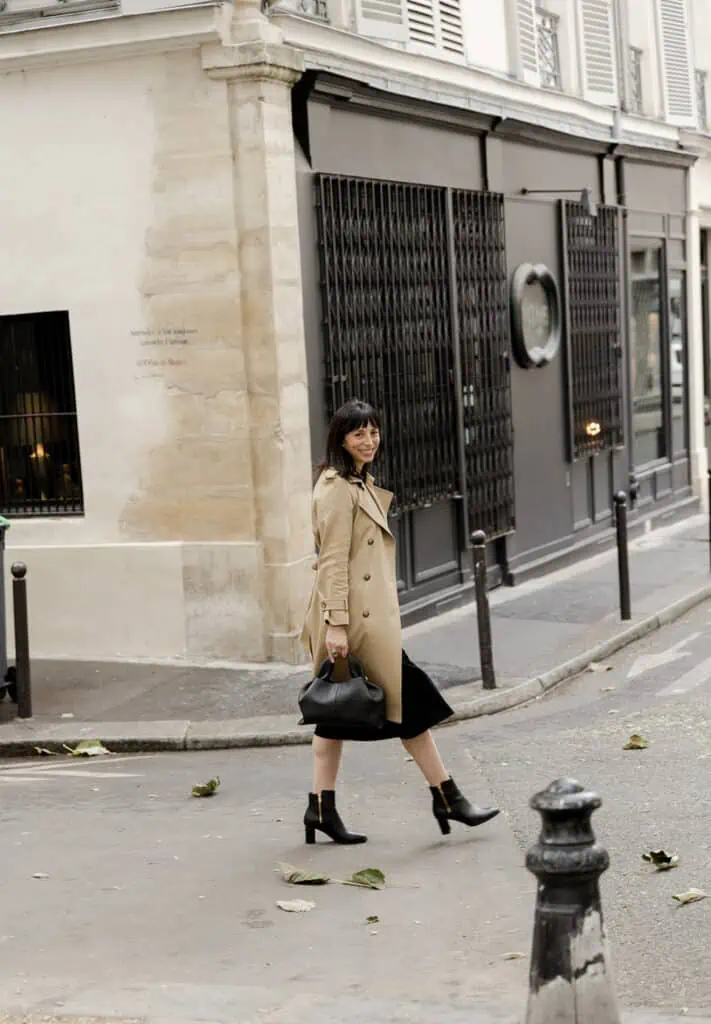 Paris Winter Packing List Blazers
I have come to love a blazer over a sweater or shirt. During my last trip to Paris, I picked up the navy blazer and then ordered the same one in camel, which I wear on repeat. The two I own are from Sézane, J.Crew also makes one that is great that I have in my closet.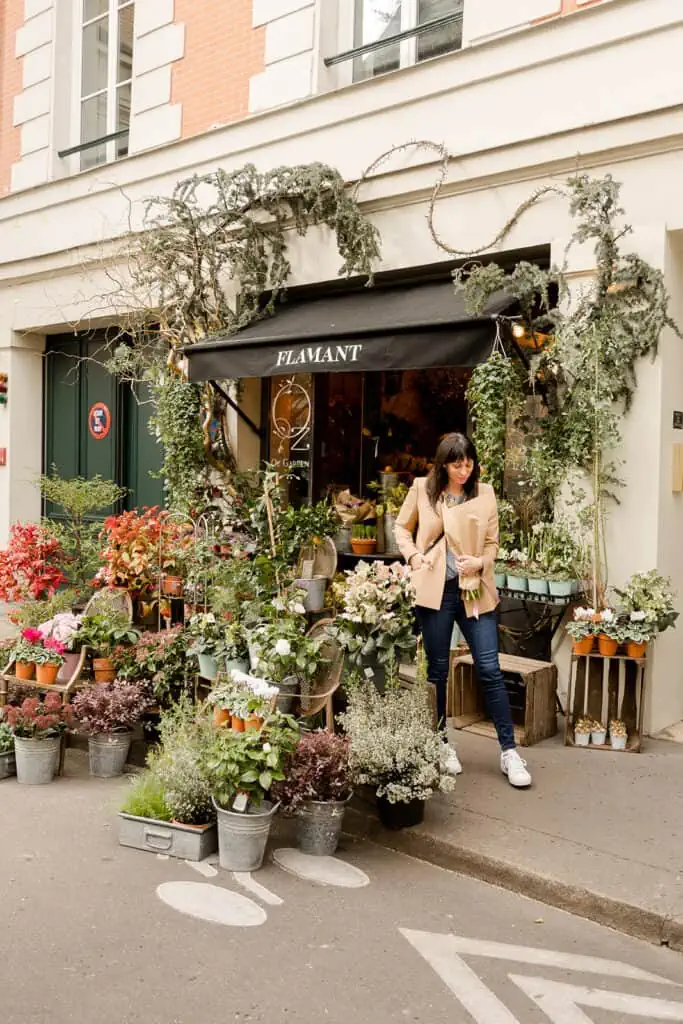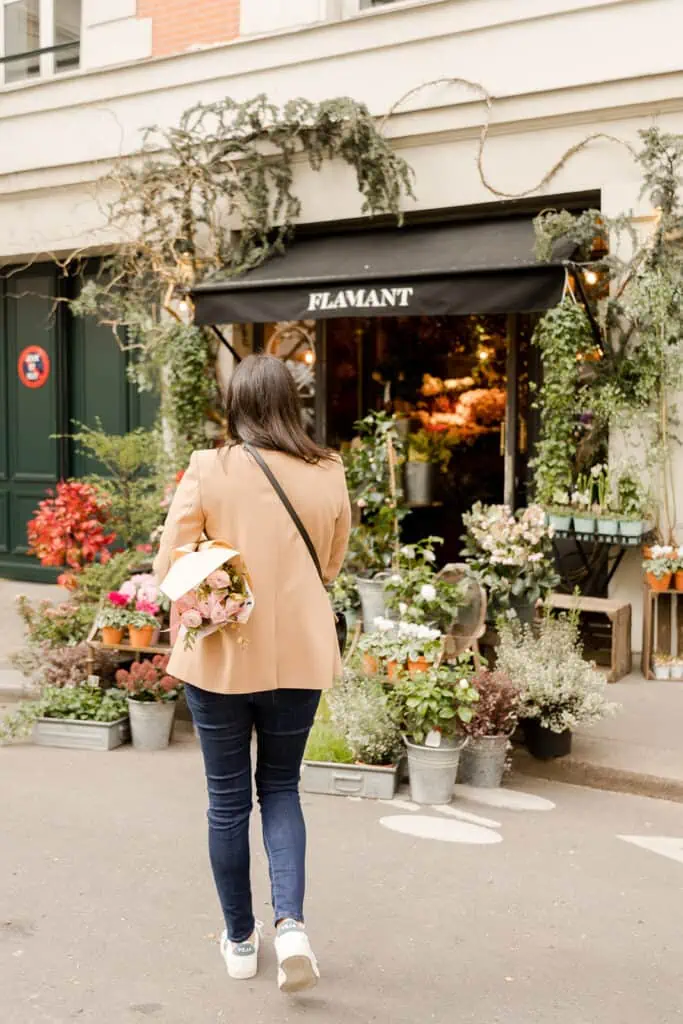 Winter Accessories for Paris
A scarf and leather gloves are necessary winter accessories for Paris. I bought a pair of gloves at Monoprix, which was precisely what I did last April when it snowed. Monoprix is like a French Target and carries food and clothing. They have some great finds, and it was easy to pop in for gloves. My scarf is from Sézane but completely sold out. I found a dupe available below for a similar price point.

Carry On Away Suitcase
I try to pack smart and light. The pieces that come with me are neutral and can be intermixed to create different outfits. You can see all about my Away suitcase here and why I love it. For hanging items, they go in this garment bag and everything is sorted on one side of the bag to make it easy to hang when I get to my hotel.
Paris Winter Packing List: Sweaters
I wore this Abelia blouse in cream on repeat since getting it in Paris in October. I wear it with jeans and skirts and under a blazer. I have it in size small.
This Gaspard sweater got the most compliments. I own it in three colors, but the blue is fun and pops with my coloring. I own the vintage blue in size small.
The Louise jumper is a favorite of mine and I loved pairing it with a black skirt to look like a dress with a belt. I always like to have a pair of tights it is very trendy for Paris winter fashion to wear black tights with a skirt or dress. You can buy tights just about anywhere. Sheertex, Sézane, and Calzadonia all have affordable options.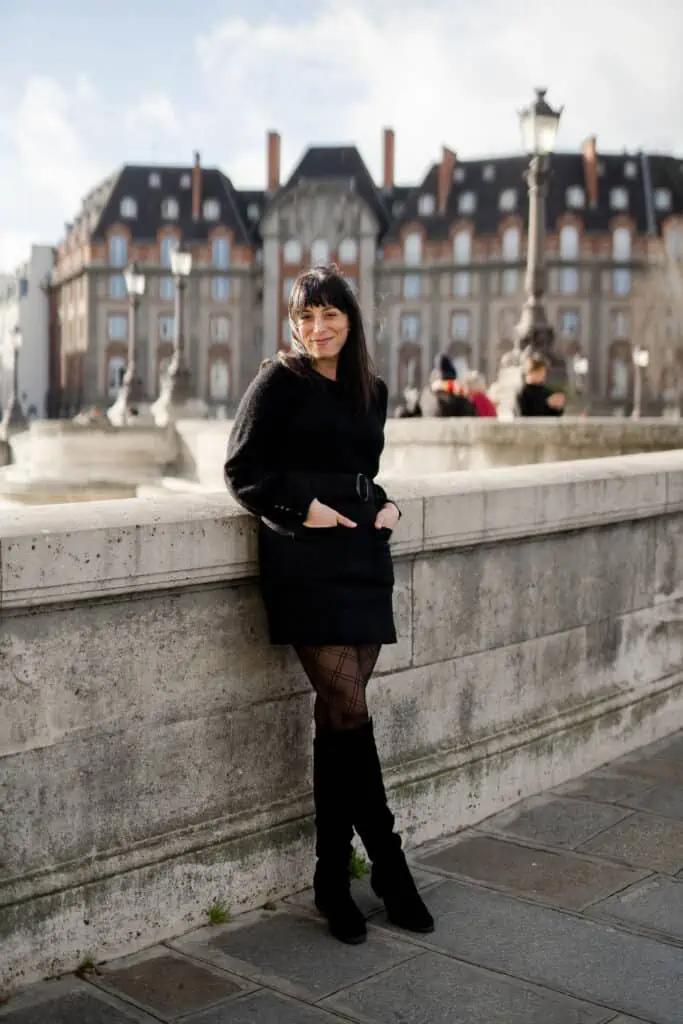 There is always a turtleneck sweater packed in my suitcase for winter, as you never know when there will be an extra chilly day. I have some neutral colors that work well with jeans or black pants.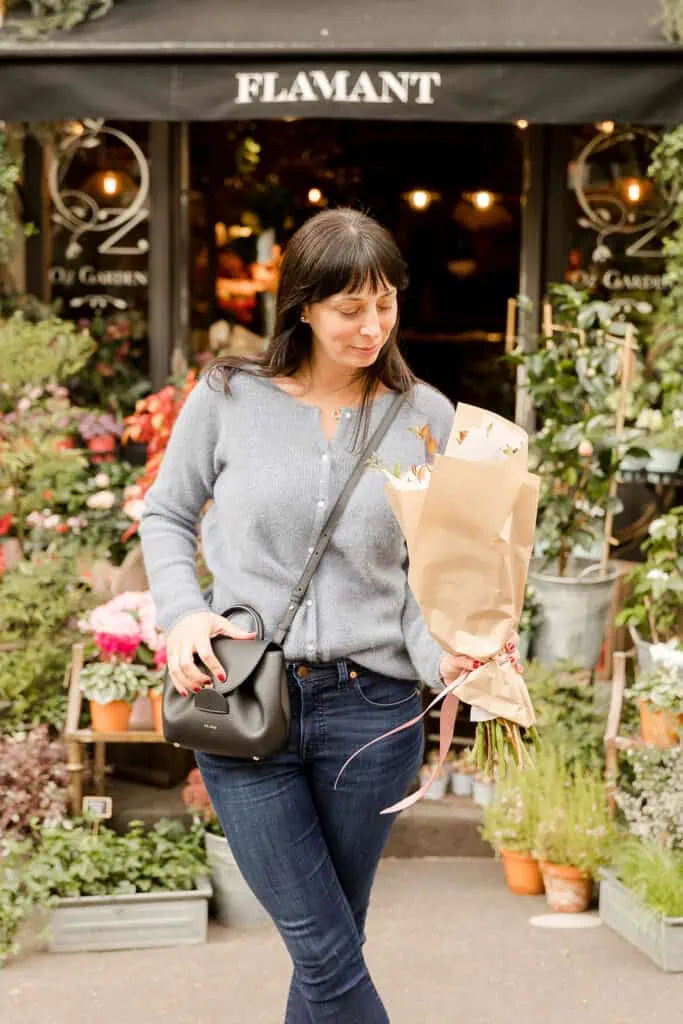 Comfortable Shoes for Paris in the Winter
I always pack my Blondo knee-high boots for Paris because they are so comfortable for walking and they are waterproof boots. While knee-high boots are still trendy, I saw more black ankle boots and brown ones than anything else. On the weekends, it was all about sneakers for Parisian women and men. I wish I had brought my Chelsea winter boots this time around, and I am not going to lie, I felt a bit out of place. During a rainy evening, I made a stop at BHV to grab a pair of Veja sneakers. I do a lot of walking around Paris and feel it is the best way to see the city, so comfortable walking shoes are a must.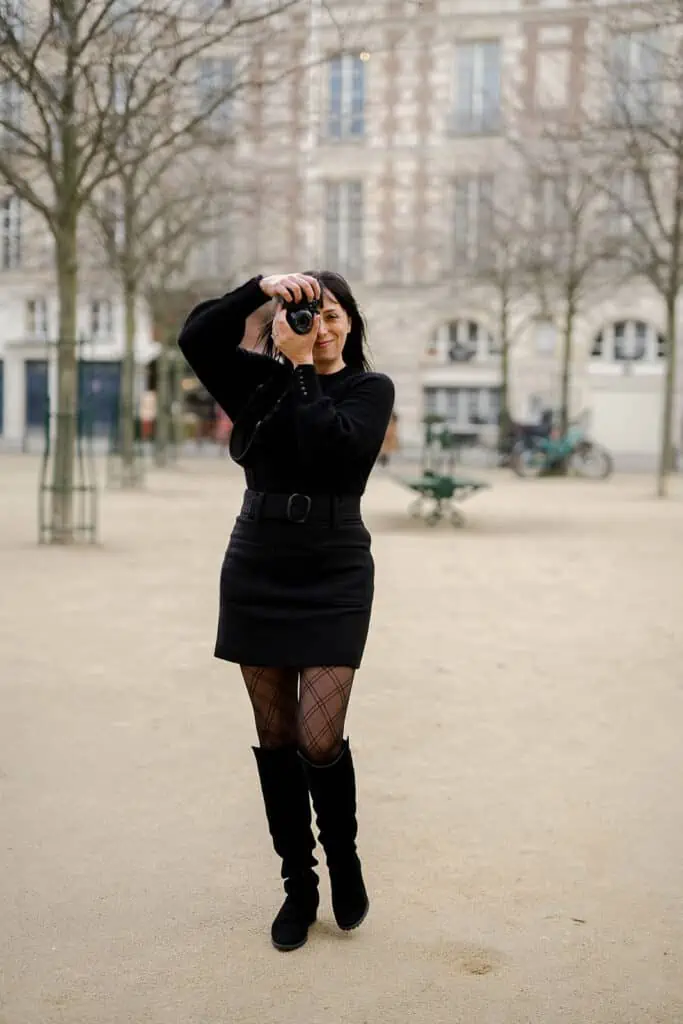 Heels are a rare packing item for my suitcase, but I felt I wanted to recreate my rehearsal dinner outfit in my little black dress, and that required high heels. I don't recommend them much as it is hard to walk on the city streets, which are cobblestone or uneven in places. This took up some space in my carry-on, and while I don't regret it, it wasn't the best decision. The photos were worth it! Comfortable shoes such as ankle boots or flats are much more reasonable for Paris in the winter.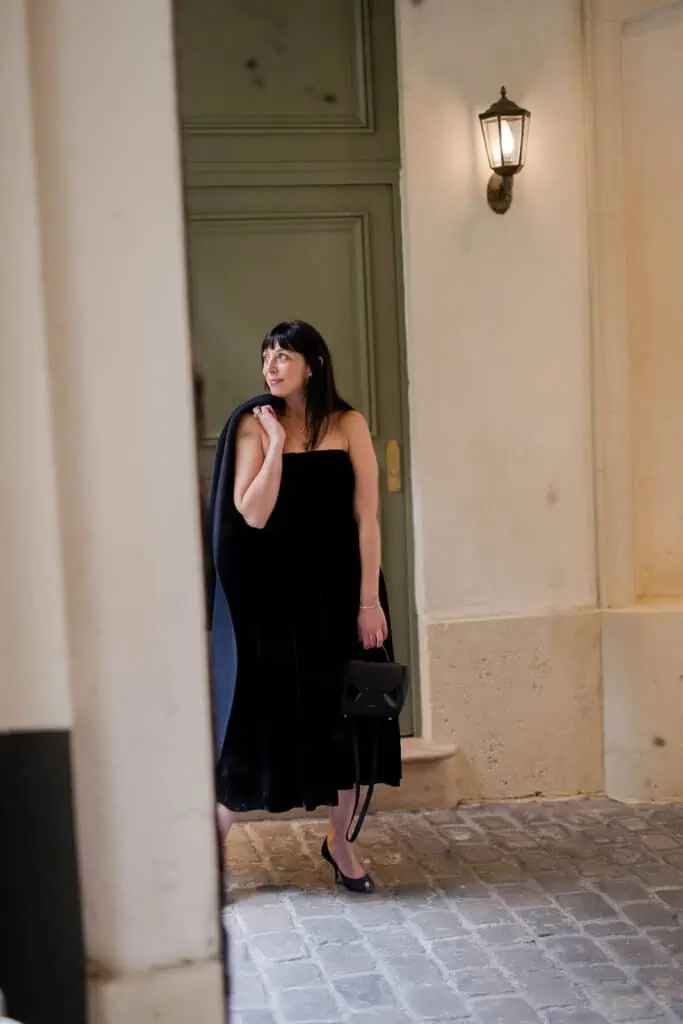 Bags for Walking Around Paris
For my day-out bag, I typically bring a Longchamp or my Cuyana bag. I had a meeting with Polène, and they kindly gifted me this bag which I love, and it fits my camera, personal items, and travel umbrella. A small wallet like this is all you need for credit cards and a little cash. You will want to tip in cash at restaurants and hotels as well as you will need money for the market if you go.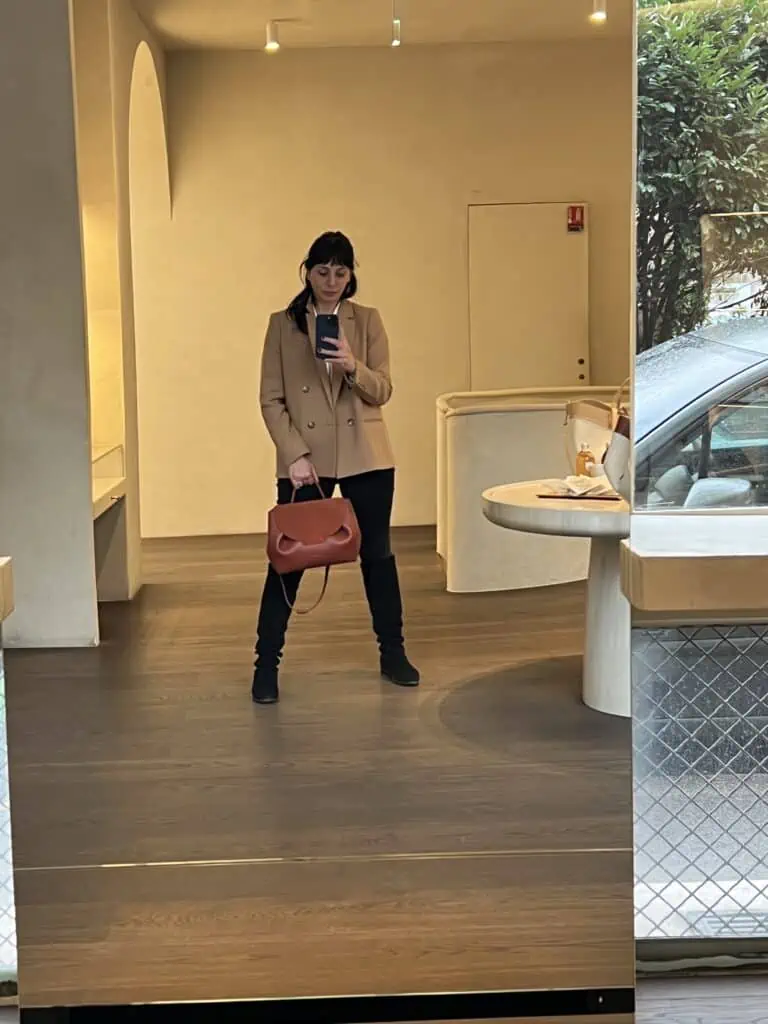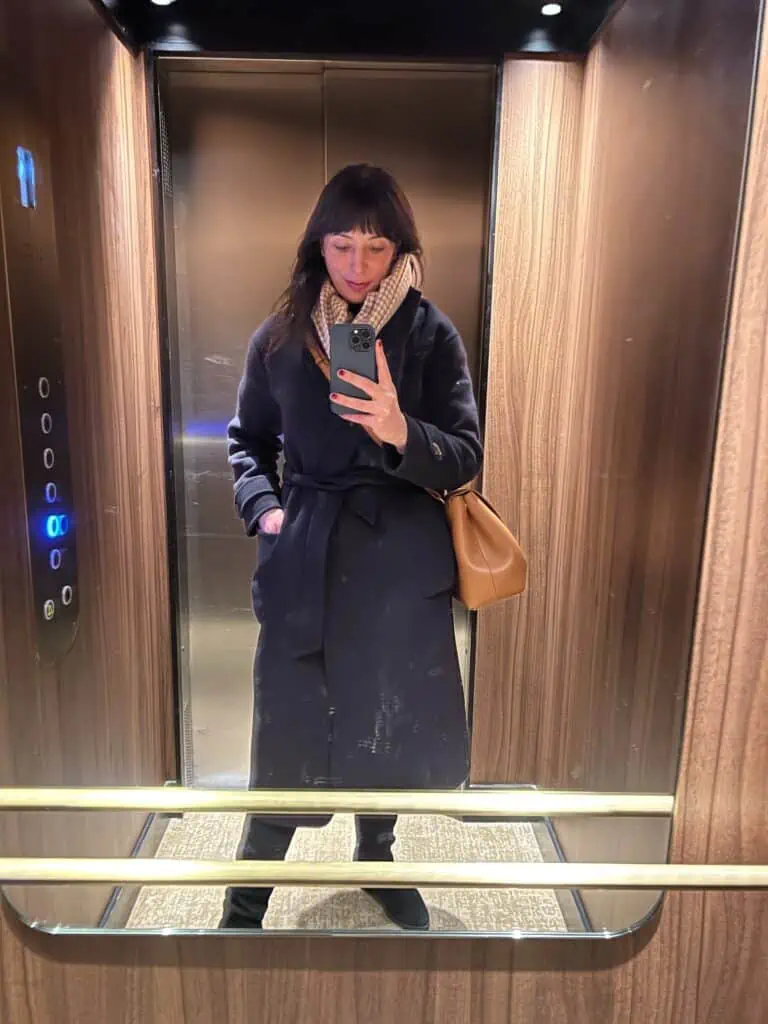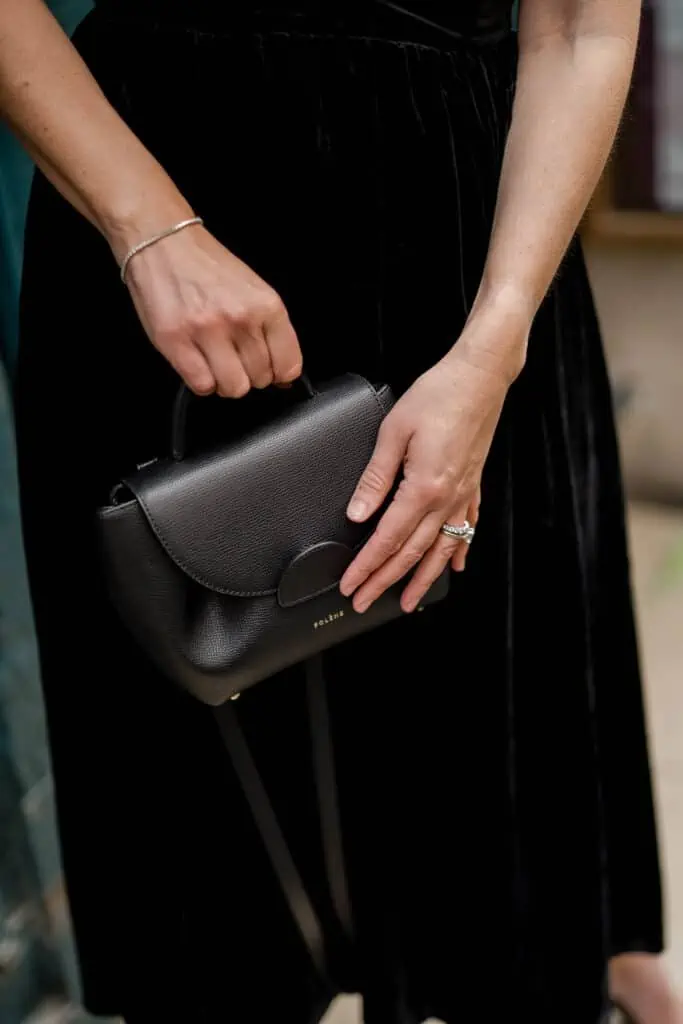 Paris Winter Packing List: Skincare and Makeup
My makeup and skincare are pretty minimal, and I love bringing all the minis of skincare favorites with me. I did purchase a few skincare products this trip, including the Caudalie lip balm, which is essential. I don't have a bag or coat pocket that doesn't have one. For makeup, this concealer and foundation is a favorite and feels so lightweight. I brought my Sisley mascara and restocked it duty-free on the way home because it was half the price. For blush, I brought cheeky from Merit, which goes on quickly. The lipstick that everyone asked about is Sheer Rosewood by Sisley.

Department Stores In Paris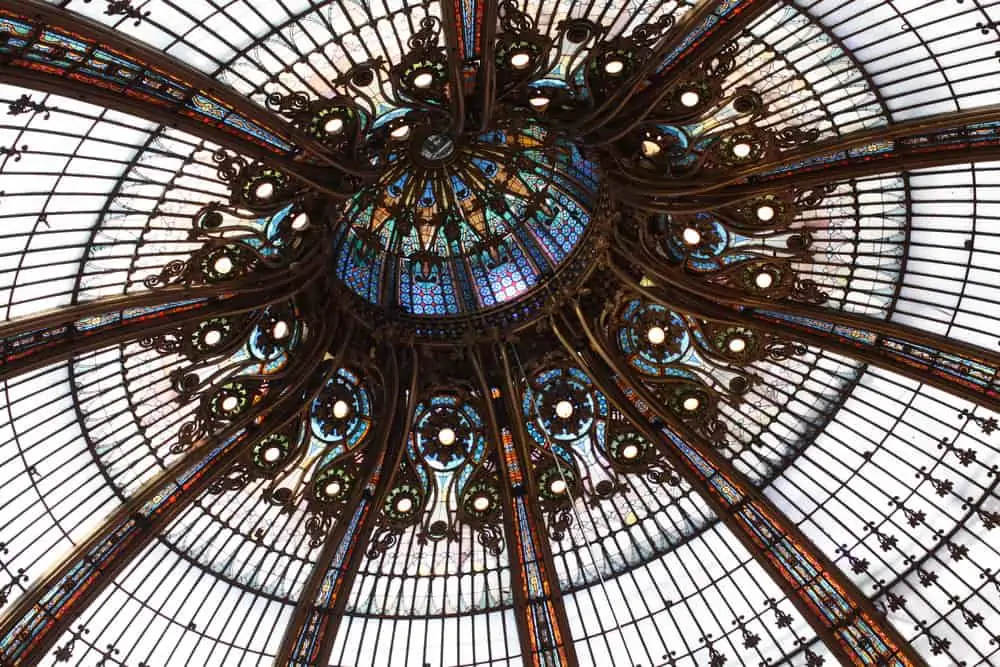 Pro tip: If you ever feel like you need or want something you didn't pack, you can always pop into one of the French department stores like Galeries Lafayette, BHV, or Bon Marché and pick up anything you might need. They have house brands at each store, which may be more reasonable than some of the other prominent fashion labels. I have a Galeries Lafayette navy sweater that has held up for years.
PDF Packing List for Paris
For more help with packing you can check out my PDF Paris packing list here.
Travel Insurance for International Trips
One of the most important things I do before a trip to Paris is get travel insurance. My flight was almost postponed coming home due to the TSA grounding planes in the US. At the same time, I could have been stressed about staying in Paris an extra day or two. I was reasonably calm and already planning out my additional days and what I wanted to get done. My trip insurance covered me if my trip was delayed, so I had peace of mind. There are two options offered, I always pay a little extra to protect my computer and camera equipment. If you are traveling without these items and just want extra coverage, you can do the basic.
Photos of me in this post are by Katie Donnelly Photography and her team.
P.S. You can see more about my Paris winter recap including everywhere I ate, drank, stayed, and shopped in this post!
*This post includes affiliate links. I make a small commission from items purchased from my links at no costs to you. merci!