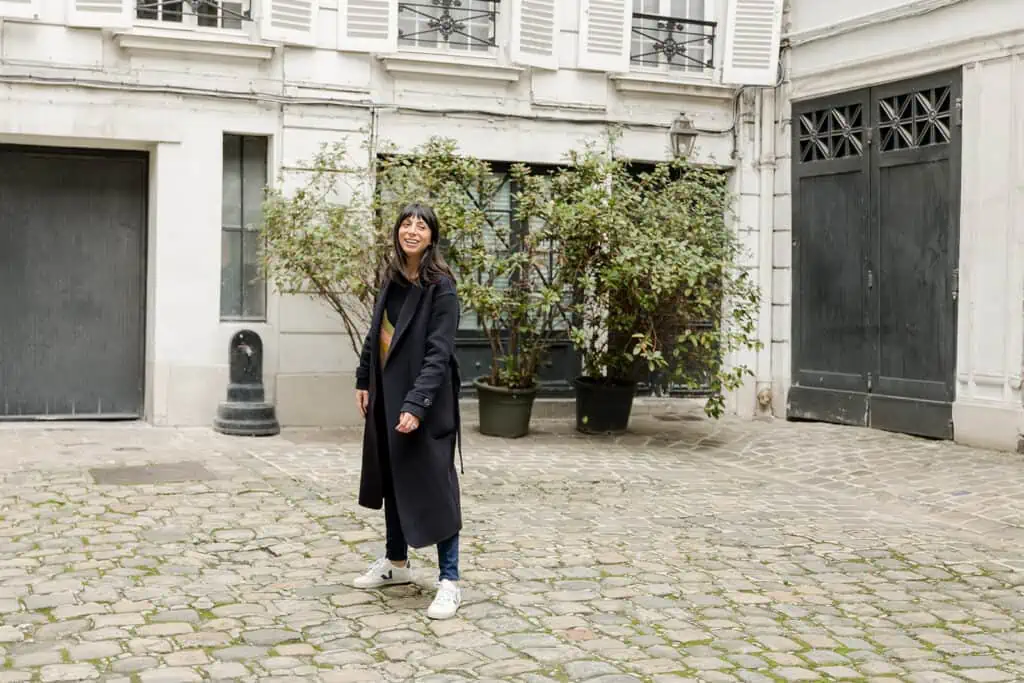 In my early days of blogging, I wrote a series called The Paris Diaries. This was a fun series where I shared the day-to-day discoveries on my trips to Paris. It was way before Instagram stories where you shared numerous photos in a 24-hour period. I know not all of you are on Instagram and my push to be present while traveling is the reason for this Paris winter 2023 recap.
Paris Winter 2023 Recap
My trips are an investment in my business for both The Print Shop and research for the blog and are fully funded by me. If anything is gifted along the way, I will make sure to point that out. For privacy and security, I don't share where I stay until after I am checked out. Once I am finished with my day, I usually post everything on Instagram all at once at the end of the night before I fall asleep.
Where to Stay in Paris
I love a good boutique hotel and I was happy to try out a new to me spot that has been on my wish list for a while. My first hotel was Relais Christine which is located on the Left Bank on a quiet side street. The location was perfect for exploring Saint-Germain-des-Prés and also a quick walk to The Tuileries and Seine.
As I mentioned earlier, one of the perks of traveling in the winter is that you have fewer tourists and the rates are lower than in peak season. Relais Christine surprised me with a little upgrade to a duplex junior suite.
The second hotel I stayed at in Paris was one I have visited twice before and really loved. I wanted to stay here longer to spend some more time in the area. Pavillon Faubourg Saint Germain is a lovely boutique hotel on another quiet side street in Paris tucked away just less than a 5-minute walk to Saint- Germain-des-Prés.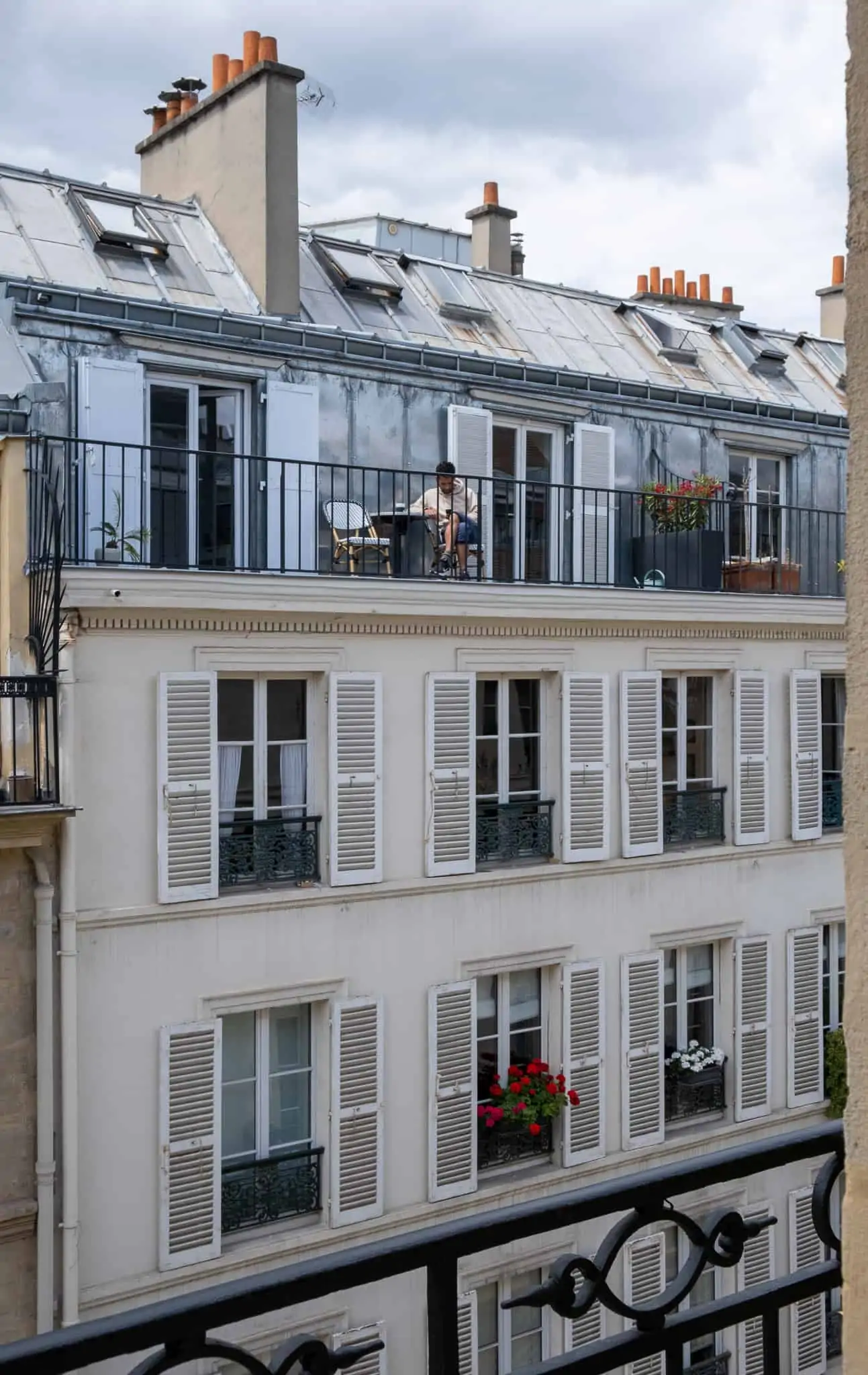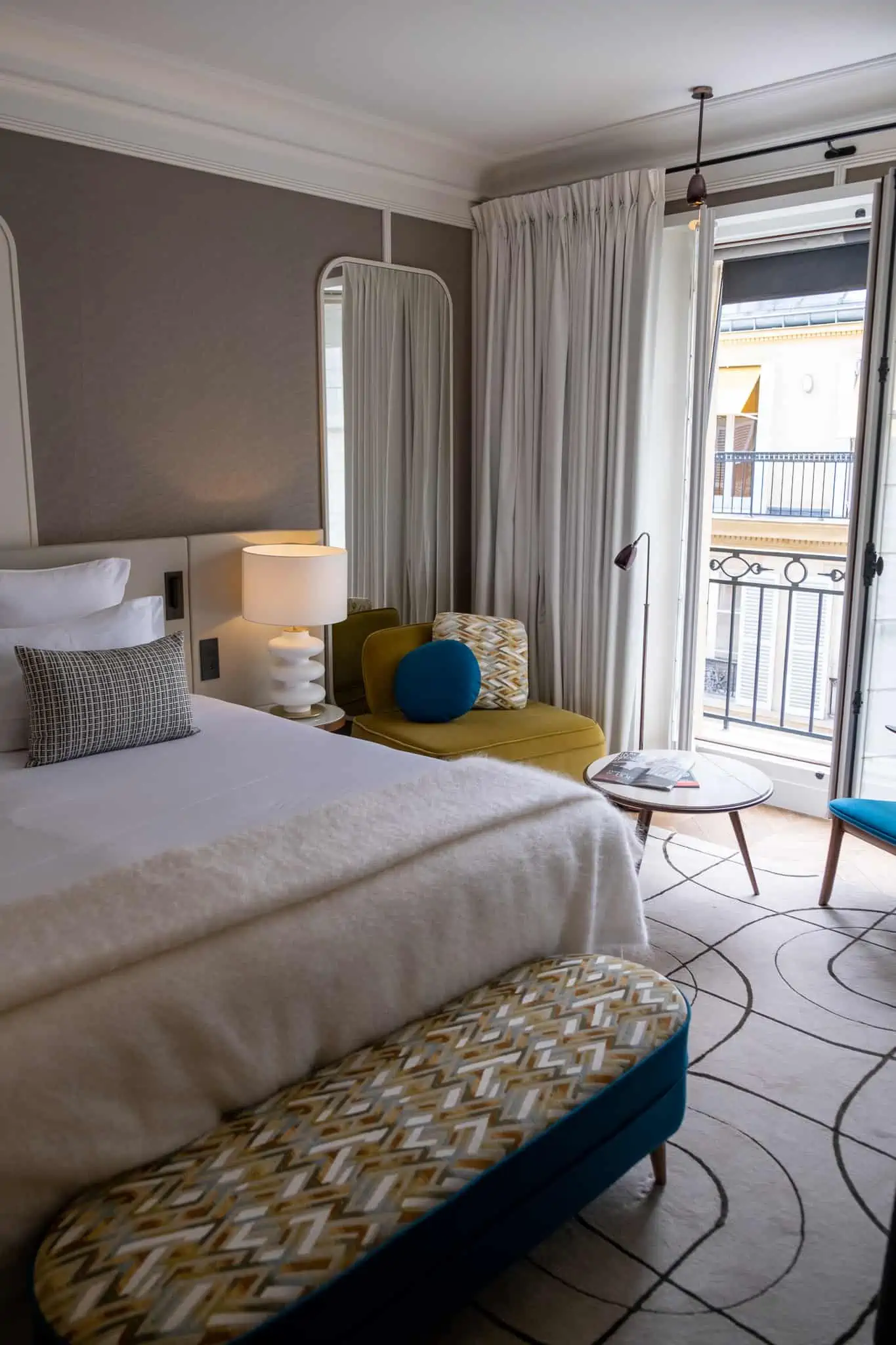 Restaurants in Paris: Winter Recap 2023
For where I ate and drank, I tried to do as much research as possible on this one because it is always a hot topic. If I didn't like a restaurant, I am not going to share the details of it. I am a small business and I know how much reviews can make or break you. So with that, if I enjoyed a restaurant and would recommend it, I will highlight it here and send some traffic their way.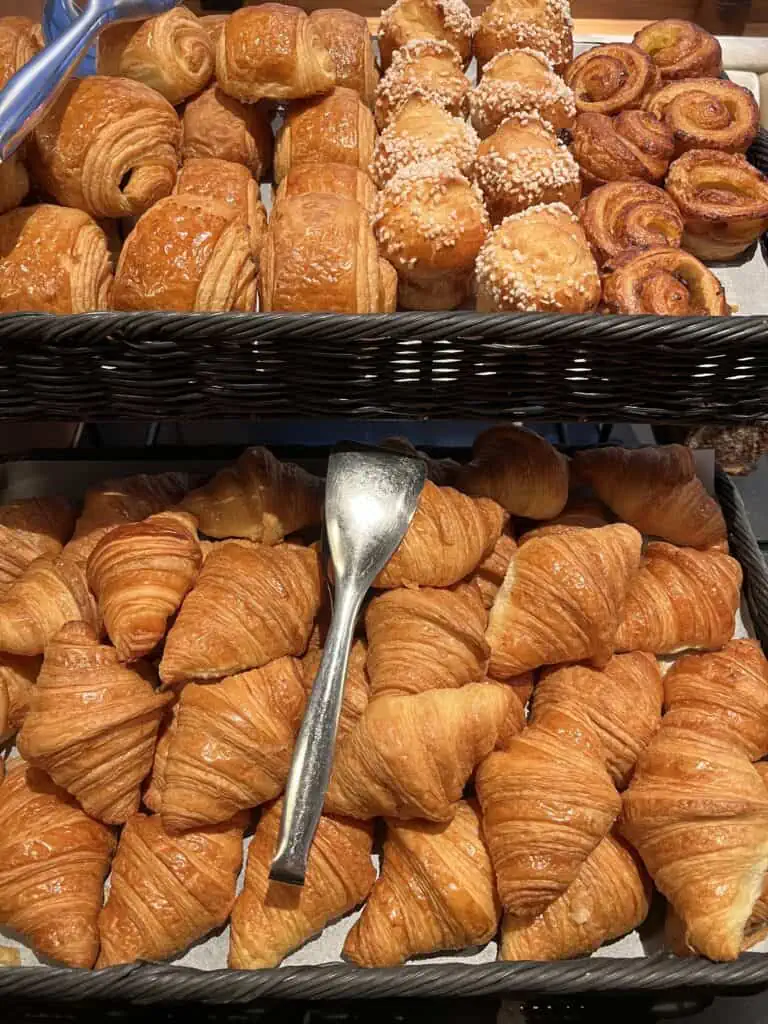 My hotels offered breakfast included with the room rate so I didn't eat out for breakfast except for a lovely meeting at Royal Monceau. Their breakfast offerings were incredible and also very health-forward if you wanted to skip croissants and go for an egg white omelet.
Some of the stand-out meals I had to bookmark for your next trip include.
Lunch Recommendations in Paris
My favorite meal was at Dalia which the photo I took does not do justice so you have to trust me. It's Middle Eastern food and my only regret was not ordering more food to try. I came in at the tail end of the lunch service and I was late for my reservation. They almost didn't seat me but I am so happy they did! I got a great table for people-watching and the staff was so friendly. In terms of the crowd, I am confident I was the only American/English speaker in the restaurant. This is a must try and I am dreaming of going back and would love to try it with friends or my husband. They have cocktails which I didn't try because it was lunch and I had work to do after.
Caffé Toscano I had lunch here with my friend Katie and loved it. Simple Italian and fresh ingredients.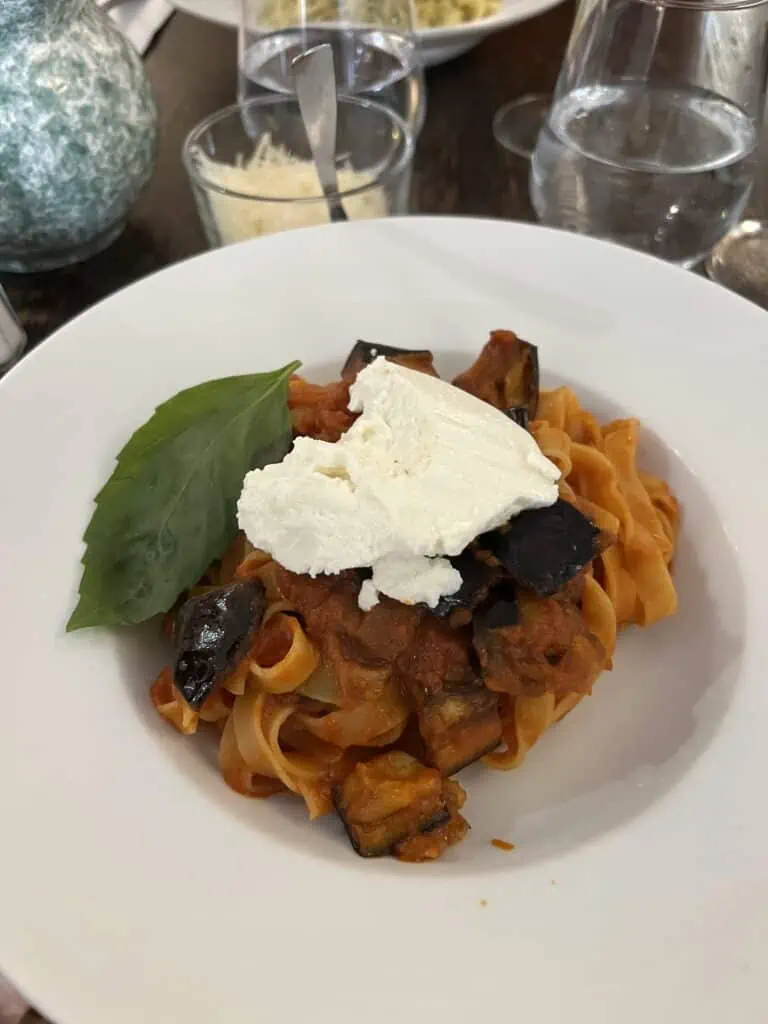 Where to Eat Lunch in Paris
Au Petit Suisse is located just outside Luxembourg Gardens. I always passed by and never stopped for a meal. This time around it was raining and I needed a quick bite for lunch to fight jet lag. This was a great option and since it was Sunday there were some places that were closed that I wanted to check out. I also love Café Madame as an option if you are looking for something close to Luxembourg Gardens.
This is a classic bistro just a few minutes walk from the Louvre. They recently shut down for a remodel and it has a whole new more updated look and vibe. It was on my list for years and finally got to stop by post-remodel. I had French onion soup, wine, and a piece of fish all of which were delicious and reasonably priced for the location. It was great people-watching too.
Sushi in Paris
I haven't had much sushi in Paris but wanted to give another cuisine a try besides Italian and French. The restaurant we originally booked canceled last minute due to some technical issues. We were able to get a reservation at Blueberry Sushi and it was incredible. The spicy salmon roll with the pomegranate on top was our favorite and we ordered more than one so we didn't have to fight. Everything was fresh and delicious and reasonably priced.
Restaurants in Paris Recap 2023
Les Antiquaires was a recommendation from another Chicago Francophile who calls this her spot. I have always passed by and never gone but it has been on my shortlist. My hotel recommended I go here so it was decided this was the time. I had the hotel book a reservation for me for the evening. This isn't always necessary but the restaurant interior was packed at 7 pm. I sat outside which wasn't warm and cozy but still had great people watching. It was classic French with some modern offerings as well. My steak, fries, and wine were exactly what I was craving.
Where to Drink Coffee in Paris
Coffee in Paris is a must for me, I wrote a whole post on the best coffee shops in Paris. In the last 10 years, there has been a change in the coffee scene and it keeps exploding with Paris and Australian roasters. Parisians are serious about their coffee and there are so many great spots to explore. I have a whole post with a map of coffee spots in Paris. The two below are the new ones I tried and enjoyed.
Noir Coffee has a few locations including one on île st. Louis.
Bonjour Jacob, also has two locations. The one I visited was the newest location and on the Left Bank close to my hotel.
Cocktails in Paris
This has been on my list for a while now! I really wanted to try some cocktail spots in Paris. For a drink with a view that is on the pricier side, try Le Tout Paris in Cheval Blanc overlooking The Seine.
I really enjoyed the hotel bar at my hotel, The James Joyce Bar. The bartenders were fabulous and so fun to watch as entertainment. I tried one of their signature cocktails and also a classic Americano which I didn't know existed. The bartenders were making a few for some other guests and I inquired about it. Typically I order a Negroni and this was Campari, Vermouth, and soda water which was very smooth and lighter. Campari is an acquired taste for sure and in the summer, I will do a Campari and soda.
Prescription Cocktail Bar has been on my list for years and my hotel was around the corner making it the perfect opportunity. Sundays and Mondays are typically quieter which worked out well for me and my schedule. The rain was terrible on Sunday night and I was jetlagged so I pushed for Monday night after my photo shoot. I sat at the bar and had a lovely chat with the bartender. There is a menu with drinks and a special of the month which was a Mezcal cocktail with truffle that I passed on. Instead, I did a Mezcal sour which was a bit different.
Where I Shopped in Paris: Winter Recap 2023
There are sales in Paris twice a year and I happened to be in Paris for the winter sales. I sadly didn't find much of anything to bring home and didn't feel like sorting through the sale racks during my short time in Paris. I know people have scored great deals and brought home some amazing items, I was just on limited time and my bags didn't have a ton of room for extras. If you do have time, the sales at the shops in Paris are worth checking out and there are signs in every window.
CityPharma
CityPharma is a pharmacy in Paris that has a cult following. Lines will wrap around outside with people waiting to shop at the discounted French pharmacy. There are numerous blog posts written about this pharmacy and everyone swears by it. The prices are good don't get me wrong, but I typically will go for convenience and time over saving a little money. You will expect to usually wait in line outside and again at the cashiers. It is packed with people and the aisles are small so be warned! They have just about every French brand you can think of for purchase.
I happened to walk by in the evening on a cold winter night and it wasn't that crowded so I ducked in and out quickly spending about 50 euros on some Avène items. Sunscreen was on the top of my list because I forgot to pack mine and I needed my daily sunscreen. I ended up loving the Hydrance one from Avène but sadly, I can't find it in the US. My skin is super dry and this does the trick and has SPF which is amazing. So if you find yourself in Paris, I would grab this product. I will be back for more next trip.
More Citypharma Favorites
Cicalfate is an amazing Avène product so I picked some up for home just to have in case we needed it. I have the hand cream and it does wonders. I also was intrigued by the Hydrance boost. If you have seen my medicine cabinet, I do not need many of these items but love to test out new products and I am always looking for something.
Biafine is one of those French pharmacy products everyone raves about that you must have. It is great for burns and I wanted to replenish an older one I had at home. You will be surprised how many times you reach for this after you know you have it. It's a good one to have!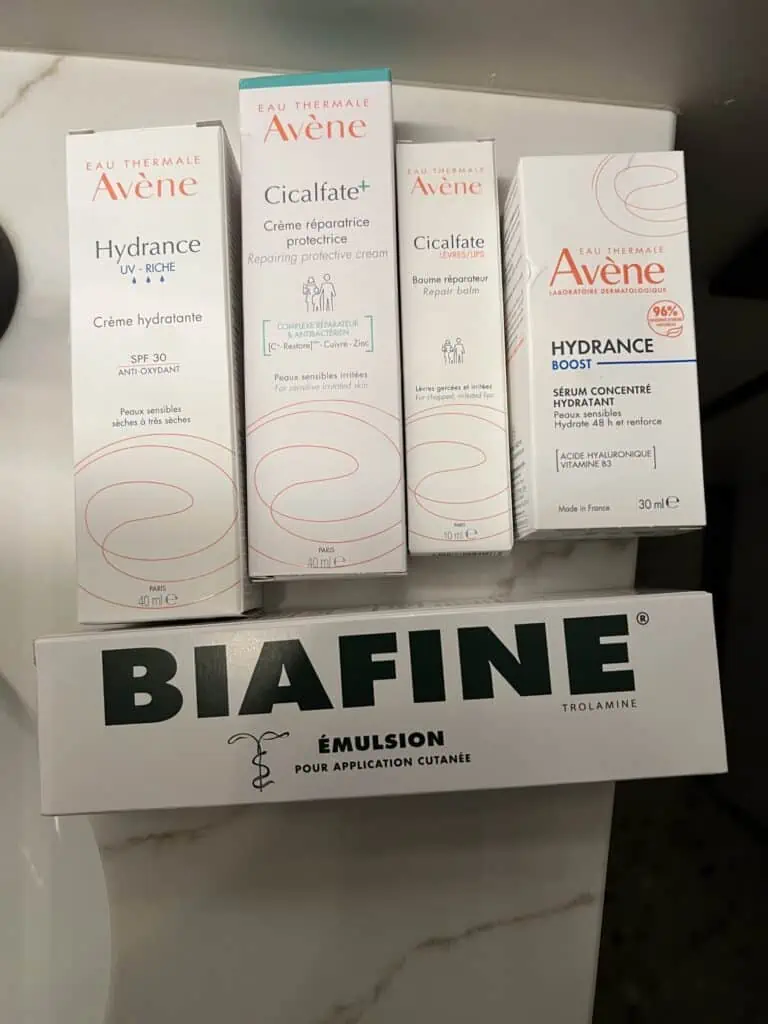 Monoprix
Monoprix is like a French Target and has food, beauty, and clothing. It's amazing and so much fun to walk through. If you are stuck in the rain or cold and find you are close to one, it is a great excuse to duck in to buy an umbrella, hat, or pair of gloves as I did. They have a loyalty card program and they will ask you for your card when you check out for additional savings. If you are expecting or have friends with little ones, I always find their kid's/baby clothes so cute and affordable.
They are scattered around the city and you will find them in other cities throughout France.
Marin Montagut
Marin Montagut has been on my list for a while now but since I don't spend as much time on the Left Bank, I never seemed to walk in the direction of the shop. The shop is filled with adorable pieces that are handpainted and make great gifts. It is closed on Sundays which is when I planned to originally visit so I had to make a push to visit this trip. Mondays they open a little later so plan accordingly.
Marin Montagut is located on Rue Madam and Café Madame for lunch, dinner, or a snack is located just across the street. I popped over for a cheese plate and a glass of wine after I shopped. I picked up a few things for me and a friend. They wrap everything well but just know that the glass is fragile so make sure you pack it well or carry it on.
Plaq
I discovered Plaq chocolate by accident as I was looking for a coffee spot not far from Sézane after lunch. I wandered down Rue Montorgeuil and then up to Rue du Nil and I saw this adorable chocolate shop called PLAQ. It's a bean-to-bar chocolate shop that opened about three years ago. You can taste and purchase the individual bars and they also sell hot chocolate and coffee. I walked out with 4 bars and I have no regrets. Also, if anyone has plans to go to Paris anytime soon, I am almost out of those bars and wouldn't mind a restock 😉
This is always a must when I am in Paris. Everyone always asks me which location I visit in Paris and I am a creature of habit and go to L'Appartement Sézane located at 1 rue Saint-Fiacre. They have an amazing selection of sweaters, shoes, dresses, and accessories. I picked up a few sweaters for Chicago winters.

Octobre is the men's version of Sézane and I picked up my husband a few things including a pair of boots. If you are looking to dress a bit more French during or after your visit to Paris, this is a great spot. The staff is so helpful with sizing and trends.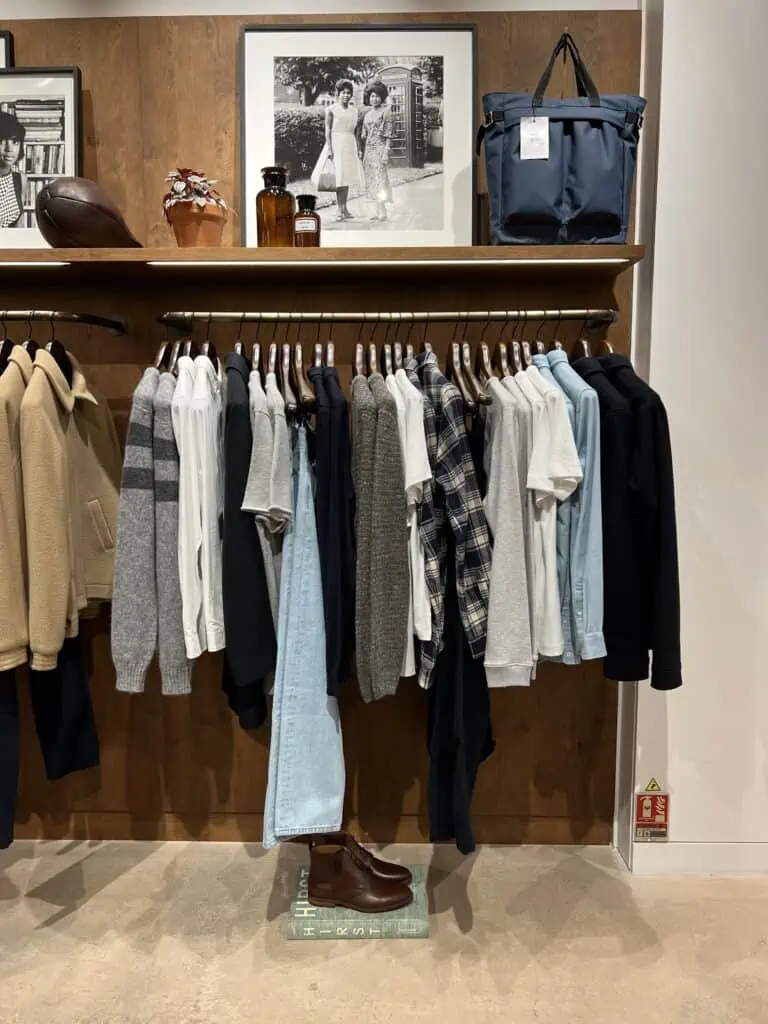 Polène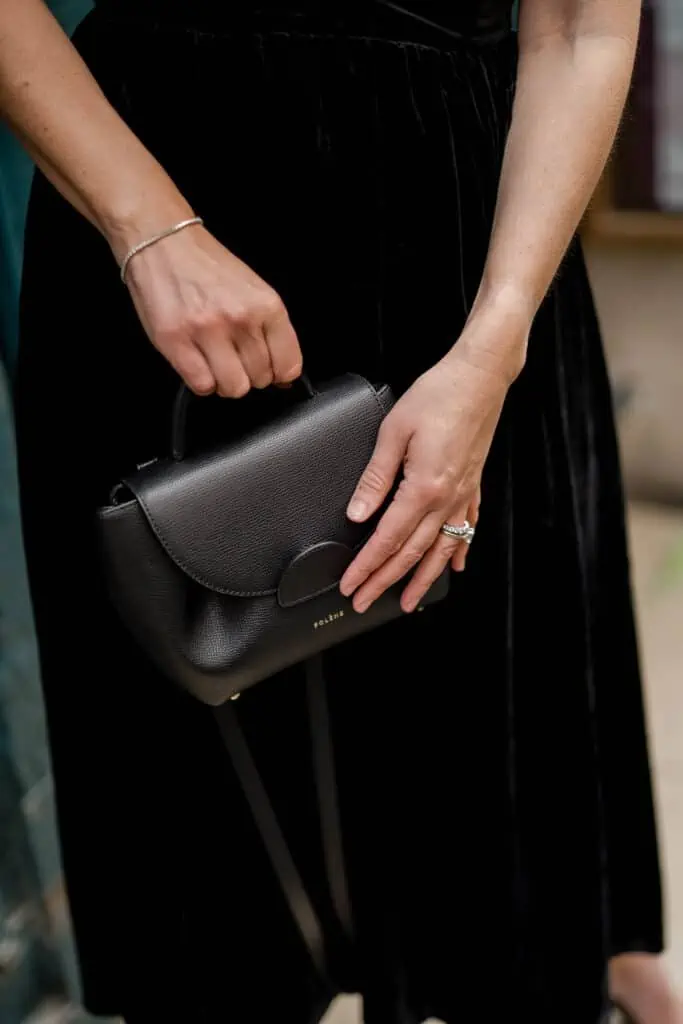 I purchased my first Polène bag in Paris almost two years ago and I have been loving it. I use the nano all the time and I was so happy to be invited to the store for a private shopping experience. During my visit, I tried on a bunch of different bags and was able to ask questions about the brand directly to the staff. I ended up with the number one in caramel which fits my camera, umbrella, and phone perfectly to walk around Paris.
Paris Trip Recap
I had so much fun exploring Paris and meeting new people. This trip was done solo just a few weeks after our wedding. It was very nice to have the support of my husband and be able to do what I love as a travel photographer and blogger. Thank you so much for reading! I hope I was able to answer all the DM questions and that you enjoyed the trip through my eyes. I can't wait to share the Christmas images I shot and other photographs coming to The Print Shop soon.
The photos of me in this post were taken by Katie Donnelly Photography
*This post includes affiliate links. I make a small commission off of items purchased from my links. Merci!