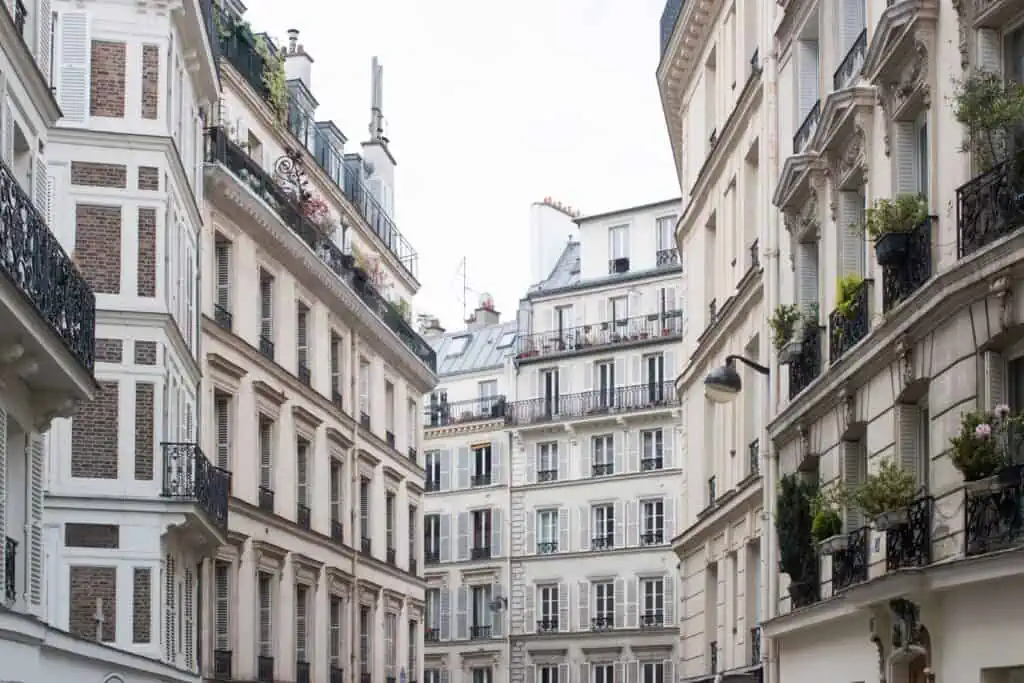 Finding hidden gems is one of my favorite things when traveling in any city. I love researching to find the best coffee, bakeries, and places to shop. My sister and I used to type out travel itineraries for our parents before we went on trips. This was before the internet, and now when we plan our trips, we swap google maps and links to all the best places in the city we plan to visit. We compete to see who can find the best spots!
Regarding Paris, I know planning can be challenging, and you may not have much time to research all the best spots and hidden gems.
5 Best Streets to Visit in the Marais
I created this top 5 series to help narrow down the overwhelming options and highlight neighborhoods, streets, and restaurants for your trip to Paris. This post is about the five best streets to visit when exploring The Marais, one of the best neighborhoods in Paris. Every guidebook and blog will tell you to visit the Marais on a Sunday, but that isn't always the best idea when all of Paris is in one neighborhood. The area is not big enough for a lot of people, and I felt discouraged and overwhelmed on my last visit.
One of the main reasons why everyone recommends visiting Paris on a Sunday is because it is also known as the Jewish quarter, and while a lot of the area is quiet on a Saturday due to Shabbat, Sunday is lively and filled with energy. Many shops and restaurants in Paris used to be closed and quiet on Sundays, except for the Marais. Now things have shifted, and more shops and places are open on Sundays around Paris. I advise exploring the Marais when it fits your schedule best and carve out at least half a day to soak up the special neighborhood thoroughly.
What to Expect When Visiting The Marais
The Marais has tiny cobblestone streets, art galleries, small shops, bars, and restaurants. It is one of the oldest parts of Paris. The architecture reflects that with dark wooden beams in the ceiling. Don't forget to look up and around as you explore the area. Since the historic district has a high Jewish population, many families were sent to concentration camps during World War II. Above some doors, you will notice plaques with the names and dates of those who lived in the homes.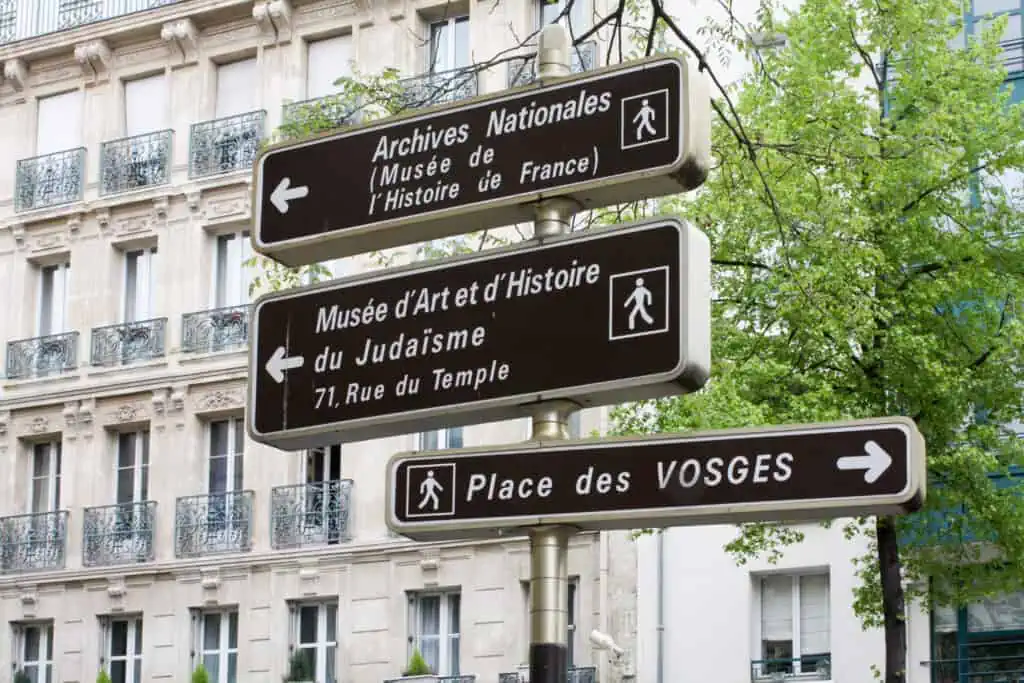 The Marais has some of the best museums in Paris worth checking out. These include the Picasso museum, Centre Pompidou, and the recently reopened Musée Carnavalet.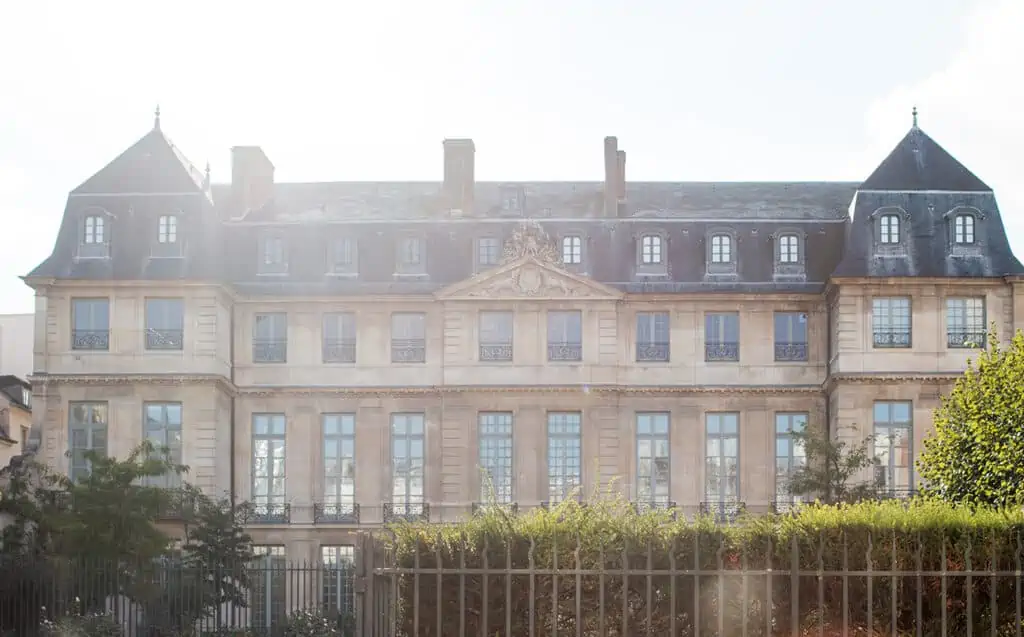 5 Best Streets in the Marais Rue de Bretagne
Rue de Bretagne is located in the Upper or Haut Marais and is one of the main streets in le Marais neighborhood. The street used to be filled with small shops and independent restaurants. In recent years, Pierre Hermé and Ladurée, both chain macaron shops, have moved in, making it a more touristy destination.
For lunch or dinner in the area, explore Big Love or Pizzeria Iovine's. Mary Celeste is an excellent destination for small bites and cocktails.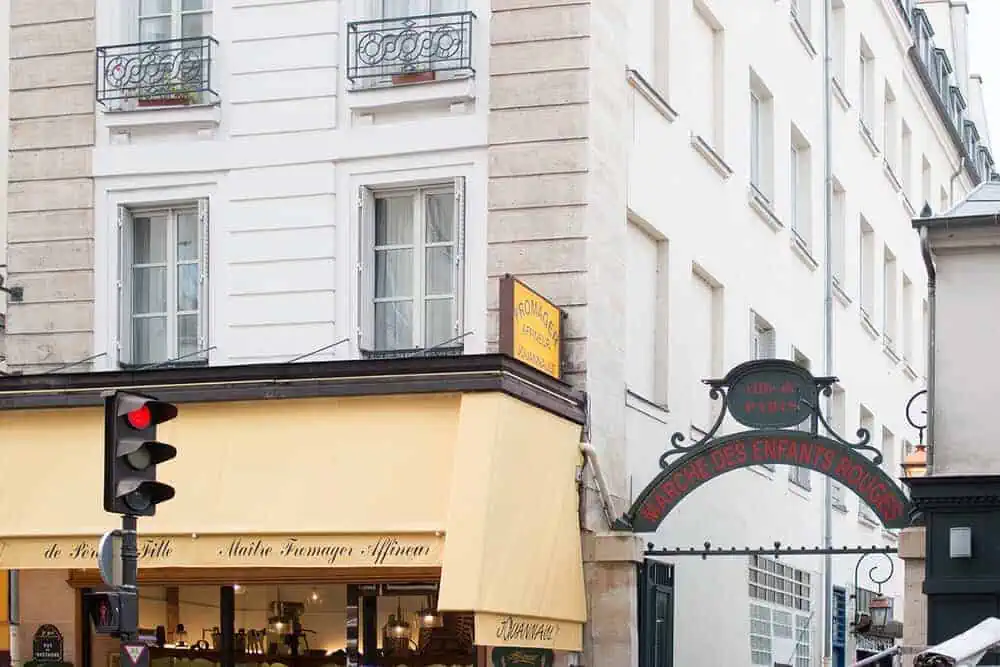 One of the highlights of Rue de Bretagne, which you should check out, is Marché des Enfants Rouges, the oldest covered market in Paris. The market offers fresh fruits, flowers, cheeses, and meats. It is the heart of the Marais, a great place to explore a French market and some great small restaurants inside, including Moroccan, Italian, Vegetarian, and a sandwich stand which usually draws the longest line.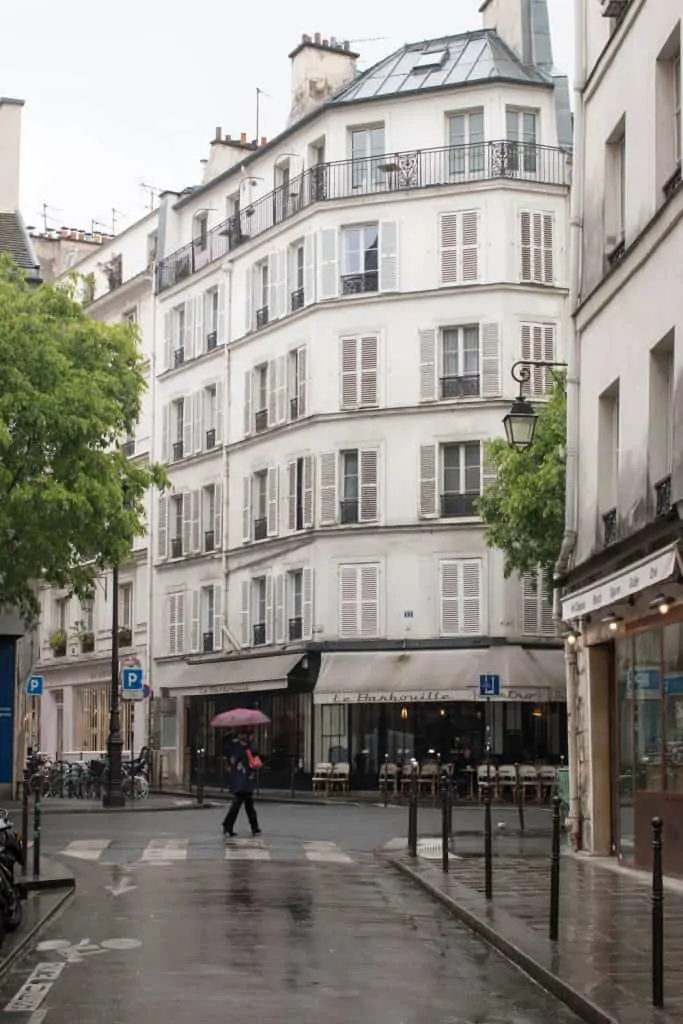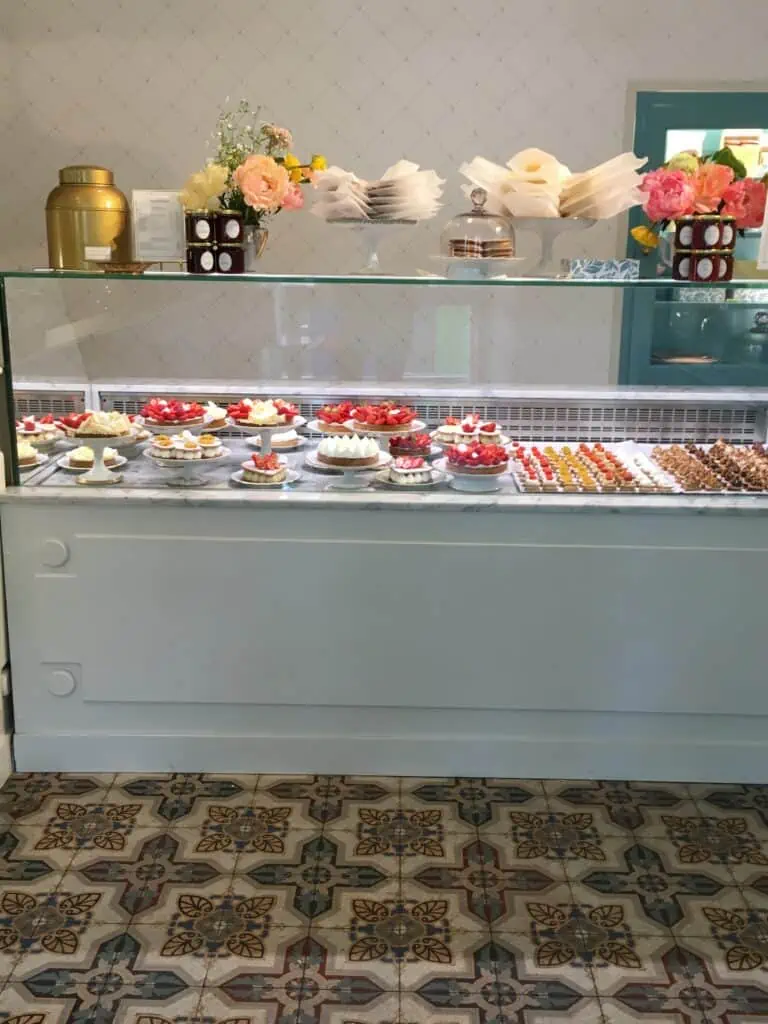 Square du Temple is a beautiful park just off of Rue de Bretagne, which has a beautiful garden in the spring and summer and space for kids to run around. Pop by Bontemps for a sweet treat. Try their sablés, tartes, and incredible cakes. If I am invited to a friend's apartment for dinner, this is my go-to spot if I am nearby.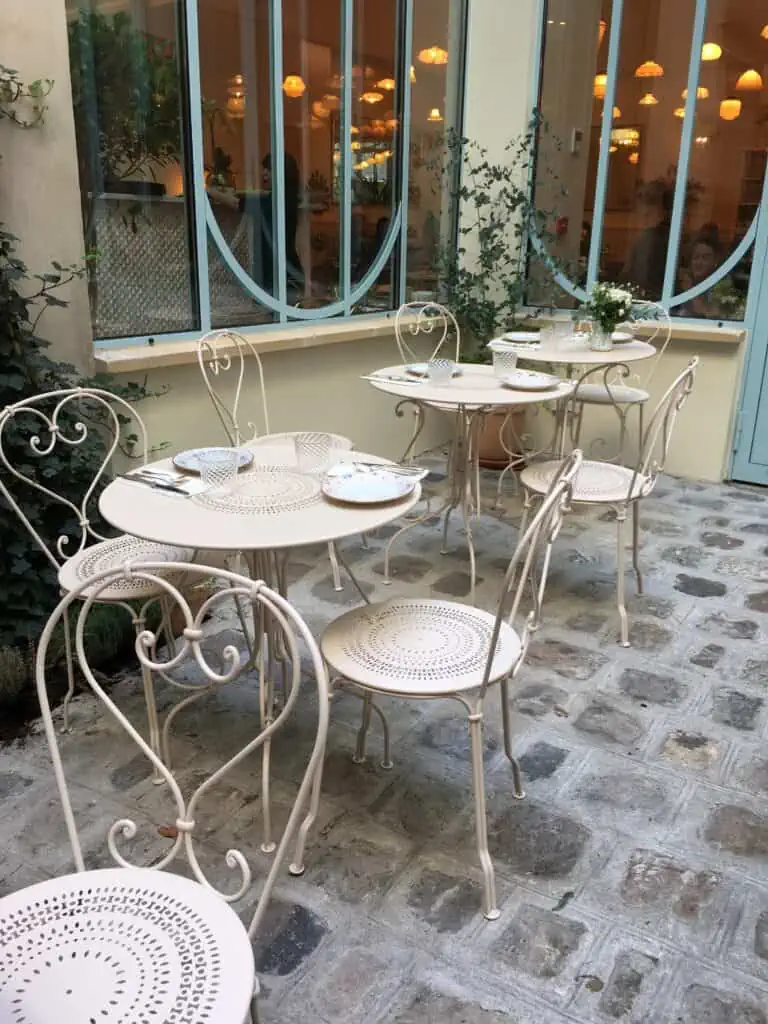 5 Best Streets in the Marais Rue des Francs Bourgeois
Rue des Fancs Bourgeois is a main shopping street in the heart of the Marais. If I need to pick up several items at one time, this is usually where I head to get it all done quickly. Caudalie, Diptyque, Maje, and Sandro are all on this street. One of the perks of Sundays is it becomes a pedestrian street.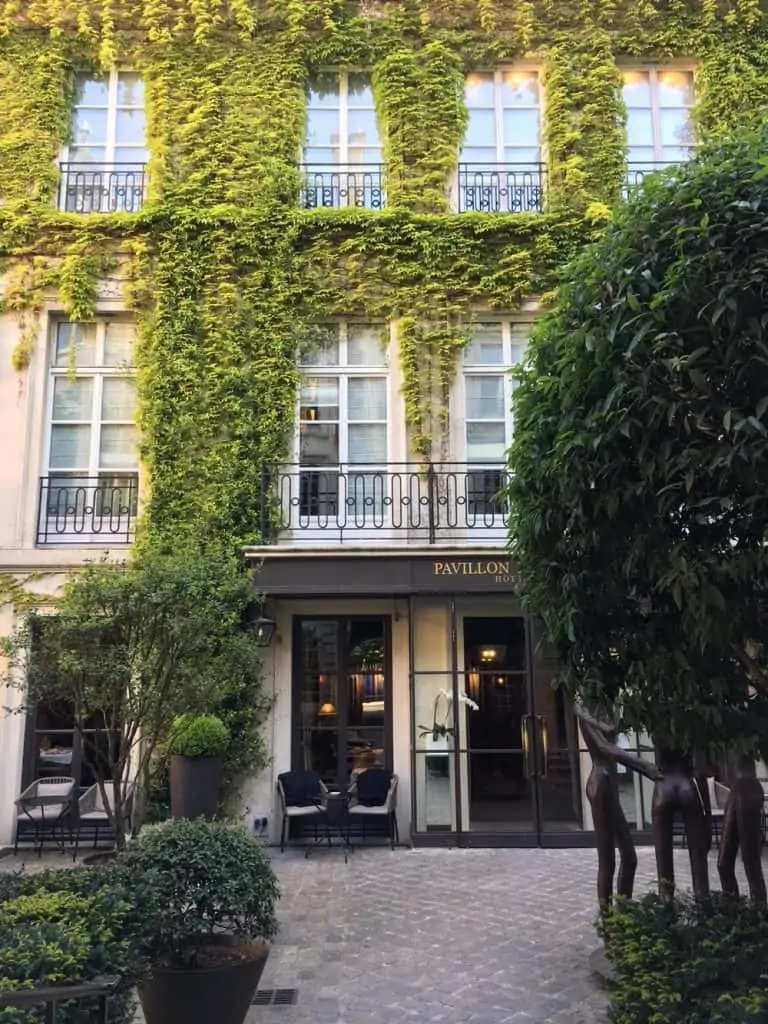 At the end of rue des Frances Bourgeuois, you will run into one of my favorite places in Paris. Place des Vosges is a central square in the Marais filled with beautiful architecture. There is a hidden gem hotel called Le Pavillon de la Reine which you should pop your head in to see the courtyard. In the autumn, the vines cover the exterior of the building as the seasons change. The hotel facade is filled with jasmine in the summer, and the scent takes over the courtyard.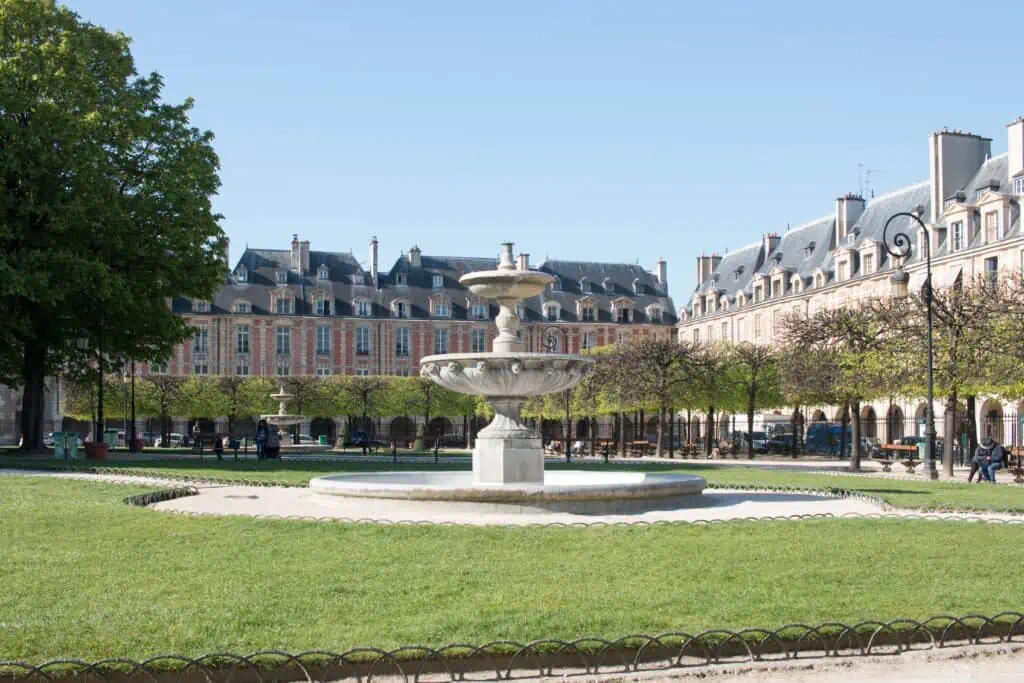 Place des Vosges Paris Marais
Enjoy Places des Vosges in the warmer months for a picnic on a bench or bring a blanket for the grass. Some favorite spots to eat include Carette, which is a bit of a scene on the terrace and great people-watching. You can order breakfast, lunch, a pastry, and hot chocolate here. They have beautiful pastries. Maison de Victor Hugo is also located here, and you can visit the museum. Damman Frères is a lovely tea shop tucked away in Place des Vosges. I love to pick up tea here as gifts to bring home.
Camille offers outdoor and indoor seating and classic French food on the same street. The indoor space is a cozy brasserie for lunch or dinner.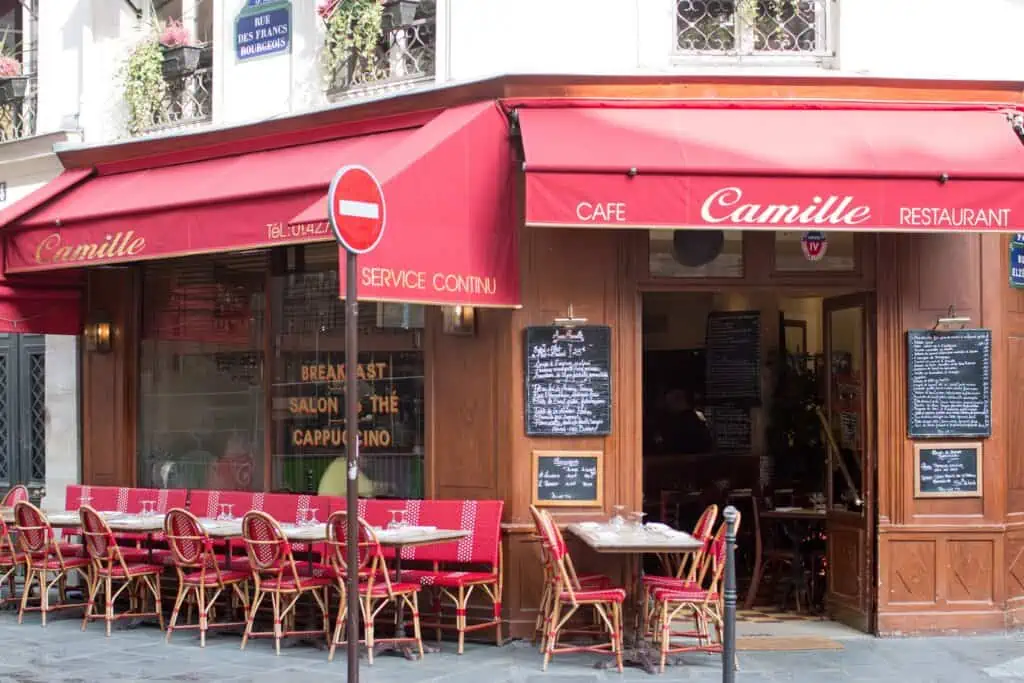 Rue de Saintonge
Rue de Saintonge is a short walk from Rue de Bretagne and has some great gems you shouldn't miss including Ob-La-Di coffee and Candelaria. Candelaria should be on your list for Mexican food (if you are craving it) and cocktails. It may be best known for the speakeasy in the back; push the white door to explore a hidden cocktail bar in the heart of Paris.
Rue des Rosiers
Rue des Rosiers is known for the best falafel. On a trip with my dad one summer to Paris, I got lost in circles trying to find this tiny cobblestone street in le Marais. The best way to get to Rue des Rosiers is from Rue Vieille du Temple. This is one of the most famous streets in Paris, known for its food. It is a must-visit, and if you don't like falafel, it may change your mind. They also have chicken and vegetarian options on the menu. The line is long, especially on a Sunday, so I advise you to try another day of the week. L'as du fallafel at 32-34 rue des Rosiers is the most well-known spot on this street.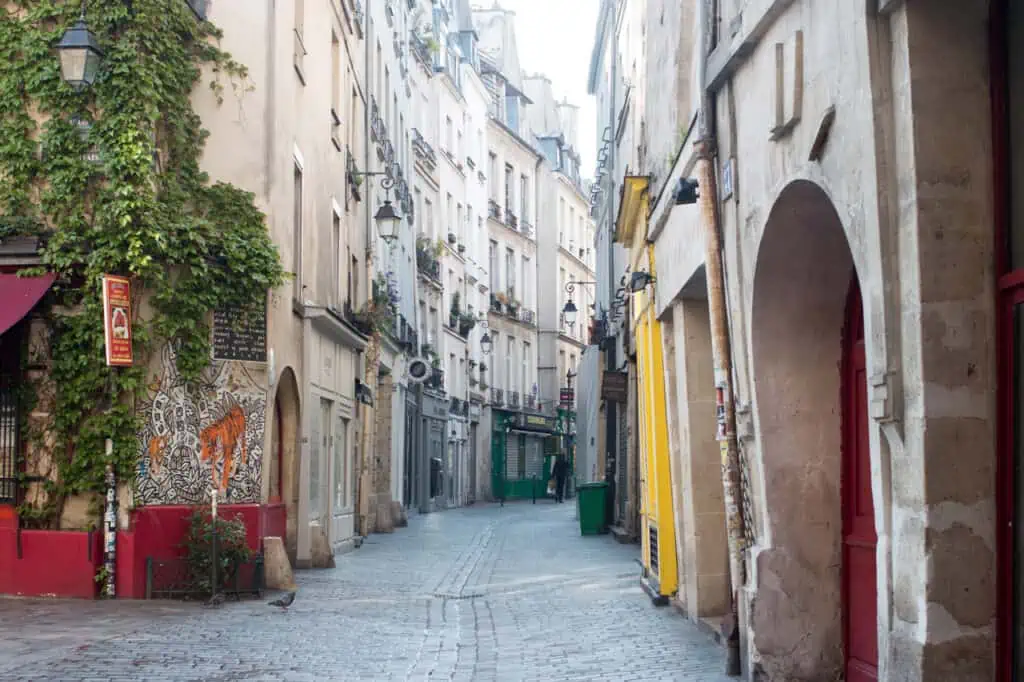 L'as du fallafel has a sit-down option inside, which may be better depending on how you feel about standing up your street food. There are a few parks nearby where you can walk to enjoy your falafel, including Jardin des Rosiers, Joseph Migneret and Place des Vosges.
5 Streets to Discover in Paris Rue des Rosiers
Another option I always recommend is Miznon which I just read and is an Ina Garten favorite. This is where I have been going for years, and it is just around the corner. The line is long but most of the locals and not tourists. They do have seats available inside, but it is limited.
Both restaurants speak English, and other languages, so do not get discouraged about your French language skills.
A few good Jewish bakeries are also on the street nearby, making the perfect place for something sweet. Pop in; you may be surprised which desserts have Jewish origins.
Rue Vieille du Temple
Rue Vieille du Temple is just off of Rue de Rivoli, one of the more prominent streets of The Marais, with the department store BHV. It is one of my favorite streets in Paris because I have had many great memories. Au Petit Fer à Cheval is a tiny bar that means little horseshoe, it was one of my local hangouts for many years, and I became friends with one of the servers who practiced French with me.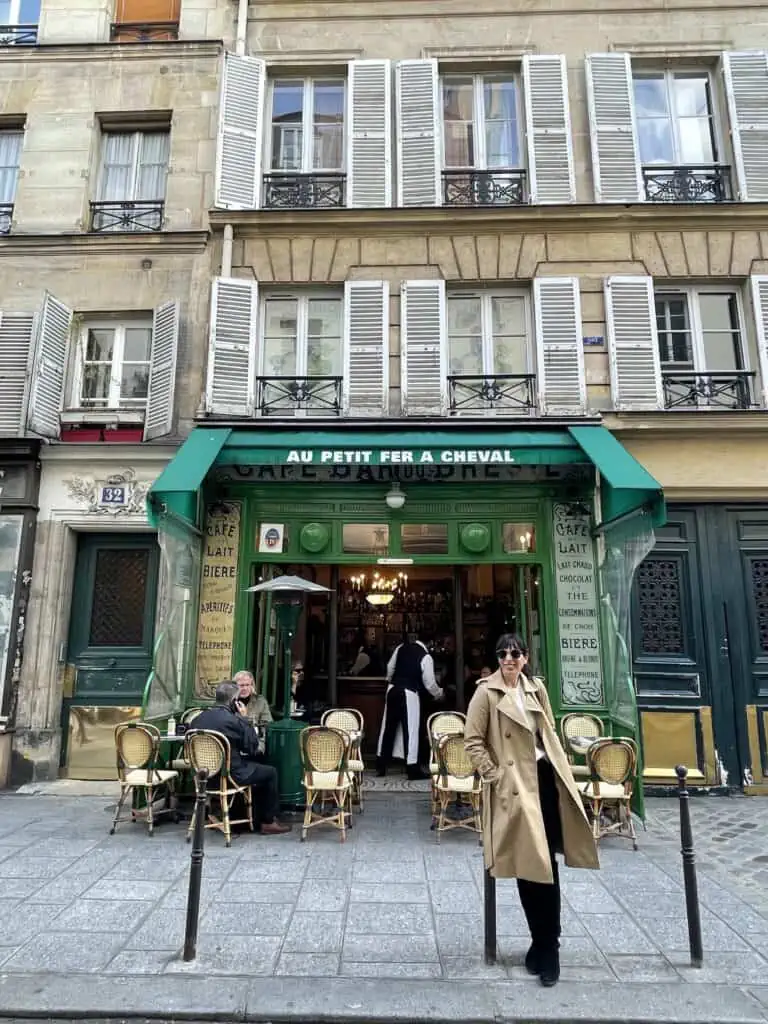 This street has some great restaurants for traditional French food, including Robert and Louise and Le Colimaçone.
Rue de Turrenne
Rue de Turrenne is a bit of a gem, in my opinion, if you need to cut off to a less busy street but still want the Marais vibe. It's just before Place des Vosges and leads you to the Haut Marais to Rue de Bretagne. Don't miss White coffee on your walk-up, a tiny coffee spot available for takeaway. La Banquette is on the corner for an outside terrace with food and drink.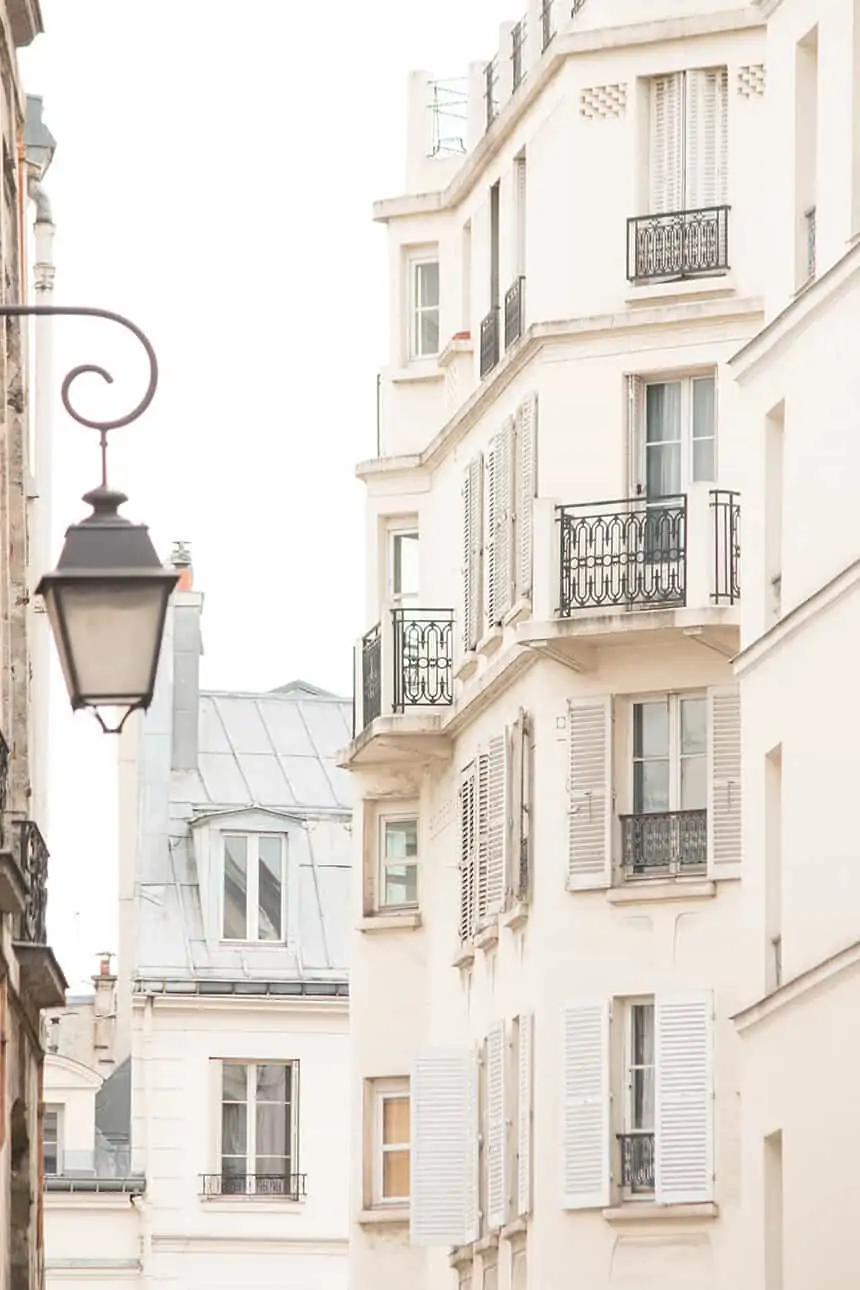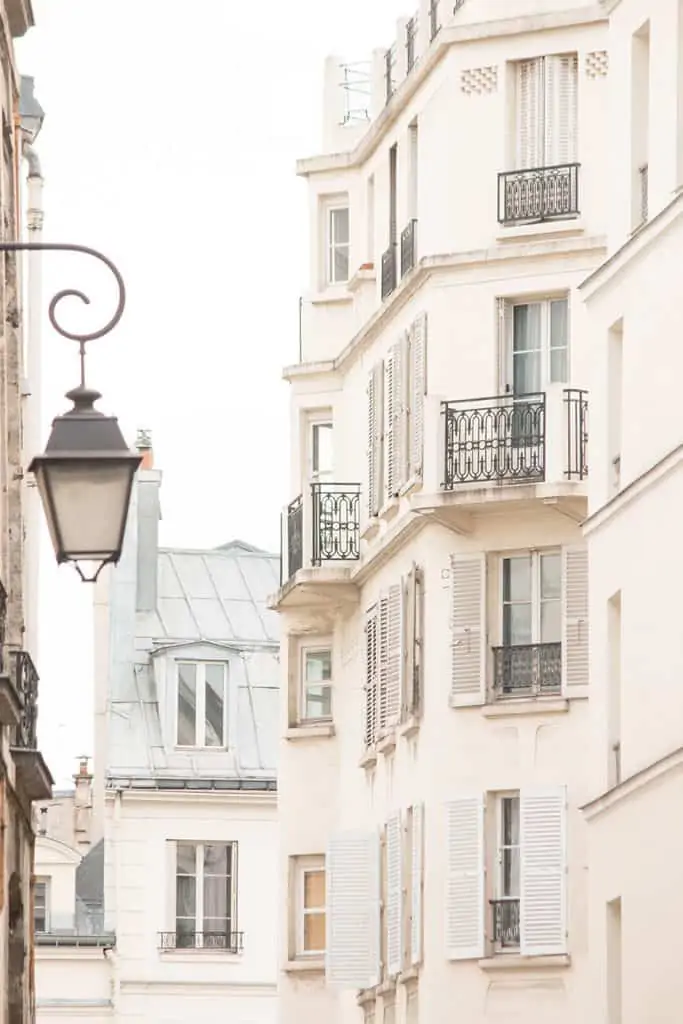 P.S. For more places to explore in the Marais, check out this blog post!