The big question right now from readers is what it is like to travel to Italy right now? Italy just opened up to American tourists at the end of June. I had a trip for July 1st booked since the beginning of 2021. I was hopeful and also understanding that it could be canceled. I didn't believe I was actually going until I got on the plane. It wasn't until the last week or so that I actually started planning the trip aside from hotels and flights. I booked beach clubs and reservations for restaurants.
I will note this is written a week after returning to Italy (mid-July) and the requirements and rules are constantly changing. Please verify everything you need before traveling on your scheduled dates.
First things first, I made a big mistake and did not fill out the EUPLF (which stands for EU Passenger Locator Form) on my computer. I had a connecting flight into Brussels and the seat assignments weren't given until the day of so I didn't fill out this form. The mobile version of the form is a nightmare and so hard to navigate through. When I arrived at United they would not let me board without the completion of this form. When I mentioned the difficulty of the mobile version, the ticket agent told me no one had the same problem because everyone else did it at home. You get a QR code at completion which is scanned to complete check-in.
My head was between my knees halfway through and I literally almost walked out. It was down to crunch time with 20 minutes left before boarding when I finally completed the form. Don't make the same mistake I did. I highly recommend completing this at home.
The funny part is I used to travel to Europe multiple times a year and now here I am feeling like a new traveler all over again. I also use this blog to teach others by my mistakes to be better travelers so I hope all this information helps.
I went ahead and got a PCR test before traveling. The United app was confusing and I couldn't find a clear answer. I didn't want to risk arriving at the airport and not having everything I needed to board. Little did I know it was most likely the incomplete EUPLF that was the issue when I was having issues checking in on the mobile app. I am fully vaccinated and you need your vaccination card or a negative PCR test to enter Italy. Keep your vaccination card with your passport as they are equally important. I also highly recommend taking a photo of your vaccination card for your records. You will need to upload a photo for the airline. It's also good to have a copy.
Since I knew I only wanted outdoor dining, I secured reservations online for as many places as I could. For places that didn't have good websites, I sent DM's via Instagram to book reservations. I set up a travel list of dates and marked which days were which reservations so I could keep everything straight. I learned the hard way that you should make your beach club reservations when you make your airline reservations. The beach clubs are reservation only and they fill up quickly. Fontelina is the one you want to book way ahead of time if you are going to Capri. I did get one day here which was enough.
I will share a more detailed list of where I ate and stayed in an upcoming blog post.
Positano/Capri
Positano was about half empty and really nice with less people. I have seen a lot busier in July a few years ago. The main beaches were not packed. The popular restaurants still required reservations to get a table but there were plenty of places that were not full.
There was an adorable family market across from my hotel in Positano. Every day I would pop in for water, coffee, wine, or snacks. One day the ladies were balancing a few orders at the same time and I commented on how busy they were. They told me they were not busy at all in comparison to two years ago. As a small business owner myself, this really tugged at my heart. My purchases weren't large but I went out of my way to find things to pop in for over my visit to help support them. I will include them in my Positano highlight post.
Capri was busier in comparison to Positano. The beach clubs were full and the restaurants were booked and it was harder to get last minute reservations. There weren't as many Americans traveling as I have seen in the past. I heard mostly Italian and French vs English.
I loved seeing Capri every morning as the city opened up. I sat at a café every morning with a coffee and watched the porters take items all around the city in their carts. It felt like the Italians had a pep in their step happy to welcome tourists back to the island.
In terms of Covid safety.
I absolutely wore my mask the whole plane ride. People asked this question on Instagram frequently. It wasn't as uncomfortable as I thought because I was able to sleep. You are allowed to remove your mask for bites and sips. The planes give you sanitizing wipes so you can wipe down your seat before take-off. Some airlines were specific to the type of face mask you are allowed to wear which was a surgical mask. The Italians were stylish with their colored N95 masks to match their outfits.
Some people wore masks outside and others did not. There were more people wearing masks outside than I do see in Chicago. All of the hotel staff and restaurants were wearing masks even if serving customers outside. Hand sanitizer was available in every shop/hotel lobby/restaurant. Contact tracing forms were given at almost every meal and some spots did temperature checks. You were given a contact tracing form with your menu asking for your email/phone number and a few other details. I would hand back the paper when I placed my order.
At both hotels, a breakfast buffet was offered. They were very strict with plexiglass dividing the guests and the food. There was someone assisting guests and plating food at different stations to make sure there was minimal contact. The tables for breakfast were outside and spaced more than 6ft apart.
Masks are required on public transportation. You will need to wear one even if you are vaccinated. I took the Capri bus to the beach and it was hot but everyone wore them. The staff will remind you to cover your nose and mouth.
A PCR/Antigen test was required for re-entry into the US. This was a bit stressful because I was flying on a Sunday early morning and I was leaving Capri for Naples. I arranged for a test easily through my hotel where someone came to the hotel room to do the swab. I filled out paperwork and the results were emailed within 24 hours. The paperwork was slow and I got a little impatient waiting for the results so I ended up walking into a pharmacy to see if I could get a test. I found a pharmacy off the main square in Capri and was able to get a test right away for 30 euros. This was the view.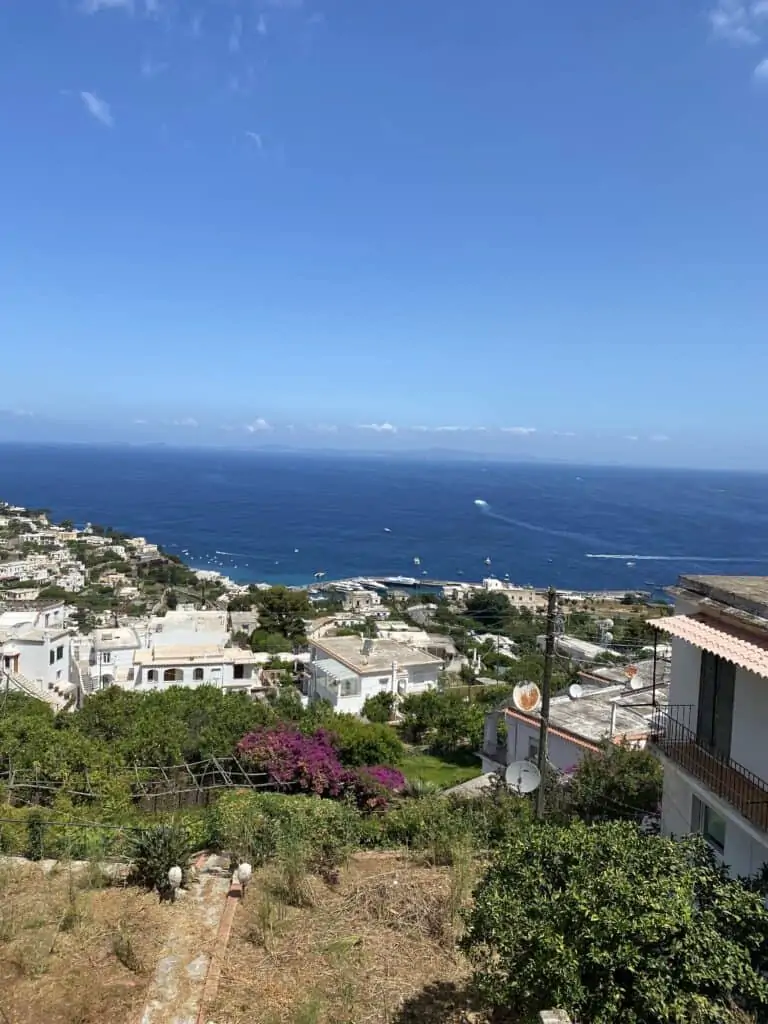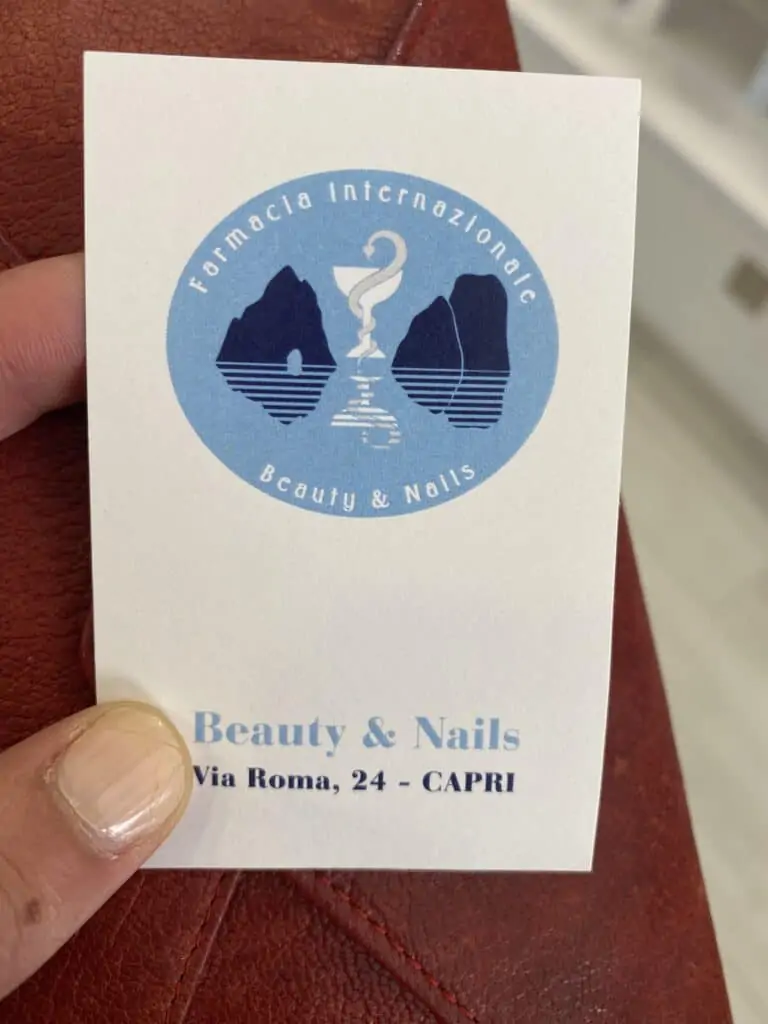 The doctor said I would never have a view this good for a Covid test again. I had to agree this was a pretty amazing view. By the time I entered my information with the pharmacy along with my passport #, I was given the paperwork with a negative test that was stamped. This is what I needed to show the airline to get back to the US. This is just as important as your passport! There was only one copy of this paperwork. I took a photo on my phone for a backup. I did get the email from the hotel test which was an electronic document. You can show either to the airport staff.
United Airlines offers an Abbott lab Covid kit you can take with you when you fly and set up a Zoom appointment to get your rapid test. This is a GREAT option if you don't want the stress of finding a lab/pharmacy in a foreign country. I have heard from several people the tests are easy to find in Italy and France at pharmacies.
I traveled through Germany to get home because there was no direct flight from Naples to Chicago. Each country has different Covid requirements. Germany was strict and I needed to show my negative PCR test to enter the United lounge. I also had to fill out a form if I was going to eat or drink. I needed to show the PCR paperwork for my negative test to board my flight. Allow for extra time when traveling. There were long lines to get through security and passport control.
If you have questions on anything that wasn't covered in this post please drop them below and I will do my best to answer them. Safe travels!