Spring Cleaning Tips for Your Home
If you have been following me for a while, you know I love a clean house. A clean kitchen, a well-stocked fridge, and a freshly made bed are easily the way to my heart. The change of the seasons is a perfect excuse to do some spring cleaning. The weather in Chicago is slowly warming up but we have had some rainy weekends which has made extra time at home to get organized and clean up.
When we were all spending time at home, it felt easier to keep on top of things in terms of clutter and keeping organized. I am been learning these tips along the way but some of these are frequent questions I get some readers so it felt a good time to put them all in one place.
Clean Your Washing Machine
My fiancé had a washer and dryer in his place before I moved in. I moved from a high rise and my building had washers and dryers in the basement. Having laundry accessible at any hour of the day feels like a big bonus. I love clean clothes and it is one of the first things I do after traveling is start a load of wash after I unpack.
We noticed there was mold growing in the rubber of our washer a few months ago. This is totally normal. After trying a bunch of failed remedies, we ended up getting replacement rubber from Abt. You can buy this on Amazon and self-install but I had Abt order the correct one for our model and installed it. They also did a service on the machine which was a bonus to make sure everything was running smoothly. He gave us tips on how to keep this clean for the future. Keep the door propped open after a wash to let the machine dry out. If you want to close it, you can run a towel along the window and rubber to dry it off. You also want to run a clean cycle every 30 cycles. You can use these tablets and run the cycle to keep the machine clean.
Toss Expired Cosmetics
Sunscreen should be replaced every three years. If it is too old for you to remember, toss it and buy a new one. Spring is a perfect time to stock up and get ready for the harsh sun. I recently cleaned out my beauty cabinet and tossed any serums and creams I wasn't using. It cleared up some space but it still looks like a French pharmacy.
Empty Pantry/Fridge
I clean the fridge out weekly. But for a deep clean of sauces, condiments, and pantry items. Cans you stocked up during the pandemic should be pitched. All those dates are most likely passed. Clear some space in your pantry and organize. See what you used and what you didn't use and try to replace some of your favorite pantry staples.
Clean Dishwasher
I didn't know this existed until I started following Laundress on Instagram. I clean mine regularly with scented vinegar on the clean cycle. We use our dishwasher every night and after 30 washes, you want to run the clean cycle. Clean the food trap and rinse this with dish soap and water and run the clean cycle with vinegar. You will thank me! This tutorial will show you all the details.
Put Away Winter Clothes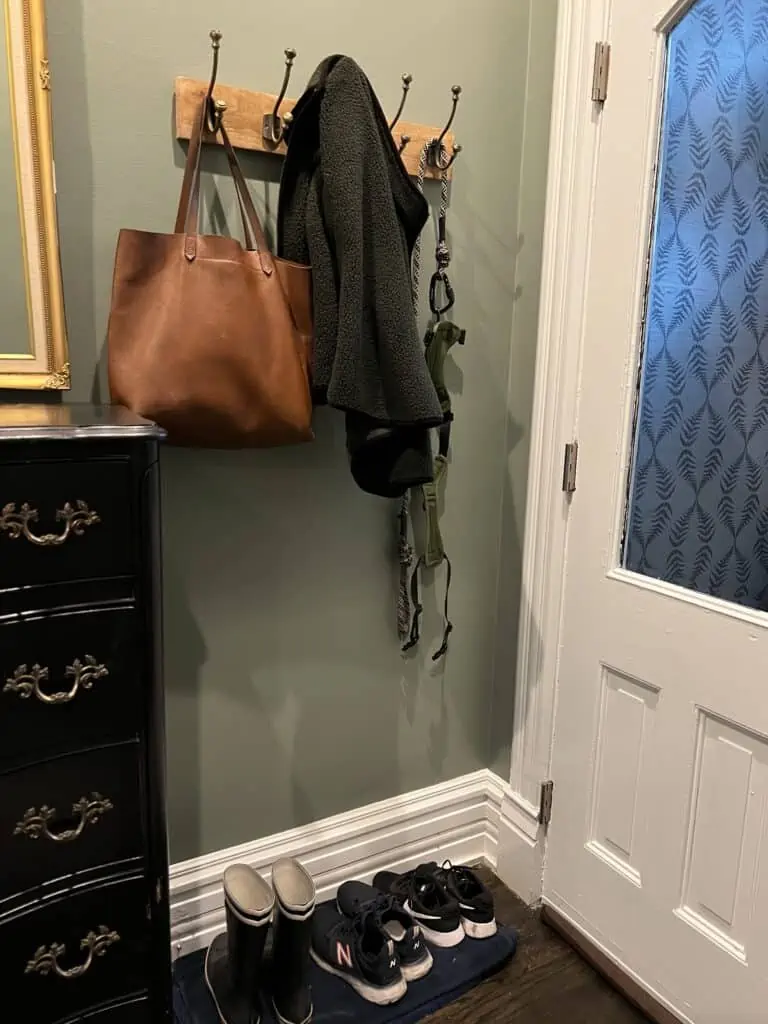 Our entryway was getting cluttered with winter coats, hats, and scarves that we were no longer using. It is starting to warm up and some of the heavy coats can be stored away. You can get them cleaned at your local dry cleaner before storing them for the next season. I did a quick clean of the space to get ready for spring.
Dry Clean Winter Coats/Sweaters
I have been slowly taking my sweaters to the dry cleaner to wash them before storing them away. You can also use Laundress cashmere wash and hand wash or run them in the washer on your delicate cycle. Store them away for next season.
Swap out Spring Linens
I love my Boll and Branch bed so much! We have an extra layer on the bed for colder nights that can now be put away. We also have lighter spring linens for warmer nights.

Replace Air Conditioner Filters
We also have our air conditioner serviced at the start of the season to make sure it is running properly before it gets too hot.
Make Donations of Old/Unused Clothes and Furniture
It is easy to accumulate clothes and unused items over time. I like to do a clean-out twice a year to purge items I didn't wear the previous season. This allows for room for new items in my closet.
Do you have a favorite cleaning routine for spring?
*This post includes affiliate links. I make a small commission off of items purchased from my links. Merci!