I am officially off on my honeymoon and we are very much looking forward to this time alone. My husband and I have been joking that we have been looking forward to the honeymoon more than the wedding. Totally normal, right? Sunshine, sleep, and relaxation is on the agenda. 
2022 was a crazy year in between work and planning a destination wedding. I have something BIG to announce in 2023 so stay tuned!
I created these very special Links I Love for you to enjoy over the holidays. Christmas falls on a Sunday and so does New Year's Day. These are your favorite links of 2022 voted by the EDP community. I always love to see what you enjoy the most and do my best to provide content that will teach you and inspire you. Enjoy this special round-up and I will see you in 2023! 
Grab your coffee and croissants and join me for Links I Love.
The Unlikely Hotel Souvenir You Should Collect from Luxury Hotels (even if you haven't visited) 
Legendary Paris Restaurants that Live up to the Hype Food and Wine 
10 Timeless Items French Women Have in Their Winter Wardrobes 
How to eat, drink, and entertain like a Parisian 
My Pinterest Wedding Inspiration Board made me cry looking back at it because there are a lot of visions that came true. 
The Interiors That Made Nancy Meyers A Design Icon 
The 18 Places for the Best Shopping in Paris 
How to do Paris Like a French Girl via The New Yorker
Airlines' Premium- Economy Trick 
The Most Common Items People Forget to Pack 
A NYC Parisian- inspired apartment 
How to rebook your flight once the price drops ( I heard from so many of you that this was helpful! )
Why a Hot-Water Bottle is the Key to Staying Cozy and Easing Period Cramps this Winter via Vogue 
How Stanley Tucci Travels (which always includes a suit jacket)
The French Pharmacy Finds You Can Discover on Amazon 
You Will be Charged to Visit Europe from 2023 
Colors that will rule interiors in 2023 
How Not to Look Like a Tourist in Paris 
Gorgeous French Kitchen to Swoon Over 
A French Girl's Guide to Getting Lipstick Right 
How American Tourists are Saving France's Summer 
5 Flat Shoe Trends Every Smart Parisian Woman Owns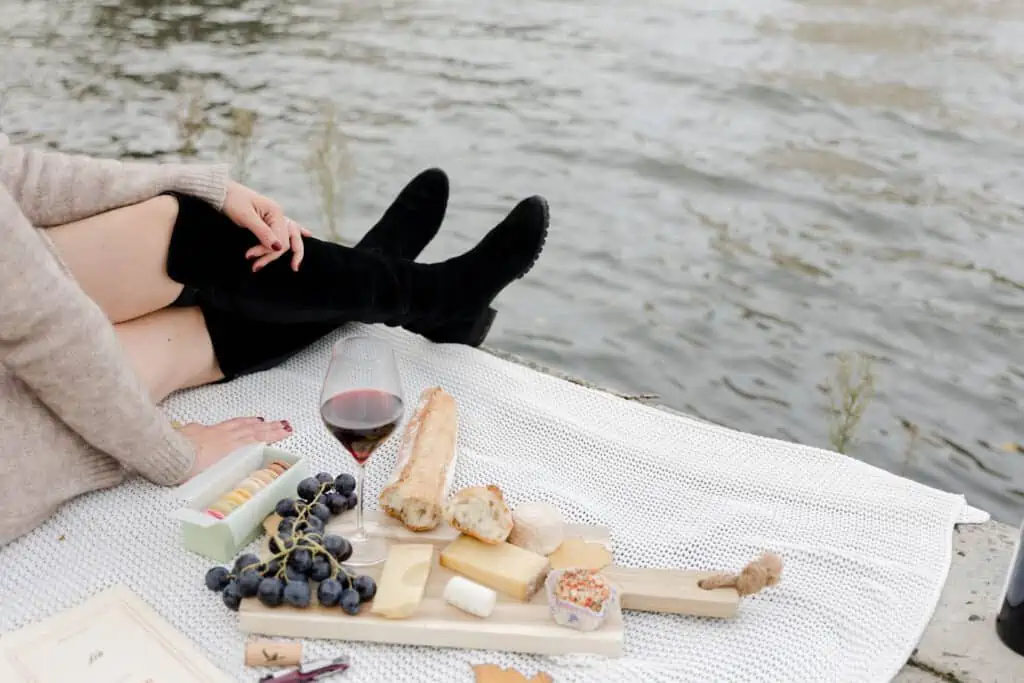 Top 10 Favorite Items Loved By You 
This Boden swimsuit was one of the most popular items of 2022. I bought it in 3 colors and is so flattering. 
The Gaspard Sézane Sweater was a best seller two years in a row. It runs big but I take it in my normal size small and tuck it in the front. I packed it as a layer for our wedding weekend.
Sierra Over the Knee Boots it's safe to say we helped sell these out. I wear these on repeat and now own the brown and black pairs. 
This smocked blouse from Boden was a reader favorite. I have it in ivory and have worn it on repeat since it arrived. 
Adèle and Jules is the most favorite hotel among readers and is budget-friendly!
Sézane Trench coat is a fan favorite. This is worn on repeat from spring to fall. 
Nico Straight Jeans run true to size I had to get them shortened but they are the perfect jean and fit so well. 
The best sneakers for walking around Paris. They are under $100 and are usually on sale. You need to break them in a bit before packing them for a long trip but worth it once they mold to your feet. You will want a second pair. 
Signature hemmed sheets. These get better as you wash them. My whole family has these!
Neulash serum for your lashes. This is a game changer and is great for long and strong lashes. I used it before the wedding and noticed a dramatic difference. 
Top 10 Blog Posts of 2022
Where to Eat and Drink in Paris
25 French Brands You Can Buy in the US
What to Pack for Paris in the Autumn
My Favorite Walking Shoes for Paris
How to Get from CDG to The Center of Paris 
10 Budget-Friendly Hotels in Paris 
25 Hotels with Eiffel Tower Views 
Thank you for spending Sundays with me in 2022. This post includes affiliate links and I make a small commission off of items purchased from my links. (at no cost to you) Merci!
Above photo by Katie Donnelly Photography