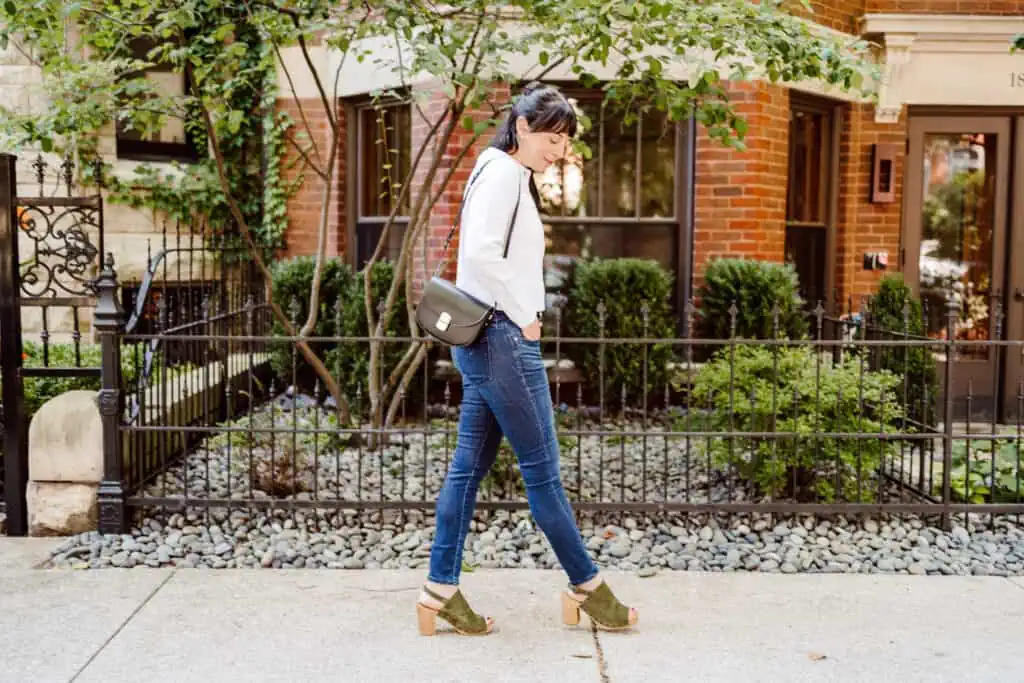 Sézane Claude Leather Bag
Meet Claude! The newest arrival in leather bags from Sézane. I had an early preview from the brand, who offered to send over Claude as a gift. Crafted from smooth Italian leather with an updated half-moon shape. If you loved the Milo classic bag from Sézane, you will love the Claude.
Key features I love about the new Sézane Claude Leather Bag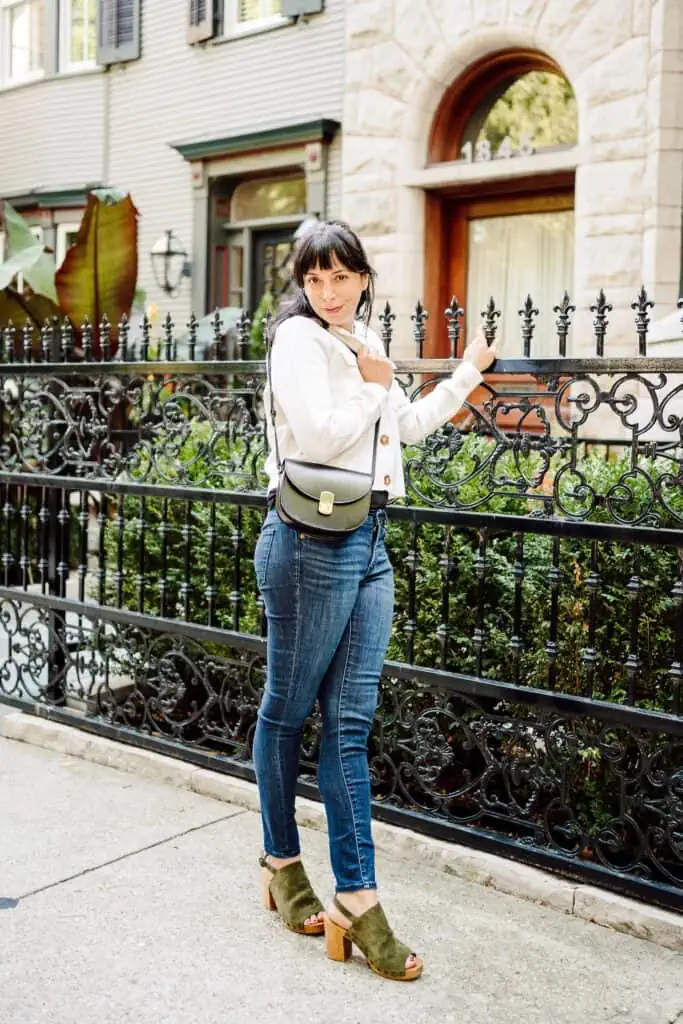 The adjustable strap length makes it easy to fit over my shoulder or as a crossbody bag. It snaps together easily to adjust to a long or shorter strap in just a snap!
The shoes are the Dakota high clogs in Khaki. I sized up a size from my usual size 8 to a 9.
The signature gold metal clasp in light gold can be found on each of the different leather colors. Choose from smooth olive, rosewood, sand, and a brown crocodile print. I chose the black glossy style for my Claude bag, knowing I would wear it the most.
Wearing the Betty cardigan, a personal favorite from Sézane, in size small.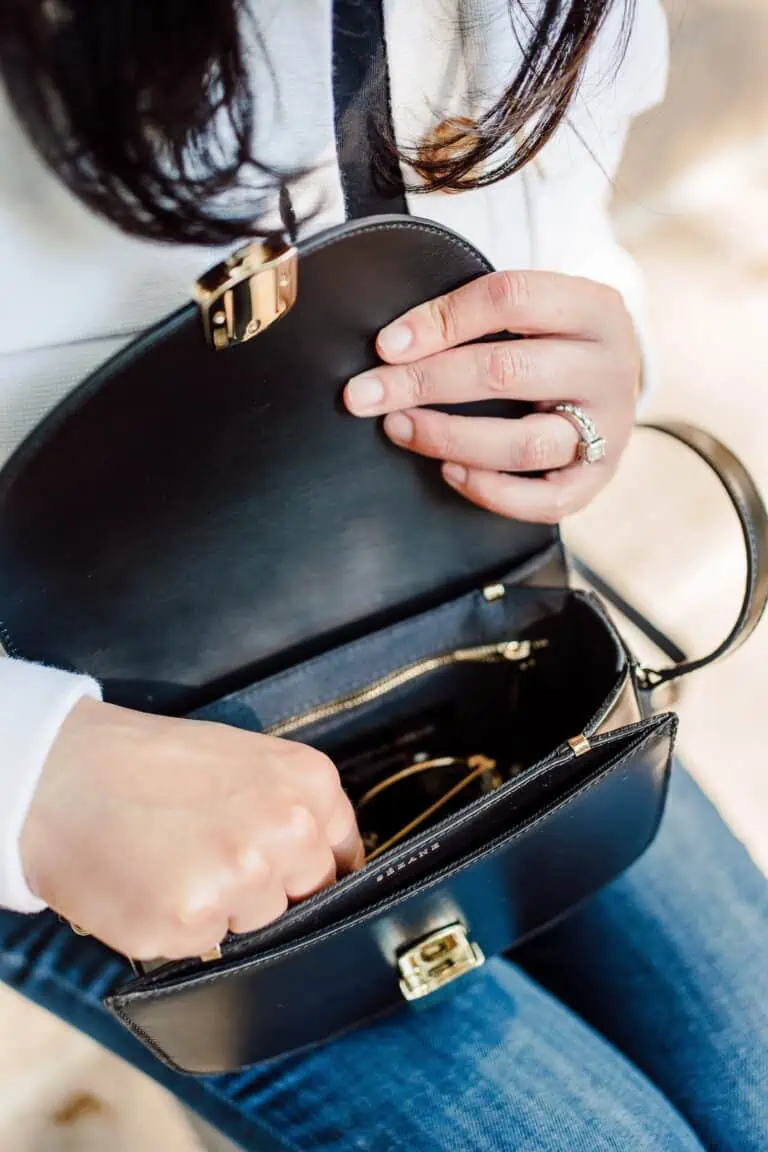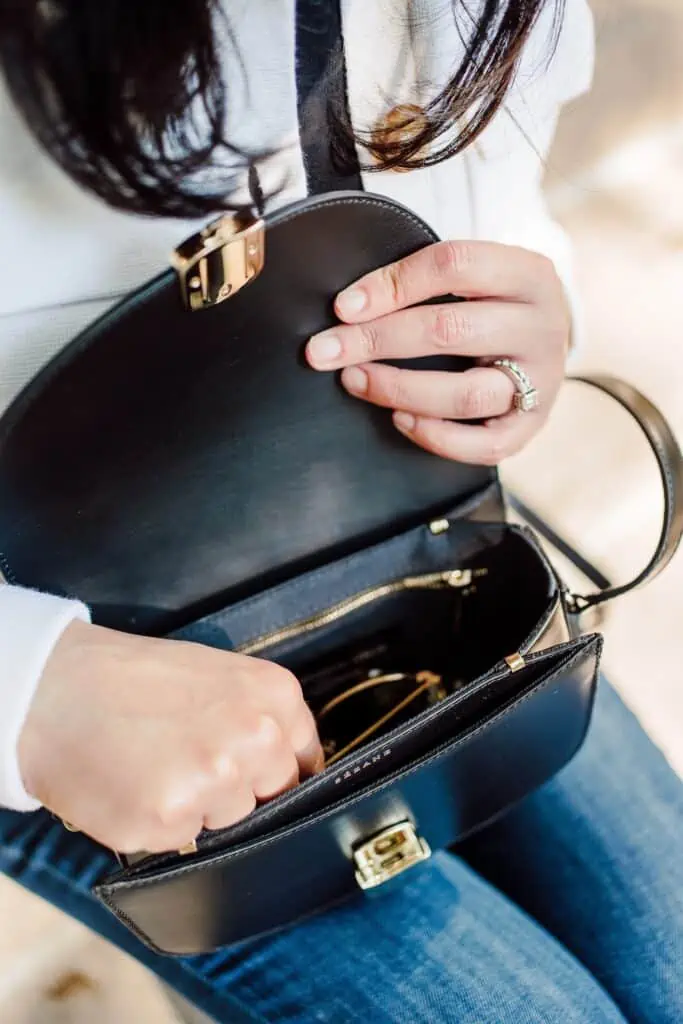 What fits inside the Claude bag?
The Claude bag measures 15.5 x 6.5 x 20 cm / 6.1 x 2.6 x 7.9 in.
I was surprised to see I could easily fit a notebook or my Kindle inside, along with lipgloss, sunglasses, phone, and house keys. There is an inside zippered pocket to keep valuables secure and a pocket for small items on the interior and exterior.
One of the unique features of the Sézane leather bags is the ability to monogram them. You can put your initials in gold stamping on the shoulder strap.
Dress up the bag for a night out with a skirt or dress. It also works excellent as a crossbody bag to run errands with a pair of jeans and sneakers for a walk with Henri. It is just the right size to hold everything I need. I am wearing the Sézane Will jacket, a perfect fall transition piece.
For more Sézane fall essentials, you can check out this post.
Photography by Rebecca Tyler
*Sézane gifted the bag. This post includes affiliate links. All opinions are my own. This is a brand I love and have shared often.