This recipe was inspired by a soup I had on my last trip to Paris. After the first bite, I knew that I had to make this at home. I have never cooked with either butternut squash or a pie pumpkin before so this was a learning experience. It was easier than I imagined and so flavorful and comforting on a cold Fall day.
You can prep this on a Sunday and eat it during the week. I did a little research and found out that butternut squash is a superfood. I try to keep a healthy balance between chocolate and cheese and kale so this was a good surprise. I will be incorporating butternut squash into my diet more when it is in season.
I picked up the butternut squash and the pie pumpkin at my local Green City Market. The most time-consuming part of this recipe is cutting the pumpkin and squash. Turn on some music or your favorite show and take your time and enjoy the process and mess. It is easiest to peel the butternut squash with a peeler after chopping off the ends.
I saved the pumpkin seeds and baked them in the oven to top my soup. You can do this on a baking sheet at 350 degrees until crisp. 5-10 minutes depending on your oven.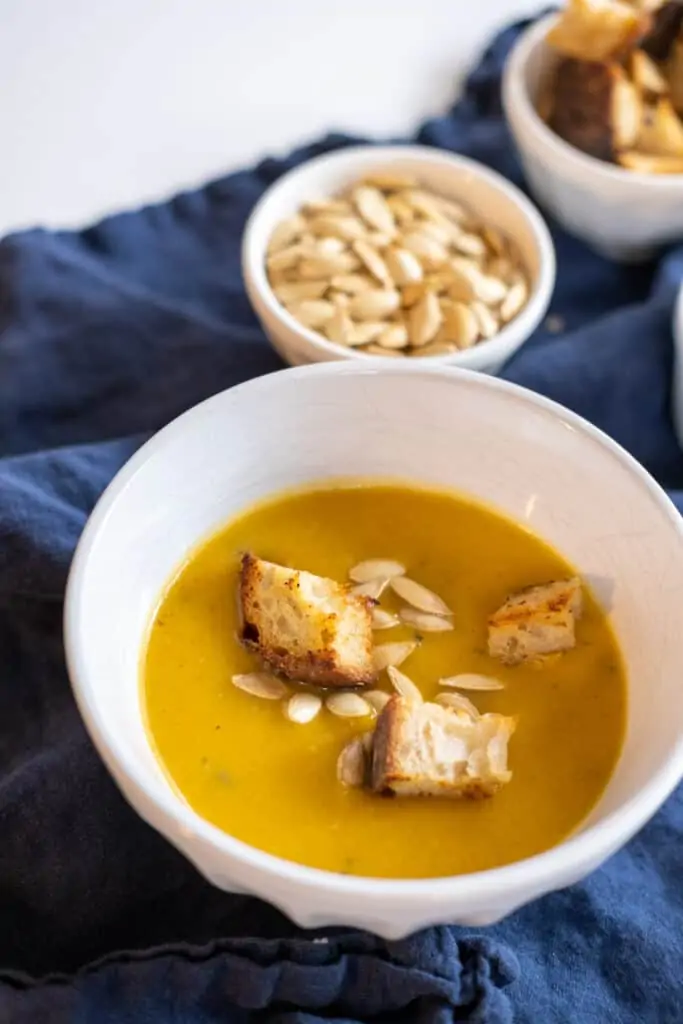 As a fun addition and to make it a bit more filling, I added a spinach and cheese tortellini to the soup.
The recipe I tried was a modification of this Half Baked Harvest Recipe
I baked my pumpkin and squash on a baking pan for 20 minutes at 400 degrees F or until soft. The aromas really fill the kitchen nicely.
I used 3 cups butternut squash which was about one medium sized squash from the market.
2 cups pumpkin cubed (save seeds for topping)
1 tablespoon butter instead of two
1 cup of whole milk instead of two
Puree the squash and pumpkin mix in a cuisinart until blended and return to your Staub.
no pancetta and no brie
Note the cayenne and cinnamon really give a flavorful kick.
It can be served with crackers or I did a sourdough garlic crouton for a crunch. The garlic really adds to the flavors of the dish.
To make the garlic croutons. I add a tablespoon of olive oil and a teaspoon of garlic salt to cubed bread toss together and toast in the oven at 350 degrees F for about 10 minutes.
*You can heat this back on the stove or microwave for a cozy meal on a cold Fall day.
Items I used for this recipe: