5 Best Paris Cheese Shops
One of my favorite simple meals in Paris is a baguette from a local boulangerie, a bottle of wine, and a few French kinds of cheese. This post is dedicated to cheese lovers (including my husband, who insisted I write this post). Many cheese shops in Paris are scattered around the city, especially on the food-dedicated streets, which I will highlight later in the year. I rounded up the best cheese shops in this post, including a google map so you can plan your visit.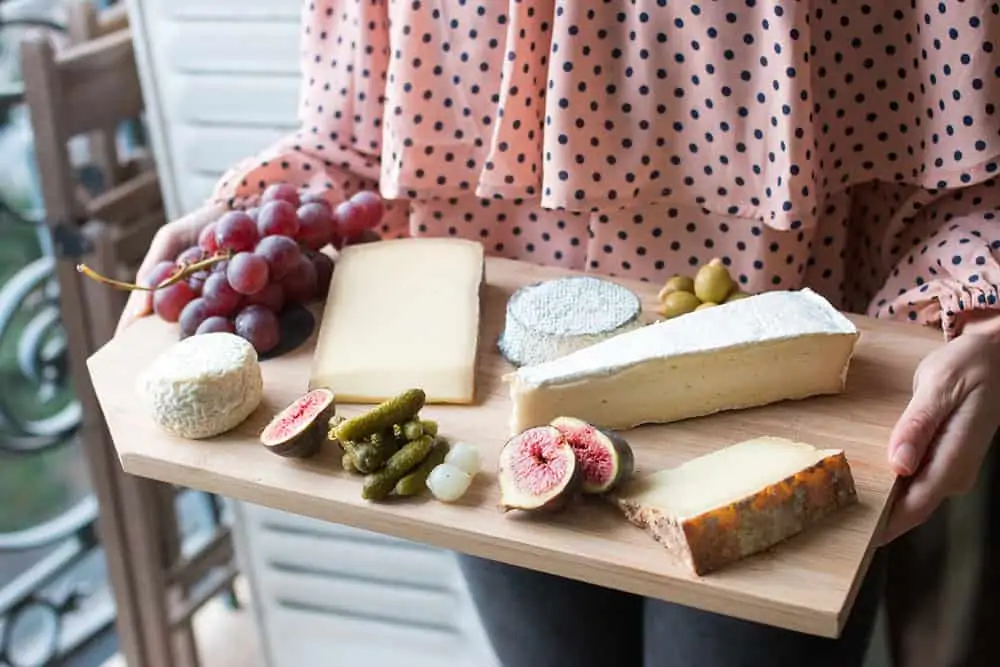 You will notice when you approach a cheese shop is the distinct smell. I like to think the stinkier, the better when it comes to cheese, but that isn't everyone's preference. If you purchase a strong, fragrant cheese, it will take over your hotel or apartment fridge, so be warned. The smell disappears once the cheese is removed; it may surprise you if this is your first time.
The 5 Best Cheese Shops in Paris
To identify a Parisian cheese shop, look for the word fromagerie or crèmerie on the outside of the building.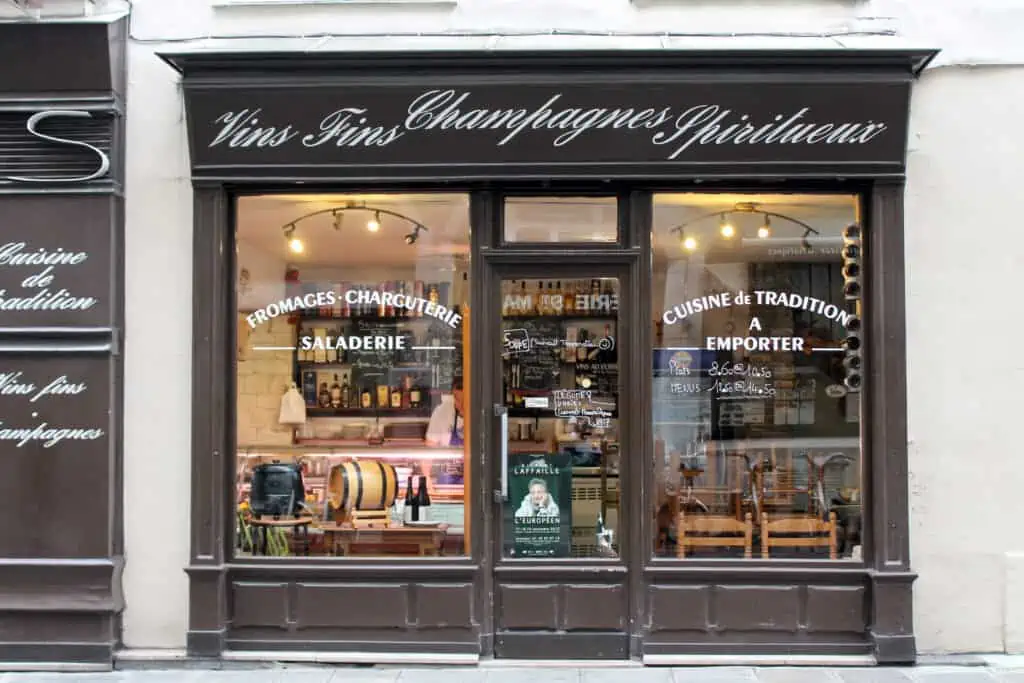 Each French cheese shop is full of varieties of cheeses for you to purchase. The price will be in front or on top and sold per kilogram.
Let the cheesemonger guide you by answering a few of their questions. They will want to know what you are serving with the cheese (additional food items) and wine. You can always work backward, pick your French cheeses, and then find a wine that pairs well with them. A wine shop will be close to a majority of these cheese shops. It's amazing how many wine shops are in the center of Paris.
You will also need to tell them when you plan on eating the cheese, some are riper a few days after purchasing. They can select the cheese ready for when you plan to eat it.
How to Shop for Cheese in Paris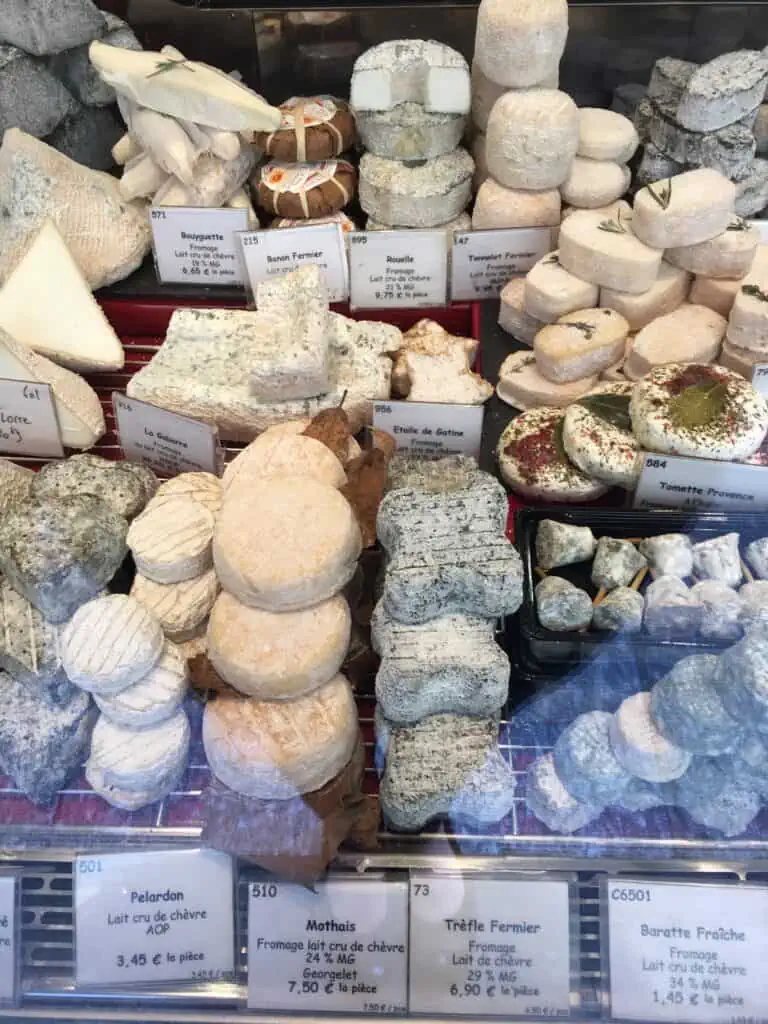 The cheeses are arranged in the shop case of goat, sheep, and cow.
Don't be afraid to ask for a taste of a specific cheese you want to purchase. The cheesemonger can slice semi-hard and hard cheeses. Some individual smaller cheeses are sold per piece and cannot be sampled.
If you plan on making a cheeseboard, you will want a variety of cheeses. This includes soft and hard and different animals. Go for an odd number and add some fruit, nuts, and olives for your cheese pairings to break up the flavors and clear your taste buds.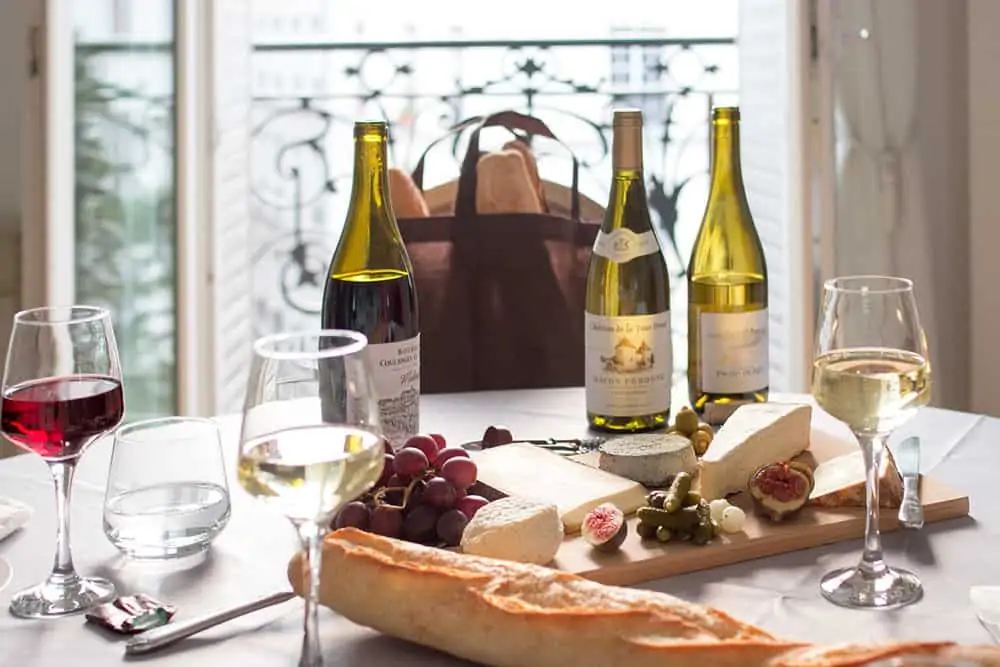 You won't love every cheese you taste; I typically skip blue. But you will find your favorites over time and know what you love. The cheesemonger will make suggestions based on your preferences.
One of the favorites I always get is aged comté; they will ask you what age you want your comté, either young or old. I try to go as old as possible without breaking the bank. The price increases as it gets older.
My friends at La Cuisine have this excellent blog post that is much more in-depth on the different cheeses and top tips on how to order at a Fromagerie.
Cheese Shop Tips
Cheeses are seasonal. I had no idea this was true until spending time in France. There are summer cheeses and winter cheeses. Also, the flavor palette for some cheeses will change depending on what the animal grazed on and in what season.
Winter cheeses include Mont D'Or, which is a fun one. David Lebovitz writes about it here. I also love Raclette, a Swiss/French cheese. This is great on a cold winter night, like cheese fondue but best served with potatoes or meat. Goat cheese (fresh chèvres) is best in the spring months. In summer, try soft rind cheeses.
For more on French cheeses, you can check out this post which breaks them down more in-depth! Bon Appétit!
La Fermette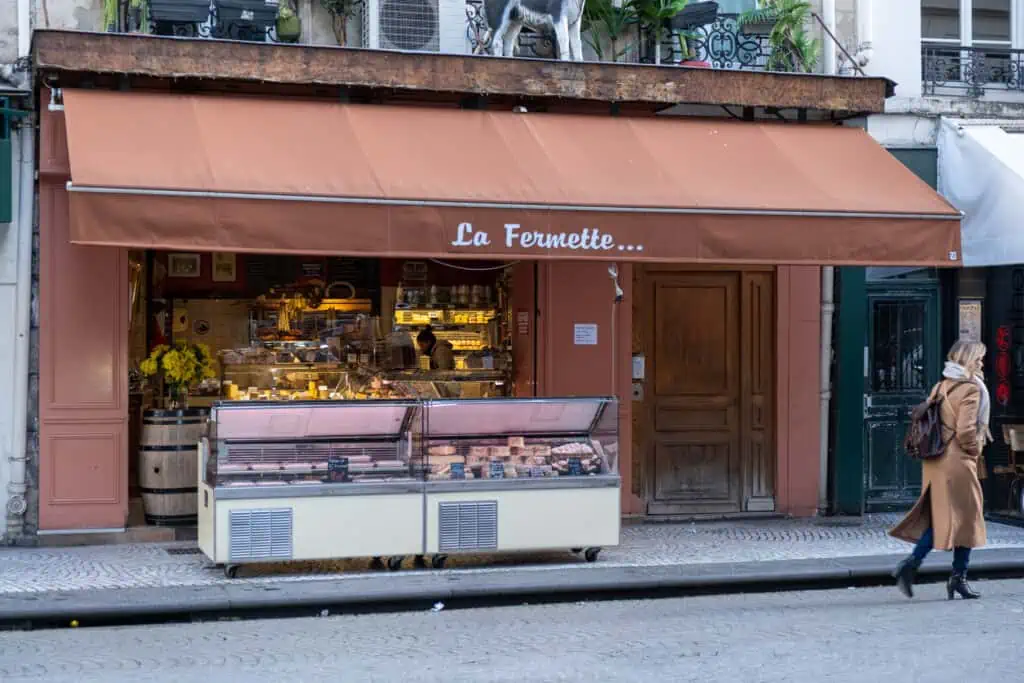 La Fermette is a cheese shop on one of my favorite streets, Rue Montorgueil. I discovered this shop ten years ago and still love popping in when I am nearby. The staff is friendly and helpful. The street has a boulangerie and wine shop nearby to pick up everything you need for a picnic or impromptu meal at your apartment or hotel room.
Barthelemy
Barthelemy is one of my favorite Paris cheese shops, and Ina Garten's. I had heard about this shop for years and never thought much about it unless I was in the neighborhood. Since I am mainly on the right bank, I never came across it until recently. Now, I find myself gravitating toward the shop. It is cheese heaven. It's not large, but it is packed with different kinds of cheese from all over France, which makes my mouth water just thinking about it. It is a female owned by Nicole Barthélemy for over 50 years. You may come in with a selection of cheeses in your mind, but the staff will guide you toward at least one or two more you hadn't thought of.
Pick up some jams and honey to pair with your cheeses.
La Ferme Saint-Aubin
Le Ferme Saint-Aubin is a tiny shop on île st. Louis offers various kinds of cheese. The cheese shop is a great place to stop on your last day in Paris as they vacuum seal your cheese so you can take them home in your suitcase.
Fromagerie Laurent Dubois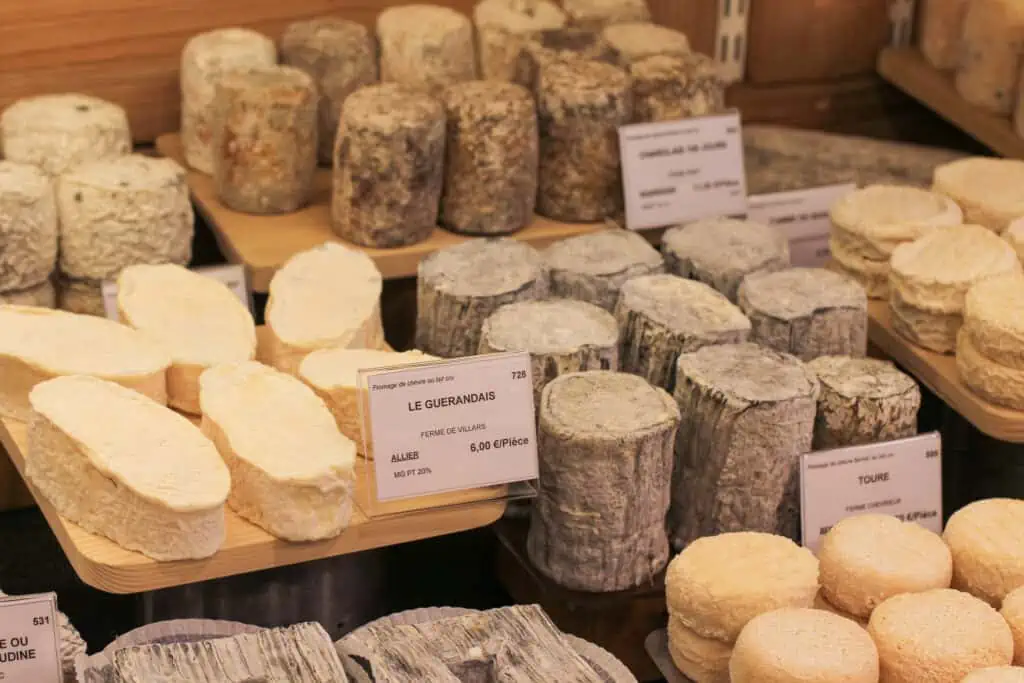 Fromagerie Laurent Dubois is one of the Parisian fromageries written up in guidebooks. The staff isn't known for being the warmest and most friendly like at other shops. It is beautifully displayed with different types of cheese throughout the shop. There are a few locations in Paris now. I am most familiar with the one off Boulevard Saint-Germain at the Maubert Matulité metro stop. This great little area has an incredible boulangerie and patisserie that always has lines. It's worth a visit if you see one on the list or are curious to see it.
Chez Alexandre Left Bank Cheese shop
Chez Alexandre I discovered this cheese shop after meeting a friend for tea last year. It was pouring rain, and I was on my way to Bon Marché, a left bank department store, and noticed this beautiful shop. I popped in and bought a few kinds of cheese that I didn't necessarily need, but I loved the level of service and attention to detail as I shopped. The cheesemonger offered a taste of cheese he thought I might enjoy, and he was right. They also have the most amazing French yogurt that is a splurge on the wallet and calories. I love the lemon and apricot flavors.
Since my hotel room had a fridge, it was easy to keep them and nibble on them with a baguette while I worked on my computer in the evening.
La Fromagerie
La Fromagerie on Rue Cler is one of the best specialist cheese shops on the left bank. If you are staying close to the Eiffel Tower, it is an excellent and reliable place to shop for cheeses. I have been many times, and they have the best French cheeses. The staff will guide you to French cheeses, including goat, soft, and hard cheese.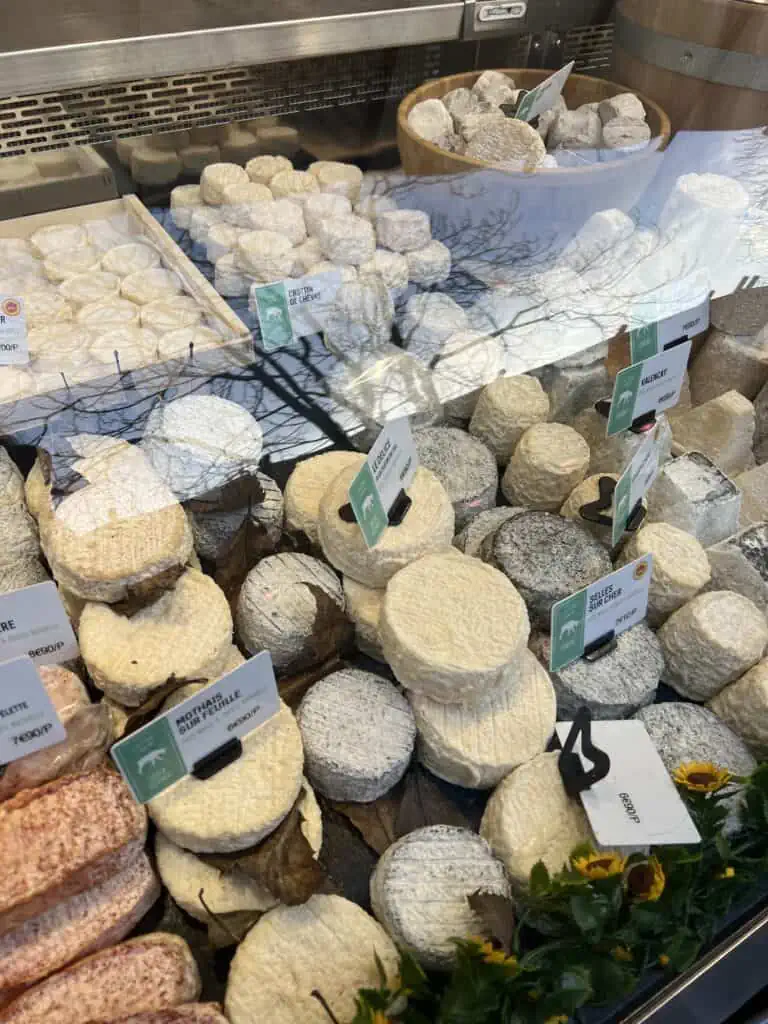 If you don't make it to one of these cheese shops, you can always shop at an outdoor market which is the perfect place to try French cheeses. I typically go for a cheese shop at the market that the lines vs. a stand that doesn't have many people. It is a simple strategy but has led me to some great boulangeries and market stalls.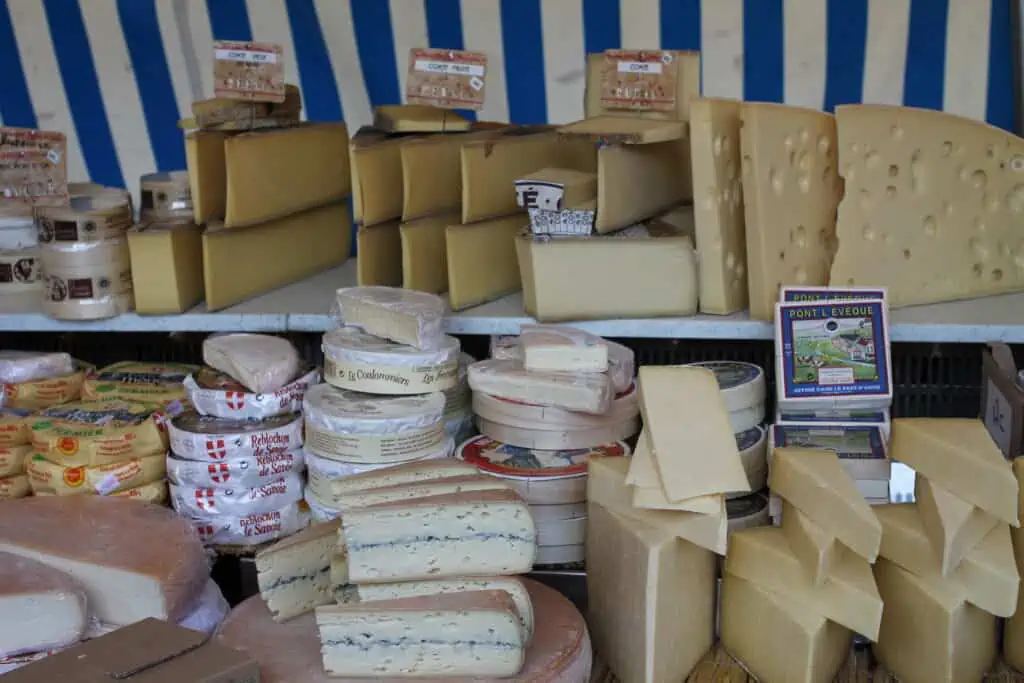 Fromagerie Jonnault Rue de Bretagne
Fromagerie Jounnault, located in the Haut Marais on Rue de Bretagne, is a favorite local spot I visited when I had an apartment around the corner. The staff was helpful with selecting cheeses and even my ordering skills in French.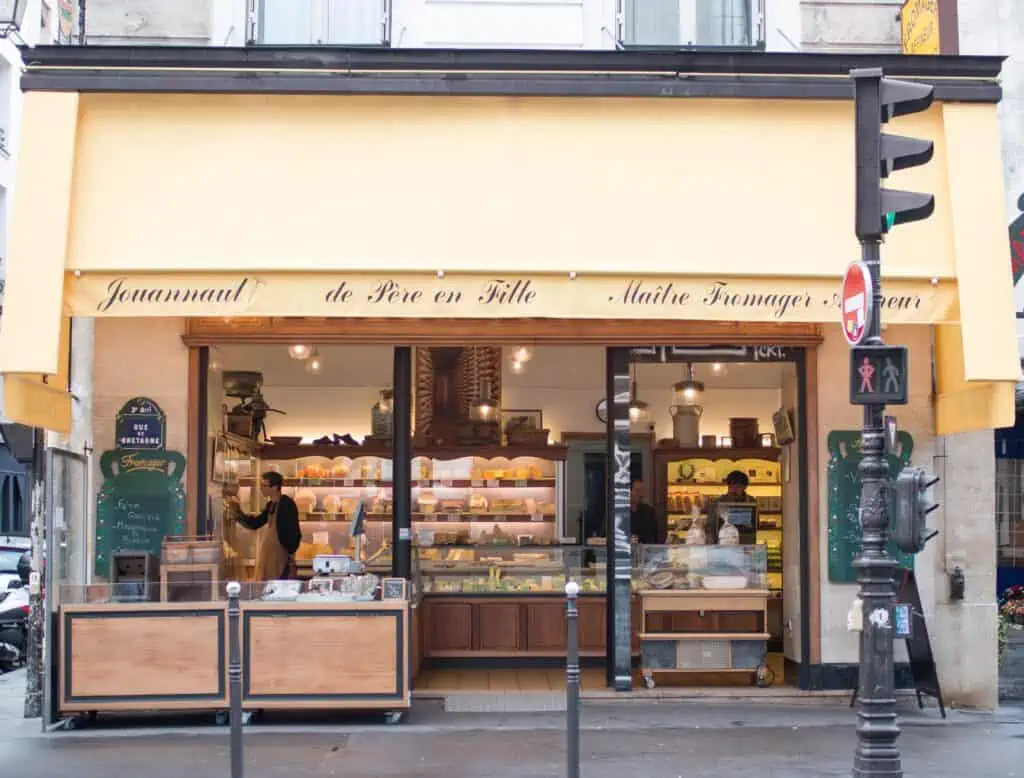 For more on French cheeses, you can check out this post which breaks them down more in-depth! Bon Appétit!
P.S. check out the 5 best Parisian parks to explore on your next trip.