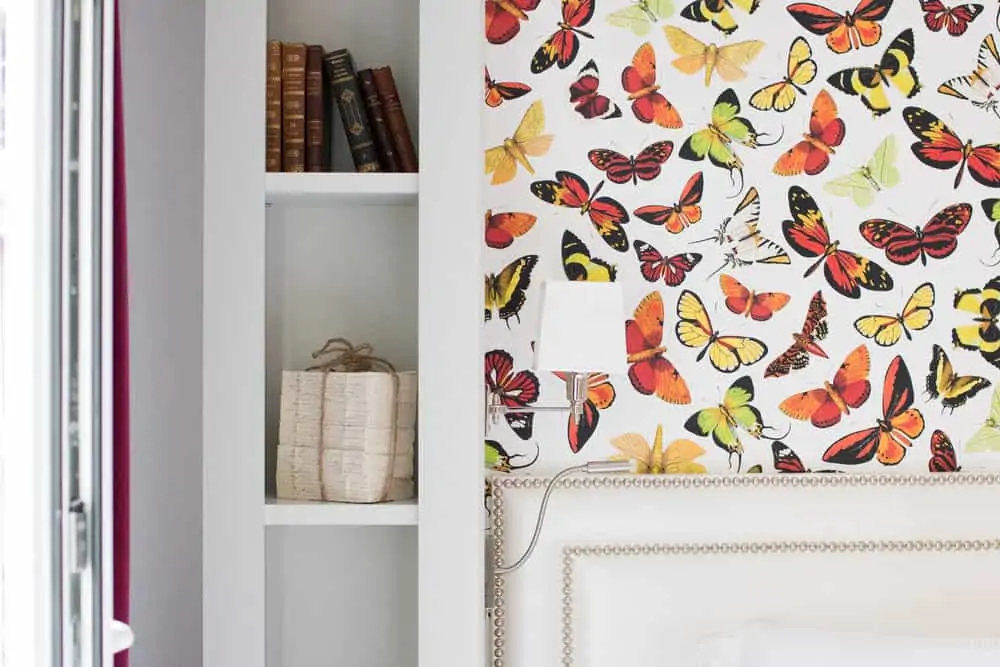 I have been lucky enough to have had some fantastic stays in Paris over the years. Regarding hotels, I prefer boutique hotels in Paris over larger hotels for the personalized service and attention to detail. This is my list of 10 Paris boutique hotels that I have loved and stayed at, and I recommend them to anyone traveling to Paris, which continues to grow and change. If you have a favorite hotel or place to stay in Paris, please comment below and share it with all of us.
Le Narcisse Blanc on the Left Bank is a gem on the Left Bank and a dream for design lovers. I enjoyed my stay here and can't wait to visit again soon. The hotel is in a cream, gold, and pink palate, my favorite color scheme. I felt right at home in this cozy hotel. While waiting to prepare my room, I enjoyed tea and cookies while people-watching in the lobby. I loved the natural light coming in from the big windows and how the lobby felt bright and airy, even on a grey day in Paris.
You can enjoy breakfast in the hotel restaurant or order room service. Ordering breakfast in the room was excellent, so I could extend working a bit on my computer before setting out for a day of exploring. The hotel is close to the Musée d'Orsay, so if this museum is on your list, you are in a prime location.
Le Narcisse Blanc has a small pool, wellness center, and spa by Clarins to enjoy while fighting the jet lag or refresh after a long day of sightseeing. This is one of the most booked hotels by blog readers.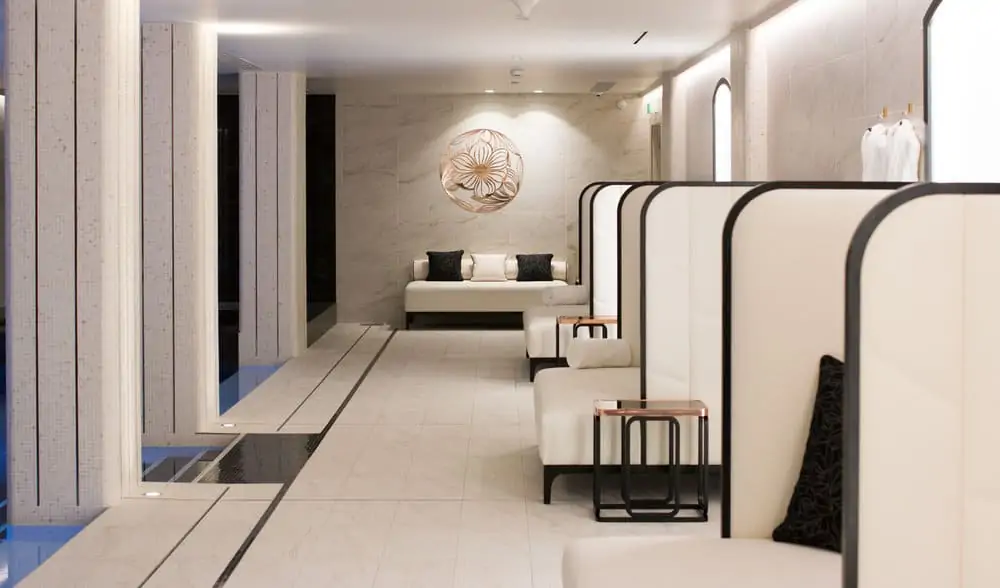 Hotel Monge is located on the Left Bank of Paris, near Jardin des Plantes and the Latin Quarter. I stayed here when they first opened, and the staff was so sweet, and I loved the attention to detail in every room. Upon arrival, I was welcomed as I was staying in someone's home instead of being another number at a large hotel. The Juliette balcony was lovely, and I had a great view outside my window. This is an excellent option if you are looking for a Left Bank, affordable clean hotel. Hotel Monge's ambiance and decor nod to the nearby Jardin des Plantes.
Pavillon de la Reine is located in the heart of The Marais in the center of Place des Vosges is Pavillon de la Reine. I found this hotel on my walk back in 2013 and had the pleasure of staying here a few years ago. I have been able to return for stays in both the fall and spring. The balconies in the front are covered in ivy, and the scent of jasmine fills the air in the summer. It is the perfect location in Paris. Interior rooms provide a more quiet and more private stay.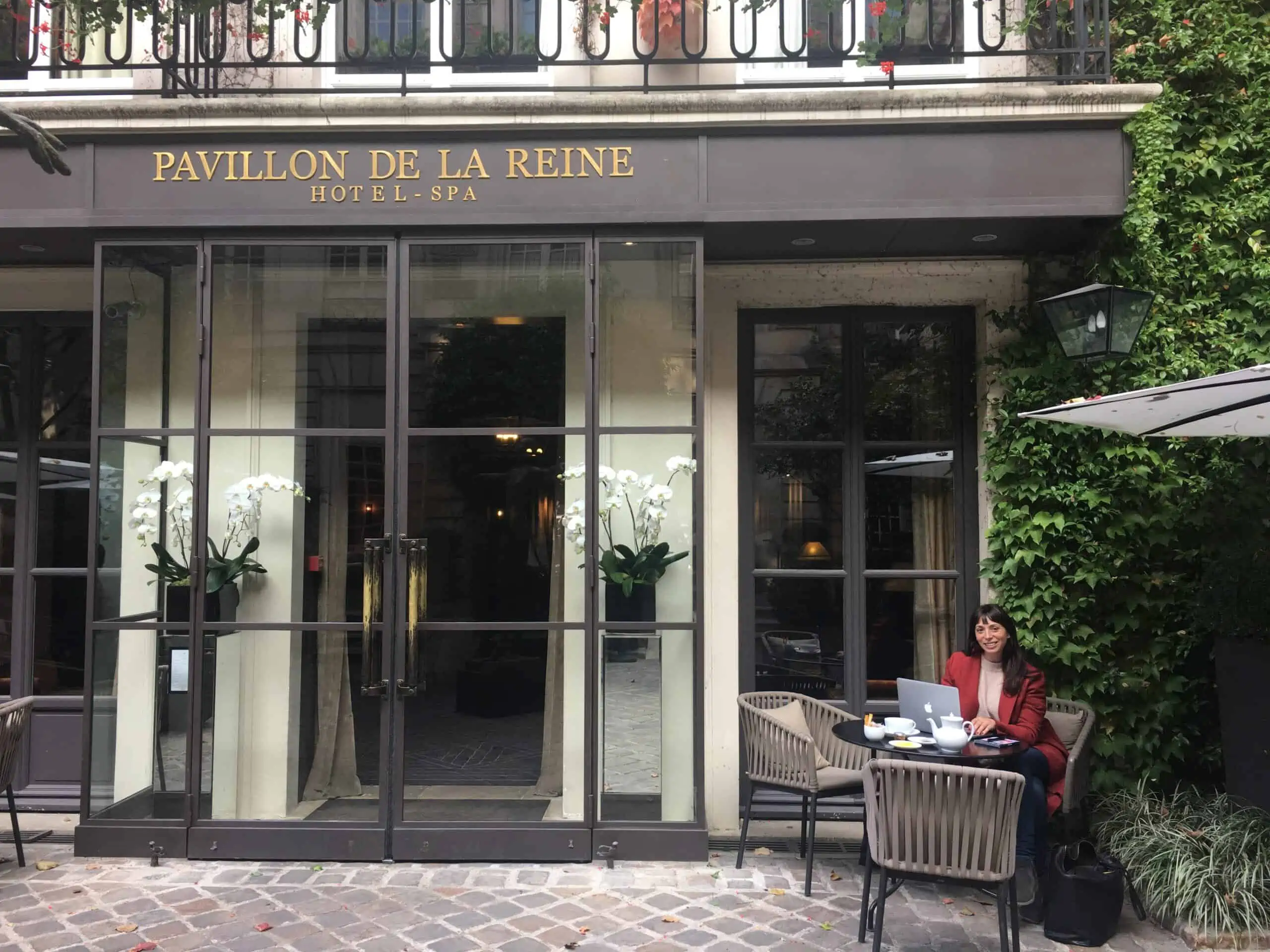 Pavillon de la Reine is tucked away in the center of The Marais in Place des Vosges. You are within walking distance of so many great tourist destinations in Paris and also local Parisian spots in the area. Pro tip: stop by Chez Janou for a glass of wine or dinner on the terrace.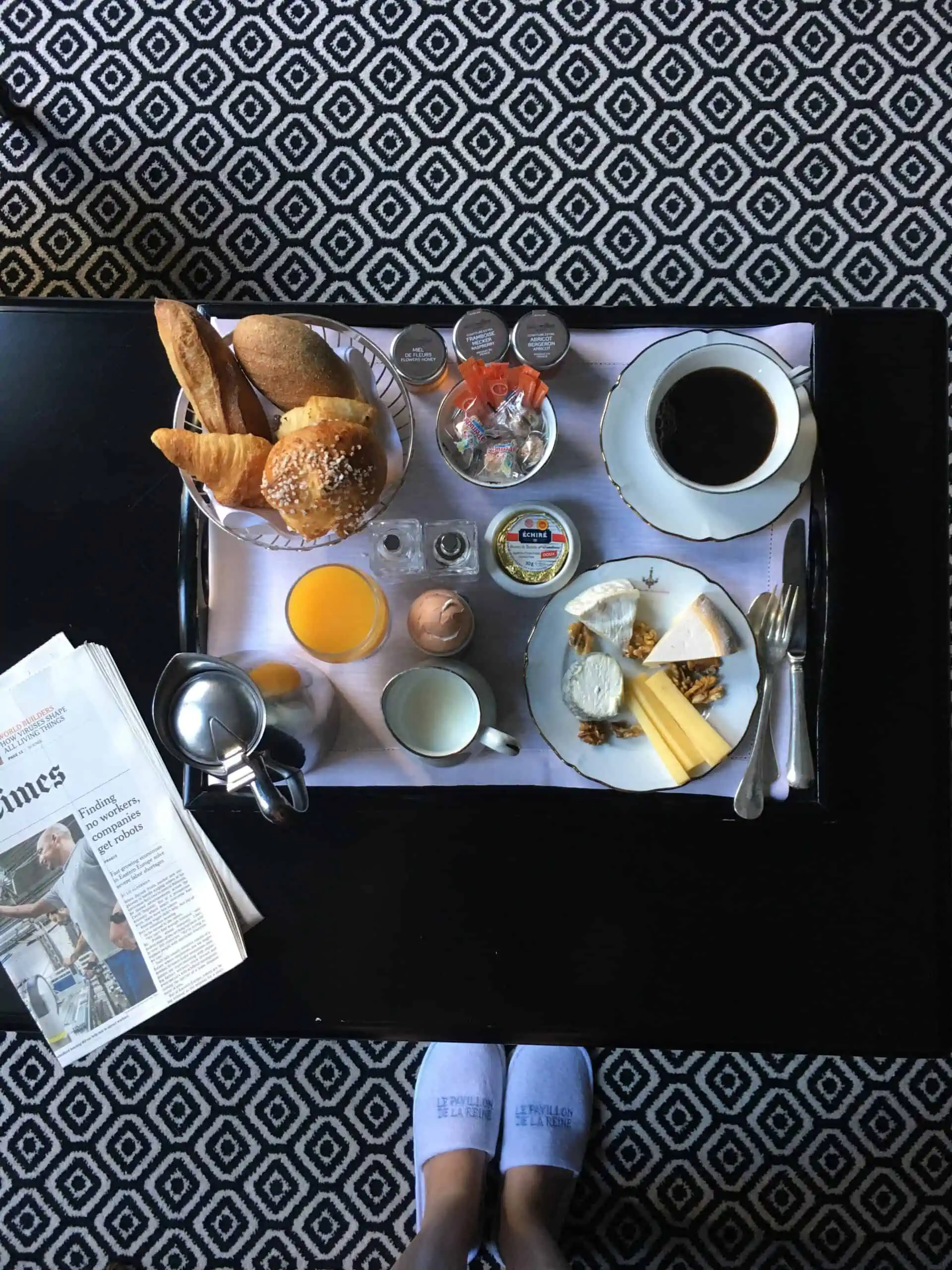 The hotel, Pavillon de la Reine, offers a delicious breakfast. Their coffee is one of my favorites regarding hotel coffee, and I love their croissants. Order a pot of coffee over a café crème or cappuccino. The breakfast room is on the ground floor, where you can enjoy the patio for a cup of afternoon tea or wine. There is a fitness room on the ground floor, a spa, and a hot tub.
Pavillon des Lettres is the sister hotel of Pavillon de la Reine. The hotel is located in the 8th arrondissement close to Madeleine and Opéra. I have stayed here twice, and you may be familiar with the name because my art is hanging here for an exhibition. Diderot is one of the best rooms in the hotel, with a wrap-around balcony and a view of the Eiffel Tower.
Twenty-six rooms comprise the hotel; each is named for a different French author and a letter of the alphabet. The staff is excellent with every detail and is happy to recommend places to eat and drink in the area. Pavillon des Lettres has Le Mess next door for a classic Parisian bistro experience of Mad Men for drinks, which is trendier.
Walk towards The Tuileries for the closest park, just 15 minutes away, or stroll down Rue St. Honoré for shopping and souvenirs. Palais Royal and Louvre are also within close walking distance of the hotel.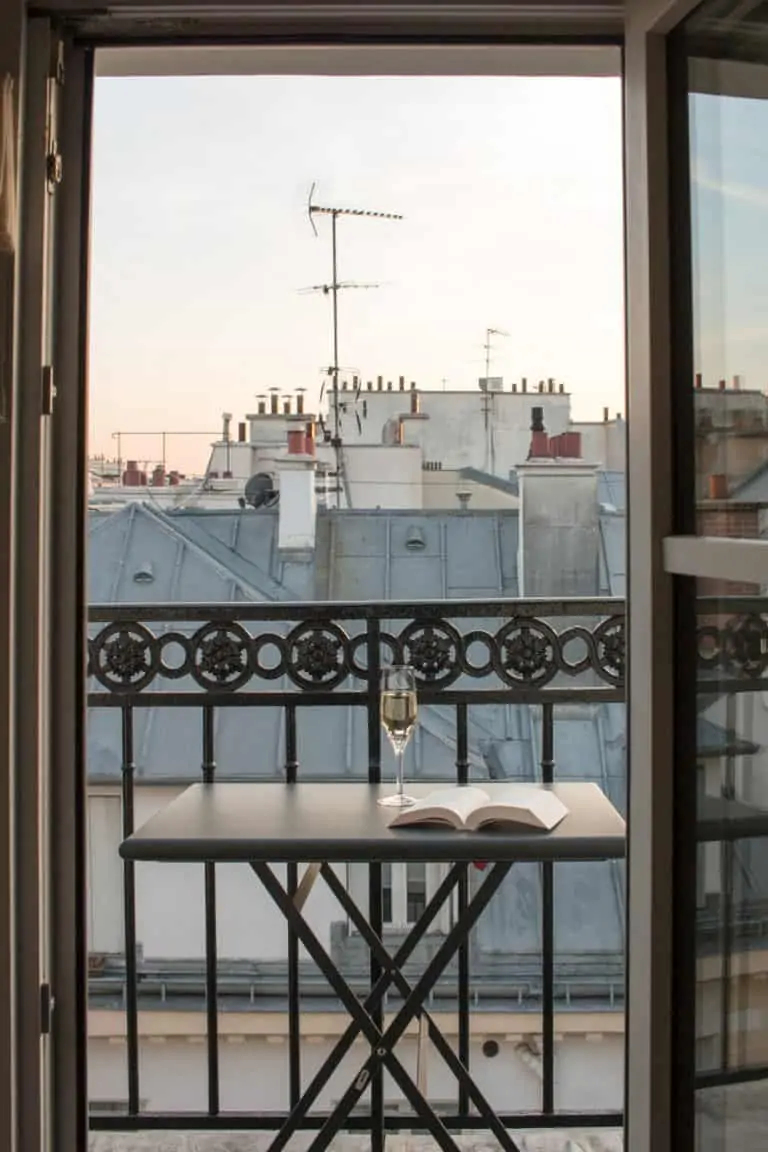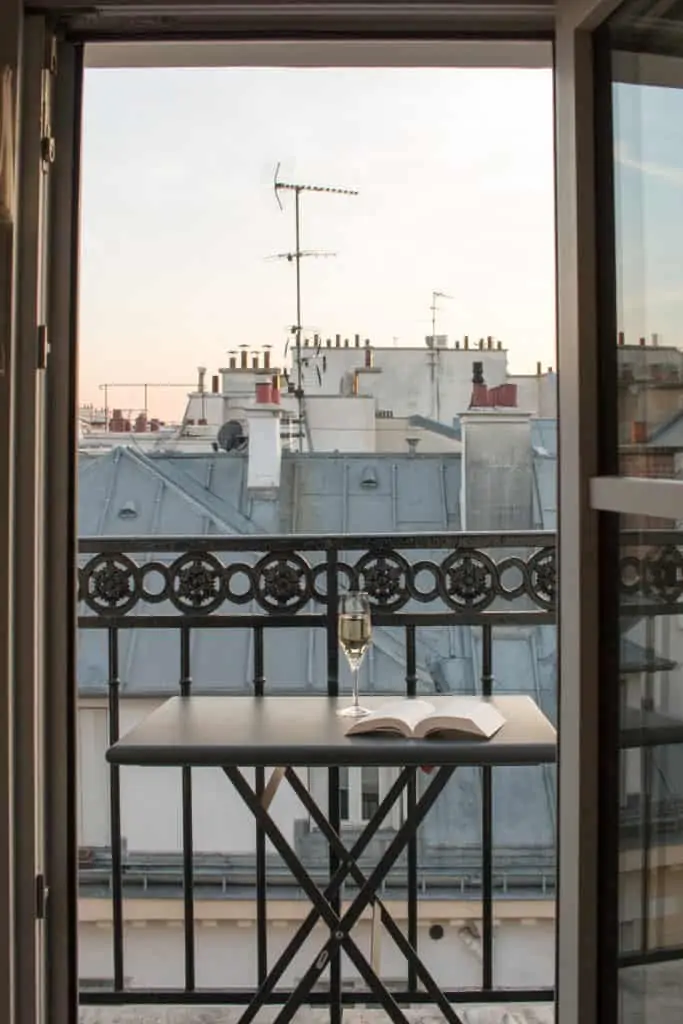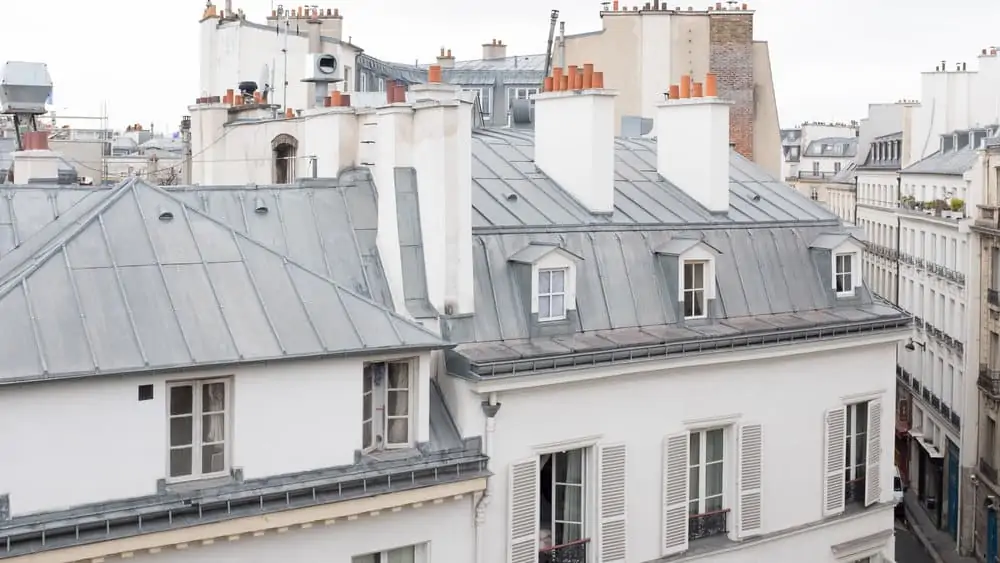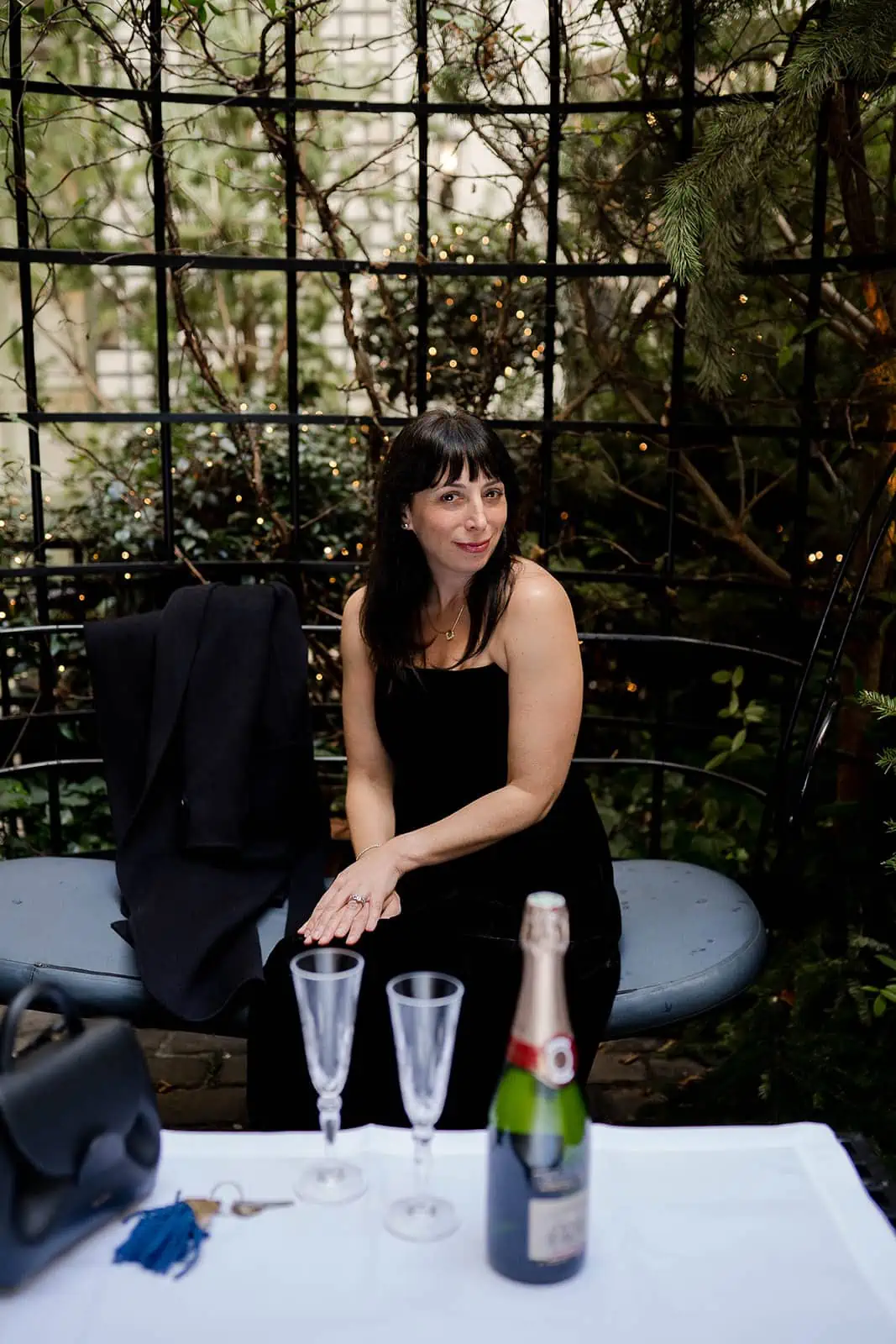 I have had Relais Christine on my hotel list for years, and I finally made it happen recently. It was worth the wait, and I don't know why I waited so long. It is the sister hotel to Saint James, where we stayed when we got engaged in Paris. The hotel is located on a side street of Paris that is quiet and quaint and ideally located on the Left Bank for walking to Luxembourg Gardens, great restaurants, jazz, and coffee. The service at the hotel is what sets it apart from so many other hotels. I loved the cozy lobby with a fireplace on a cold winter evening to warm up. There is also an honor bar to grab a drink in the evening and enjoy a book or chat with friends and family.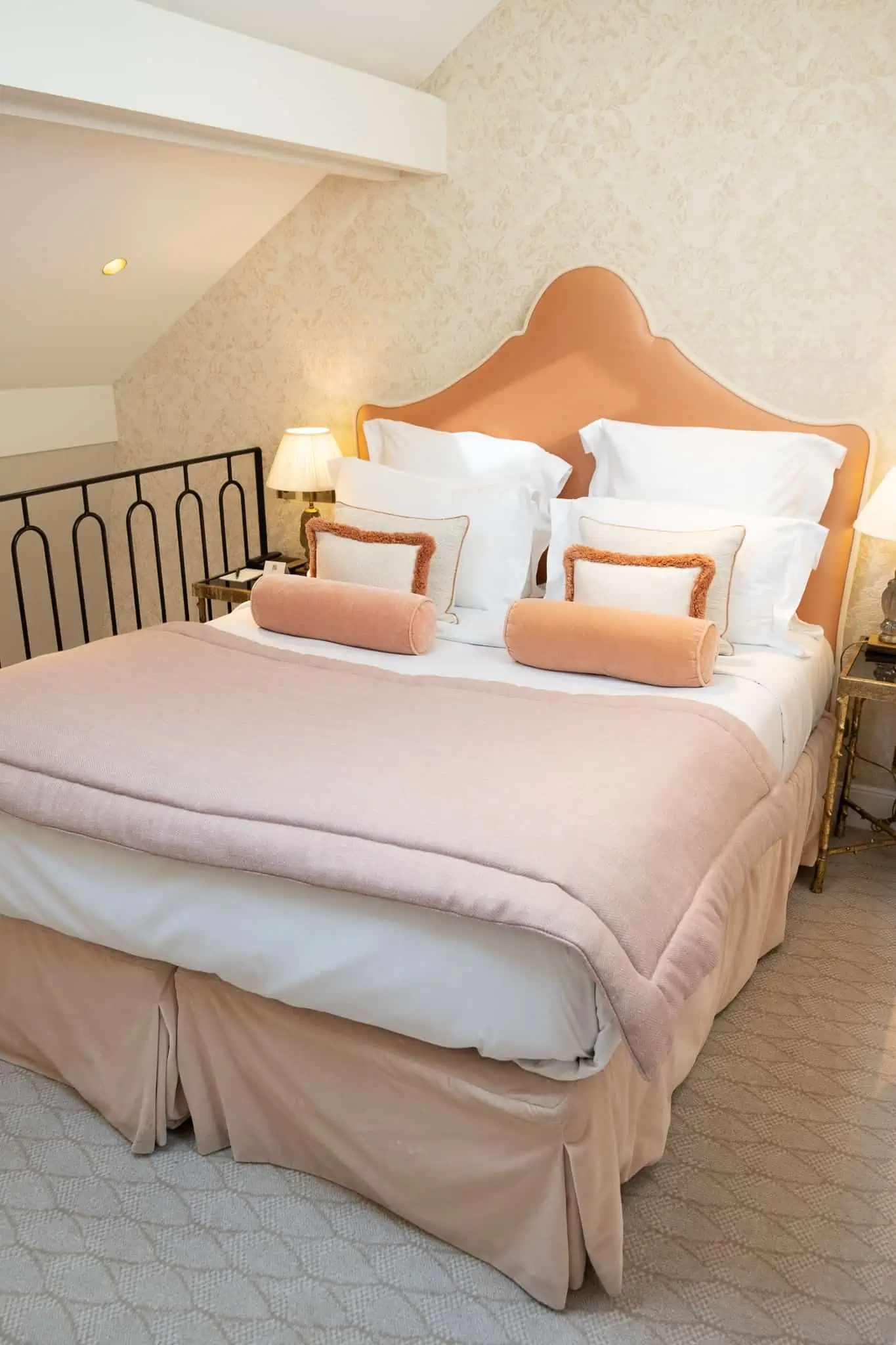 Relais Christine has a beautiful courtyard covered in lights in the winter months and filled with jasmine in the summer. I need to come back to experience the jasmine-filled courtyard.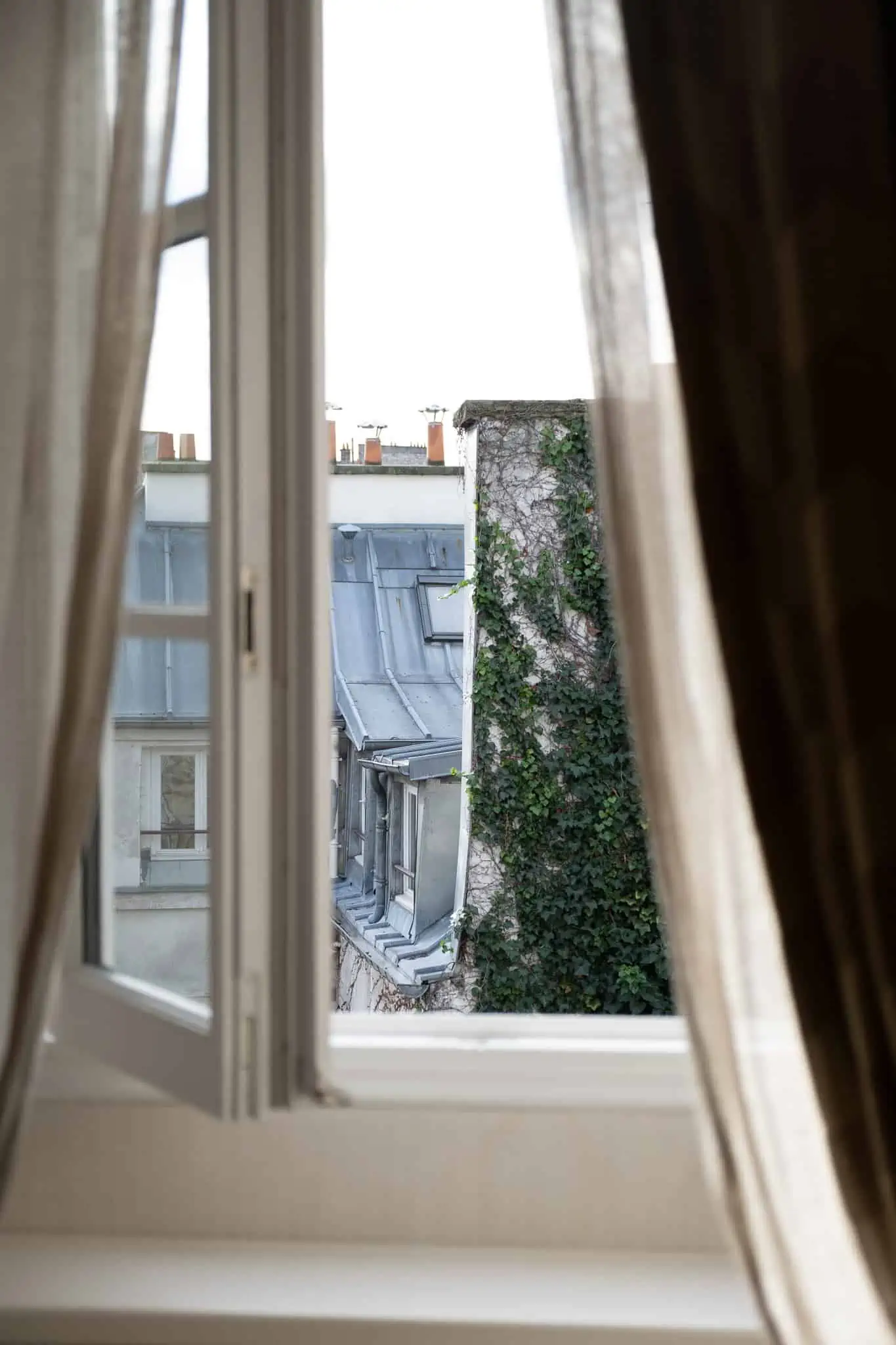 My room was a junior suite duplex with a bedroom upstairs and a little sitting room downstairs. The room was 56 for reference if you want to request it when booking. I loved the skylight, especially on rainy evenings.
Enjoy dinner at Chez Fernand just next door for a classic French bistro dinner.
Le Cinq Codet is located on the Left Bank, close to the Eiffel Tower and Invalides. I had the pleasure of staying here in April 2018. My room had stunning views of the Eiffel Tower and was on a quiet street. Don't miss out on the Sunday Brunch. It is worth it; you can enjoy it in their intimate courtyard. It is a great way to escape the busy city life. This 5-star hotel has incredible service from start to finish.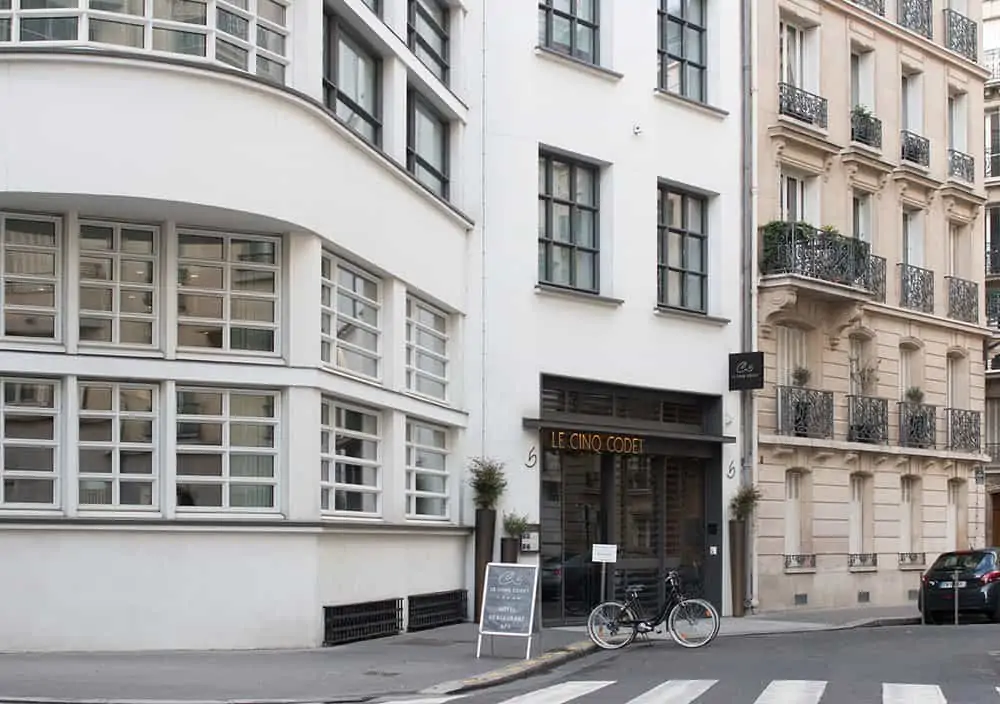 Maison Athénée is a hotel I found had some of the best reviews in Paris while researching for a boutique hotel. They also did a little research on me before I arrived and knew some of my favorite things. This hotel went above and beyond to make my stay a memorable one. I loved the note they included with my breakfast and still keep it. I arrived back at the hotel late at night, and they found something I could eat for dinner, so I didn't go to bed hungry. There was a great view outside my room located in the 9th arrondissement.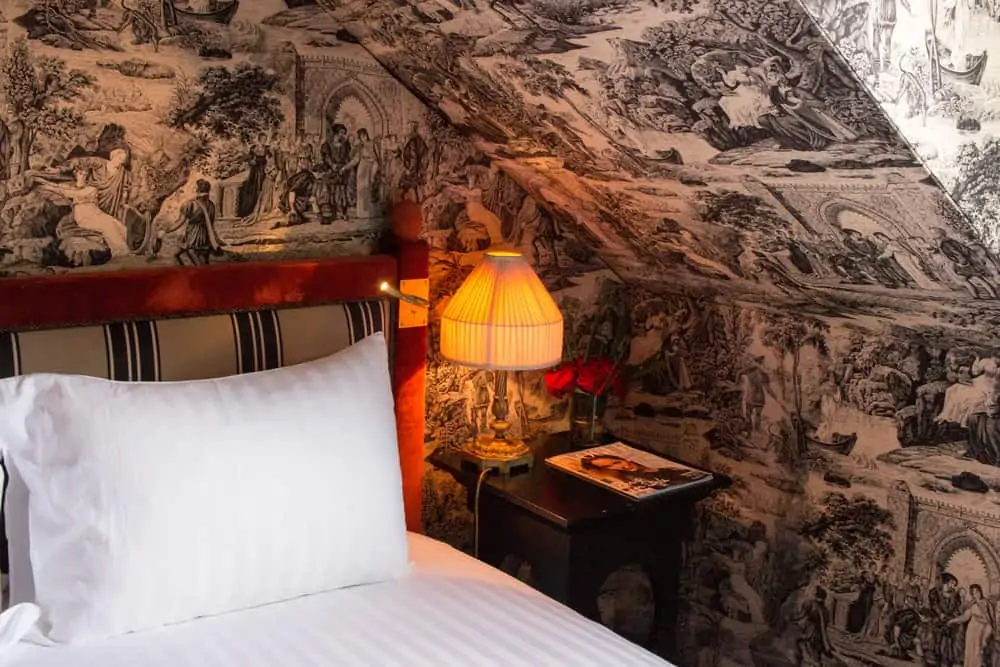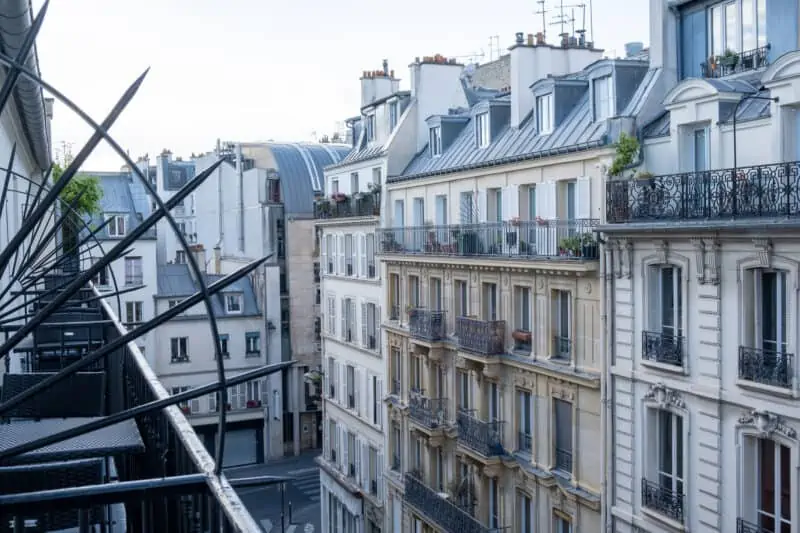 Maison Mère initially contacted me, which is how I discovered them. They are a newly opened hotel in the 9th arrondissement. I booked a weekend in Paris, and the city was fully booked, but lucky for me, I could snag a room at this hotel. None of the stays was sponsored. I paid for my room. Google reviews of 4.9 are what convinced me to book this hotel. It is also very close to Adele and Jules, which meant I was already familiar with the neighborhood.
Maison Mère is a hotel I continue to return to for its service, location, and clean rooms. It is one of my favorite hotels, and I recommend it often.
The hotel has a co-working space for digital nomads and a Hey Honey bar. I recommend skipping the continental breakfast and hitting a local boulangerie and coffee shop nearby. We walked from the hotel to all the different parts of the city. It is close to Montmartre and a straight walk to Palais Royal.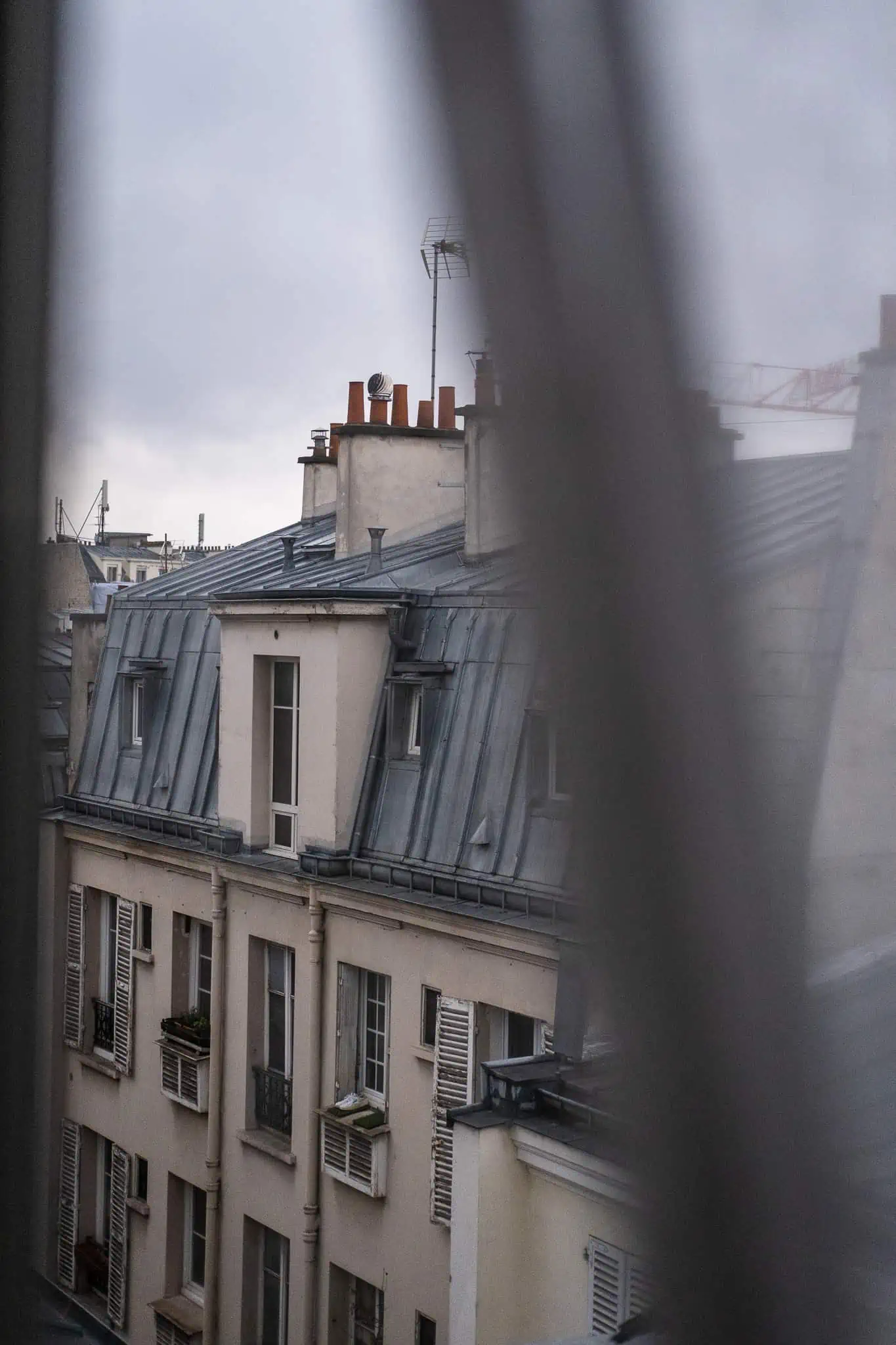 Budget Boutique Hotels Paris
This is for those looking for an affordable clean, well-situated Parisian hotel. Room rates can run under $200. I ended up getting upgraded to a lovely balcony room. If it is within your budget, I highly recommend it. We could sit outside with cheese, wine, and a baguette and enjoy the weather.
Hotel Caron de Beaumarchais is located on one of my favorite streets in Paris and is in the heart of The Marais. I highly recommend getting a balcony facing the street for a great view. You can take breakfast in your room, and for 12 euros it is the biggest and best breakfast I have enjoyed. The hotel is slightly less modern than others but has lots of charm. Plus, you can't beat the location.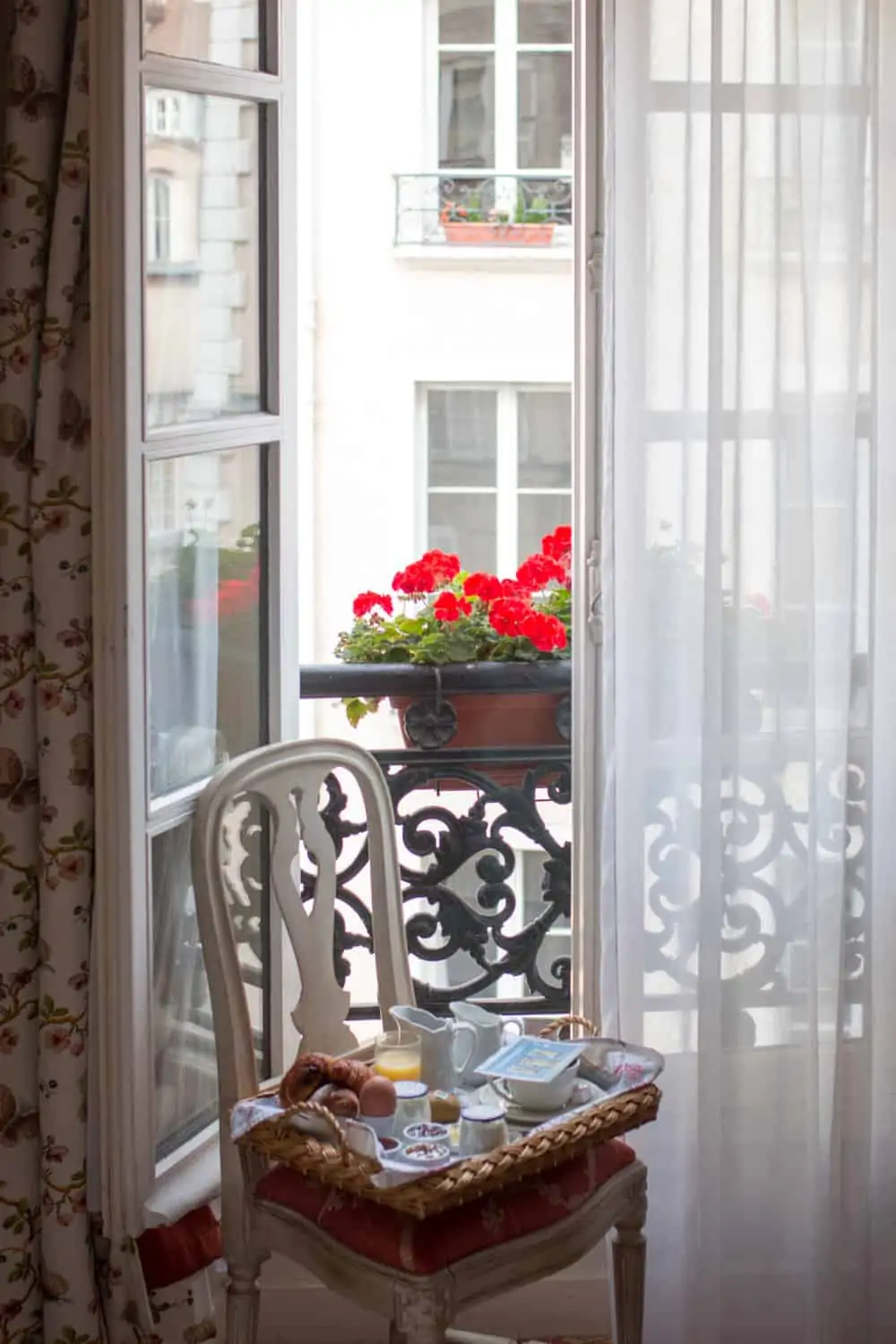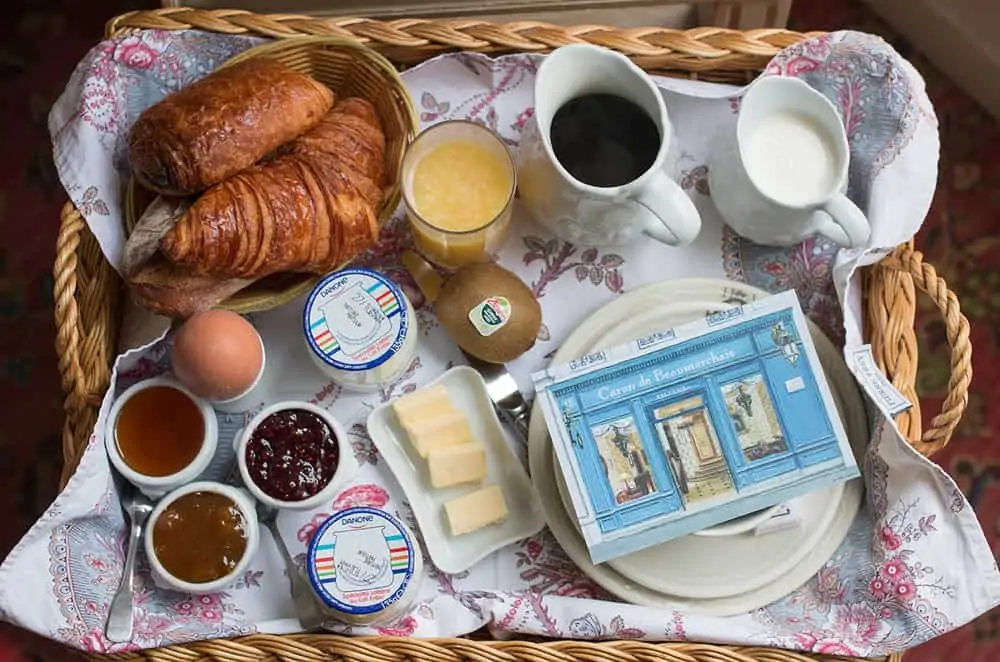 This was one of my favorite stays in Paris. This is where we hosted the girl's Atlas Adventures Paris trip, and everyone enjoyed the hotel just as much as I have in my past stays. I loved the central location and service, and the window view from my hotel room was one to remember. Who wouldn't want to wake up here? I will say that I have referred many people to this hotel, and I have never heard a bad thing. Everyone is always so happy with their stay, which means a lot to me. I value my recommendations and want you to have a fabulous trip to Paris. It is one of the best hotels in Paris for its value.
The hotel is in the 9th arrondissement, close to a metro station or a close walk to some great restaurants in Paris. Discover more about the 9th arrondissement in this post here.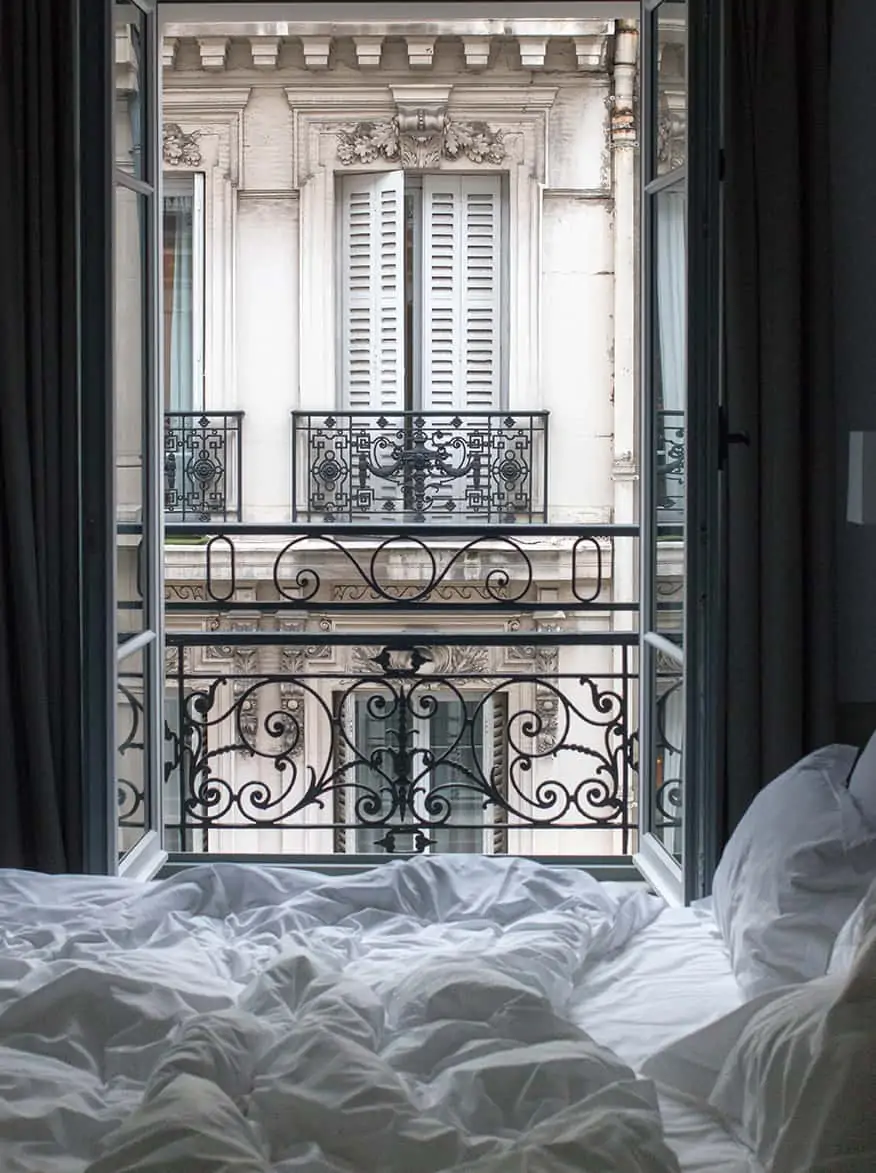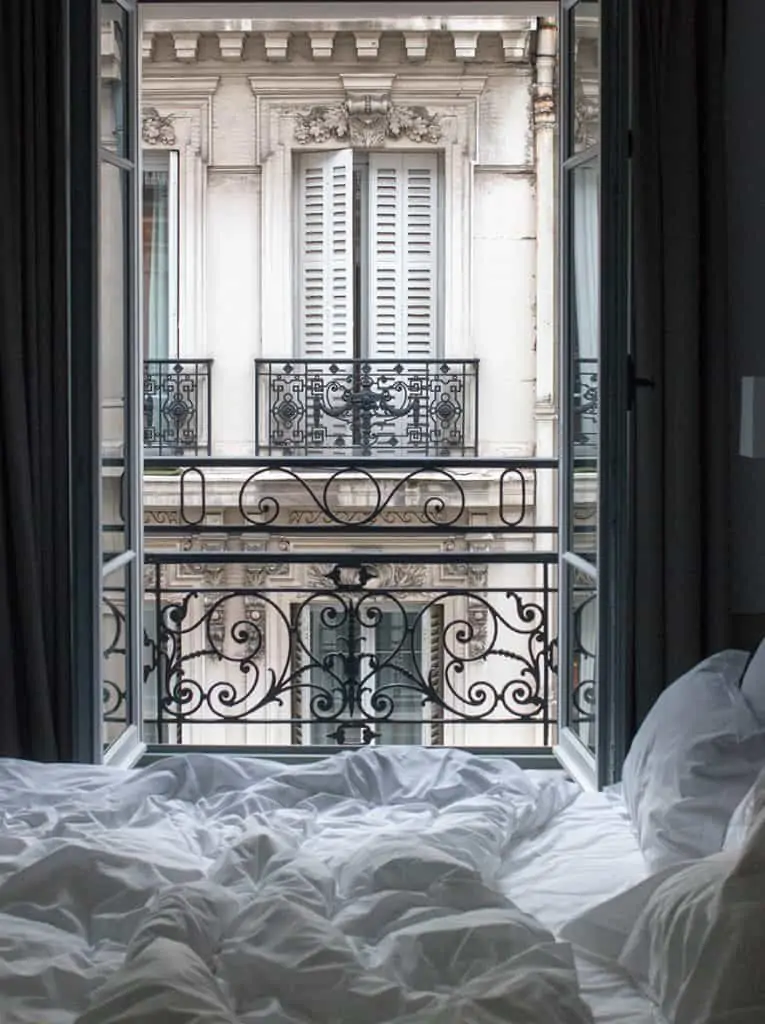 This is another new hotel located in the heart of Saint-Germain. It is owned by the same group that owns Pavillon de la Reine and Pavillon des Lettres. They have a formula for a good hotel, and it works well. I arrived in Paris just as this hotel was putting the finishing touches before opening in April. Luckily, I could make it back in May and booked a night during my weekend in Paris. Pavillon-Faubourg Saint Germain was fully booked over the weekend but had availability on Sunday night. I wanted to stay here to try it for the blog, so we switched from Right to Left Bank for our last night.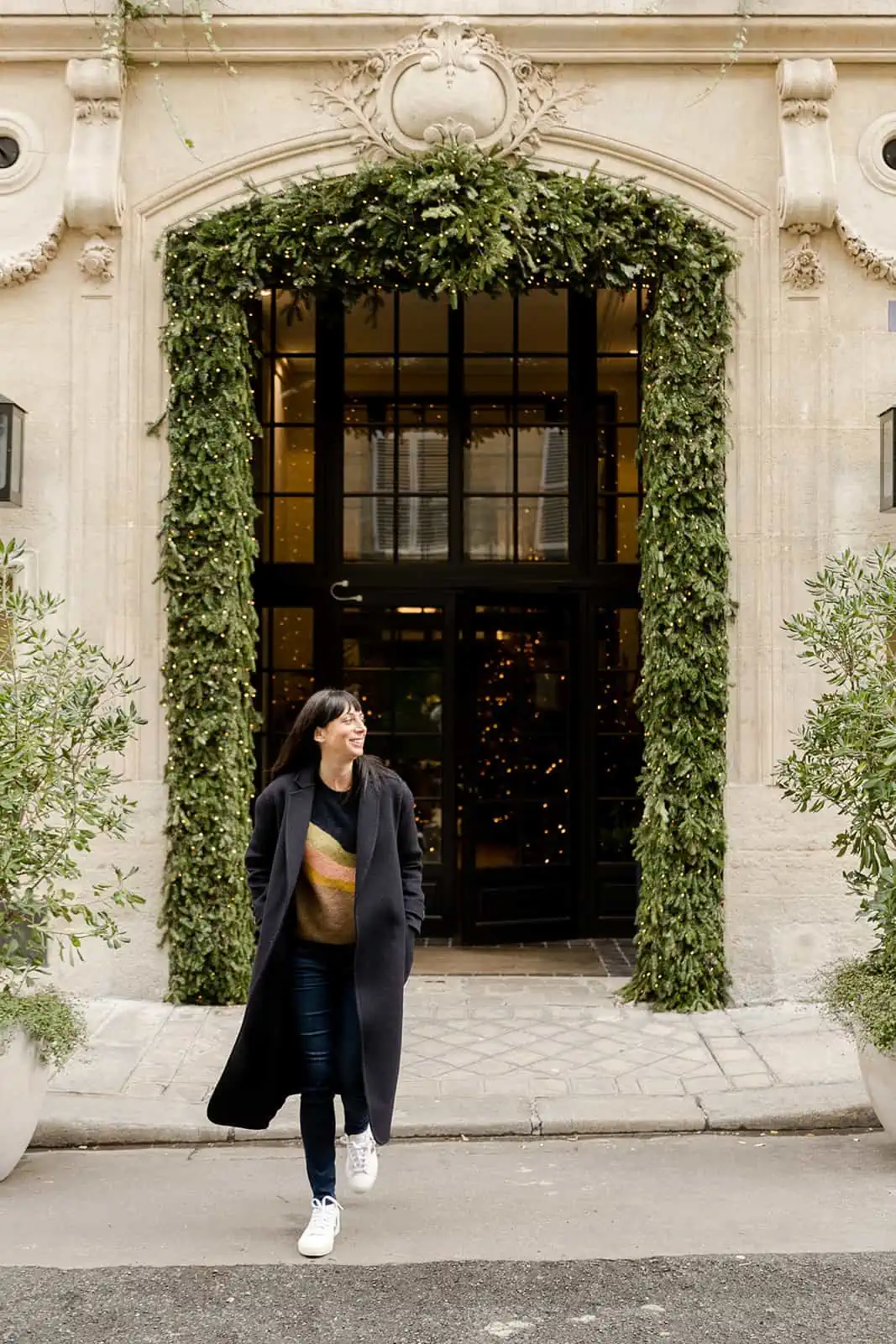 The hotel didn't disappoint. We had a beautiful street view of Paris. Guest rooms were equipped with the newest technology, including a flat-screen TV, free wifi, and USB chargers. This view was stunning, and the street was so quiet; I wish we could have stayed here longer. Pavillon Faubourg Saint Germain was a dream of a hotel; everything was brand new, and the rain shower after a long day of walking in the city was the perfect place to stop and rest. There was an indoor pool, but we didn't have a chance to use it during our visit.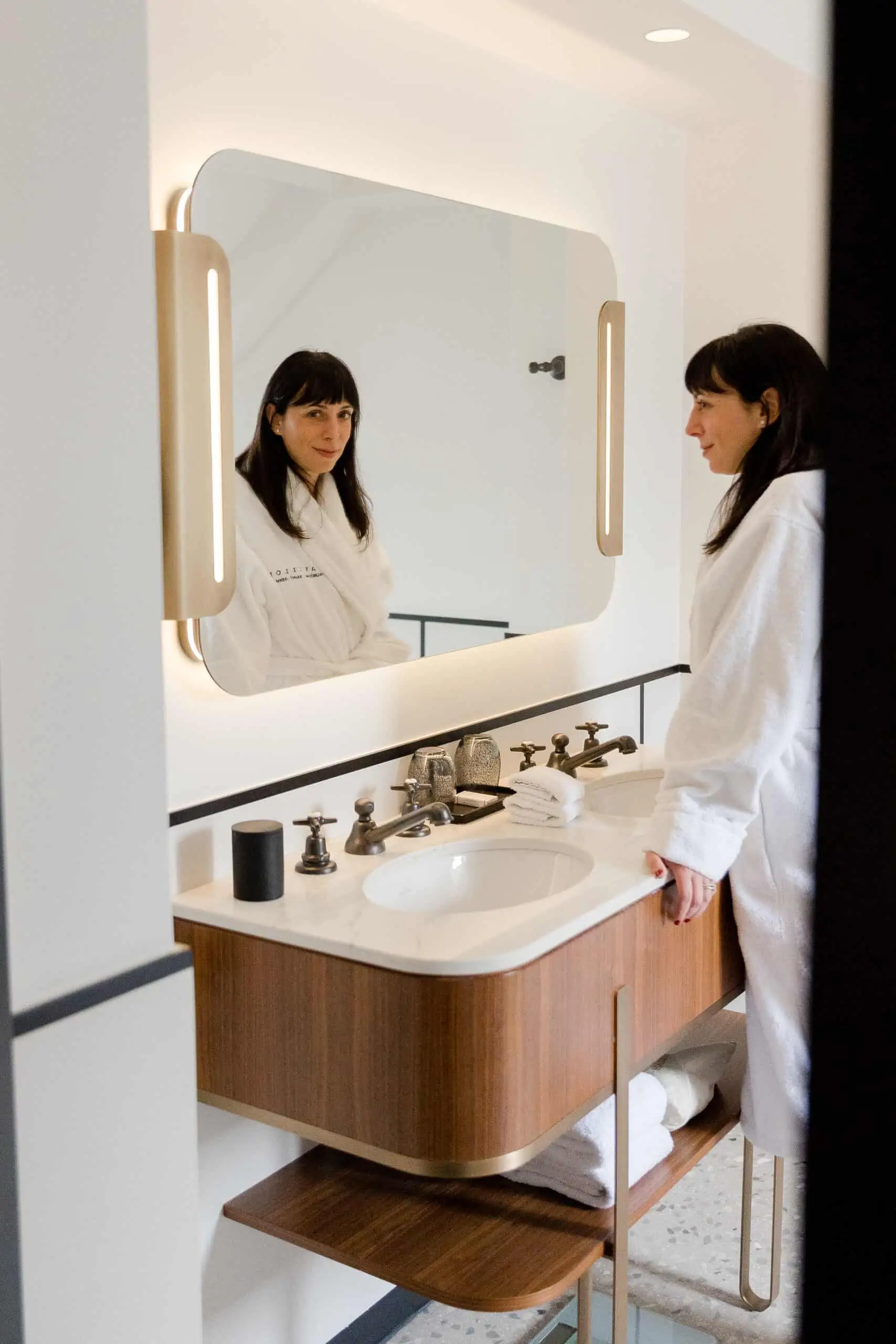 I have since stayed in a few different rooms in the hotel and have enjoyed my stay I can't wait to return.
Boutique Hotels in Paris: Protip for Readers
When booking directly with the hotel (I get no kickback) and mentioning the blog Everyday Parisian upon booking, they will greet you with half a bottle of champagne, macarons, and a delicious French breakfast buffet.
The hotel is ideally located just 5 minutes from the famous Boulevard Saint Germain des Près in central Paris. You have the best of both worlds with a quiet street and steps away from the best parts of Paris. You are also a quick walk to the Rodin Museum and the Louvre.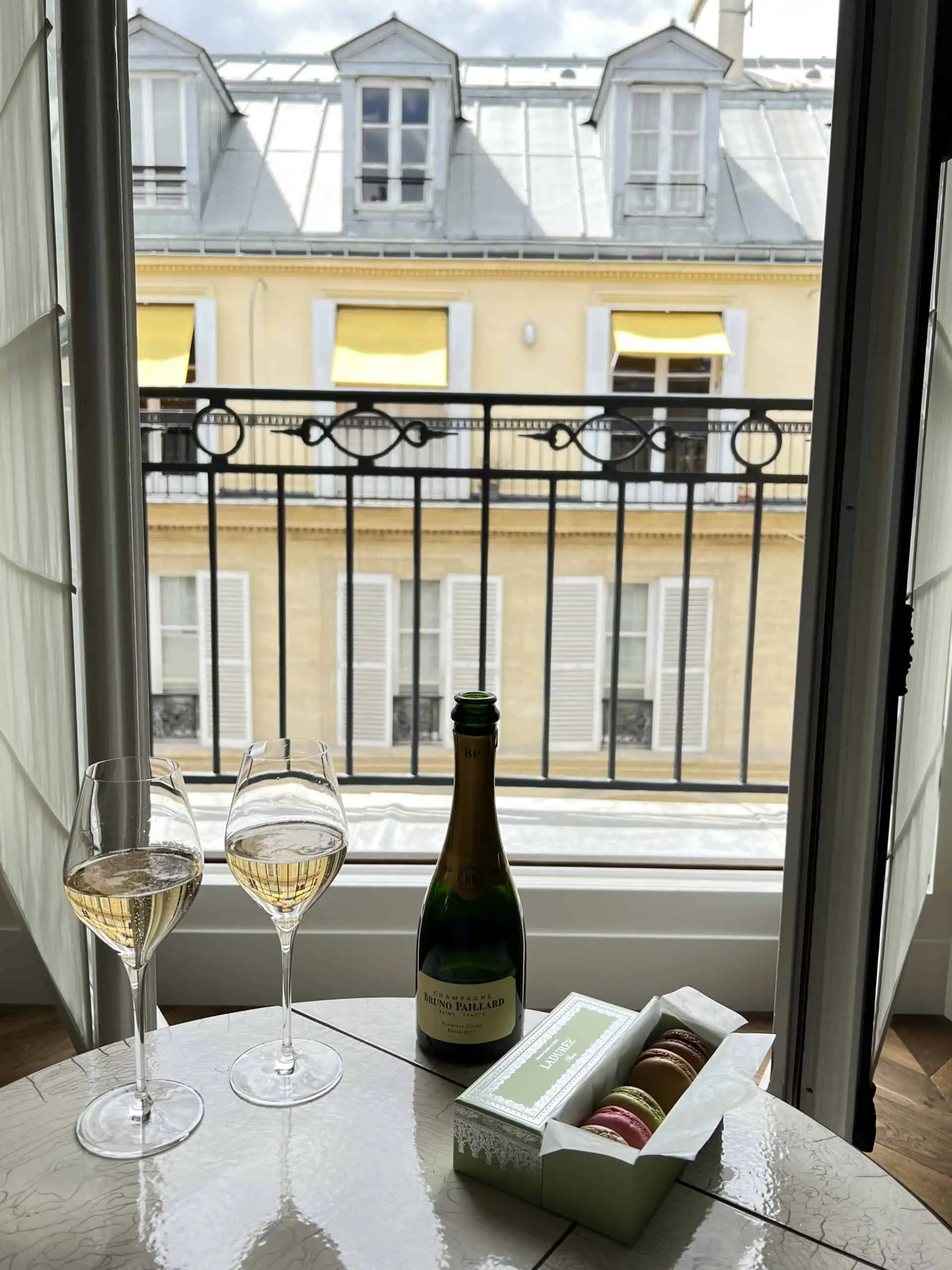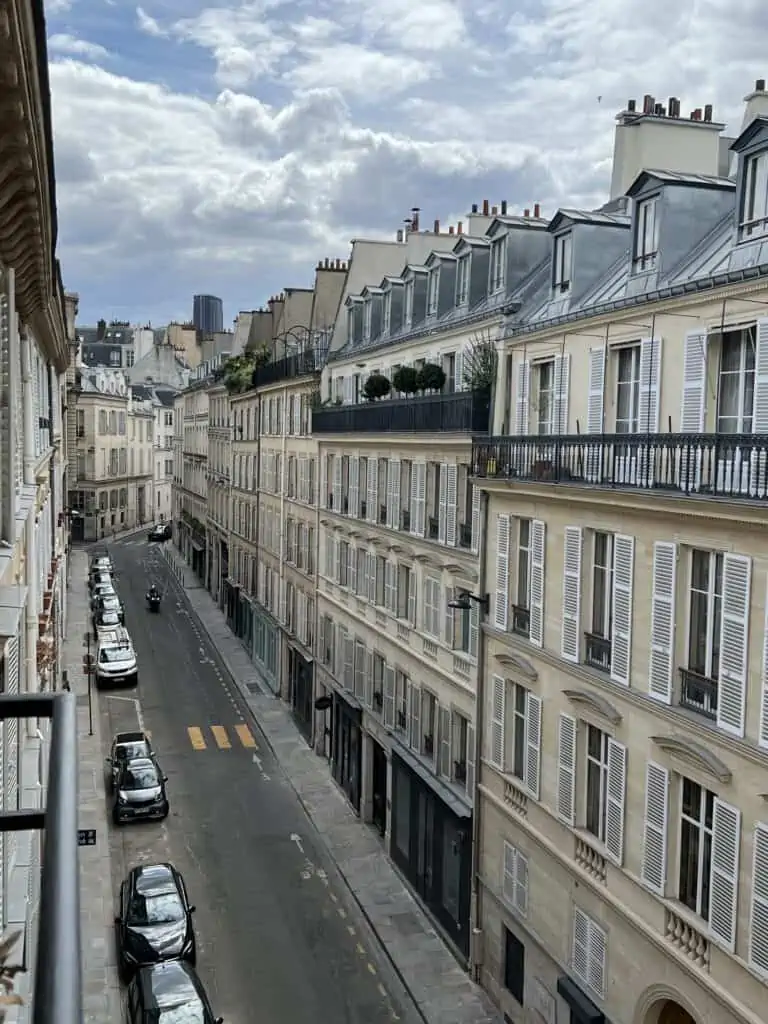 One of my favorite hotels in Paris is the Grand Hotel du Palais Royal. The hotel is just outside Palais Royal, a prime location for exploring Paris. They have views of Paris from the rooms of the Palais Royal and the Eiffel Tower. It is a small hotel, but all the rooms are spacious. Grand Hôtel du Palais Royal has an Eiffel Tower suite with an almost 360-degree view of Paris with a view of the Eiffel Tower. It is within walking distance of The Louvre Museum, The Seine, and The Tuileries Garden.
Pro Tip: Make a reservation for lunch or dinner at Le Lulli inside the hotel. The hotel is a 5-minute walk to Palais Royal for an afternoon stroll and a coffee at Café Kitsuné. This is always the first place I recommend to friends.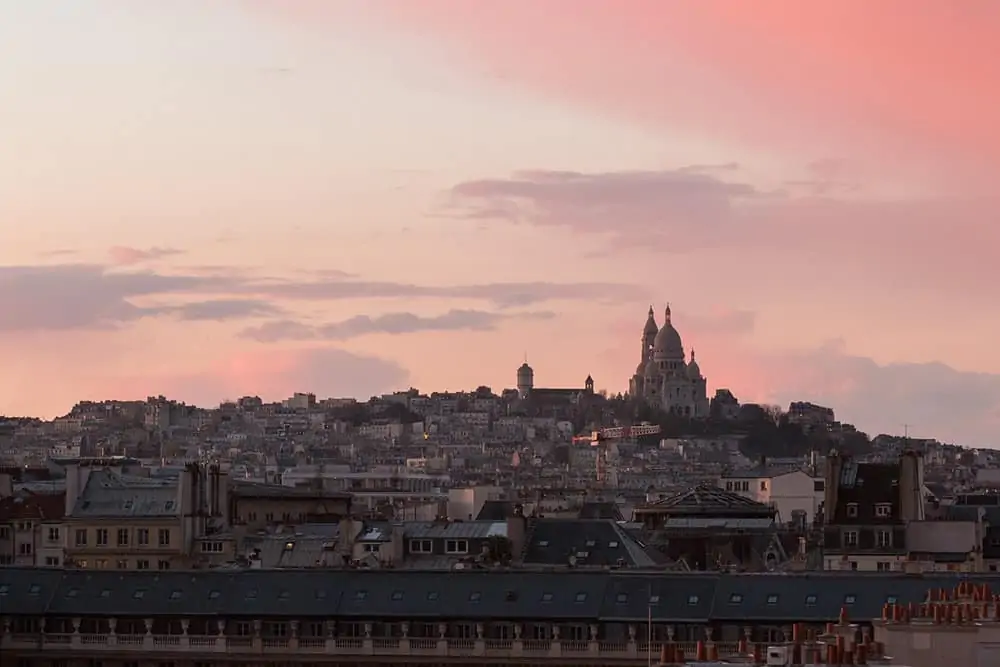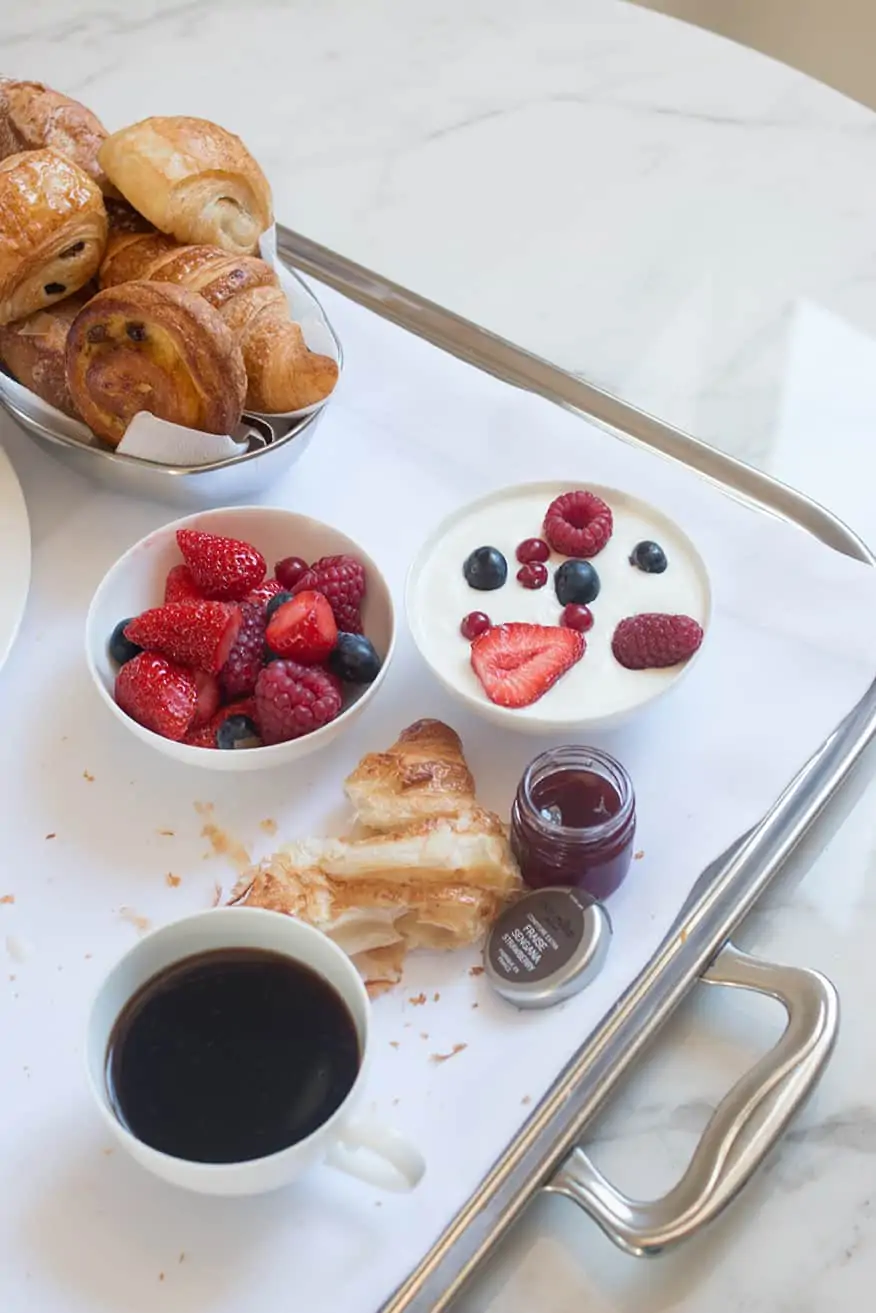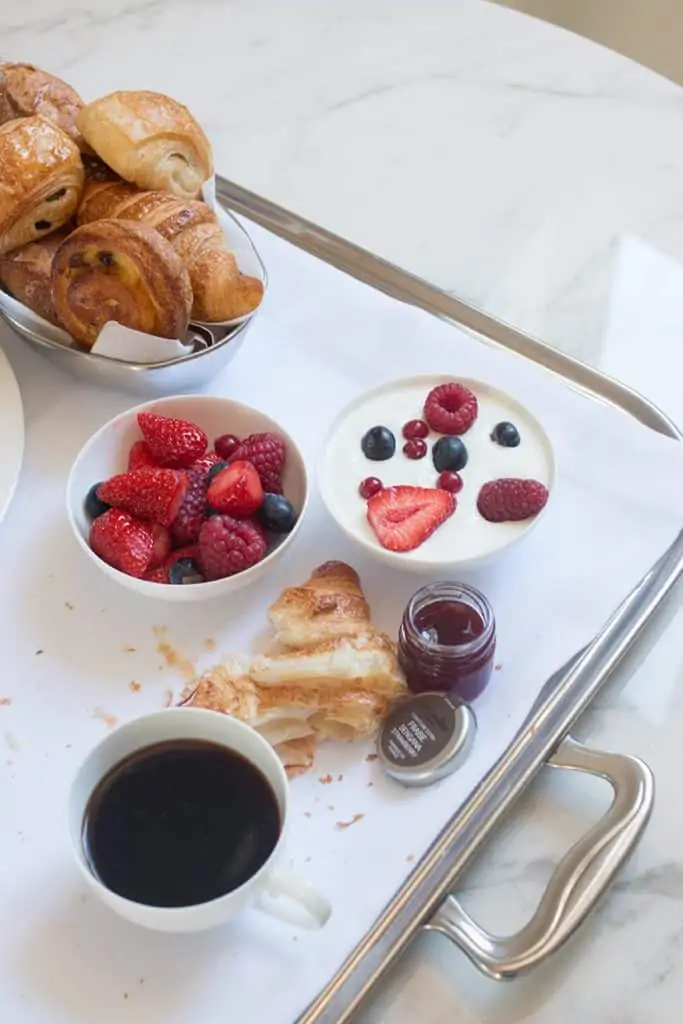 Saint James Paris Hotel is a newly remodeled hotel, an old private mansion. It is close to the Arc de Triomphe and has a beautiful garden in the back with a bar. Saint James Paris has a unique hotel was on my bucket list for years. I wanted to stay here for a few years after having a drink at the bar back in 2019. My husband and I stayed here when we were engaged; it will always have personal meaning. Enjoy breakfast in the lovely breakfast room and a cocktail in the library bar.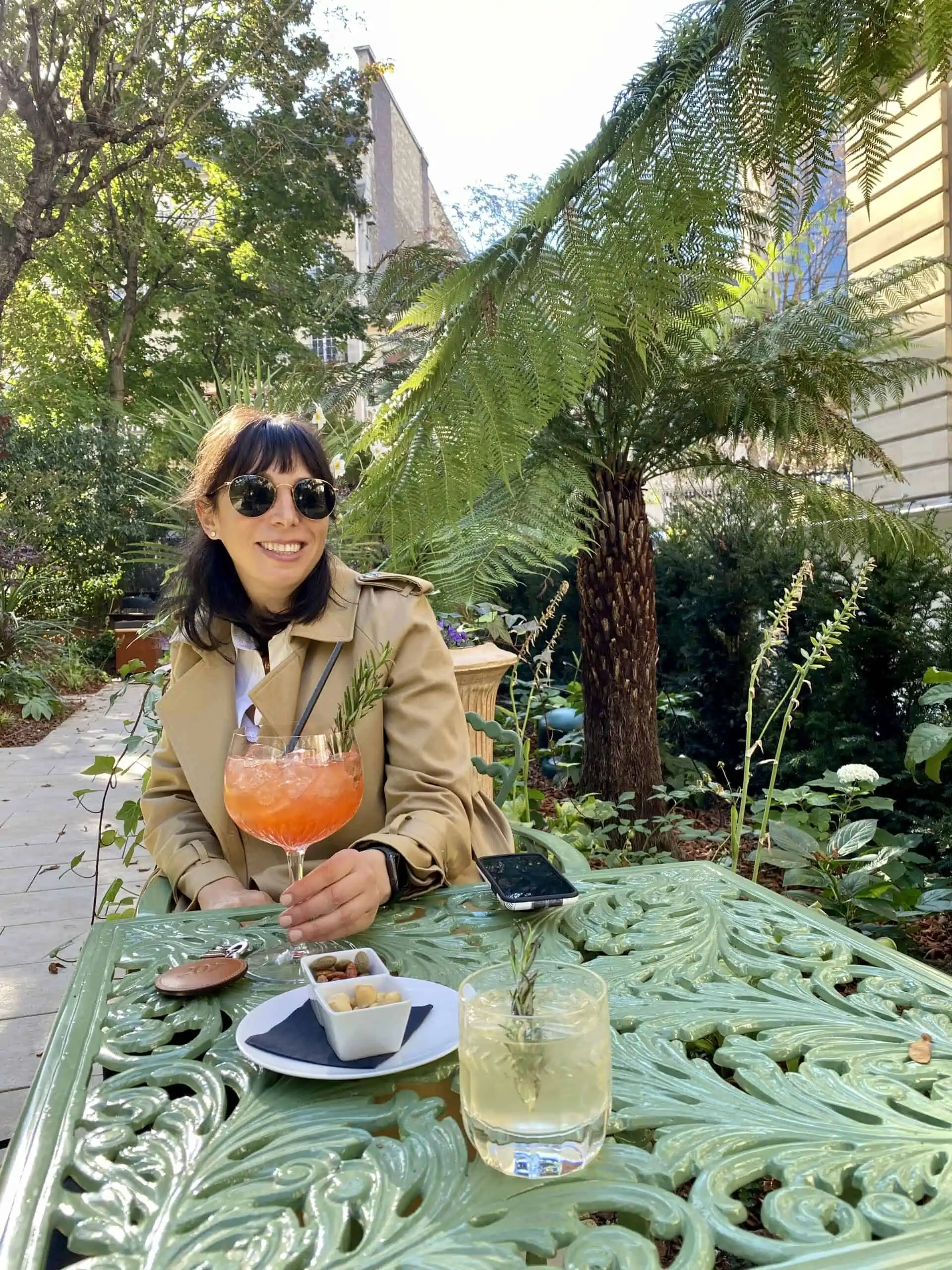 The hotel is a perfect escape from the hustle and bustle of Paris. There is a spa and an indoor swimming pool as part of the hotel. This is one of the best boutique hotels in Paris.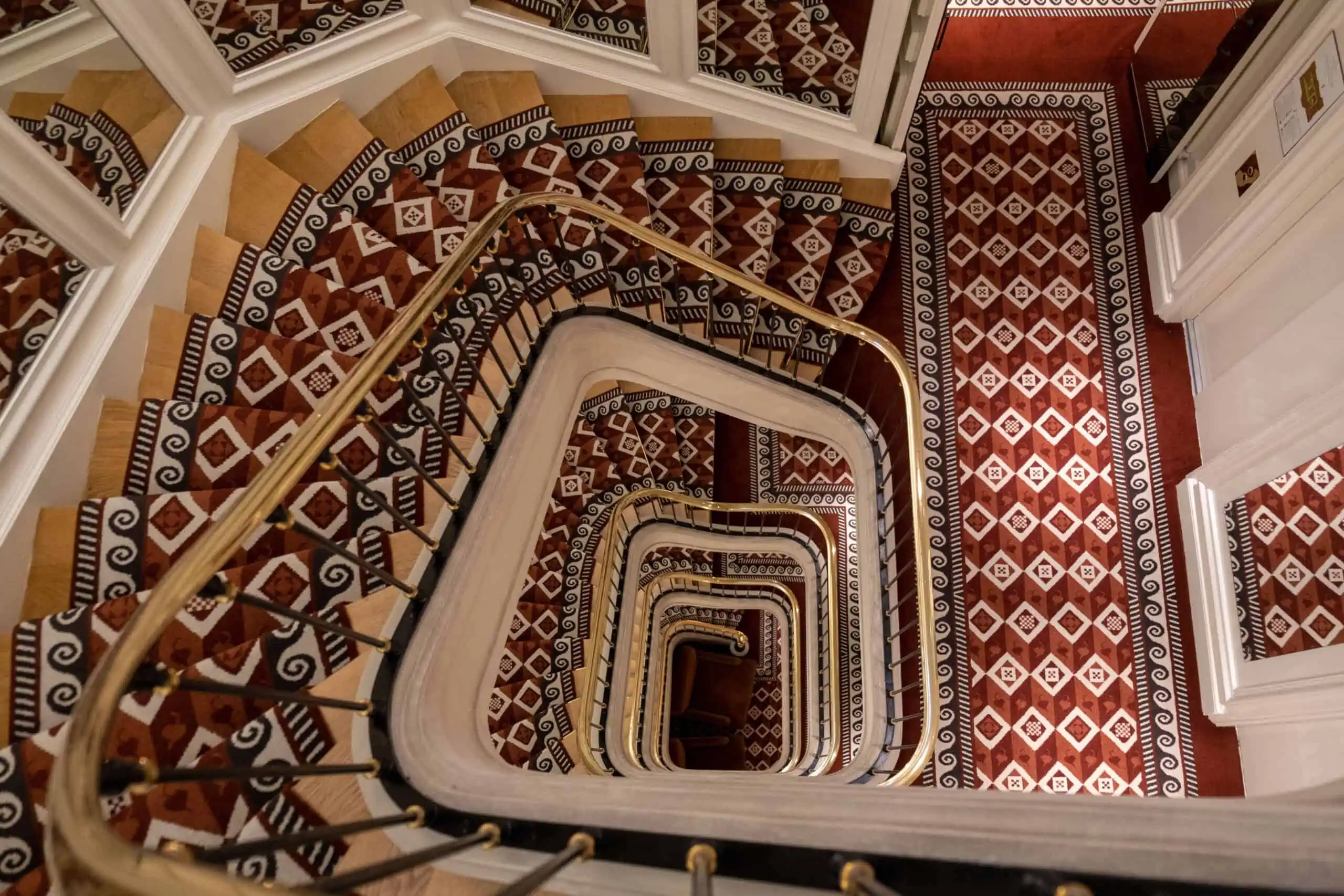 From the owners of Grand Hotel du Palais Royal, Grand Powers is the old Hotel Powers. It recently changed from a 4-star hotel to a 5-star hotel. This is an excellent option if you are looking for a hotel near the Champs-Élysées. The renovation of the hotel is beautiful and beyond my expectations. I highly recommend getting a balcony for a street view and the Eiffel Tower.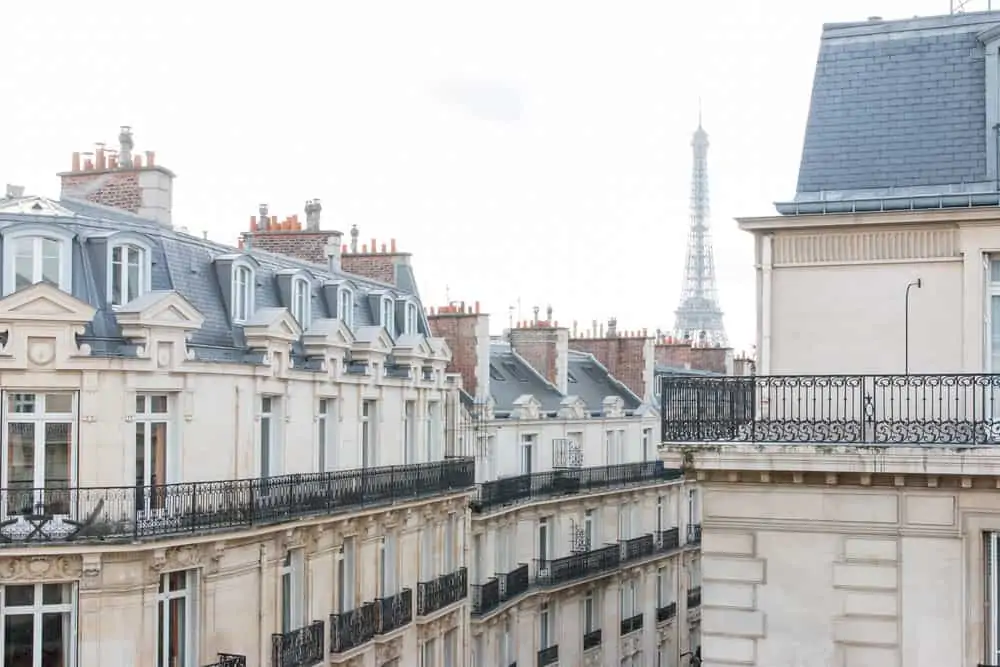 There are a lot of hotels in Paris, and this is just a small handful. I only included the ones I have stayed at, which I hope to add to the list this year.
This post does include affiliate links that help with my coffee and croissant research.