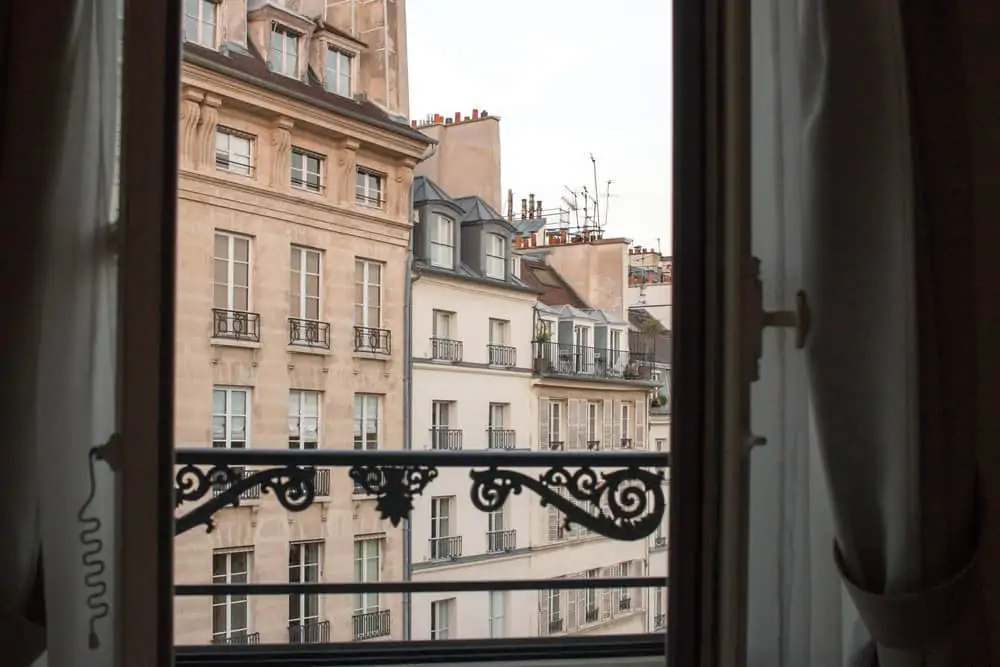 It is officially fall and October which means so many things. My countdown to Paris is on, my wedding to-do list is growing, and it's sweater weather. Not to mention apple season and pumpkin spiced everything (which I skip). It was a tough week for Florida friends. My heart goes out to everyone who is dealing with storm damage and loss.
Links I Love Week 40
Before we jump into links, here is a list of ways to help those affected by hurricane Ian in Florida.
Grab your coffee and croissants and join me for this week's links I love.
The Best Skincare Routines according to Dermatologists via Vogue 
"Jacqueline in Paris" is now available online and in stores. By picking up a copy here, you can support your local bookshop and Ann Mah as an author.
J.Crew shot their October lookbook in Paris and it's dreamy. The photographs they captured around the city are a lot of fun to see. I love this adorable sweater, this sweater, this blazer, and this hat.
What are we wearing to restaurants now, Paris?
TSA Precheck vs Clear. Which is better for frequent travelers?
I met Gaby Dalkin of What's Gaby Cooking and she was the absolute sweetest in person. I have been making her recipes for a few years now. The latest recipe was the Chicken Chili Verde I mentioned last week. She was at my local Crate and Barrel. The lines were very long but worth the wait. I picked up her latest cookbook that is out this week!
Monica Vinader sent me this beautiful ring for the fall. I have been crushing on it for quite a while along with the whole Kate Young collection. The ring comes in black and green. I have the green which I will be wearing on repeat. I ordered a 6.5 and it fits my right hand perfectly.
Studies show that dogs can smell our stress. I have to agree that Henri knows I am stressed and feels it too. He knows me better than anyone.
5 Tips for Your Next trip to Paris how to plan a food and drink-fueled visit
I bought these Chelsea boots These are all-weather boots for rainy days in Paris. I will report back once I give them a test drive.
If you have been waiting to grab a pair of Blondos, the over-the-knee boot is back in stock. These will sell out fast. I love them so much I have two pairs and will pack them for Paris.
This wedding advent calendar is so cute I have tears! We are having a wedding right around Christmas and I never thought of doing a fun countdown like this until now!
NYC is getting a Printemps location. This is their second location outside of France and the first US location. They are betting on this store to bringing brand awareness
The Simple Secret of French Baking ( I loved this one)
Katie Couric shares her breast cancer diagnosis and encourages women to schedule their yearly mammograms
I purchased this coat as an investment piece. I wanted it the minute I saw it and my friend Danielle convinced me to get it.
The newsletter Glitz Paris is a new tell-all about the luxury industry via NYT (may require a subscription)
The mirror wall is in again. How do you feel about this design trend?
Packing for Paris? Here is my PDF printable packing list by the season.
Are butter boards the next big thing? These have popped up on my Instagram and I have to say a French butter board would be a dreamy thing to serve at a dinner party
The Italy that is revealed by Italians on social media
How To Find Peace When You Live In A Big City
I am impatiently waiting for fig season so I can make this. It looks so good!
Sweater weather is in full swing and I have been living in this one.
How To Be A Sensitive Person In The World Right Now
This week's best sellers. Including my favorite Boden dress
Technology Can Make Your Relationships Shallower
Staub has some really great sale items directly through their website! I have some on our registry but the prices may be too good to pass up. Including this baking set of 3.
How to Make Your Days Off Feel Like a True Break
Bundle Up: In the Paris Metro, Commuters Face a Slower, Colder Ride
On the blog:
What to do in Paris in October
10 Ways to Save on Your Next trip to Paris
What to do in Paris When it Rains
What to Pack for Paris in the Autumn
25 French Brands You Can Buy in the US
P.S. Don't miss a blog post!
Sign up to get Links I Love delivered to your inbox every Sunday.
Supporting The Print Shop helps bring valuable free content to your weekly inboxes.
*This post includes affiliate links. I make a small commission off items purchased through my links at no cost to you. Merci!