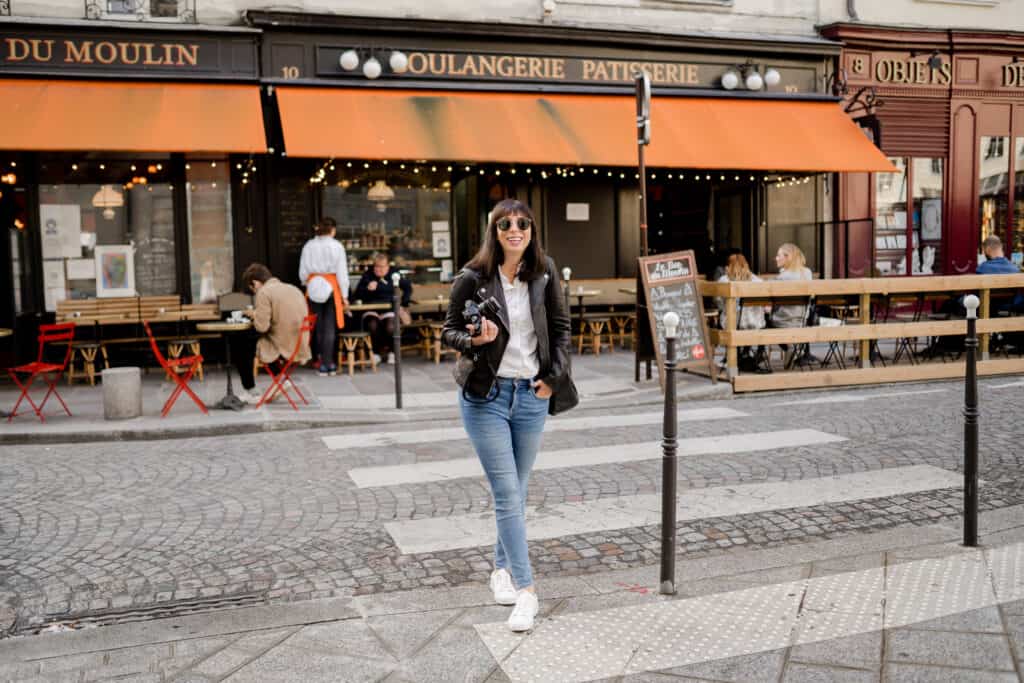 I have been planning a trip to Italy with my family and thought this would be a fun way to give insight into how I plan a trip. Ever since I was a kid, planning a trip was such an exciting part of travel. My sister and I would stay up the night before and type our itinerary out and pass it to our parents. It was such a thrill to research, plan, and discover hidden gems.
I feel very lucky to be able to have travel as part of my job. I recently found my notebooks from my first solo trip to Paris. There was a lot of lists, budgeting, and planning. I was so nervous. Now that I have over 20 Paris trips under my belt, it feels like coming home. There are still new places to discover and new openings and exhibitions to bookmark. Paris always has something happening which keeps me coming back.
How to Plan a Trip to Europe
Pick a Location. You have to have a general idea of where you are planning to be. We had the destination of Como for our trip to Italy. There are lots of small towns in Como that needed to be narrowed down. We are staying in a new to me area of Como which I am excited about. We are traveling as a family so ease of travel and location was important.
Budget It's so easy to extend your budget based on the price of travel. You can do things in an affordable way if you are flexible. Fly on week day vs a weekend and be open to different flight times. Travel with a friend or family member to split the costs and make more affordable. Also, if you are in the mood to splurge, still give yourself a ball park idea of how much you are willing to spend. Everything adds up quickly.
Time of Year This has a huge impact on pricing. High season for Europe starts in April and goes through September. Shoulder season is a lot more affordable if you can travel in the off months. October in Paris is beautiful and is starting to pick up in popularity. For Italy, we had to schedule it around the kids (niece and nephew) being off of school and my sister and brother in laws work schedule. I have flexibility and will still be working from Italy.
Choose Apartment/Hotel For this trip since there will be a larger group for a week, we rented a house in Como. We searched a lot of Airbnbs and VRBO to decide on something that best fit our needs. We wanted a pool so the kids could have some entertainment and also close to town for ease of walking for dinner, groceries, and coffee. We wanted another house but would have to rent two cars since we wouldn't all fit into one and it wasn't practical. My fiancé and I will be staying in a hotel for the second part of the trip for a few nights. It made more sense for check in times and convenience for the two of us to stay in a hotel for a shorter stay. I am VERY excited about the hotel. The one I really wanted to stay in, I waited too long to book and the prices were sky high.
Book a Flight Now that you have an idea of your budget, lodging, and time of year, it's time to book a flight! I am loyal to United and have earned a tiny bit of status from my previous trips. It helps to be loyal to one airline for rebooking inconveniences, delays, and cancellations.
Research What to Do/Where to Eat This is what my brother and law and I have been doing recently. Now that we have the location pinned down of the house, we can research restaurants to explore with the family. Plus, gelato with two small kids is key. We will be doing a lot of research!
Book Excursions/Tours We don't have a ton planned in terms of excursions for the first half. We will be on Lake Como and be convenient to ferries to explore other parts of the area. We are close to Bellagio which I have been to and loved. We are still trying to figure out the second half of the trip. We will be on the water and may take a boat trip or explore a nearby town. We will play it by ear. Things do get booked up quickly so we will have to jump on things soon.
Google Map I love a good google map and so does my family! We started using them as a group when we were traveling in 2019. We would walk and discover something and save it for when we were looking for a place for dinner or a bakery. This helped us find some amazing restaurants. This time around, we pinned our house location and have been collectively saving gelato, coffee, and restaurants. Once we all meet in person we can discuss where we want to explore and eat as a group. We haven't made any reservations yet! Fingers crossed, we are ok!
Research A little research goes a long way. It helps to discover blogs, Pinterest, or Instagram of the location you are planning to travel to. Start following the blogs or Instagram ahead of time and take notes to discover new places.
I hope this helps give you some ideas on how I plan a trip and gives you some direction as you plan your own. There are tons of resources on the blog for discovering Paris. I have an Amalfi Coast guide and I will create a Lake Como guide once I return. Feel free to comment with any questions.