Life sure has changed in a year. I used to go to the grocery almost daily and buy what I needed for a day or two. I was always traveling, I hated leftovers and I never used my freezer.
The Pandemic has caused a reset as I am home 90% of the time. I don't eat out at restaurants and I have limited take out at home. Sushi is the one exception because I don't make it myself.
Make a Plan
I search online for different recipes for inspiration. I love What's Gaby Cooking and Half Baked Harvest. They have weekly meal plans they send out which helps stir ideas. I have a few staples that I make weekly and then I like to add something new to the mix. Sometimes they are hits and others are misses but it keeps it fresh.
Shop Early
Once I have a plan on what I will eat for the week, I make a list and head to the grocery early. I aim to get to Whole Foods/Trader Joe's around 8 am. If I go early, there are a lot fewer people and it is easier to get in and out. I have a local grocery Plum Market where I love to shop and it is pretty quiet. I can stop by on a Thursday afternoon and have it to myself.
When it comes to grocery shopping, I always make sure to have a lot of healthy produce, stuff for salads, lemons and limes are a must, and chicken.
Grilled Chicken
Grilled chicken is a simple staple to make ahead. I marinate mine in a mixture of basil, olive oil, and lemon juice/zest. I can have it for dinner, add it to quesadillas (which have become a quarantine staple) and top salads.
Sauce
This is the easiest staple to have premade in the fridge. I use my spaghetti sauce on pasta when I make meatballs and flatbread pizza which is a weekly thing. I share my recipe here. A jar of sauce at the store can run around $6/7 and I can make three jars for around $12. No sugar or salt added.
Chicken Broth
My mom says that you should always have chicken soup in the fridge. Now that I am older and you never know when you might get sick, I agree. This is my mom's chicken soup recipe. You can take the chicken and separate it out in the fridge and freeze the broth. I use it as a base for so many soups and it is great to have homemade vs buying it.
Crispy Potatoes
I have been making these crispy potatoes for a while now. I recently tried out the sweet potato ones and they are delicious and so addicting. You can see my recipe here. They are so simple and I can make them ahead of time and warm them up in the oven quickly.
Snacks
I try to chop up vegetables and salad ingredients ahead of time and put them in these Rubbermaid containers. It makes it so easy to grab carrots and hummus or fruit and yogurt as a snack. Hard-boiled eggs are great to have in the fridge to top salads. Speaking of snacks, I love popcorn at night.
Popcorn
I typically pop popcorn on the stovetop with a little bit of macadamia oil. I recently purchased this popcorn machine to make popcorn without oil. I can pop a bunch and put it aside for snacks throughout the week. I love truffle salt on top.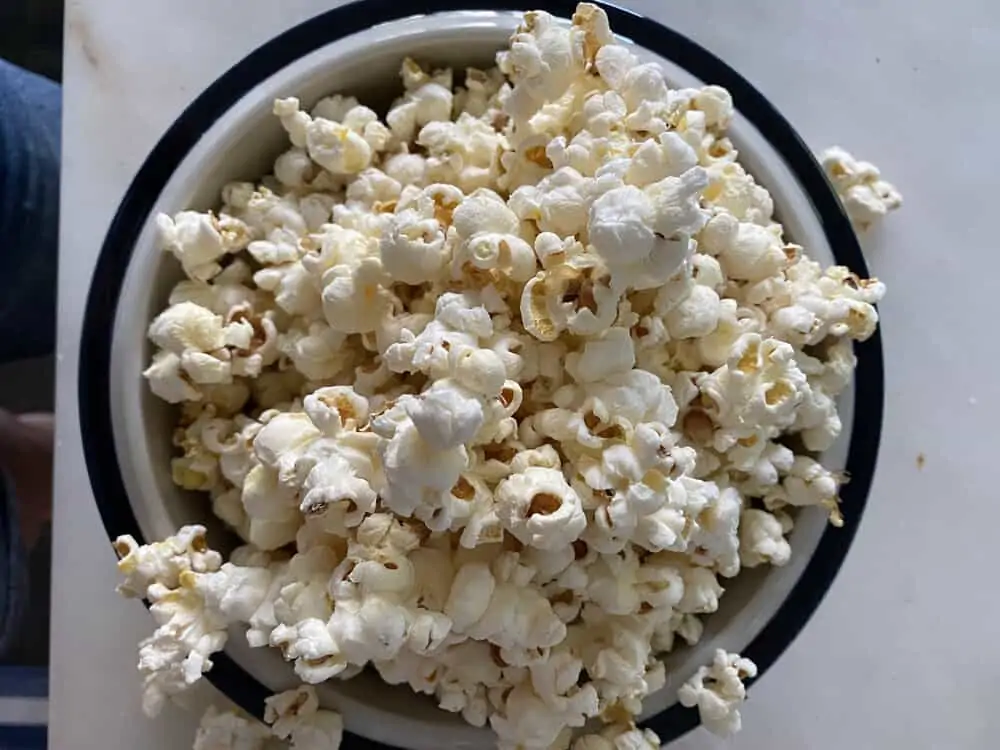 This post includes affiliate links. I make a small commission off of items purchased through my links. Merci!