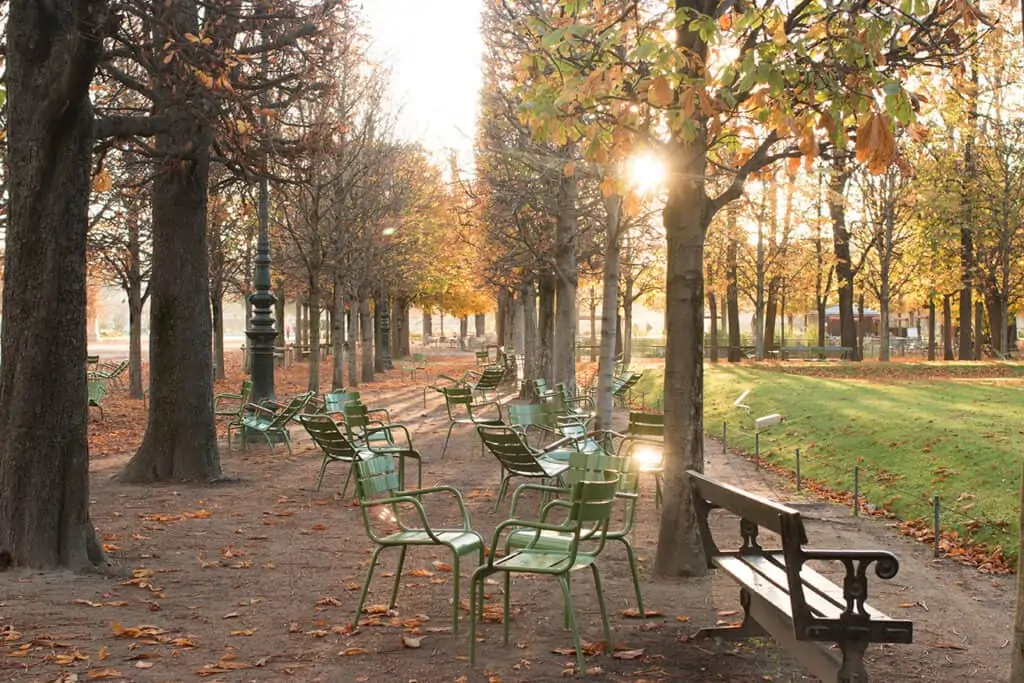 Shop Autumn Light in The Tuileries Print Here
It is officially Fall and Chicago feels like a switch was flipped. I have been wearing layers for walks with Henri and the air is crisp with leaves at my feet. It is nice to have a change in temperatures and wardrobe. My new couch finally arrived this week and I am looking forward to weekend naps and cuddles. I also just got this sweater blanket from Boll and Branch that is a beautiful spruce color.
Calendars arrived this week thanks to my FedEx and UPS delivery guys. 🥳 I consider these people part of my team that makes EDP run smoothly and I am so grateful for their hard work all year long. I screamed when I opened the boxes to finally see them in person made my heart beat out of my chest. I am totally crushing on the large Paris calendar. So many of you requested a big one and I am so happy I took the chance and made one. In case you missed it, I have printed three calendars this year instead of just one like I did last year. I am trying to get as many shipped off before I leave for Paris in October.
Grab your coffee and croissants and join me for this week's links.
Fall paint color trends It looks like my green choices were right on-trend.
Thank you to a reader who sent me this sweet article about a pianist in Paris age 107 who just released her fourth album.
How to Make Your Kitchen Look More French. Also sent in from a lovely reader who thought of me. Merci!
The Palais des Thès advent calendar is back for 2022. I had this one last year and loved it. The price is great too!
There is a new Wes Anderson movie called "The French Dispatch" featuring a Paris-like town coming out in October. Via NYT
Mango is currently 30% off. I recently bought this dress that will be coming with me to Paris. I ordered a few more pieces including this dress, this dress, and a black leather belt. Fingers crossed my second order arrives in time for Paris. I size up in Mango because it is European so I went with a medium instead of my normal small.
10 Small Towns in France that are right out of a storybook
Vincent Van Gogh's newly discovered work goes on display
Rifle Paper company just launched the cutest travel accessories with a fun print. This passport holder, a luggage tag, and adorable pouches. These would make a great gift for a Francophile too!
Entrecote launches an extraordinary sandwich shop in The Marais. They are known for their limited menu of steak frites in Paris.
A Parisian Home that Breaks with Tradition article via NYT
This is a great article covering the French Health Pass. I have had an overload of messages regarding this and I can't answer them all. I still have not received mine but I am confident my CDC card will work or I can convert my pass upon arrival at a Pharmacie.
The Diptyque Paris candle is sold out in some places but I did find it at Bloomingdales and Neiman Marcus. It smells so good and makes a great gift.
The best coffee bookstores in Paris
Anthropologie has a new collection out and I have my eye on this mirror.
Why Solo Female Travel is So Important (and where to go) via Afar
The US to lift travel ban for vaccinated travelers. This will help so many Europeans who have not been able to see family in almost 2 years.
If you are in Chicago and love jazz, I just purchased tickets to this concert. It will be my first concert in over two years. I am really looking forward to this candlelight tribute to Louis Armstrong and Ella Fitzgerald.
I am not on Tik Tok but I do love skincare and found this article interesting about how an item went viral after a Tik Tok follower posted this eye cream. The power of social!
Madewell continues to be on sale for the next week. Save 20-25% on so many great Fall favorites. I purchased these sneakers for Paris. You can see more of my other Fall favorites here.
Chewsday sent Henri a care package to try out some of their products and Henri really loves the cinnamon chews. It keeps his breath fresh!
Half Baked Harvest shares 40 of the most popular Fall recipes
France scraps plan to remodel Gard du Nord train station. This was a controversial design.
This weekend I am doing a virtual tasting with Sommelier. I am partnering with them this Fall/Holiday. I ordered two reds and one white. Henri loved the Chablis. ❤️ Sommelier is a great small business to support. They deliver a box of 3/6 French wines from small producers in France. It also makes a great Francophile gift idea.
The best baguette in Paris is finally unveiled and it is in the 12th arrondissement.
I binged watched Click Bait on Netflix
This Paris hotel with a special connection to Picasso is taking guests on a tour of all his favorite spots
Why Paris is Still the Best Place in the World to go the Movies
P.S. Don't miss a post, get Links I Love delivered to your inbox every Sunday.
This post includes affiliate links. I make a small commission off of items purchased through my links. Merci!
On the blog: