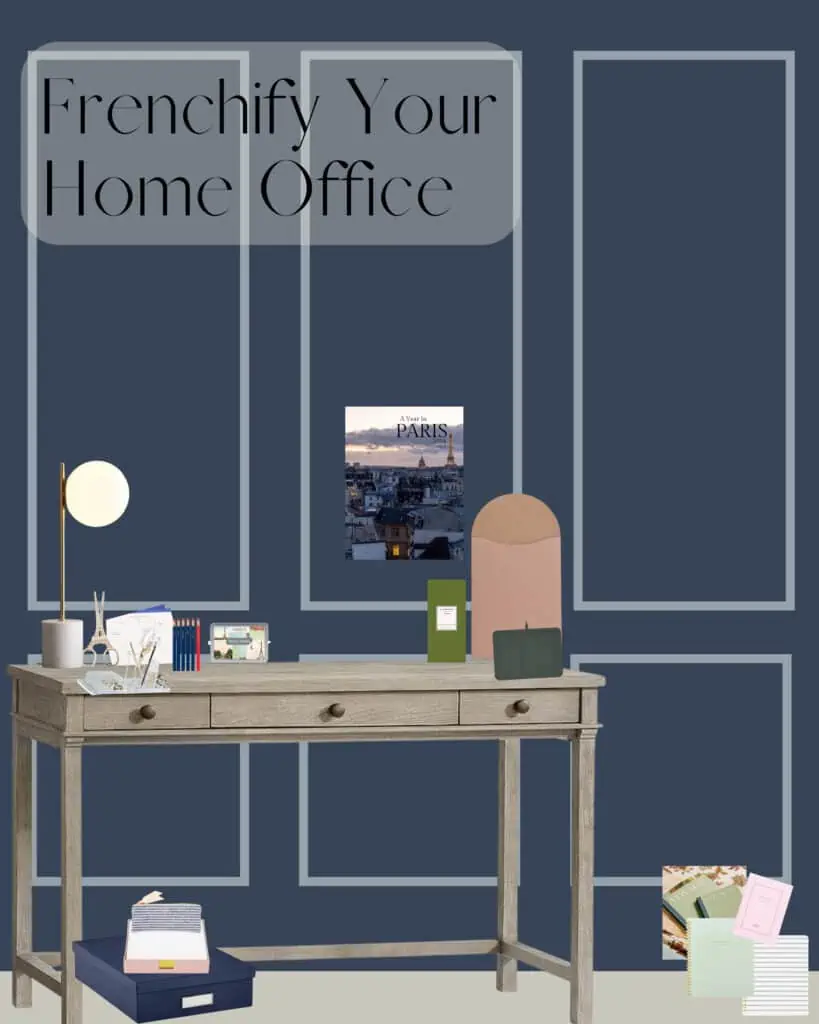 It is the perfect time for a refresh as we all begin a restart season for back to school or work. In the US, we have a back-to-school season. Students and teachers return for the school year in mid to late August. France refers to this as la rentrée for the re-entry into school or work. In French culture, this word can be used for kids and adults as it is typical to take time off during August from work for summer vacation. My home office has a new look with a fresh coat of paint, and I am moving things around. I wanted to share this time as the perfect opportunity to Frenchify your home office.
Frenchify Your Home Office
You don't have to do it all at once when updating a space. Enjoy the process, and update a piece of art over your desk. Put a new frame with a family photo on your desk or update the lamp. Spend money gradually and make it a space you enjoy opening your laptop or turning on your desktop. Don't underestimate a good sound machine to mute any outside noise. This was one of my best investments for my office, and it is helpful for noises that startle Henri while he sleeps and I work.

I hope you like my French-inspired finds below to get you in the mood to make some updates to your own office space at home. 
French-Inspired Office Desks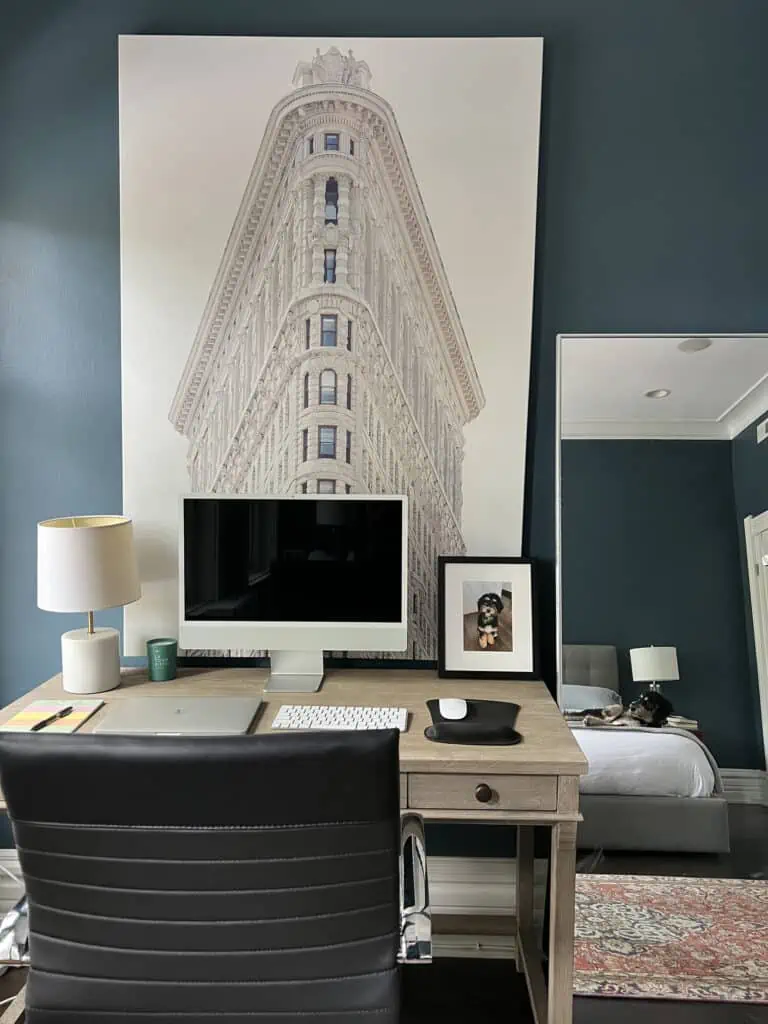 The office desk is the main piece of furniture and the focal point in a home office. I have been through many desks in the past couple of years. In my old apartment, I had a round marble table and a comfortable sitting chair next to the window where I did most of my writing. A quiet place to focus is vital for being productive. My office space has moved multiple times since moving in with my husband as I have struggled to find a place that works the best for me. I finally settled on a space in our bedroom next to the window with natural light and a door that closes. (one of my essential requirements)
My current desk is a white Parsons desk from West Elm and an office chair. In a perfect world, I would have a more French-style chair to give the space more of a French vibe. I am still searching for the perfect chair, but this one works well. Below are some other excellent desk and chair options that I love. Try the Facebook marketplace or a local spot in your city for antiques. Warehouse 55 in Chicago has some fun pieces, and things move quickly, so if you don't find anything immediately, you can check back every couple of weeks.
Above my desk is the perfect spot for one big piece of art or a gallery wall. I used to have one large piece and now I am leaning towards a gallery wall of black and white prints.


Notebooks to Frenchify Your Home Office
I love a good paper notebook and typically pick some up in Paris. There are some great stationary stores in Paris, including the paper section in Galleries Lafayette, and Sézane has had some fun options over the years. This is a great souvenir to bring home and think of your trip. If you can't make it to Paris, Anthropologie has a lot of great notebooks from Papier, a brand I have loved and bought from over the years. Plus, they have some great notebooks to help you plan the week.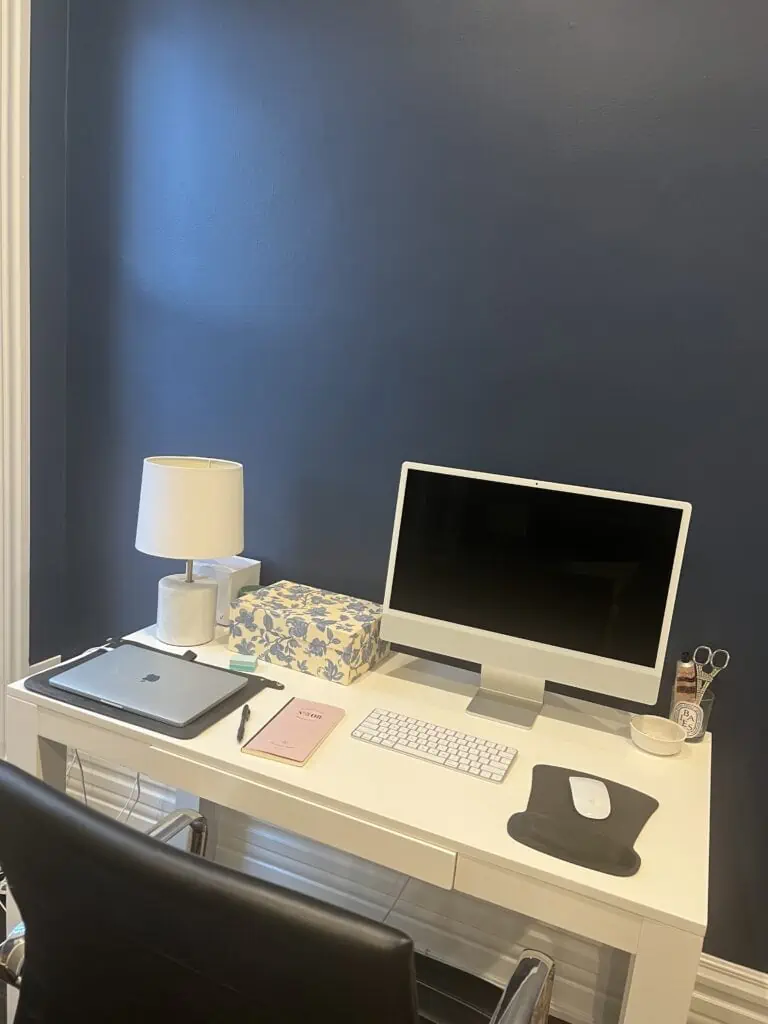 On my desk, I have an empty Diptyque glass candle holder. I use this to hold my scissors, hand cream, and small odds and ends. I also use a small ceramic bowl to hold jewelry and hair clips.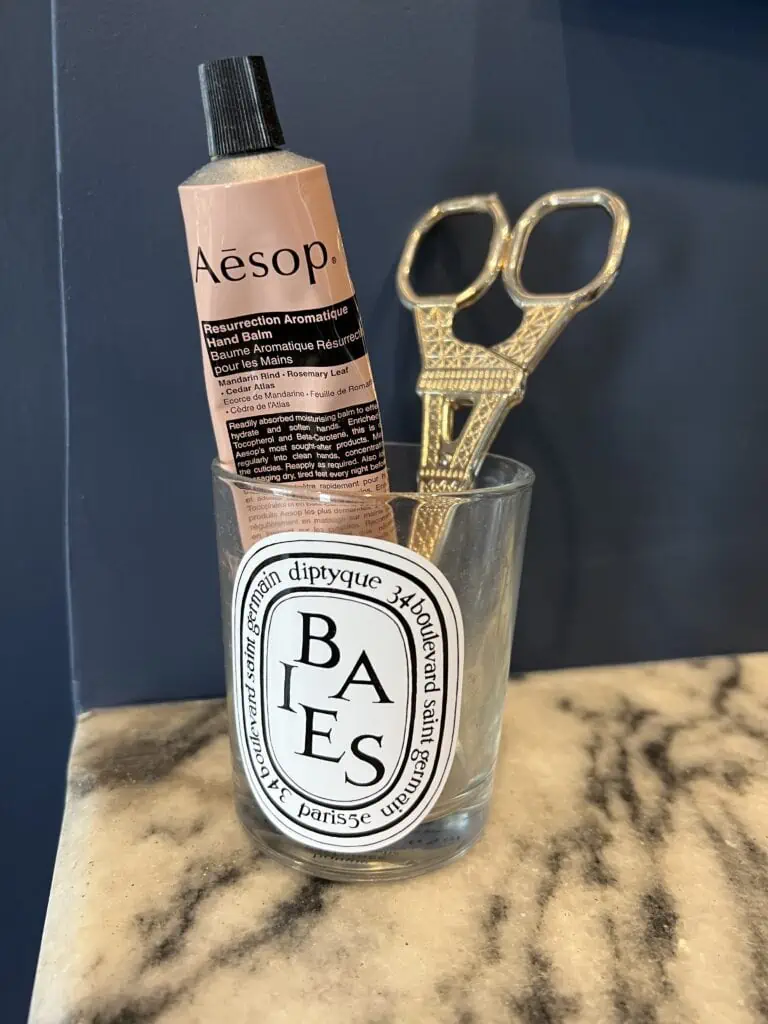 French-Inspired Desk Accessories


French-Inspired Wall Art for Your Office
Transport yourself to Paris with a photograph or collage of photographs above your desk. I am working on a gallery wall above my new desk area with a collage of Paris prints. Shop The Print Shop or add the new "A Year in Paris" calendar to your office area. (on sale in September)
*This post includes affiliate links. I make a small commission off of items purchased through my links. Merci!