Frank and Eileen Travel Set Venice
I love to travel and have been very fortunate to build a business around traveling. Work typically takes me abroad to Paris, but when I am in the US, I often visit family in Florida. Most recently, I spent a weekend in Florida with my niece and nephew. Comfort is key when traveling, especially during flight delays and early mornings. This adorable Frank & Eileen travel set caught my eye months ago while shopping on their website.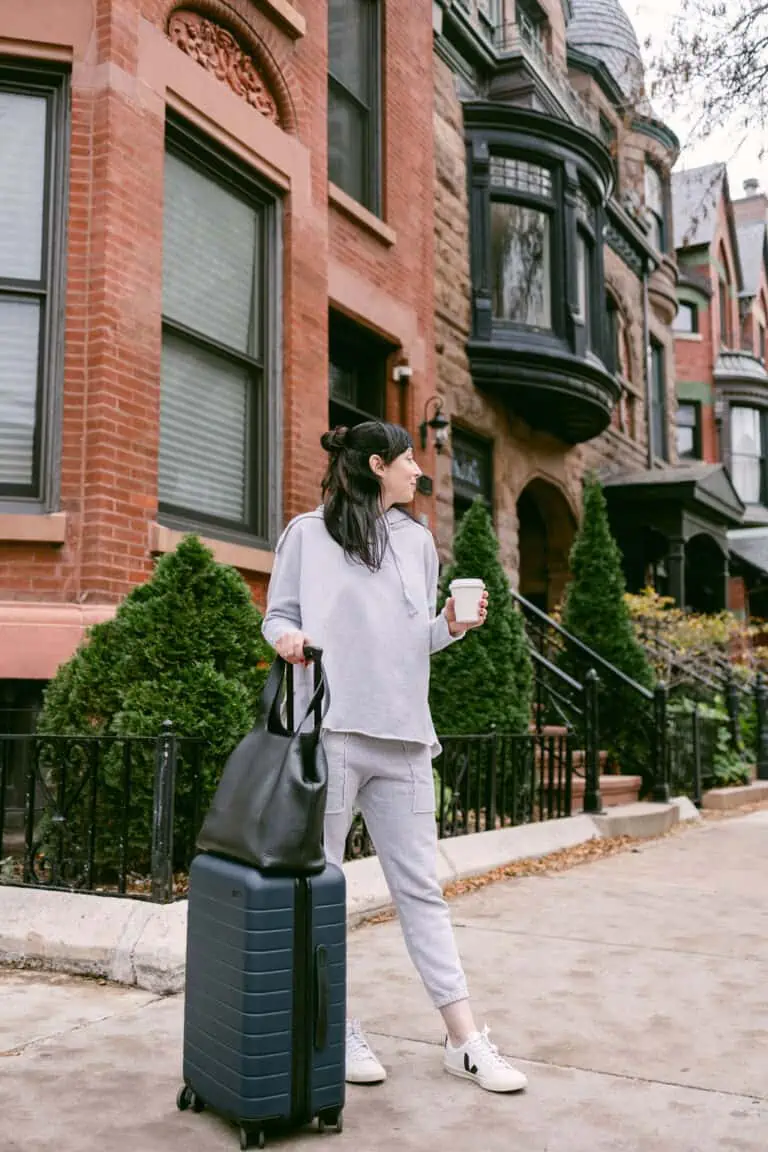 There are several different travel sets and styles from Frank & Eileen, so you can choose what best suits your unique style. The Venice travel suit has adorable side pockets as a feature. This is always key when keeping my phone with easy access after going through security and keeping in touch with family while on the go. I ordered the grey version, also offered in green, black, white, and the new cinnamon color. 
The hooded sweatshirt is perfect for keeping Chicago warm with cold weather and unpredictable plane temperatures. I paired a black t-shirt underneath my sweatshirt to transition into warmer weather once I landed in Florida. You can tie it around your neck like I did to keep your hands free while moving your luggage around. 
Frank and Eileen Venice Travel Set
Style features for this particular travel set include a drawstring waistband and tapered cropped ankle. I am 5'6" to show you where they land on my ankles. Pair them with your favorite comfortable travel shoes. I wore my Vejas because I knew I would want to wear them while running errands with the kids in Florida. Uggs are also a great option if you live in a colder climate and want to be comfortable and warm.
Frank & Eileen's Venice Travel Suit is triple fleece and 100% cotton. Since I was only packing in a carry-on to Florida, it was easy to throw in the washer and dryer at my sister's and wear it for the return flight. I tumbled it on low inside out, and it was soft and cozy for my 7 am flight home. 
Other travel styles include the Aspen set (next on my list for ski season). The London travel set has a peacoat top that can be easily paired with your favorite Frank & Eileen jeans once you land abroad. Can we convince them to launch a Paris set? 😉 

Travel Set Fit Sizing
When choosing your favorite Frank & Eileen travel set, they are intended to fit oversized and comfortable, especially while traveling. I am wearing a size small. 
Thank you to Frank & Eileen for sponsoring this post. I love this brand, and I am so happy you do too! This post includes affiliate links at no cost to you. I make a small commission off of items purchased from my links. Merci!