It has taken way longer than I ever expected getting this place in order. I anticipated that I would spend the colder Winter months at home and crossing everything off my to do list but that never happened. Work got in the way and I can't complain. Now that I am trying to slow down Summer a bit and not travel until the end of August to see family, I am making it a priority.
There are only a few things that need to be done still.
Chairs by Crate and Barrel and table by CB2
I have two marble bistro tables in the apartment. This one from World Market which is more of a French Bistro Table. I also bought this one from CB2 on Sale which is more modern.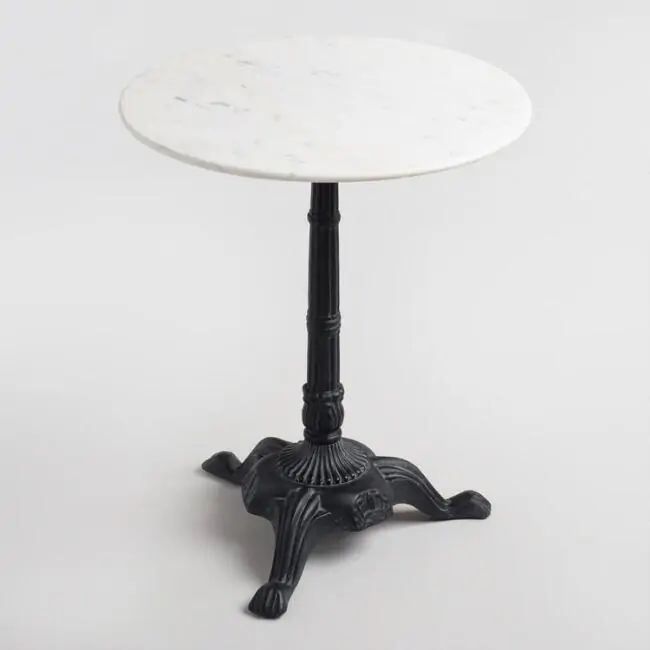 The print is Montmartre framed by Framebridge.
Find a home for my books
It is getting a little out of control as you can imagine. I am in the market for a bookshelf. I am deciding between a few. You can tell me what you think below. I am going to move the Montmartre Paris print somewhere else even though it is one of my favorites and replace this with a tall bookcase. I find myself working in this space the most so I think it makes sense to put the bookcase here.
My current coffee table is the Terrace Coffee Table from West Elm which is currently on sale 20% off
I don't technically need a new one but after a few years with my last one, I am ready for an update that doesn't require so much glass cleaner.
I have my eyes on this one. There is a theme of white and gold. But I promise there are a few pops of color here and there.
Matching Bedside Tables
I love the extra frames I added to above the bedside table. Having my own art at home has been such a joy and they are easy to spot out with new prints. The Diptyque candle was a gift from my favorite hotel in Paris, Grand Hotel du Palais Royal and brings me good memories.
I have this table which I love but I want two matching bedside tables. I still have to order them but they will most likely look like these. I did order marble tops to put on top and I will change out the hardware with gold nobs.
This photograph will go above the bed.
The Hallway
I wasn't so in love with the entry table but I ended up finding a piece of marble that fit perfectly and now it works much better! I switch out the hooks with Summer and Winter accessories that makes it easy to grab an umbrella or bag on the way out. The lights in the apartment are an eye sore since it is a rental I have lived with them but I think I am going to switch them out with these.
My Favorite Corner
My favorite corner is my dresser and Anthropologie mirror. I love mixing old antique finds with new pieces. The mirror was as close to a Parisian mirror as I could in the States without bringing one home. I still have to style the top but this little corner makes me happy.
The Kitchen
The kitchen still needs to be painted but I changed out the hardware from the original silver to gold nobs. I need shelves above the oven and the floors kill me. They are black and white vinyl that are so hard to keep clean. I want to order these for the floor.
One more thing I am missing…
I am moving a few more pieces of furniture around but I have a blank spot where my dresser used to sit. I am giving away my TV because I rarely use it. I need a full length mirror and I think this spot will be just the place. The one thing I am hesitant to give away is my desk but right now I am not really using it. There will be a lot more added storage space with the end tables.
This one from Restoration Hardware is my dream mirror but a little out of my budget. I will be hunting for an old frame at the Randolph Antique Market this Weekend to see if I can create my own.
I would love to hear your thoughts on what I have so far!
This post does include affiliate links which help contribute to my coffee and croissant research fund. Merci!