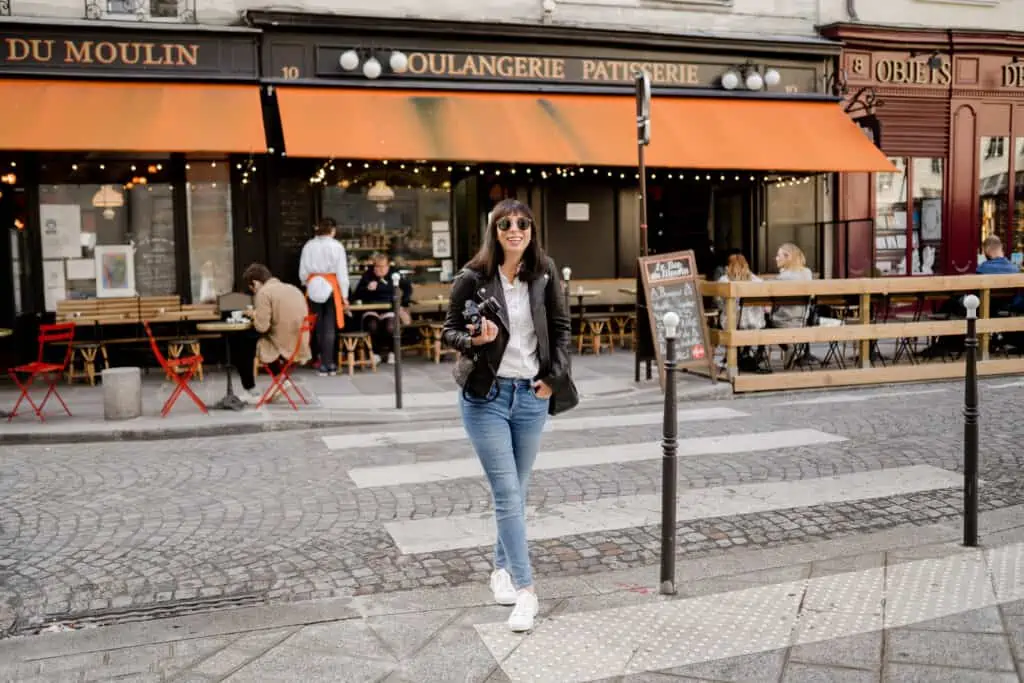 A Day in the Life of Everyday Parisian
I had a reader reach out asking for this blog post and I thought it would be a fun way to see a behind-the-scenes view of what my life is like as a travel photographer/blogger of Everyday Parisian. My days at home are much different than when I am working in Paris. I will have to work on A Day in the Life in Paris for you soon.
Wake Up
I try to wake up around the same time every morning. A routine is so important for my health and productivity. Changing my sleep schedule is a migraine trigger so if I sleep in, I am usually doomed. I wake up around 6:30/7 am even on the weekends. I wake up at 6:30 with an alarm on Sundays for Links I Love just to make sure my email gets out and there aren't any hiccups.
I would love to wake in until 8 am on a weekend which is very rare.
The first thing I do when I wake up is to look for Henri. He is really good at sneaking into the bed these days. Henri is typically by my feet.
Henri is a late sleeper so I will usually snuggle with him for a bit while I check my phone for messages/emails. It's a bad habit to have my phone in bed. ( I know)
I get up and out of bed and get dressed for the day. Brush my teeth and do my morning skincare routine. I have a 9:15 dance class so I get dressed in workout clothes.
Breakfast
Breakfast if I don't get to swamped with messages or sucked into work happens around 7:30/8. I will usually make it or my fiancé will. We are both working from home right now. It's important for me to have breakfast in the morning to start the day.
Plus, I get hangry if I don't eat and that is never good. Breakfast is usually an egg sandwich on a whole-wheat English muffin or lately, I have been back in the oatmeal routine with fresh fruit.
I prepare my coffee maker to go on around 6:30 when I wake up so I have fresh coffee. I am also in a tea routine. When I boil my hot water for oatmeal, it also gets used for tea.
Vitamins happen first thing in the morning. I have to take them with food. It helps me remember if I do them first thing in the morning.
Work for Everyday Parisian Begins around 7:30
My productivity is best in the morning so I like to jump into work right away. As I mentioned, Henri is a late sleeper so he will chill for a few minutes while I start work. Henri will nudge me when he is ready for a walk.
I catch up on DMs from Instagram, Print Shop orders, and work emails. Since my business and blog Everyday Parisian, takes place partly in Europe, there is usually an email or two that has come in overnight.
I try to squeeze in as much as possible before 9 am when I walk to the dance studio. If I am lucky I can draft a blog post or at least write one in the morning.
A Day in the Life of Everyday Parisian
Break for Dance
This is my happy place and I was gone for 2 years due to COVID. I used to go daily and I plan on getting back into that routine. During the pandemic, I was dancing in my bedroom for the last two years. Between limited space and Henri's distractions, it wasn't as easy.
I love the dance studio not only for the community aspect but also I am able to distract my mind from work and technology. I get the most creative ideas when I am dancing. That is when I thought of The Frenchify series.
Class ends at 10:15 and I pop back home to take Henri for a quick walk. If I need to run any errands on the way home, I will do that without Henri.
Print Shop
10:30/10:45 I will shower and get dressed for the day.
I typically jump back into work emails at this point and look at orders that need to get filled from The Print Shop. Any prints I don't have on hand in inventory or larger prints will be sent from my printer. I submit those orders manually.
I will package orders and prep them for my UPS run.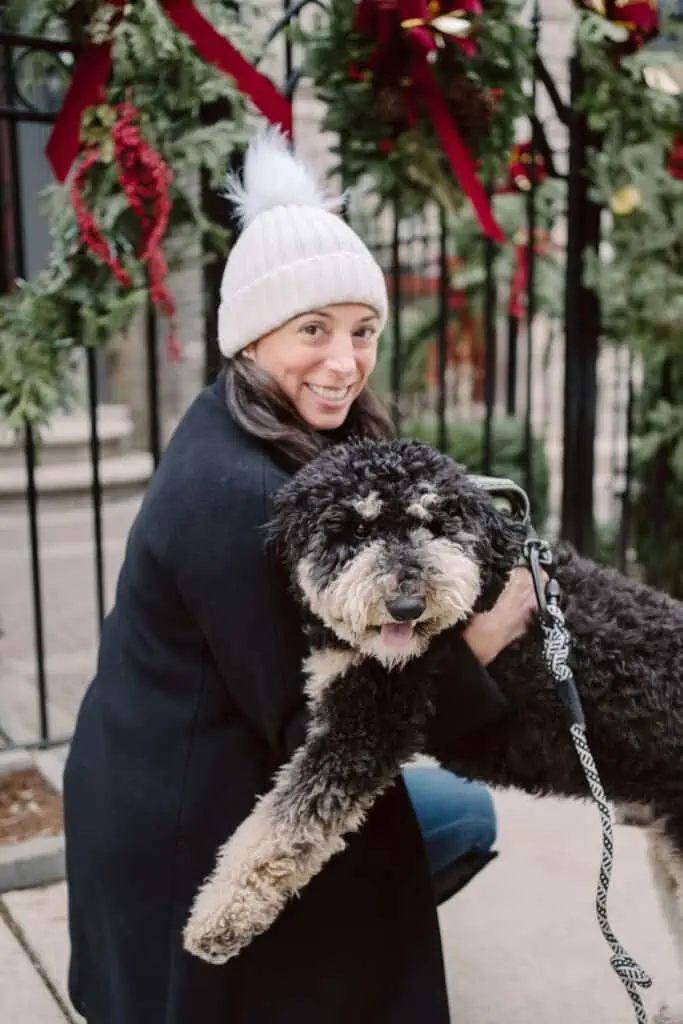 Lunch
Lunch happens between 1-2 pm depending on the day. I try to grocery shop on the weekends to prepare for lunch at home. I will usually have a salad with protein, quesadilla, or a turkey sandwich. I love the process of making lunch after being in emails and attached to the computer. It's a quick moment of being unplugged.
Henri and I will go out for a walk to take orders to UPS. He loves his buddy Ray who owns the UPS store. He only gives him one small treat and he goes nuts for it. The love is mutual and Henri always brings a smile to Ray's face.
I head back home to do more work on the computer while Henri naps. (hopefully) That isn't always the case. This is when he gets antsy and loves to play ball or wants to play with friends outside.
Afternoon
I try to get back into emails and content creation when we return from our walk. If I have time and the light is good, I love to bake in the kitchen in the afternoon. This usually happens towards the end of the week when I have a bit more free time. The winter has been rough with short days with not a lot of sunshine. Now that we have some spring weather, I am enjoying the light-filled kitchen.
I will work if Henri is sleeping and try to get as much done as possible while he is sleeping. We are very much still in the high-energy puppy phase.
I like to plan dinner in advance. We eat at home most nights. I will start to prep dinner in the late afternoon and work from my laptop in the kitchen.
An evening with Everyday Parisian
I try to end work around 6 and start dinner. We do mostly chicken, pasta, and Mediterranean for dinner. Depending on the day, if my fiancé has calls I will work later. Mondays are my long days with shipping orders and prepping the newsletter so I usually end up working after dinner. If I can wrap up work and unplug, I will shut down my laptop. I like a clean kitchen so once dinner is finished, I will clean up and start the dishwasher.
I typically post my blog post on Instagram and promote anything else on Instagram while we are on the couch for the night. I recently set a time limit for the app so once that is finished, I have no excuse but to get off my phone for the night.
The weather has been cold still so we typically watch something after dinner. Once the days get longer and warmer, we will typically take Henri for one last neighborhood walk.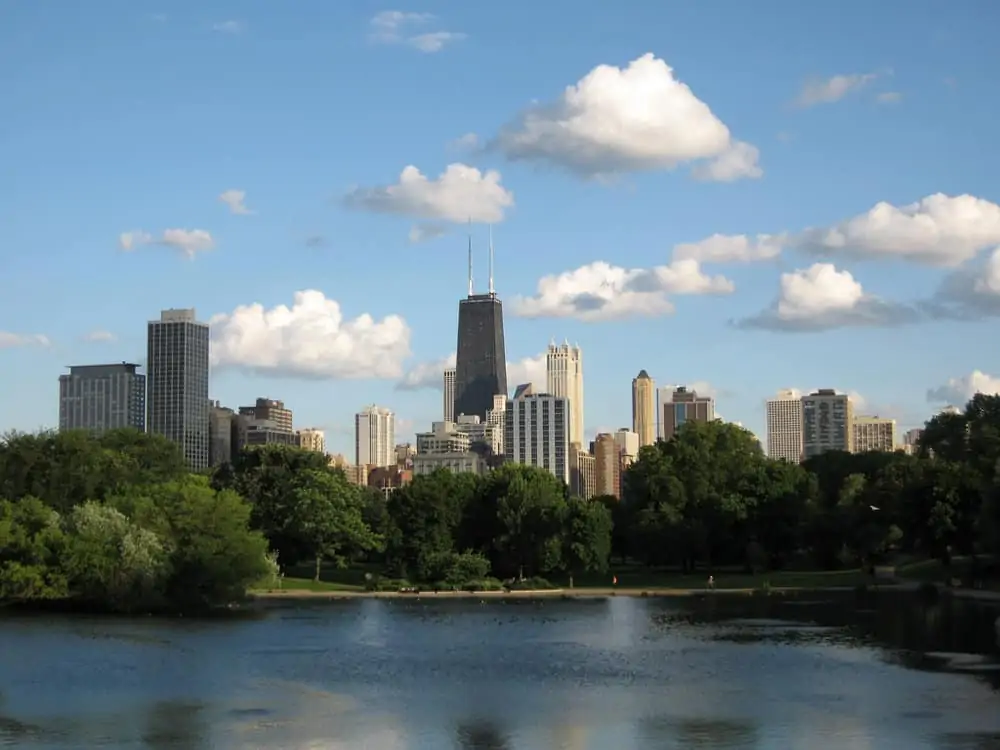 I go to bed around the same time every night. I start the process around 9:15/9:30 and will be in bed around 10. Henri is typically out by 8/8:30. 🐶
I start my night skin time routine, brush, pajamas, and then off to bed.

I am a pretty habitual person so I don't stray too much from this schedule. Running my own business has a lot of flexibility. I also am my own boss so when it comes to getting one more thing done or shutting down for the day, I usually push myself to complete one more task. My fiancé will usually find me on the computer working even on the weekends. If I escape from the kitchen, he knows I am probably replying to an email or jotting down an idea.
Even when I am traveling, I still find time to work. I love what I do and I also am dedicated to my community to bring valuable content on a regular basis. I am still struggling with a work-life balance.
I hope you enjoyed this post sharing a look into my daily routine.
Photos of my by Carolina Caruso, Katie Donnelly, and Rebecca Tyler Photography
*This post includes affiliate links. I make a small commission off of items purchased from my links. Merci!