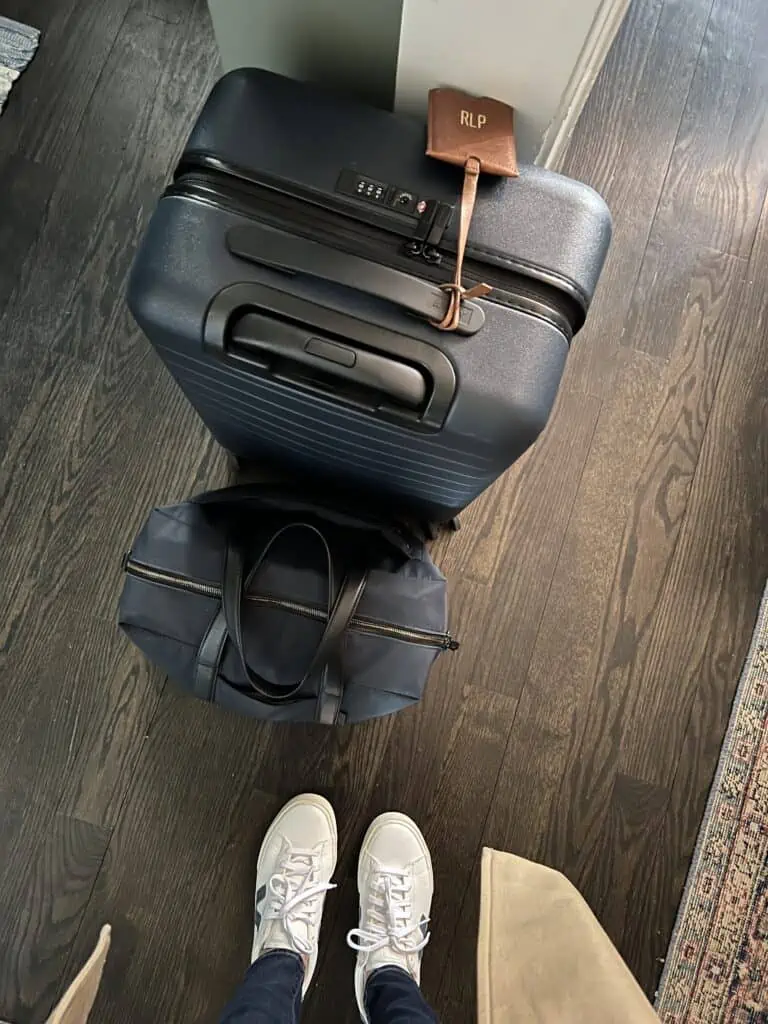 Long-haul flights are never easy, but with a little strategy and preparation, you can still plan to get some rest and fly in comfort. My first flight was to London years ago when I studied abroad in Italy, and I had no idea what was in store for me. Now, with the blog, I travel to Paris a few times a year and have some solid travel experience with international flights. Enjoy these travel tips for your next long-haul flight.
To prevent jet lag as you move time zones, it's always a good idea to stay hydrated, drink lots of water, and do your best to avoid alcoholic beverages. This was a tip from the cabin crew on a long-haul flight many years ago, and it has held. Flight attendants will be by with a water bottle typically after meal service; I highly recommend grabbing one or refilling a reusable water bottle with a cup of water to stay hydrated. Magnesium or sleep aids are a great idea. I love these melatonin gummies to help me fall asleep.
Arrive with plenty of time at the airport. You will want to arrive earlier for lines if you check a bag.
Travel Tips for Long-Haul Flights: Dress in Comfortable Clothes
Hopefully, you will be sleeping on your long-haul flight and want to be in comfortable clothes. Leggings or sweatpants are becoming everyday long-flight essentials. I am a bit old-fashioned and still prefer to dress up for a flight, typically in jeans, a sweater, and sneakers.

Long Haul Flight Essentials
I have a blog post dedicated to what I pack for long-haul flights. Lip balm, an eye mask, a small tube of moisturizer, ear plugs, and a face mask are in my carry-on bag. This bag from AWAY is my personal item and fits so much, including my camera and laptop. Connecting to wifi while you are flying is fairly straightforward, and most airlines offer free text messaging if you don't want to pay the additional fee. Since I am working on the go, I will use the tray table as my portable office and set it up during my flight. I am probably scheduling this blog post from the air to enjoy Paris when I land.

Some flights will have a USB port or power outlets at your feet, depending on the location of your seat so that you can charge your electronic devices. I highly recommend charging your phone so you have a full charge when you land at your destination. A portable charger is a great option to have as a backup; this is the one I own and use.
Download your entertainment on your iPhone,iPad, or computer if you prefer to watch something you choose. In-flight entertainment can be touch and go in terms of what is offered. Noise-canceling headphones or AirPods are recommended; the airline will pass out earbuds to connect to the plane's entertainment. Most major airlines for long-haul flights will have in-seat entertainment on the back of the headrest. Download the airline's app before traveling to connect while flying, as they may have other movies and shows to access.
If it is up to me, I prefer to have a window seat to rest my head against the window. You can bring a travel pillow if you have an aisle seat.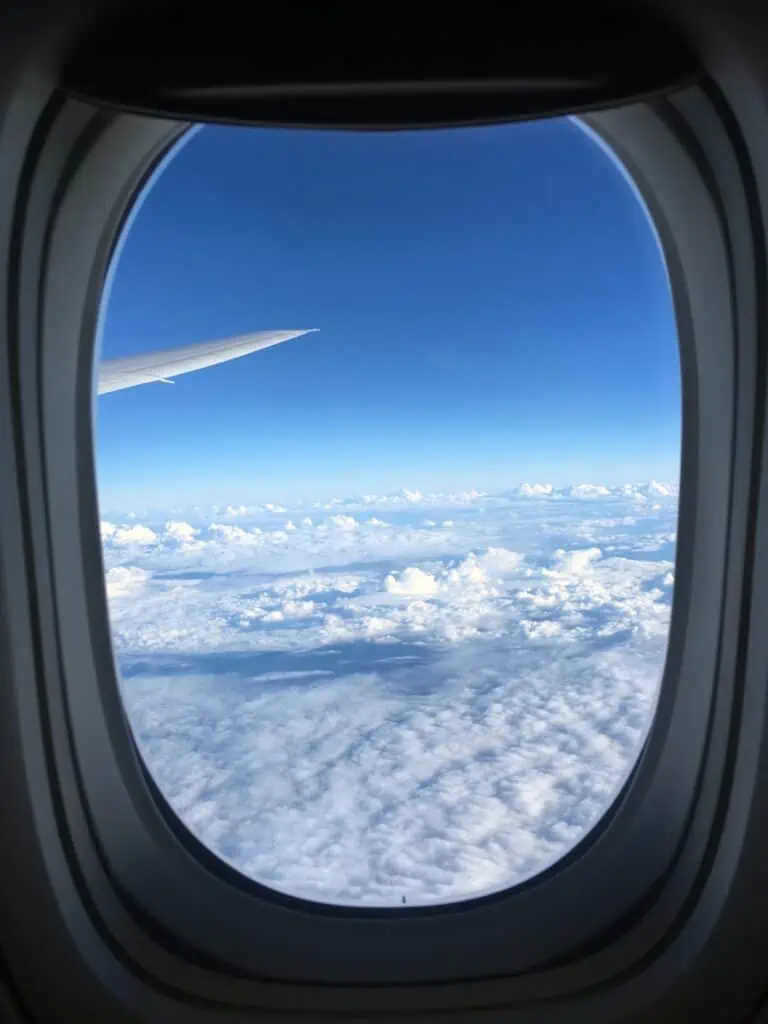 Pack Snacks or a Meal for The Airplane
Airplane food is known for not being the greatest, and I prefer to pack my snacks or meal for the flight. Be mindful of what you pack, as your fellow passengers will likely prefer that nothing has a strong smell. The best option is a sandwich or something that won't spoil on the long journey.
You can also arrive early at the airport and grab a meal at one of the restaurants. Do your best to avoid caffeine so you can sleep.
Get Up and Move Around
You will want to get up and move around to walk up and down the aisles to get blood flow to your legs and avoid blood clots. Take bathroom breaks or stand and stretch your legs a bit. It is best not to sit for a long time. Compression socks are also an excellent idea for an overnight flight.
I prefer to exercise on a long-haul travel day to get my steps in and sleep better at night.
Tips on Upgrades and Getting the Best Seat
Flying the same airline and establishing loyalty helps with a free upgrade to better airplane seats and possibly an economy plus, first class, or business class seat. It is worth it, and I also feel being loyal to an airline and gaining status helps if there are any trip disruptions. This also helps with travel credit cards to get miles. Travel insurance is always a good idea; I use World Nomads. With the high demand for international travel this year, it is a great way to have peace of mind.
*This post includes affiliate links. I make a small commission off of items purchased from my links. Merci!