One of my favorite kitchen items is this piece I ordered on Etsy in the Summer of 2020. It took a good 7 months to arrive but it was worth the wait and the construction is solid. I ordered the wine fridge from Wayfair and the piece was built around the dimensions. Sadly, the shop was overwhelmed with orders and is not available on Etsy. They have their own website where you can contact them for a custom piece. You can shop similar items on Etsy for custom wood pieces.
The room I have spent the most time in over the last year has been the kitchen. Baking/cooking is what is keeping me calm and distracted so it makes sense. I am making breakfast, lunch, and dinner at home and I am loving it. As I navigate throughout the kitchen on a daily basis, there are a few items that I use over and over and have become my favorites. I wanted to share these with you and I would love it if you share some of your kitchen favorites with me in the comments.
I start my mornings with coffee, I love my Bodum French Press. I also make my coffee with Nespresso. It all depends on how much time I have in the morning and what time it is.
Le Creuset
I have invested in Le Creuset since last year, slowly I have been adding pieces and I truly love them. They are pricey but they are made to last a lifetime so it is an investment in your kitchen. I went with the Cherry Red color and it makes me happy. In the morning, I make hot water in the tea kettle. I also own the saucepan, stockpot for soup, and dutch oven for making bread.
Staub I recently invested in a Staub over Christmas. I was hesitant for the 4qt because I thought it would be small but I have used it so many times. It is one of my favorite new purchases. I cook chicken, sauces, and soups in here. I love that the inside is cast iron. It helps keep my chicken flavorful and juicy.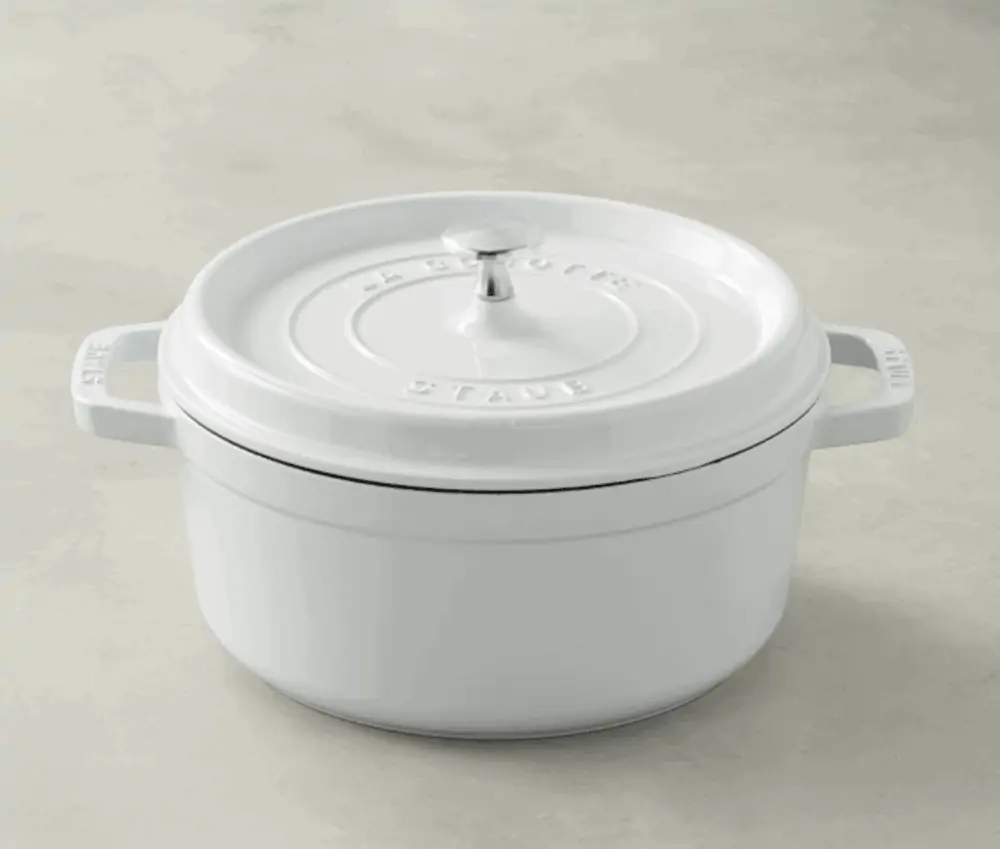 Tea Towels
I go through so many tea towels in a week to keep dishes and my hands clean, they are also a fun accessory, especially to bring a little Paris home. They are washable so I just throw them in with my regular load of towels and keep the kitchen clean.
I received my KitchenAid Mixer as a gift a few years ago. I use it at least once a week for cookies. If you have counter space, it helps to have room for it out. My sister and I both have the black one and pulling it in and out of the cabinet is a bit of a pain but I still love it.
Cutting Board
This is one of the things I use the most in all of my kitchen. My aunt bought me one as a move in present and I use it as a multipurpose cutting board/cheese board in a pinch.
Kitchen Organization
There is nothing I love more than a clean kitchen. Since I am spending so much time at home and I ordered extra baking supplies, I needed a place to put them. I ordered these from Sur La Table that is fabulous. I could probably use another pack of 10 if I was being honest. I also ordered these fridge keepers from Rubbermaid. I was using plastic Tupperware from Walgreens ( I know, it's terrible) these were about the same price and the quality is so much better. I wish they were glass but for $40 and a set of 10, it is a steal and I literally use them all the time. The little ones are great for all the things you would put in zip lock bags and get lost in the fridge.
I get a lot of searches for this on the blog. It was under $100 to purchase one and a great investment. I use it to make my pasta sauce and pesto. It pops right in the dishwasher to clean up and stores away in the cabinet so it isn't out all the time. I also have a smaller one that is around $40 that I use for sauces and salsa.
Bowls/Whisks/Peeler
I make a salad at least once a day and I love the process of peeling, cutting, and prepping. If you are in a hurry, you can meal prep all these things and stick them in the fridge for convenience. I make my own salad dressing and now put it in a squeeze bottle in the fridge for easy access. These bowls may be the most used thing in my entire kitchen. They are inexpensive, come in a variety of sizes and they are easy to wash. I swear I have used every size! There is always a use for a small bowl when cooking.
Pans
All my favorite pans that hide in a drawer in the kitchen that get used all the time.
Soap
I have been washing my hands over and over and in the kitchen it is so important when you handle food to keep clean. I keep a few soaps at the kitchen sink to rotate.
This post includes affiliate links. I make a small percentage off of items purchased through my links. Merci!