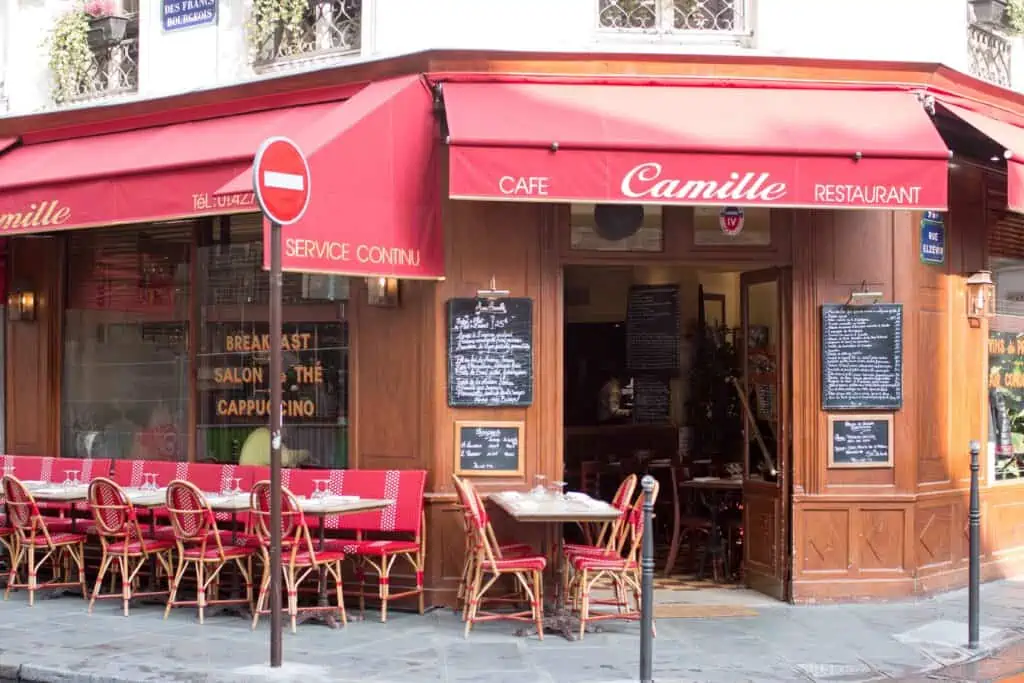 The question of how to make a reservation in Paris has popped up a lot lately and I wanted to write this post to help those of you who have the same question. I strongly recommend making reservations in Paris if you are traveling in the next couple of months. The city is overflowing with tourists right now that travel is back and Paris is busier than it has been in years. There are plenty of restaurants in the city, but there are great restaurants that you don't want to miss. A good meal can make a trip, and a bad meal can change a trip. I want you to have the best trip possible with great food and memories!
I recently traveled to Portofino where there were few restaurants and even fewer blog posts to help research where to eat. So I asked the concierge for recommendations which were good, but not great and the last night I took things into my own hands which left us with an ok meal with bad service. This was a reminder to me of how important it is to do research for a good meal and plan ahead.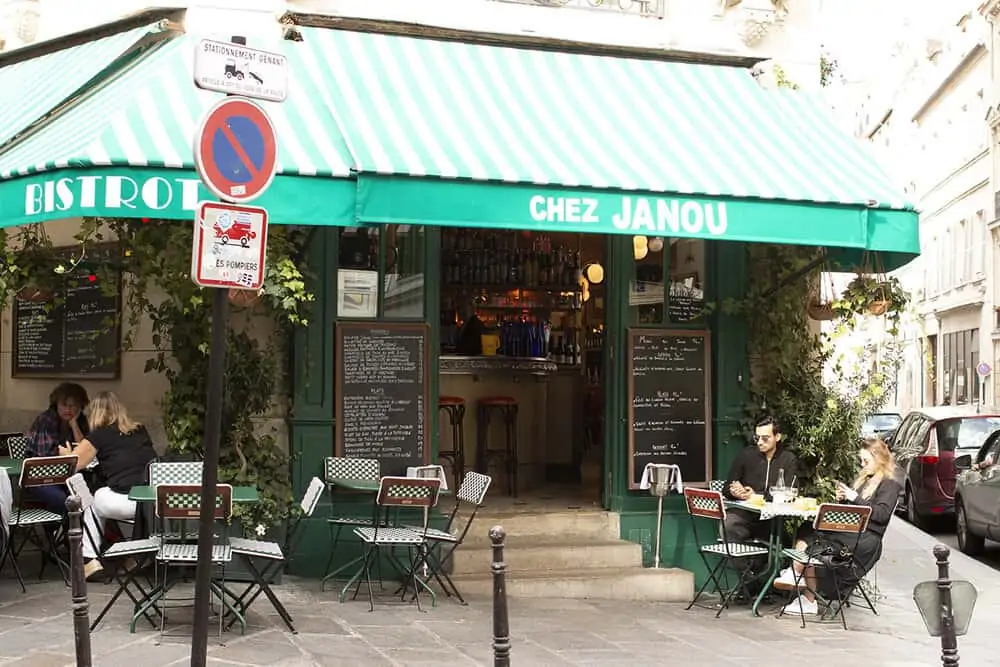 How to Make Reservations in Paris
If you are making dinner reservations over the phone or in person, a little French goes a long way. The popular restaurants get booked up quickly so you will want to do this in advance.
Be polite. Always start with bonjour.
Bonjour, Je voudrais réserver une table pour deux personnes. I would like to reserve a table for two people. Change the amount if you have more or less.
You will need to tell them the time. They run on military time so à 20 heures would be 8 pm and the date you want the reservation.
Aujourd'hui is today.
Ce soir is tonight.
Vendredi is Friday.
Samedi is Saturday
Vendredi soir or Samedi soir would be Friday night or Saturday night.
If you don't want to call over the phone, you can always try the email of a restaurant and write the same script. You can find the email address through a quick google search.
Online Reservations
You can also use an online reservation host to help you book a table.
Open Table isn't as big as it is in the US.
The Fork is a popular site to book lunch and dinner reservations.
Google also has booking capabilities. If you do a google search, it may show a button to reserve a table and you can do it directly through here.
Pink Mamma is a popular restaurant from the Ober Mamma group. They now accept online reservations via Seven Rooms here.
Frenchie, another popular spot in Paris does take reservations here. Although, their popular wine bar Frenchie to go does not and is on a first-come basis.
Tour D'Argent also takes online reservations directly through their website.
La Fontaine de Mars a classic French bistro on the Left Bank takes reservations here.
For more of my favorite spots in Paris to eat and drink, you can check out this post.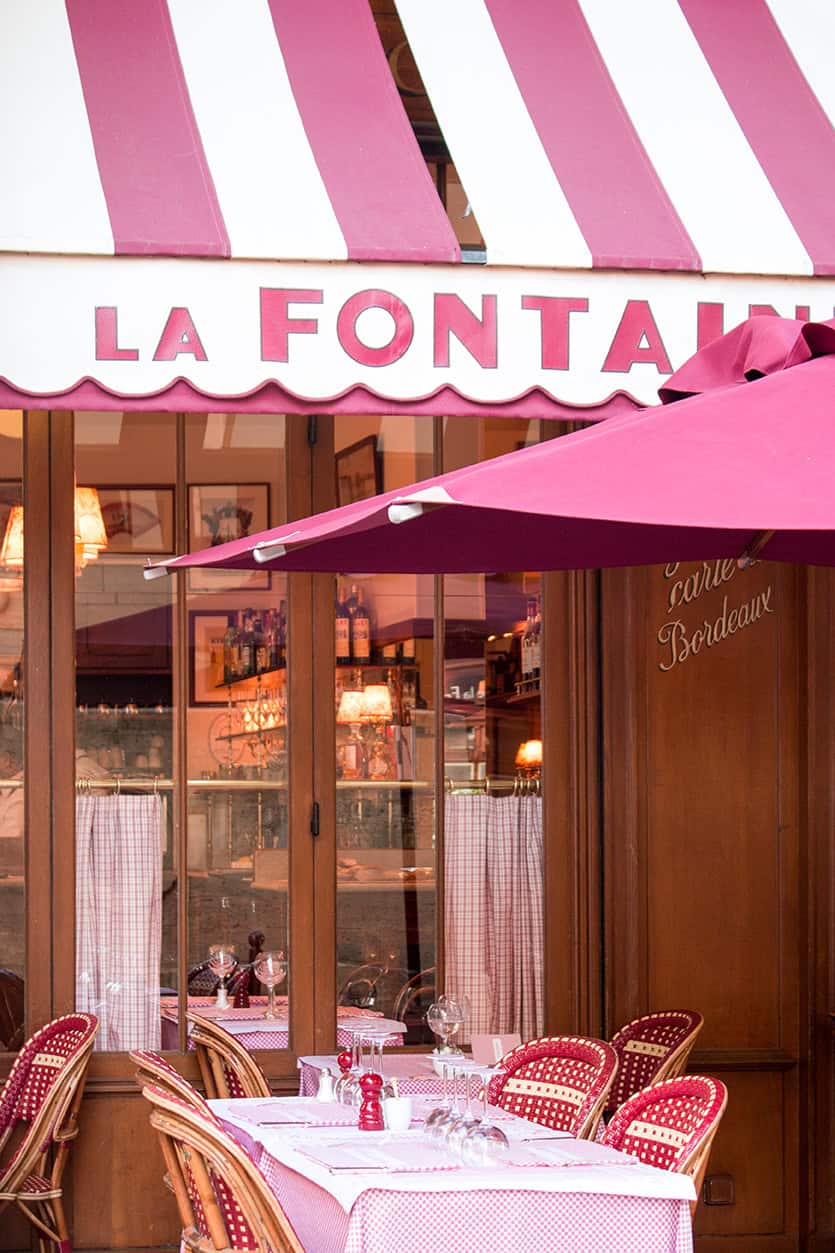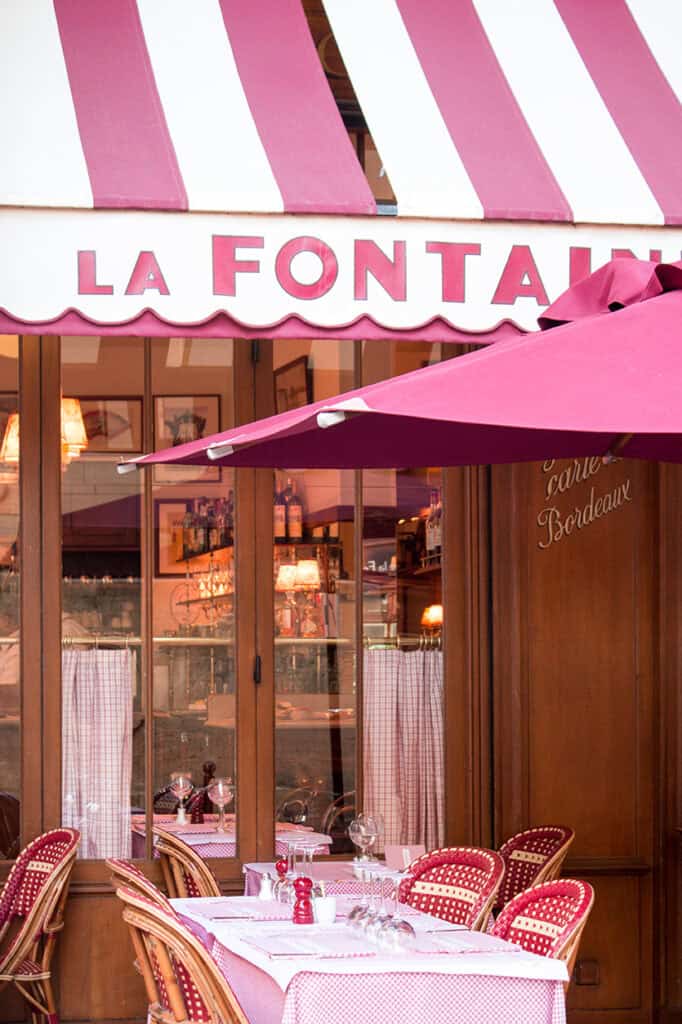 A quick yelp search here shows which Paris restaurants take reservations. This could be very helpful if you are trying to secure a specific restaurant or time.
In-Person Reservations
Stop by for a glass of wine and make a reservation for dinner in person for that evening or a future evening. Try to chat with the bartender or hostess while you are enjoying a glass of wine or small bites and ask for assistance with a table. If you respect the French people by using their language and respecting their customs, I think they are way more inclined to be helpful and give you good service. (That is what I have experienced in the past).
Social Media
I have always found you can have much easier access to a restaurant by sending them a DM (direct message) on social media. Some small businesses in France don't have websites but they have a Facebook or Instagram account and that is how they communicate.
Reservation Tips
If you make reservations, keep them or cancel them. Restaurants rely on these tables and if you cannot make the reservation please free it up for someone who wants it.
Keep an Eye on The Restaurants Hours and Closures
Some restaurants will be closed on Sundays or Mondays and a lot of places shut down for a few weeks in August for the annual vacation. Paris by Mouth always has a great list of what is opened and closed on Sundays. If you are planning a trip to Paris soon and want to check out this August closure list, you can do that here.
Respect the Culture
If you are sitting down for a proper French meal, you will want to order more than one course. A starter and a main, or a main and a dessert. You can always take the cheese course at the end of a meal. Some French restaurants have incredible cheese courses that introduce you to new cheeses. The cheese course will be at the end of the meal.
Dinner is served from 8-10 pm roughly. I have never seen a high chair at a restaurant in Paris. If you are making a reservation, I would mention the ages of your kids and any accommodations if they have them. Crying babies and toddler outbursts are rare from what I have seen.
The kid's menu if you do dine with small kids is not like the US. Rarely will they offer chicken fingers and French fries. It will most likely be a piece of fish with vegetables, chicken, and a starch, or a modification of an adult dish but more simple. The French teach the kids young on having a well-balanced meal.
Leave the modifications for the US. If you are looking to have something cooked a different way, change the sauce, or omit something do your best to take the dish the way it is on the menu. The chef prepared and created that dish to be served just the way it is. Of course, if you have allergies make sure to alert the restaurant and server.

Tipping Advice
It is not customary to tip as we do in the US, but a small tip as a gesture of good service goes a long way and is much appreciated. When I am out with friends, we usually throw in a few euros each after a meal. If you are dining solo, you can put down a few depending on if you had just a drink or a meal. The waiter will appreciate it and you may be surprised how he greets you next time you pass by the restaurant.
If you are staying at a hotel or apartment close by to a bar you may frequent for drinks, this is important to do on the first day. If you get a good waiter, chances are he will chat with you in English or French depending on your preference and even make recommendations for places in the area or teach you something new. You can practice your French and they can practice their English. You may be surprised how many waiters speak English in Paris now.
Last Notes
Don't get frustrated if you can't book a reservation for your favorite spot. I always save something to try on my next trip to Paris. It gives me a great reason to go back each visit.
There are also some great spots in Paris that don't take reservations. I always recommend L'Avant Comptoir. They have a few more spots in the same area so if one is full you can try another one. The space is small and the menu hangs on the ceiling. I have never had a bad time or bad meal here. I have gone solo here many times and always meet people next to me. It is pretty communal with shared bread and butter on the counter. Don't miss out on ordering a glass of wine with your meal. The person behind the bar will ask you white or red and then dry or fruity. They take pride in knowing small producers in France and they can tell you a story about the winemaker which makes the experience even better.
Do you have any favorite restaurants that take reservations in Paris? Do you have any tips for securing a reservation? Comment below and share with readers. xo