How to Frenchify Your Spring
Spring is one of my favorite seasons for a few reasons. My birthday month falls at the beginning of Spring, plus I love the energy of all the people out and about, the sunshine, and all the blossoms on the trees and flowers sprouting from the ground.
I am typically in Paris for spring and I love seeing the city covered in pink blossoms. I am excited to be back for my first spring in a few years. If you can't make it to Paris, you can use these fun tips to bring a little of France into your lives.
Change Your Bed Linens
Now that the weather is much warmer, you can ditch the heavy comforter for a lighter linen duvet or waffle blanket. I love my waffle blanket from Boll and Branch and it is currently on my bed. The texture on the skin is so nice, especially in the warmer months.
In Paris, Merci sells a beautiful colorful assortment of linen bedding. I have had my eye on the pink for some time but a white bed is almost my top choice. There is something so fresh and clean about a white bed. For US retailers offering linen bedding, try West Elm, Brooklinen, Boll and Branch, and Parachute.

Add Some Fresh Flowers to Your Home
This is an instant mood booster! I do my Trader Joe's runs on Fridays. I pick up tulips, eucalyptus, and hydrangeas. I joke that Henri buys me flowers each week.
Candles
I love Diptyque candles. See above (Baies is pictured). They are perfect for rainy days and throw open the window on warm days. There are scents that remind me of Spring. Tuberose is one of my absolute favorites and a great gift! Other favorites are below.

Dress for the Weather
Spring is the rainy season. I learned the hard way that May is the wettest month of the year in Paris. If you are headed to Paris in the Spring, you can check out this post on What to do in Paris When it Rains. Henri and I will be walking rain or shine so it is good to have some great pieces for Spring rains. Essential are rain boots. There are these from Madewell which are currently $50 and great or you can go for a classic Hunter style rain boot.

Rain jackets can be colorful pops of color (this is the one I own from JCrew). or neutral Trench coats.

Go for the Trench
This is a great classic piece that can be used all Spring and transition into Fall later. My two favorites are the one from J.Crew which is classic and quality. I have owned mine for years. (Make sure to size down a size when ordering it runs big. )You can also invest in the Sézane one which is a great option. The Sézane one sells out quickly so make sure to grab it if you have your eye on it.

Ballet Flats
For Spring shoes, I love a good ballet flat. These are great for walking around the city/neighborhood. I love the Margeaux ones. These look just like Repetto and more affordable but have more support on the bottom. I also love the look of Sarah Flint. I have the Natalie flat which I will be taking with me to Paris. You can save $50 off your first Sarah Flint order with my code BAREBECCAP at checkout.

A Few Key Spring Wardrobe Essentials: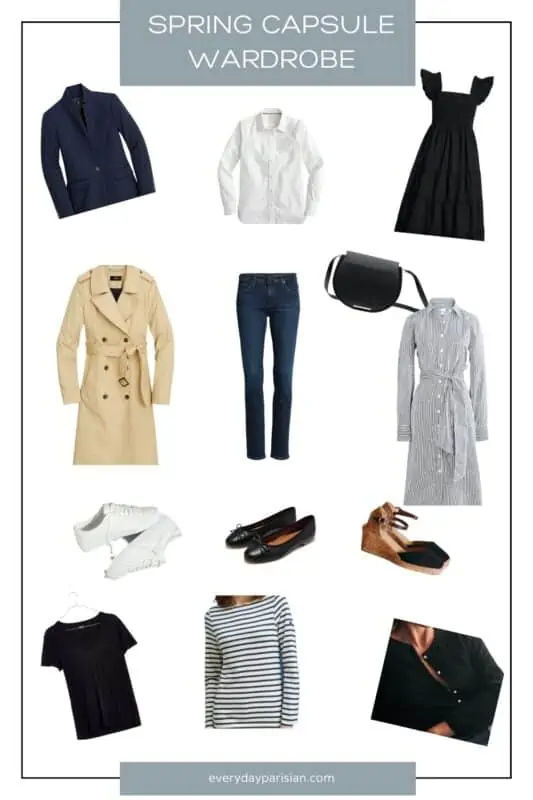 You can see my spring capsule wardrobe here.
French Spring Foods
Artichoke
Carrots
Green Beans
Rhubarb
Spinach
Potatoes
Zucchini
Strawberries
Break Out the Rosé
As the weather warms up and we move outside it's time to start enjoying our lighter favorites again. We'll see Provençal Rosé making a reappearance, and of course, some good Cru Beaujolais is always a great picnic wine! These fresh wines are always good drunk out of plastic cups with some salty saucisson, a hunk of Tomme de Savoie, and some baguette while sitting on the Quai watching the swans go by. Via Caroline
French Spring Recipes
Bistro Salad with goat cheese (this is one of my favorite things to order in Paris for lunch)
Potato and Leek Soup. For rainy days
Any kind of Fruit Galette (Recipe Here)
Lemon Pudding Cakes with Sugared Raspberries
Picnic
Picnic season begins in Paris in mid-April and the green spaces are open for people to enjoy picnics all over the city. You can make a simple picnic with baguette sandwiches or a cheese plate. You can see this post on ways to host a French-inspired picnic at home.

Frenchify Your Cheeseboard for Spring
I asked Madame Fromage for advice on ways to Frenchify your Cheeseboard for Spring. These are lovely and fun additions that can be enjoyed indoors or outdoors for a picnic.
In Spring, I like to make a brunch board on the weekends to pair with a glass of bubbly or a French 75 — my favorite cocktail to pair with cheese. It smells and tastes like spring-like fresh herbs and citrus, with a generous splash of Champagne.
In France, Spring is goat cheese season, and if you visit Paris cheese shops you'll find bountiful goat cheeses from the Loire Valley — one of France's most lush pasture areas. At this moment, those pastures are sprouting tender grasses and tiny wildflowers — a delicate feast for the area's native goats.
Not a goat cheese fan? You might want to try a Loire Valley goat cheese anyway — they are the gold standard of goat cheeses (think: fresh, delicate, supple). Alongside honey, lemon curd rose jelly or fresh berries, they are transformative and will make you feel like you are enjoying an authentic French breakfast or brunch.
For a second soft cheese, look for a French "bloomy" — the name for Brie-like cheeses that sport velvety rinds. The French have perfected this style, and they're wonderful cheeses to pair with cherry or raspberry jam, a good baguette, and a handful of walnuts or pistachios.
Classic French Goat Cheeses to Try
Selles-sur-Cher
Valençay
Saint-Maure de Touraine
Crottin de Chavignol
Substitutes: Can't find these? Look for any soft French goat cheese, or reach for one of the many French-style goat kinds of cheese made by Vermont Creamery (the cheesemaker is French).
Beautiful French Bloomy Rinds
Brie Fermier
Délice de Bourgogne
Brillat Savarin
Cremeux des Citeaux
Substitutes: Look for St. Stephen, an exquisite American triple-creme made in New York, or ask a cheesemonger to recommend a great bloomy.
Accompaniments To Frenchify Your Cheese Board
French preserves, baguette, plain or herbed honey, fresh berries, nuts, madeleines, sprigs of fresh thyme or lavender, saucisson sec (a French cured sausage)
Good sources for French Cheeses Online
I hope this post helps transport you back to Paris and inspires you to bring France home until you can make it back again.
This post includes affiliate links. I make a small commission off of items purchased through my links. Merci!