If you can't have Paris you can have NYC. There are spots in NYC that feel like a mini Paris with the same shops and boulangeries you would find on the streets of Paris. Here is a round up of some of our favorite places to eat, drink, shop and stay in the big apple. This will be a continuing list so if you have favorites that didn't make the list please comment below so we can check them out on our next visit to NYC.
Uptown
Eat
Cafe Boulard – Part of The Surrey hotel the restaurant is a neighborhood gem serving breakfast, lunch and dinner. You can enjoy the terrace in the summer months. Reservations are recommended.
Laduree – The famous macaron shop that is located in Paris has few locations in NYC. You can find them on the upper east side and soho.
Le Chat Noir – The adorable café located just around our favorite Lowell hotel is the perfect spot for lunch. Fabulous people watching and the onion soup is perfect for a cold winter day.
Match 65 – This adorable brasserie is located between 65th and madison we love the outdoor seating in the summer months and the indoor decor makes us feel as we stepped off the plane in Paris.
Orsay – The service and the decor are typical French. I enjoyed a glass of sauvignon blanc and french onion soup on a snowy winters day and it hit the spot. If you have been to Paris you may recognize the floors are almost identical to Cafe de Flore.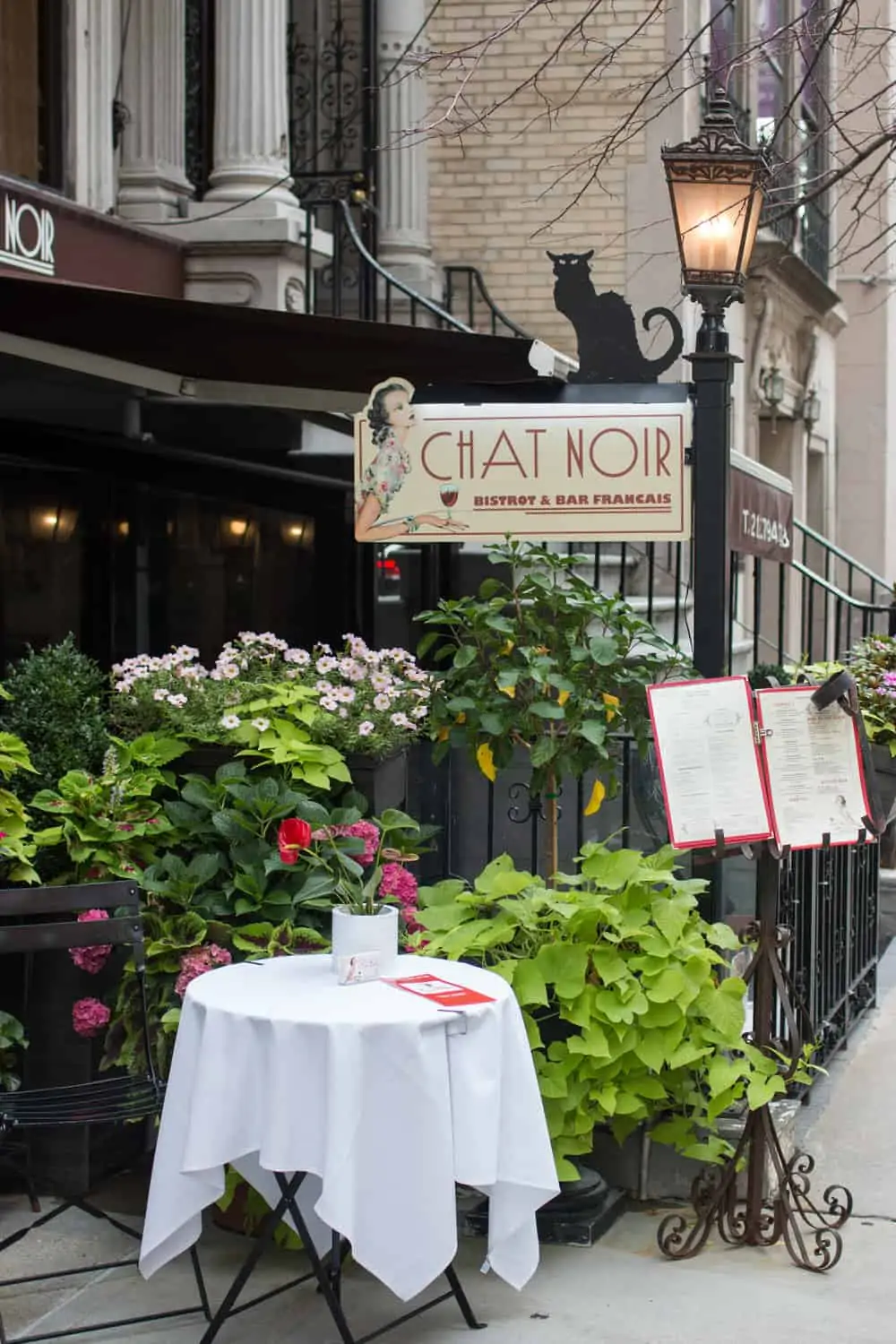 Stay
The Savoy – New York City's only Relais and Chateaux Boutique Hotel is an escape from the hustle and bustle from the center of the city. Located on an adorable tree lined upper east street you will feel like a resident of the city instead of a tourist. Don't miss out on the croissants from room service for breakfast. Grab a cup of coffee on your way out the door and head to the Central Park for a stroll.
The Lowell – Located on a tree lined street on the Upper East you will immediately feel like you arrived home as you are greeted with the warmest welcome. The smell of the entrance of the hotel is a mixture of fresh lilies and bamboo. They have their own signature scent filling the hotel. Don't miss out on a suite with a word burning fireplace. You won't want to leave your room especially on a cold winter's night. This is the perfect retreat in the city. The Pembroke room is perfect for breakfast of high tea. If you have the chance to stay at the Lowell it is one you won't soon forget.
Downtown
Eat
Balthazar – This Spring Street Parisian inspired restaurant is a classic. We love the decor of this old warehouse turned restaurant. The restaurant serves food all day including a late night menu. Don't miss out on the oysters and the bakery next door. Reservations are accepted.
Bisous, Ciao – Macarons in every color of the rainbow. Grab a coffee and sweet treat to go.
Buvette – located in the West Village this adorable part bar, part restaurant, and part cafe inspired by European traditions. Open all day serving breakfast, lunch, and dinner also serves fantastic cocktails and a great wine list. The dessert list is short but sweet. Don't miss out on the chocolate mouse. They don't take reservations so plan accordingly especially for weekend Brunch.
Cafe Cluny – Located in the West Village I have been to this adorable spot a few times with friends. A few favorites include the oysters, the burger, scallops, frisee salad, and the crab sandwich. This cozy spot is perfect on a Summer Friday or cold Winter day.
Claudette – Claudette is more Provence than Paris but we still love the delicious menu inspired by North Africa and local produce. You will love the light even on a rainy day you feel as though you are on vacation. In the Summer months the terrace is a perfect spot to catch up with friends.
Felix – Located in Soho this classic French Bistro is on my list for my next visit. A recommendation from a friend.
Dirty French – I didn't have a chance to check out this spot due to time but it was recommended for its great cocktails and atmosphere.
Dominique Ansel – I had the pleasure of joining my friend Amy Thomas here of Paris My Sweet here for lunch. Home of the cronut which was sold out at the time of our visit we opted for a blackberry pavlova and chocolate mouse cake. Desserts I am still dreaming about. Amy Thomas sure knows her sweets.
Eric Kayser – One of my favorite spots in Paris for a baguette. Their traditional baguette has a sour dough flavor. You can find Eric Kayser on every corner in Paris. There are a few locations in New York City. My favorites include their brownie, baguette, and framboise financier. I can't miss this spot in Paris or NYC.
Lafayette – Pop in at the Bakery/Coffee Shop for a sweet treat, macaron, or coffee. The restaurant also has a full menu from breakfast to dinner. Don't miss out on the bar with an all French wine list. Enjoy the terrace in the Summer months or enjoy the bright space with high ceilings year round.
Shop
Bon Point – Classic Parisian Baby/Kid Clothes can now be found in the Village. Its a perfect location next to Repetto and Laduree. A Parisian block in the middle of NYC. The clothes are on the pricier side but so well designed and the clothes are well made. There were a few styles I found for my niece wishing they had made them in my size.
Caudalie – Beginning in France, Caudalie bases their products on grape extract. I have been a fan of years since living in Paris. I love their moisturizer, exfoliant but one product I can't live without is their lip balm. I have it in every bag I own.
Le Labo – Visit the multiple locations in NYC and you can discover your signature scent as you explore this beautifully designed store. Purchase a perfume and they will create the scent on site by one of their perfumers.
Maje – French Style brought to NYC. We LOVE everything about their design. Visit the store in the Village.
Repetto – The official Brand behind the Paris Ballet Repetto is a brand you can find in most every woman's closet. They are handmade and on the pricier side but somehow I can't say no. They come in every color of the rainbow. Ballet flats are a Parisian staple and perfect for all the walking you do in Paris.
Sandro – One of my personal favorite Parisian brands. I have trouble walking in here without wanting to walk out with a bag in each hand. I have one of their classic style winter coats I can't live without. On my wish list is one of their black leather jackets.
Sisley – I am a French beauty junkie and I have the brand Sisley to blame. I have so many product favorites I will be making a separate post in the near future. I stopped by for a facial in the village just across from Eric Kayser. I was told I would fall asleep during the facial and have an incredible sleep but every single product they used smelled so good I couldn't dare miss anything. The staff is super sweet and I can't wait to visit the boutique again on my next visit.
Lower Manhattan
Eat
Odeon – Classic French that made the list but I didn't have a chance to check it out but recommendations from a few friends.
Le Distict – I heard from a few friends once in NYC that I had to check out Le District. Think Eataly for French food. Divided into four districts where you can find separate shops for bread, cheese, wine and more as well as groceries and French Books. You can also visit one of their three restaurants. I loved the outdoor space for the Summer months. You can grab a drink on the terrace and people watch. The baguette was ridiculously good and I can't wait to go back to try more. Definitely worth the trip. There are a ton of shops in the area as well so you can make a day of it.
---
Join in the fun and tell us how you are finding Paris in your every day life by using the hashtag #everydayparisian