I am back from Florida and Chicago feels as though Autumn is here. Hopefully, it is only temporary. I am not quite ready for sweater season. This week was filled with highs and lows. I am working on a project that will be hopefully be announced in two weeks. Until then, I am doing my best to focus on work and stay busy. How was everyone's week? 
October in Paris is full of fun activities. If you are headed to Paris in October (I will be there) here are a few things to do courtesy of La Cuisine Paris who created this great roundup. 
Don't miss my Paris Packing List for Autumn

Jazz in Paris. One of my favorite things to do. There is a whole festival you can enjoy towards the end of the month. I can't wait to check this one out. Fingers crossed for good weather. 
The 8th arrondissement is often overlooked by tourists but it is one of my favorite arrondissements. I recently found Hotel Royal Madeleine which just reopened in the area and Parc Monceau is a beautiful park to picnic and stroll through.
For a list of 10 Romantic Places in the 8th Arrondissement you can check out this list by my friend Lily. 
My friend Kat sent me this article, 6 Stages to Becoming French by Frenchly
Paris Unlocked shares why you should visit Paris in September (it has me sold) Have you been to Paris in the Autumn?
Sézane has a new collection out and I have this black and white top I just purchased. It would be so cute with a pair of black pants or a skirt and of course the perfect red lip.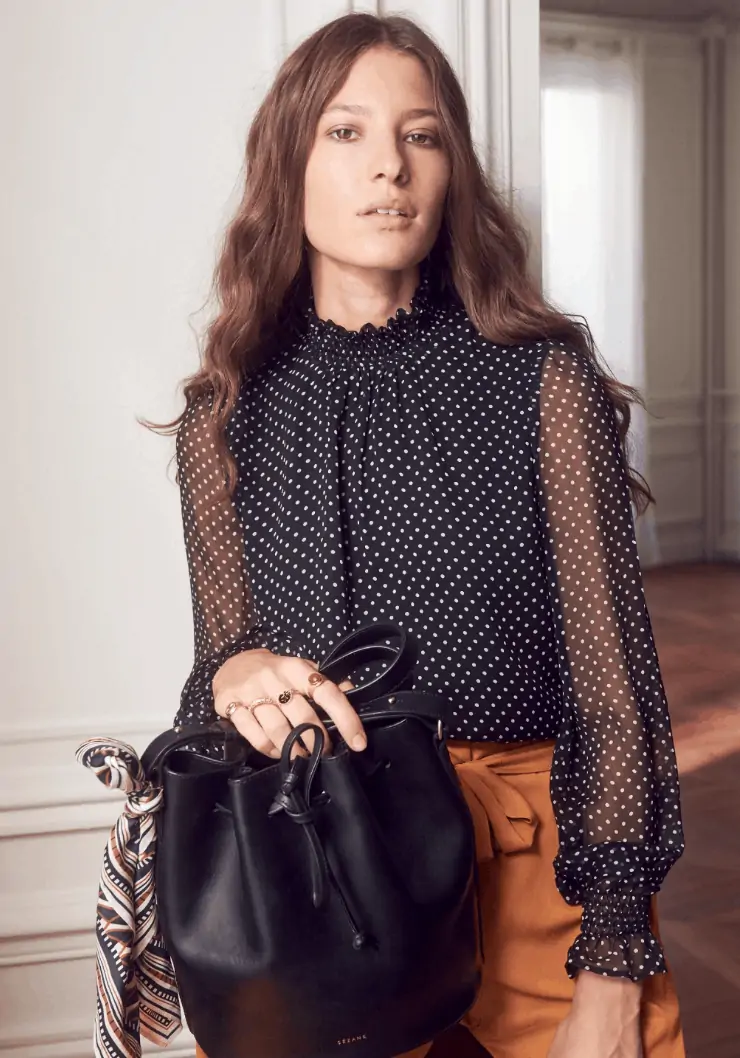 To See all of my favorites from Sézane for Fall
A full list of markets in Paris in every arrondissement. 
Old-Fashioned Dating Habits We Should Bring Back
This video of Paris will convince you to book your next trip ASAP
Cuyana just added new colors to my favorite travel bags! I am crushing on this blush. 
I mentioned these in my Travel Essentials post last week.
I always thought I would find love on an airplane (since I travel so much) It may be more common than you think! Has it happened to you? I have two friends who married someone they met on a plane. 
The World's most Michelin Starred Chef Will Open a Floating Restaurant in Paris
The 4 Best Spa Breaks Less than an Hour from Paris
My first job offer out of college was from Coach, but I ended up taking a different opportunity. This week, I was invited to preview the Fall Collection for 2018 at the Michigan Ave store and it was a full circle moment. The whole staff couldn't have been nicer and I came home with not one but two special things. (one I have to keep secret for another few weeks!) 
I have wanted a pair of over the knee boots since Devil Wears Prada, 2006. Welcome home to these beauties. They are surprisingly very comfortable and will be heading to Paris with me in October. 
Last week, I answered your blogging questions. In case you missed it, you can read it here.
This article is a great read about collaborations and making money through blogging. 
The top 25 startups of 2018. Did any of them surprise you?
How to stand out in a world of Influencers
For more Paris articles and favorites you can sign up for the weekly email here. Thank you so much for your support! 
I am loving the trend of velvet in every aspect from home to fashion. Anyone else a fan?
Paris Could Ban all Airbnb from the City Center

In Case You Missed It
10 Budget Friendly Hotels in Paris 
Travel Essentials for Long Flights
25 French Brands You Can Buy in the US
JCrew is 40% off this weekend. Shop my favorites here ❤️
New Black and White photographs have been added to the print shop! Order Here
This post does include affiliate links which helps contribute to my coffee and croissant research. Merci!