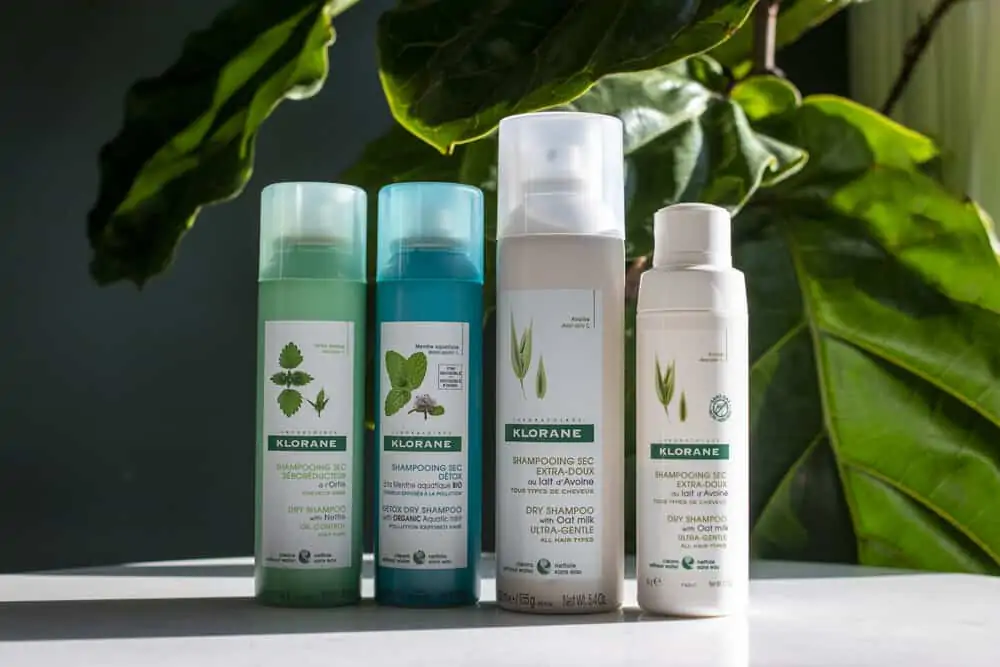 Dry shampoo specifically the Klorane brand is the French Girl's beauty secret to great hair! When I lived in Paris, I noticed the water just wasn't acting right with my hair and I searched high and low for different shampoos to try. I settled on Klorane for dry hair and I have been using it ever since. I alternate between the Mango and the Date both smell amazing. P.S. if you need any more convincing to add this to your beauty routine, it is Plant-based and affordable.
French Girls don't wash their hair as frequently as American girls and in between washes, they freshen up with the Klorane Dry shampoo. You can pretty much buy it at any French pharmacies. They have travel-size versions to throw in your bag along with full size.
I highly recommend using a little dry shampoo on your roots before bed if you know you will not wash your hair in the morning. You can also spray some on your hairbrush (this is what I do) this way it distributes evenly through your hair.
Klorane reached out last Summer to work together and since I already used and loved the brand I felt like it was a perfect fit. I am now a Beauty Ambassador for Klorane. This means I get samples of my favorite products, try newly released products, and get insider scoops on sales to share with all of you. National Dry Shampoo Day was last week and I helped write a blog post with Klorane sharing how I use their product.
I have had bangs for years and they collect the most oil from my forehead when it comes to keeping my hair clean. I love using Dry Shampoo to soak up the oil and I can extend my hair a day or two. I will wash my hair with the Klorane Shampoo and conditioner twice a week and keep my hair smelling great (thanks to the mint dry shampoo) throughout the week.
In celebration of National Dry Shampoo Day, I was lucky to get a box of various dry shampoos from Klorane to my doorstep. I asked if I could host a giveaway for my readers and they agreed. I am lucky to have a good stash of this in my beauty cabinet and was happy to share!
I will gift one set of the products above to two lucky readers. I have a set of 4 total so I will be also sharing on Instagram which will also have two chances to win. If you really have your heart set on winning the dry shampoo you can enter both places!
Included in the Giveaway:
To enter:
Comment below with your name (email must be included so I can contact you to win) Share if you have tried the Klorane dry shampoo before and your favorite formula or if you are new to the product, tell me which one you want to try the most. You must be in the US to enter. I am covering the shipping and the costs are way too high out of the US.
The winners will be announced on Monday.
*This post is not sponsored. I make a small commission off of items purchased through my links. Merci!