When it comes to shopping, it can be extremely overwhelming. There are so many products and so little time. I personally click the "Best Sellers" header before anything else to narrow down the results when I am shopping. I am hoping this post is a jumping-off point to start the holiday season. Did you know I have an insiders look at what you as readers love the most?
A lot of friends have been asking me to share this so I am going to let you in on how it works. As a blogger, I make money off affiliate links. This is the way the blog keeps running and how I pay my rent! When I recommend a product through a link, I make a small commission off of the sale. Different retailers have different commission amounts. If you don't love the product I recommend but still purchase something through that same retailer, I still make a percentage off of your shopping cart. For example, Nordstrom is a retailer I love and trust and I know you do too!
Trust is very important to me. I want to only recommend brands and products I personally love. If you end up not loving a product than the trust between us is gone. This explains why I talk about Blondos so much. I love them and want you to be comfortable when you are walking the streets of Paris.
This post is a roundup of What You Loved the Most in 2019 from sweaters, shoes, beauty and even a favorite hotel is part of the mix. Happy Shopping and thank you so much for your support! xo
It won't surprise you that Sézane came in as a big winner in your favorites. The most popular item is now sold out! The Barry sweater was a great v-neck sweater that you loved. Sézane puts out similar items each season. This is this year's version of the Barry.
You all know how much I love my Blondos. I have more than 5 pairs and counting! Short ones and tall ones, these are great walking shoes for Paris and they are waterproof. Once you are caught in the rain unexpected in Paris and get your feet soaked, you will be convinced.
Don't just take my word for it. You can read what one of my readers sent me recently.
For sizing. I take an 8.5. They sell out fast so keep an eye on the Nordstrom website.
I bring these with me in my carry on when I fly. I fly with a Sisley Face Mask which keeps me hydrated. When I land, I like to brush my teeth and freshen up with these Bioderma Wipes when I land. These are always in my carry on for long flights. They are essential and inexpensive. One use and you will thank me 🙂
Other beauty favorites include this best selling creme that every French girl has in her beauty cabinet and my signature nail color.
Comfortable walking shoes have been a big topic here on the blog. I wrote about my favorite walking shoes here. Sneakers are big in France right now. Earlier this year, I bought these from Madewell. They are great and under $100. I walked all over France and Italy with them and they were so comfortable. When I visited Sézane earlier this year, every person working was wearing the Sézane version so I felt very on-trend in Paris.
The Sézane version here. Jack Sneakers
Madewell Tretorn Camden Rose Sneakers are a fan favorite too!
I have loved my Cuyana top Zip Tote since the minute I saw it. A zipper is essential in a bag when traveling in Paris for safety. My Cuyana bag keeps everything organized and safe while traveling. I use it daily even when I am at home. It has become my signature bag. I am so happy when I meet readers in person and they smile and show me their own Cuyana bag.
Your favorite hotel in 2019 is a very special hotel for me in Paris. Grand Hotel du Palais Royal is located just behind Palais Royal with a stunning view of the Parisian rooftops, Eiffel Tower and Palais Royal.
For more photos of this beautiful hotel, you can see this post.
I spent the last 8 days in Paris and I lived in the Johnson coat. I was happy to see to run into my friend Meghan who also had the same coat while in Paris but in a different color. We both agreed we want the navy version too. The camel was a little out of my comfort zone since I always go navy or black but I love it and so do you as readers. It has been one of the most ordered items of the year. I am wearing a size 36 for reference and there was plenty of room for a scarf and heavy sweater.
I was so happy to discover the Orange SIM card this year. It saved me so much money and I was able to stay connected to family and friends while traveling through London, Italy, and France this year. You can purchase a $30 option or $50 option. It is $10 a day through my carrier Verizon which makes this a great money-saving option. Plus, I had over 8GB for two weeks which was more than I needed. The best part about this SIM card is you can order it online and pop it in your iPhone as soon as you land in Paris. I used to wait in line at Orange for 30 minutes and you have to bring your passport which was always a hassle, not to mention they are closed on Sundays.
Bring Paris to your local city with this French Market Bag. This was a fan favorite for a good reason. The bag is under $50. Instead of trying to squeeze one in your bag for your travels home from France, you can order it here.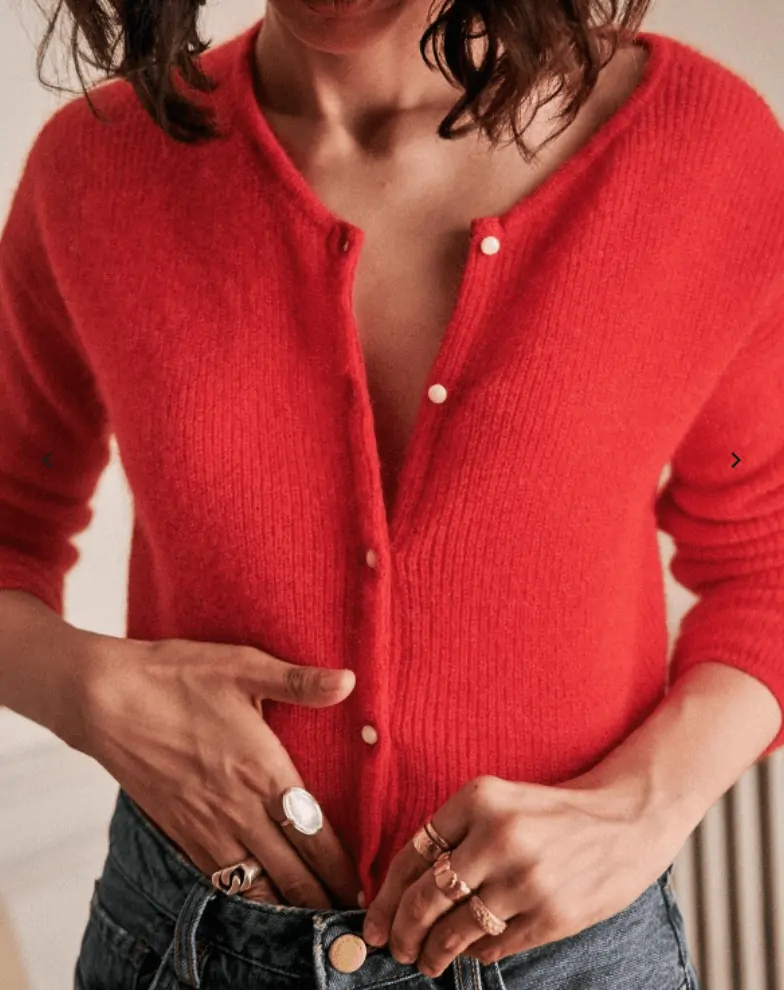 This is Sézane's best selling sweater for a good reason. It can be worn with the buttons in the front or back and it is so soft. The sweater comes in a variety of colors. I am wearing a size Small for reference.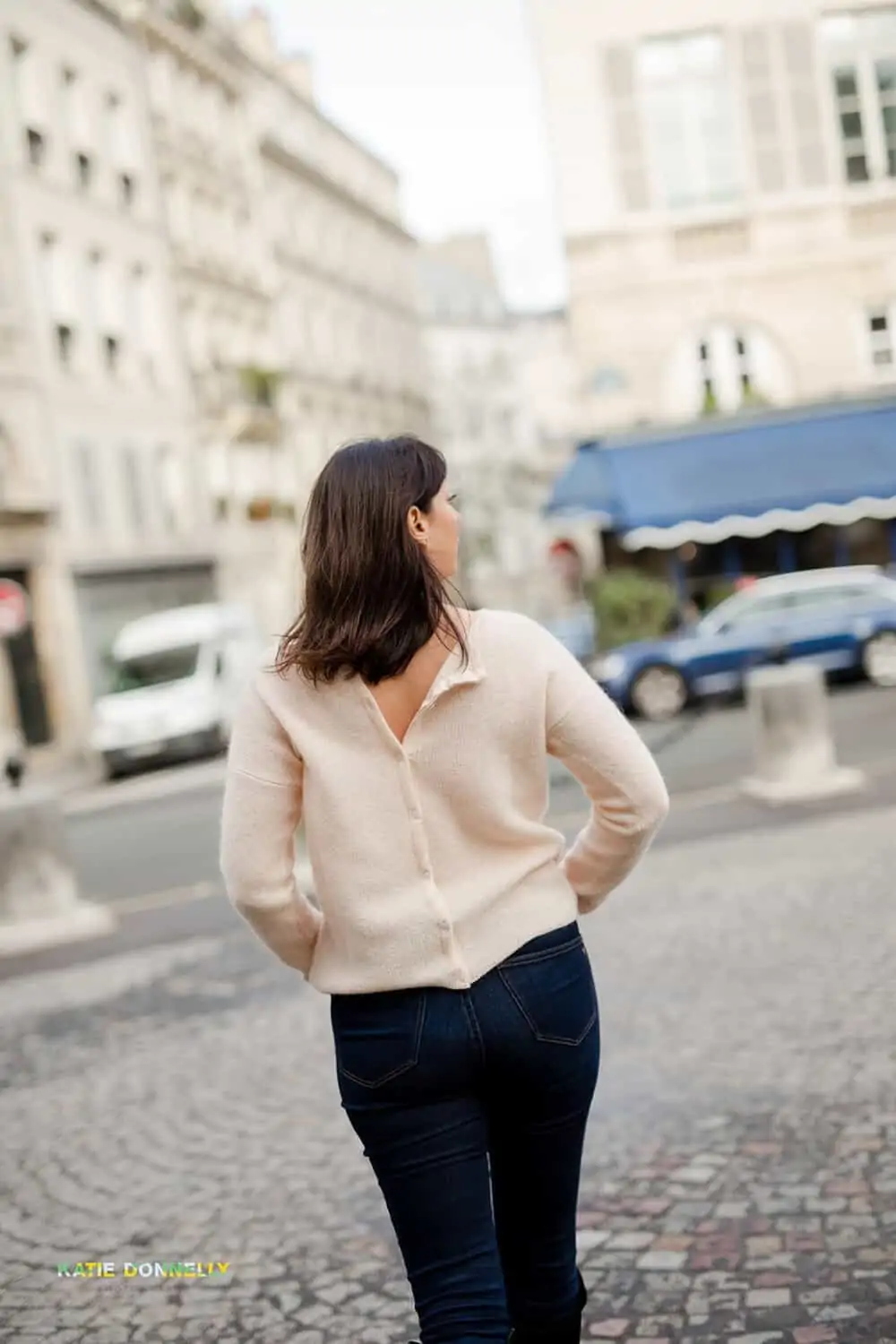 You can't go wrong with this dress which is under $50 and comes in a variety of colors. In the colder months, pair the dress with a pair of boots.