I had a request for a small business gift guide this year. I wanted to make sure this was the first gift guide I published because as a small business myself, I know how important the holiday season is to our year. Small businesses are really struggling this year with stay at home orders and limited foot traffic. Shipping is expected to be delayed this holiday season due to the surge in online shopping. I am encouraging everyone to do their holiday shopping early. Small businesses may not be able to offer 2-day shipping or FREE shipping like Amazon, but that shouldn't stop you from placing an order. Let's show these small businesses some LOVE this holiday season.
A friend discovered this talented artist who did the outside of the Bonne Mamman advent calendar. Her watercolors are so sweet and affordable
A Year Long Membership to support the bookshop Shakespeare Co in Paris. I have received messages from readers for book suggestions and what to buy at Shakespeare and Co. This is a great option to support the bookshop. You can do it in someone's name and at different price levels.
If you don't know The Illustrated Life, you will probably recognize her work. She is a fellow Etsian and Francophile that also has her own site. I have been a big fan of hers for a while and I bought the croissant stationary recently which was a collaboration between her and my friend Meghan of Wit and Whimsy.
A reader introduced me to this site where you can find fun French finds for your home. You can read more about the owners of Flotsam and Fork here
Earlier this Summer, I purchased my blue plates from Madame de la Maison and I use them daily. They make me SO happy. Ajiri selected a mixture of 6 plates and sent me an email with my assortment. Once I approved them, they were shipped from France.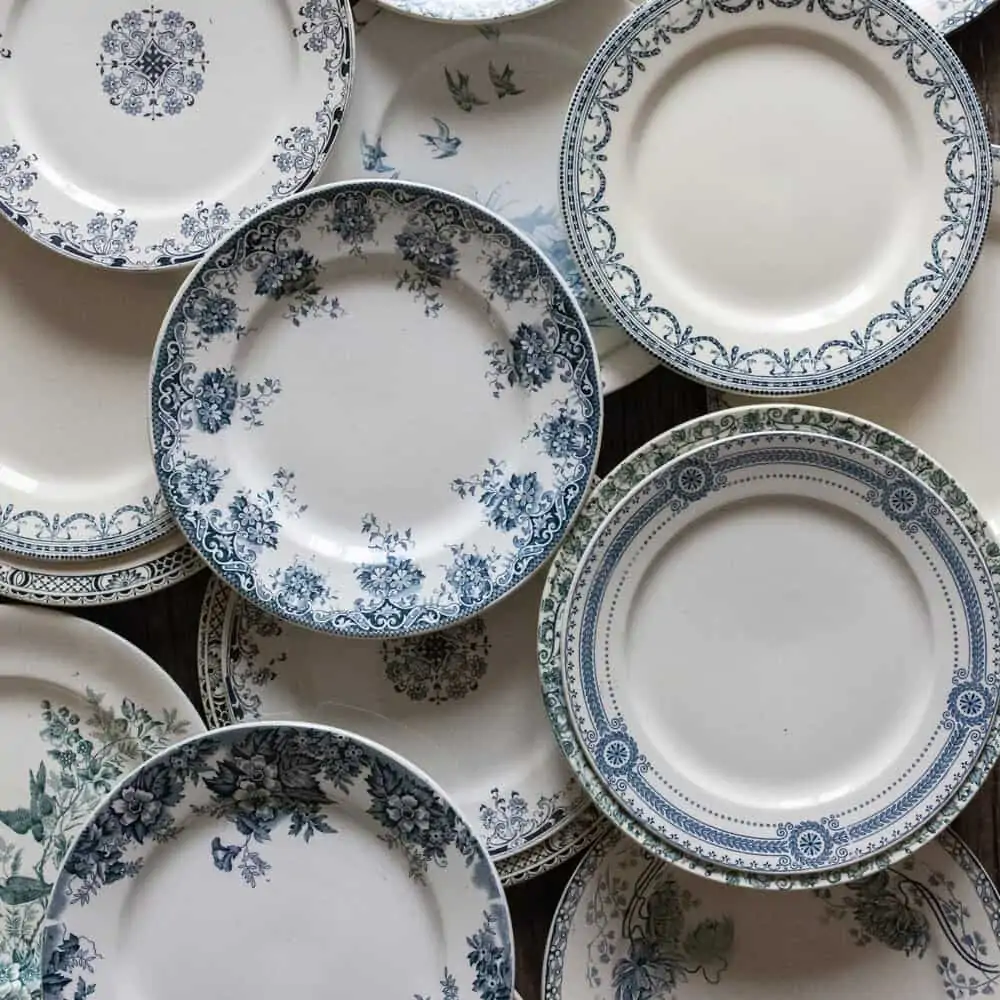 Her linens are next on my list and I just found out you can get them monogramed.
Greer Chicago is a local stationary shop with an online boutique. They used to be close to me in Chicago and I loved browsing their store for hours always discovering new companies and things to buy.
This sticky note set was inspired by the movie, "Midnight in Paris" You should know that I love a good sticky note.
Michelangelo Capri Oils and Sauces
My friends at Michelangelo in Capri make the best olive oil! They sent me some a few years back as a gift and I have been begging them to sell it ever since. Now they do and I have gifted it to my friends over 2020 as surprises and a taste of Italy. The lemon one is out of this world good! You can do a mixed pack of different flavored oils or just the original.
The pack that I get is 100 euros and a great value that includes shipping worldwide. (If you are in Australia that price is different) This is my favorite gift to send of the year because not only is it delicious it is supporting a small business and friends of mine from Capri!
I have know La Cuisine Paris since I stumped upon it while walking back in 2013. I have taken a few classes in person and I am excited to join an online class this weekend. Give the gift to one who loves to cook. You can get a gift certificate for one of their in person classes for 2021 or an online class.
I first discovered Chateau Sonoma on Instagram and then signed up for their newsletter. They are a woman-owned business out of California. They are inspired by France and travel to bring you French treasures from their travels available online and instore.
I am also including these Mistral Men's Soaps because I have some new male followers who have been asking for content. All these scents sound so good and they are crafted in the South of France.
When friends are visiting from out of town, I always tell them to go into POSH. It feels like you stepped into a magical Parisian boutique. The owner, Karl styles the space so well. You are always bound to discover a new book, dish, or gift item you can't live without. I bought my niece a gift a few years ago and it was one of her favorite things and she eventually passed it to Bobby.
The Christmas display is always one of my favorites to see each year. They also have Mariage Frères which is a French tea staple.
Lightwell Co
I am not sure how I discovered Lightwell Co but I am SO happy I did. I bought their Fraiser Fir candle and it is amazing. This is a clean-burning candle, affordable, and a small business. I shared them on Instagram and they were so sweet to send me a hand wash as a thank you for sharing their small business. I was able to send them some orders from my traffic. The cashmere and fig smells amazing and is now sitting in my kitchen.
I discovered Les Fleurs through a reader recommendation. I wish I had the chance to visit it when I was on the East Coast this Summer. They have an adorable home and garden finds along with French-inspired pieces.
You may be familiar with Château de Gudanes from Instagram. Due to the pandemic, they were not able to welcome guests this year and this is a way to generate revenue. There are several sellers on the site that collectively contribute to the assortment of French treasures. You can plan a visit to the chateau for the future. This has been on my list and I was actually planning to go in 2020 but plans just never worked out that way. You can stay at the chateau and shop at the local flea market. It is the dreamiest escape to France.
Soumkine found me on Instagram a few months ago and kindly reached out offering to send me something. They also invited me to their Atelier in Paris. I love paper goods and still use a notebook daily to write ideas down. For those of you who are like me, you will LOVE this shop which is also available online. I follow them on Instagram now and ordered a journal for next year. They have 2021 planners to write in for those of you who are looking for something unique and French. They put so much attention to detail into every product they make.
I first discovered Maman a few years ago in NYC and met a few friends here over the years for coffee and meals. It is adorable inside and brings a bit of the South of France to NYC. You can shop their store for cute finds online. I already sent my sister this bunny cup which my niece will love for her tea time.
There are no affiliate links in this post. These are brands I discovered, loved, and want to support this Holiday Season.